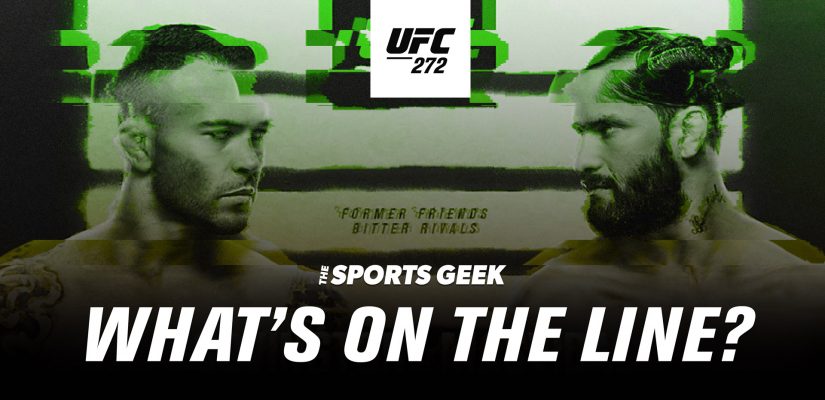 UFC 272 will be packed with action, but one fight stands out from the rest, and it is a fight we've been itching to see for many a month: Covington vs. Masvidal! Something feels a bit off, though. It just doesn't have as big of an allure as we thought it would, and it pains us to say it.
The odds are in and, well, there's no surprise here: Colby's heavily favored at -365 (DraftKings) and the odds lean even more in his favor over at BetMGM (-400). There's no shocker here — he's been more active than his adversary (and former training partner) and he's a fair bit younger, too. The fact that his fights were more competitive than those of Jorge's also bode well for his forthcoming barnburner; a fight against a man he once considered his best friend.
If ever there was a fight in the UFC that had all the hallmarks of a blockbuster action flick, this has to be it.
This whole thing's oozing with narratives and, unlike most other beefs — all of which are manufactured and overblown — these two gentlemen really don't like each other. There's a bit of mutual respect, of course, but they're not going to dilly-dally once they enter the cage. It'll be a spectacle at the highest of levels and we'll be mighty surprised if either of these two even attempts to take the fight to the ground.
They want an emphatic finish — a KO that'd be the crowning moment of their (already stacked) highlight reels.
So why aren't we excited? This thing has "fireworks" written all over it and yet something's missing. Perhaps it's because this fight happened a bit too late. Now, granted, it's never "too late" for a classic like this one, and it's not like these men are past their prime, but they don't have as much hype behind their backs as was the case just a year or two ago. Not even close.
It's ???????? ?

[ #UFC272 | Mar 5 | Tickets ? https://t.co/vq26suZOz4 ] pic.twitter.com/eFnA6nH5ZW

— UFC (@ufc) February 13, 2022
JUST NOT GOOD ENOUGH
That's what happens when you get dismantled and beaten by the reigning welterweight champion Kamaru Usman — twice. That's yet another thing these two men have in common — they've both had two attempts at taking down "The Nigerian Nightmare" and neither of them were successful.
Colby, to his credit, got the farthest, but history isn't particularly kind to those who nearly got the job done, be it once or twice.
Now, they're still some of the best fighters who've ever taken flesh, and we'll all tune in, eager as ever, to see them beat the snot out of each other, but it's fair to say that their upcoming clash isn't all that important in the grand scheme of things
Covington vs. Masvidal Odds | What's On the Line?
Getting the win here wouldn't exactly push either of them back into title contention. Their losses to Kamaru are simply too recent, and a third fight would not only not make sense but it wouldn't even sell particularly well — there's no intrigue any more as we all know how it would pan out.
Still, they have more than enough reason to try their hardest, even if we ignore their shared past. For Colby, a win here would allow him to stay as relevant as ever, although it wouldn't do much to offset his (quite unfortunate) gatekeeper status. A win over Masvidal might be hype on paper, but it wouldn't change his position in the standings nor would it grant him any noticeable amount of momentum. He'd perhaps become an even bigger draw, but that's about it.
For Masvidal, however, this is a far more important fight than it might seem: if he doesn't get his hand raised, he'd lose quite a lot of luster. And, frankly, it'd be a downgrade he wouldn't be able to bounce back from.
And even his three wins before facing Usman don't seem particularly impressive. Flashy, yes, but not important by any means. Taking down Darren Till isn't exactly a feat worthy of the history books. His sensational KO of Ben Askren, while undoubtedly historic, carries no real significance. And his fight with Nate? It was darn entertaining to watch, but it's not like the "Stockton Slapper" is as competitive or dangerous as was the case four or five years ago. His motivation is waning and so is his love for the "fight game."
Now, don't misinterpret this: we're not taking anything away from Masvidal's wins or his incredible talents — the depth of which is well documented — but they're not wins over top-tier contenders nor fighters who've been relevant as of late. In fact, one could even argue that Jorge doesn't even deserve to fight Colby, rankings-wise. He certainly didn't get the fight based on merit, but rather hype and mutual history. And, well, there's nothing wrong with that, but it still warrants a mention.
If he loses to Colby — which the oddsmakers unanimously think will happen — he'll become even less relevant, at least from a competitive standpoint. He'll still remain a draw for the UFC but it'd be nigh impossible for us to consider him as an actual contender or a fighter who's going to surge and once again challenge for the title.
He made the best of his last few wins, all of which were emphatic. Now, though, it's "do or die."
Another fascinating thing about this whole set-up is the fact that these two men have trained many a year ago.
They know each other's tendencies and styles, but that happened so long ago that they'd be ludicrous to take their (outdated) knowledge at face value — both have grown tremendously over the years,
and they weren't even fighting at the same weight class way back when which only further skews their perception.
This is personal, and they've used every opportunity to tell us that. And it'll surely be a spectacle worthy of the history books. It won't, however, do much for either fighter in the grand scheme of things, and maybe that's okay?
Maybe solving a multi-year-long personal grudge needs to take precedence.