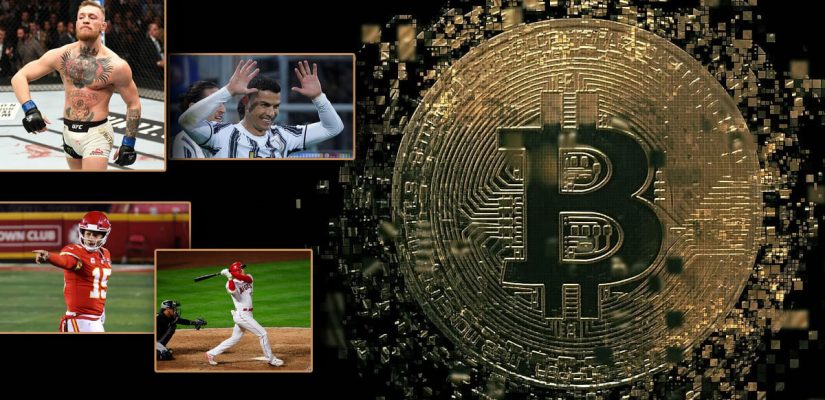 The wager asks which athlete – from a field of superstars in each of their respective sports – will be the first to demand their salary be paid in Bitcoin.
In recent years, we've seen a small handful of athletes requesting to be paid in crypto and even more taking to social media to voice their support for digital currency. As transactions become more accessible and corporate adoption of Bitcoin and other top cryptocurrencies increases, many believe these transactions will become commonplace.
Things certainly appear to be trending in that direction.
Before I get into the current state of Bitcoin and pro sports, here are the current betting odds at Bovada:
| | |
| --- | --- |
| Athlete | Odds |
| Conor McGregor | +200 |
| Patrick Mahomes | +200 |
| Cristiano Ronaldo | +300 |
| LeBron James | +600 |
| Novak Djokovic | +1000 |
| Shohei Ohtani | +1200 |
| Connor McDavid | +1400 |
"Sponsors, Transfers or Salary"
The most crucial detail to keep in mind when handicapping the field is Bovada's note that "sponsors, transfers or salary count toward wager."
If we were looking at salaries alone, that might be a massive disadvantage for players in leagues that may need to get cryptocurrency payments approved in their collective bargaining agreement. With transfers and sponsors added to the mix, Bitcoin payments are far more accessible to everyone included in this wager.
As you'll see in the following section, several athletes have already negotiated endorsement deals that would qualify for this bet!
Crypto in Sports
Adaptation of crypto is still in its infancy, but it's picking up steam in a hurry. Players and owners alike are beginning to embrace digital currencies, opening the door to a future where Bitcoin payments are a standard feature of professional athletes' salaries.
Russell Okung
In May 2019, Carolina Panthers Offensive Tackle Russell Okung tweeted, "Pay me in bitcoin." It worked. He made headlines in December 2020 as the first professional athlete in a major sport to be paid in crypto. Okung receives half of his $13 million salary in Bitcoin.
"Money is more than currency; it's power," said Okung in a release. "The way money is handled from creation to dissemination is part of that power. Getting paid in Bitcoin is the first step of opting out of the corrupt, manipulated economy we all inhabit. Bitcoiners are not only disrupting the status quo, we are reclaiming power that is rightly ours. PAY MEIN BITCOIN today becomes a reality thanks to Strike and the Panthers front office. This is the acknowledgement of a new way, a new path and a new future that recognizes diversity in finance and a reclamation of true financial control."
However, technically, Okung is not directly paid in Bitcoin. The Panthers pay him in fiat, which is instantly converted to crypto by a Strike — an exchange that offers a "paycheck conversion program," enabling users to convert their paycheck from fiat to bitcoin.
According to Ian Rapoport, here's how it works:
"The US Dollars for Okung's paycheck goes into an account that is controlled by Strike with Okung as a custodian. When the dollars arrive it is automatically converted into Bitcoin. So when he gets his paycheck, he sees Bitcoin in his bitcoin wallet."
Jack Mallers, founder and CEO of Strike, said other pro athletes, including unidentified players on the Brooklyn Nets and New York Yankees, have also begun enrolling in the program.
One important detail is that Mallers said the NFL and NFL Players Association had to approve the use of Strike — even though the payment is converted after it leaves the franchise's coffers. It's not yet known whether players in the NBA and Major League Baseball will also need approval.
Remember how Bovada emphasized that transfers and endorsement payments count towards this bet?
That's massive news because we'll be seeing lots more of these arrangements between crypto exchange products and athletes!
Other NFL Players
Speaking of other NFL players forming partnerships with cryptocurrency apps, check out this excerpt from a USA Today article about Trevor Lawrence:
The presumptive No. 1 overall pick in the 2021 NFL draft, almost surely headed to the Jacksonville Jaguars, has partnered with a global cryptocurrency investment app called Blockfolio and will place his signing bonus into an account with the company.

"When it comes to my crypto portfolio, I wanted a long-term partner in the space that I could trust," Lawrence said in a release.
It's one thing if an eccentric and outspoken offensive lineman pushes to be paid in Bitcoin; it's another when the number-one pick and the future face of a franchise – if not the league — does it. Lawrence isn't receiving his signing bonus in digital currency from the Jaguars; it's being converted by Blockfolio – which is just as good for the purposes of this wager!
Another young NFL superstar who's embraced the blockchain is Saquon Barkley. The Giants running back announced on Anthony Pompliano's show that he will only accept Bitcoin payments for all future endorsements.
According to ESPN, Kansas City Chiefs TE Sean Culkin is the first NFL player to convert his entire salary into Bitcoin.
Franchise Owners Embracing Crypto
Vivek Ranadive, who owns the Sacramento Kings, made headlines in April by announcing that the NBA franchise plans to offer Bitcoin as a payment option to anyone in the organization. Players, coaches, and staffers will be able to "get paid as much of their salary in bitcoin as they want," says Ranadive.
The move will make the Kings the first major professional sports franchise in the US to offer payment in cryptocurrency.
According to Forbes, Vivek isn't the only crypto-friendly NBA owner:
In 2019, the Dallas Mavericks, owned by Mark Cuban, also began accepting bitcoin as a payment method. Last month, Cuban announced the Mavs would become the first pro team to accept dogecoin. NBA Top Shot, a blockchain-based platform on which users buy and sell officially licensed NBA collectible highlights known as "Moments," has generated nearly $500 million in sales since going live less than eight months ago—with more than $180 million of that total processed in the past month. This year, six NBA owners formed a Blockchain Advisory Subcommittee to advise the league on how to best utilize crypto and other digital assets.
Ted Leonsis, the owner of the Washington Wizards, believes the blockchain is the future of the NBA.
"Our key driver has to be anything that's bricks and mortar left, anything that's paper left, anything that's cotton merchandise left, how do we make that digital?"
Leonsis is a strong proponent of blockchain-based ticketing. "If tickets were digital memories and could be sold everywhere, not just to people in Maryland or DC, you could say there are 15,000 digital moment tickets," he explained. "The blockchain, which is what everyone is excited about, creates ongoing, recurring revenues."
And don't forget: FTX, a cryptocurrency exchange, paid $135 million to secure the naming rights for the Miami Heat's arena.
Baseball owners are beginning to embrace Bitcoin as well.
A blog called the Crypto Inquirer recently reported the following news from Major League Baseball:
For example, in mid-March 2021, the Oakland Athletics, a Major League Baseball team, announced that they would accept Bitcoin for season suites (which seat up to six people). The team's administration decided to accept a single bitcoin for the full-season suites no matter how much bitcoin fluctuates in value. "We're going to hold it. We're believers in it, and hopefully it continues to go up. Maybe we can sign some big free agents with some of the proceeds… who knows?" said Dave Kaval, the team's president.
Why does all of this matter?
Because it shows a trend towards widespread acceptance of digital currencies. If the owners get behind using crypto, franchises will hold Bitcoin and other coins on their balance sheets, and players getting paid won't be far behind.
That bodes well for the athletes/betting options employed by franchisees in the main professional sports leagues.
Patrick Mahomes (+200)
Of the two favorites, Patrick Mahomes feels like the smarter bet.
For starters, Conor McGregor is the kind of person who's more likely to request payment via duffle bags full of cash than Bitcoin. He comes from the Floyd Mayweather Jr school of wealth management. I can't imagine Conor being satisfied with money he can't physically touch. It's much harder to flaunt crypto.
Also, Conor's UFC contract is set in stone for the foreseeable future, and McGregor's brand isn't what it used to be. Not only has the former champion lost his mystique in the ring, but his behavior has also gotten more erratic and abrasive.
On the other hand, Mahomes has been an outspoken supporter and active trader of cryptocurrencies. He hasn't requested to be paid that way yet, but the Chiefs quarterback has launched his own NFT collection.
Plus, in 2020, he signed a 10-year extension with Kansas City worth up to $503 million with bonuses. If there's anyone who can stomach a little financial risk, it's a 25-year-old with half a billion dollars coming his way!
Crypto this morning….. pic.twitter.com/x2k3vmWiNp

— Patrick Mahomes II (@PatrickMahomes) May 19, 2021
Of course, he could win this bet without ever converting a penny of his salary to BTC. Endorsements count too, and Patrick Mahomes is arguably the most marketable player in the entire league.
I'm betting that Mahomes signs a deal with one of these cryptocurrency startups/exchanges in the near future, opting to receive the endorsement dollars in Bitcoin. There's a reason he's a +200 favorite!
Cristiano Ronaldo (+300)
International soccer mega-star Cristiano Ronaldo is another compelling betting option.
The Portuguese national makes well over $100 million a year between his salary and endorsements, so there are plenty of opportunities for someone to offer to pay him in BTC. And while I haven't read about Ronaldo voicing his support for crypto, he's had a few brushes with the blockchain.
Earlier this year, Ronaldo became the first soccer player to be paid in a cryptocurrency when his club gifted the Juventus star 770 JUV fan tokens – one for every career goal scored. The tokens were worth approximately $11,750 at the time.
The Portuguese captain is also the first player ever to receive a trophy through the blockchain. Ronaldo topped the Alipay Top Scorer rankings in the UEFA EURO 2020 series to earn the digital award.
International soccer is obviously embracing the use of cryptocurrencies.
However, Ronaldo's betting odds might suffer from the way European clubs are utilizing the technology. To win the bet, we need Cristiano to accept payment in BTC. Few clubs have begun paying players' salaries or transfer fees through crypto. Instead, most teams are launching their own fan tokens on the Chiliz blockchain.
Still, you can't go wrong betting on one of the most recognized celebrity athletes in the entire world.
Cryptocurrencies are the future of financial transactions and growing in prominence and adaptation by the day.
It only makes sense that Cristiano Ronaldo would be approached for all sorts of crypto-based partnerships.
Then we just need the deal to be settled in Bitcoin, the granddaddy of all digital currency!
At +300, Cristiano Ronaldo is worth a look. With the amount of money he generates, it'd be nothing for a portion to be paid in BTC.
Shohei Ohtani (+1200)
Shohei Ohtani is my underdog pick to win this bet. The "dual wielding" phenom is the hottest thing in baseball.
In April, Ohtani made history as the first starting pitcher in nearly 100 years to lead the Majors in home runs.
Next, the Japanese prodigy then became the first MLB all-star chosen as both a pitcher and hitter.
Despite what Steven A Smith may say, I think Ohtani's rare skill set makes him particularly attractive for creative endorsement opportunities. A recent Bloomberg article about Shohei's effect on sponsors convinced me that he could win this bet.
An equal-weighted basket of five of his sponsors — including sportswear makers Descente Ltd. and Asics Corp. — has risen 23% since Ohtani made history on April 26 as the first player in nearly 100 years to start a game pitching while leading the Majors in home runs. That's more than double the Bloomberg World Apparel Index's 10% rise over the same period and crushes the Topix Index's 1% gain.

"He pitches, hits and lifts shares," said Shoichi Arisawa, an analyst at Iwai Cosmo Securities Co. "He's triple-wielding."
Trends like those will have potential sponsors begging Ohtani to take their money!
All we need is for one to pay him in Bitcoin. Can't you see a cheesy crypto startup using his ability to hit and pitch to draw parallels to their service, especially if it's something like Okung's Strike service that converts part of your paycheck to cryptocurrency?
I've seen worse advertising ideas.