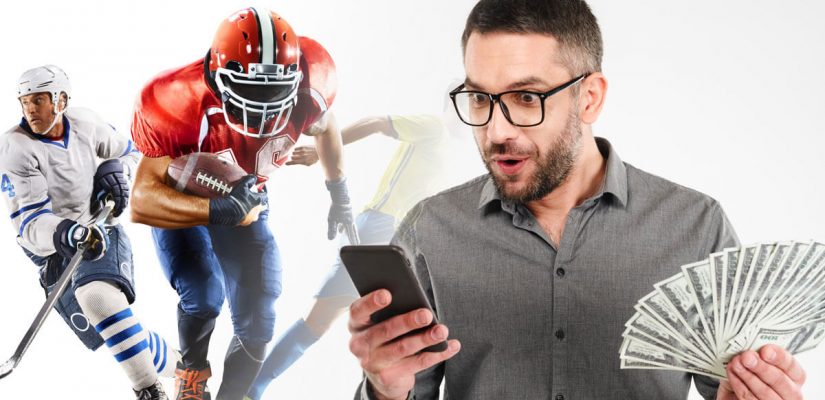 Sports betting has been popular with gamblers for years. The recent legalization across much of the United States has dramatically boosted sports betting into the forefront of American culture.
One of the most significant factors to the immediate success sports betting has enjoyed is the sportsbooks' willingness to understand their audience. Sportsbooks have embraced the convenience and comfort of mobile platforms. The result is a new generation of punters staying more informed, more engaged, and spending more money gambling. Yet, mobile sports betting applications don't need to drain your bankroll any faster than traditional sportsbooks.
Your smartphone is a sports bettor's best tool in many situations. Let's look at why your smartphone makes gambling easier and how you should utilize the device to maximize your sports betting.
What You Need in a Mobile Sportsbook
Many rookie sports bettors struggle with finding the https://www.thesportsgeek.com/sportsbooks/ online sportsbook that's a perfect fit. Part of the problem is that there are so many to choose from, and most sites work as intended.
You'll need to be on the lookout for the sites that offer subpar service, limited choices, and poor lines. Once you've checked each of those boxes, you need to ensure that the sportsbook is safe and secure.
What you'll find is that many more sites have good customer service, offer plenty of the games you'll want to bet on, and take every measure to protect your financial information.
It's a great idea to have an idea of what you're looking for in a sportsbook before going on the hunt. However, it would be best to be open-minded enough to allow things to shift throughout the process.
When you narrow your list of potential betting sites down to a handful, it may be a good idea to create an online account with a few. This variety will make the top sites stand out and show how different sites will offer slightly different services and lines.
The Information Superhighway
Successful sports bettors devote a significant portion of their time and resources researching games.
Information is critical to sports bettors, and the more informed you are as a gambler, the better your odds of being a winner.
Your smartphone has apps covering all of the latest gambling news and line movement, but some apps will keep you abreast of all news covering every league, team, and player imaginable.
There are dozens of scenarios in daily life where having the internet at hand is immensely valuable. If you travel much, you likely get most of your news from your smartphone. Catching up on the latest developments and researching important matchups can quickly be done by having the information superhighway in your hip pocket. It's amazing what you can accomplish with an additional fifteen minutes.
Sports bettors can do themselves a tremendous favor by utilizing the internet from their smartphone to handicap games and look for crucial matchups from their smartphone.
Use Bonuses to Your Advantage
One of the more incredible features of the online betting world is the bonuses offered to customers making a deposit. These bonuses can immediately improve the overall health of your bankroll, and when you leverage them correctly will have a tangible impact on your overall success.
Shop for the best bonuses:
But only after you've whittled your options down to a select few. The less than stellar betting apps and sites may offer a more substantial deposit bonus to offset their inferior product. Because the gamblers are new to online or mobile betting, they often miss the differences that will ultimately affect their experience, and it could cost them money. That's why it's vital to carefully look through a sportsbook's terms and conditions before accepting any bonus money.
When you have settled on a reputable site with a fantastic offer, it's time to make your first deposit. The site will automatically add your bonus money to your account. You can start playing with the free cash right away in most cases.
But be aware of the betting requirements of your bonus. You'll be required to gamble up to 20 times the bonus amount before you can withdraw any of your winnings. Using your smartphone to make bets and move money will allow you to have all of your financials in order and stay on top of any transfers. You'll also get offers on the latest deals and bonuses straight to your inbox or messages.
These offers are an excellent tool for getting the most from your bankroll and cashing in on opportunities you might otherwise miss. Remember that there are stipulations that come with these offers, and you may lose more than it's worth by trying to rush through the protocols.
Quickly Shop Lines on the Go
I have the habit of taking my smartphone everywhere. I think I'm pretty good about keeping it in my pocket when necessary, but it's always nearby.
Most people refuse to leave home without their cell phones. I can't argue against it for a number of reasons, but for sports bettors, it can help make money. Lines on games are constantly changing leading up to an event. So, if you need to step out for a grocery store run, you could miss out on a huge opportunity to capitalize. However, your smartphone will keep you informed of any late line changes. Furthermore, you can receive alerts when the line moves on your favorite games.
Wherever you are, you'll always be able to shop for the best lines on games. You can also sign up to receive promotional offers that will have additional benefits.
The Convenience Factor is Immeasurable
The number one reason sports bettors should embrace the capabilities of their smartphones is convenience.
The ability to do everything you need to as a punter on the go is tremendous.
From researching games to placing bets, you can do everything from the palm of your hand. You'll no longer need to schedule your life around sports betting entirely.
Sports betting begins to integrate itself into your daily life. If you ever forget to make a bet, your smartphone can ensure that you don't miss out. I've made bets minutes before hopping on a flight out of the country, thanks to my smartphone. The convenience of having a sportsbook on the go has wholly changed what sports betting is to many gamblers.
You don't need to plan a trip to the casino to make your bets. You don't even need to be logged into your personal computer to lay action on a game.
You'll Always Have the Most Up to the Minute Data
I spoke earlier about the significant benefits of having the entire internet at the tap of a button. One even more important advantage is having push notifications enabled on your device.
These push notifications act as a passive means to gain urgent news.
There are several ways this can put more money in your pocket. The first example of how having up to the minute data is handy comes from your sports news apps like NFL.com or ESPN.
These apps (and many others like them) will automatically send you updates on the injury report. This information is essential for late decisions on the value of a game. If you know the starting QB for a team gets benched before the general public, you can take advantage before the sportsbook has a chance to adjust. Another key benefit of having the latest intel sent directly to your smartphone is that you'll be able to cash in on any late changes by the sportsbook. If the site isn't comfortable with the action on a game, they may opt to roll out a last-second Hail Mary to attract more bettors.
You can always be up to date on the latest changes to personnel and movement by the sportsbooks by keeping your smartphone on you.
Enhance Your Experience with Live Betting
One of the most heart pounding aspects of sports betting is live betting. This in-game betting allows gamblers to make wagers on the action as it's unfolding.
The prop bets offered on games have some tangible value for savvy bettors. The advantage is more remarkable for gamblers who are at the contest. Being in the crowd allows you to get a true sense of how the game is going. Your smartphone will allow you to make the most of what you're seeing by making bets in real-time. Many gamblers fail to realize that the slight TV delay can be the difference between winning and losing a bet.
Use your smartphone to amplify the joys of sports betting through live betting. You'll learn to appreciate a new angle in sports betting and possibly make some money in the process.
Conclusion
Sports betting is rich with opportunities for the well-informed and disciplined gambler.
When you begin to understand why your smartphone is a sports bettor's best tool, you can tap into areas that you never fully appreciated. You can still bet on sports the old fashion way; I love the excitement of a Las Vegas sportsbook during March Madness.
However, for your daily sports betting needs, going mobile is the way of the future.