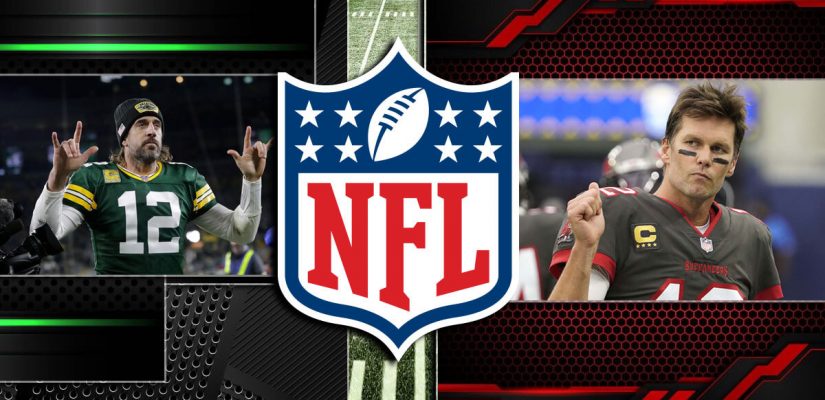 Following the conclusion of the 2021-22 NFL season, a great deal of buzz has surrounded two of the league's top players.
Tom Brady and Aaron Rodgers.
This buzz centers on whether or not each HOF caliber quarterback will retire following their disappointing Playoff losses last week.
Each QB has different circumstances that will play a major factor in their return to the NFL next season. For Brady, it's his age and desire to continue a career that's already spanned two decades. For Rodgers, it's about whether or not he can get out of Green Bay.
NFL betting sites have handicapped the possible retirements of Brady and Rodgers. Let's huddle up to examine the latest NFL prop bets and see where we should place our wagers.
Tom Brady opens up on potential retirement.

If this is the end, you got to witness one of the greatest sports careers of all time? @brgridiron

(via @JimGrayOfficial) pic.twitter.com/Isj1jfYC9a

— Bleacher Report (@BleacherReport) January 25, 2022
Tom Brady Retirement Betting Odds
On the surface, these odds clearly favor Brady returning to the NFL for the 2022-23 season. Some online betting sites have his odds to return listed at -800 and to retire at +500. So, do your shopping before locking in on a wager.
Brady's 2021-22 NFL Season
Brady's season came to an end in the NFC Divisional Round of the Playoffs last weekend after staging an impressive rally to tie the Rams late in the game. But, Los Angeles drove the length of the field after a long pass to Cooper Kupp and kicked the game winning FG to eliminate Brady and the Bucs.
Many pundits had picked the Buccaneers to repeat as NFC champs. Unfortunately, injuries played a big part in this team's early postseason dismissal. However, despite the disappointing loss for TB 12 and his teammates, Brady still had a fantastic season at the age of 44.
Brady finished with eye popping numbers as he led the league with 5,316 yards, 43 TD passes, and was second in QBR (68.1).
Not only are those great numbers for a 44 year old, but these are stats that indicate his game hasn't fallen off at all.
In fact, Brady has had two great seasons with the Buccaneers which included a Super Bowl championship.
What Is Brady Saying About Retirement?
Brady said after the conclusion of the season that he's going to take some time to figure out what his future will look like:
"I said this a few years ago, it's what relationships are all about. It's not always what I want. It's what we want as a family. And I'm gonna spend a lot of time with them and figure out in the future what's next. Playing football I get so much joy from. I love it. But not playing football, there's a lot of joy in that for me also now, too, with my kids getting older and seeing them develop and grow. So all these things need to be considered and they will be."
Can The Bucs Convince Brady to Come Back?
According to countless reports, the main person that can sway Brady in either direction is his wife. Brady plans on having long talks with her about the future and how that would look if he continues playing football.
One thing is for certain though, Brady will not play for a bad team.
So, the Buccaneers have work to do in order to convince Tom to return if he decides to play football another season. Right now, Tampa Bay has key players about to become free agents:
The team will not be able to bring all of these players back. Of these six, Godwin, Jensen and Gronkowski are a must. Protecting Tom and giving him weapons is the recipe for Tampa Bay's success.
When missing weapons and not getting time to throw the ball, Brady is as vulnerable to losing as any other quarterback. We just saw that in the Playoff game against the Rams where LA got after him and hit Brady all game long.
But even bringing back those offensive players might not be enough because defensively, the Bucs could lose a lot of talent. In addition to Davis and Whitehead, Tampa Bay also has Suh, Pierre-Paul, and Gholston all set to hit free agency.
Offensive Coordinator Byron Leftwich is the front runner to land the Jaguars head coaching position. If he leaves, the only option would be to have head coach Bruce Arians take over as the play caller.
Will Tom Brady Retire?
Despite what the odds say, I believe it's a lot closer to 50-50 that Brady could retire. He will be 45 years old at the beginning of next season, his kids are getting older, and the Buccaneers are going to lose talented players and coaches.
Even if Brady wants to return, Tampa Bay might not be good enough to compete in the NFC next season.
I would hold off on this prop bet for now. Wait to see how Tampa Bay plans on addressing the numerous free agents they have.
That will give an indication of whether or not Brady is coming back.
If you insist on wagering now, I would take a flier on Brady retiring than taking the large odds for him returning.
Nathaniel Hackett ➡️ Broncos ✅
Aaron Rodgers ➡️ Broncos ? pic.twitter.com/cagBOinama

— PFF (@PFF) January 27, 2022
Aaron Rodgers Retirement Betting Odds
Unlike the Brady prop bet, Rodgers' prop bet has a massive disparity in betting odds. Online betting sites heavily favor Rodgers returning next season. They believe the 38 year old will play again.
Where he plays is the question.
Aaron Rodgers 2021-22 Season
Like with Tom Brady, Aaron Rodgers had a stellar season once again as he finished with 4,115 yards, 37 TDs, 4 INTs, and a 69.3 QBR.
Rodgers is the frontrunner to win the NFL MVP for a second straight season, which is further evidence that he is still good enough to play football at an elite level. Despite his success, the Packers once again fell short in the Playoffs as they lost on a last second FG to the 49ers. It was the 4th time that Rodgers has lost to San Francisco in the postseason.
What made things even more difficult to accept for the franchise and their fans was the fact that Green Bay had the number one seed in the NFC and looked like the best team in the conference all season long.
What are Rodgers and Others Saying?
Last year, the offseason saga of what Rodgers was or wasn't going to do held the NFL hostage. He finally decided to return to Green Bay and led the team to a good season. Unfortunately, that season ended in an upsetting fashion.
Rodgers commented about his future following the Playoff loss to the 49ers:
"I did not think we'd be talking about this after this game. But I'm gonna take some time and have conversations with the folks around here, and then take some time away and make a decision obviously before free agency or anything kind of gets going on that front."
Despite saying he will take time to make a decision, Rodgers did make it clear that he doesn't want to play for a rebuilding team to which head coach Matt LaFleur responded with an emphatic statement that they aren't rebuilding.
But, that might not be accurate as the Packers have some big issues moving forward.
Green Bay just lost offensive coordinator Nathaniel Hackett as he signed to be the Broncos head coach. That definitely opens the door to Rodgers heading there.
Additionally, the Packers are nearly $45 million dollars over the 2022 salary cap, which means they will have to cut some players and let others go. They will also have to try and restructure Rodgers' contract by extending him which won't be easy to do. Aaron could refuse and force his way out of Green Bay.
Another big factor working against the Packers is that star receiver Davante Adams will be a free agent and has said he wants to be the highest-paid receiver in the NFL, which will be over $20 million per season. Adams made it clear he won't be giving a hometown discount.
Will Aaron Rodgers Retire?
Rodgers price tag is a hefty one for the Packers who believe they have his replacement just waiting for a chance to take over in Jordan Love. Yet, they're acting like they will do whatever it takes to bring Rodgers back.
Unfortunately for the Packer faithful:
I don't see that happening. I actually see Rodgers forcing his way out of Green Bay via trade.
Rodgers isn't going to retire, but he's not going to play for the Packers. There's no way he will restructure his deal to extend his time with Green Bay especially after the hurt feelings and frustrations over questionable draft picks and personnel decisions.
Denver has plenty of talent on the offensive side of the ball and a solid defense. There's also plenty of weapons to surround Rodgers with. In fact, more weapons in Denver than what he's had in Green Bay. The addition of Hackett only makes it more appealing for Rodgers to leave.
Rodgers should follow the path that Brady, Manning and Stafford all took to get to the promise land. All three of them left franchises that they played their entire careers with until their departures.
I see no scenario where Rodgers retires, but I also don't see it being likely that he returns to Green Bay.
NFL Bet:
No, Rodgers won't retire!