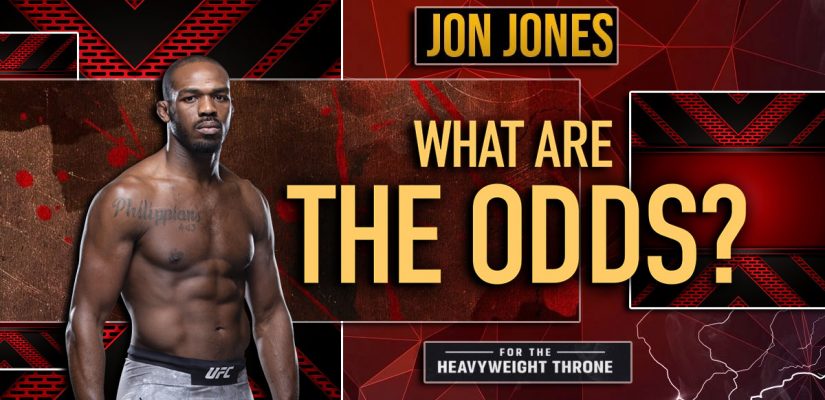 Jon Jones has been MIA for quite a while now, and his long-awaited heavyweight debut still hasn't materialized — for whatever reason. It's all a haze, really, a cacophony packed with conflicting information, clashing reports, and a fair bit of smoke and mirrors.
There's an agenda at play:
But so much time has passed that we're no longer sure of who wants what and why. Dana White is always the first to remind us that the UFC doesn't need its superstars — there's always someone new who's willing to step up and claim the spotlight. And, in all fairness, he's right.
It's been two whole years since the last time we saw Jon Jones compete, and it was a fight many thought he had lost; much of the same can be said for his five-round brawl with Thiago Santos as well. He barely beat a guy with not one but two blown knees. Hardly impressive for an individual most folks consider the greatest to ever do it. We're not disputing them, mind you, but it's not the kind of performance you'd expect given his stacked pedigree. One thing's for certain: Jon has lost his edge with the passage of time.
⏰ WE GO THE FULL 25 MINUTES. WHAT. A. FIGHT.

Has Reyes done enough to dethrone Jones? Sound off! ⬇️ #UFC247 pic.twitter.com/iO9kiCHaai

— UFC (@ufc) February 9, 2020
His decision to move up to heavyweight made sense, and, frankly, we've all been clamoring for it for years. What else could Jon have done? He cleaned out his division, after all. Whenever a champion starts facing the same opponents for the second time, you know something's ripe for a change.
It took Jon Jones ten years to beat three generations of fighters, and even though the fight game evolved, his reign never ended. He did become noticeably less effective and dangerous, but you can't take anything away from him: he always got the job done, even though his performances weren't always particularly impressive.
A move to heavyweight was the only thing left for Jon Jones, and, frankly, we were all aboard the hype train. Just the thought of him fighting guys like Stipe Miocic is enough to have us start watering at the mouth! And the same goes for the reigning heavyweight champ Francis Ngannou.
Records are meant to be broken. I set the record defending my heavyweight title three consecutive times. I fully intend on being the same one to break that record. #SM pic.twitter.com/XSDj7Z1Hga

— Stipe Miocic (@stipemiocic) September 13, 2018
The division itself isn't particularly alluring, but it does have a couple of spectacular "killers" who'd no doubt put on a show should they ever be given the privilege of sharing the octagon with one the greatest mixed martial artists to ever do it.
Unfortunately, we're still subjected to a strange game of cat and mouse.
A lot of money is at play, and everyone wants a bigger slice. Francis wants to box Tyson Fury (in addition to a seven-figure contract), the UFC wants higher PPV sales, and Jon Jones wants… well, millions upon millions of dollars.
And no one's willing to budge.
We're at an impasse and, frankly, it's getting harder and harder to envision a world in which this whole thing is resolved in anyone's favor. Someone will have to concede, and if history's any indication, it's not going to be the UFC. They can afford to have Jon on the sidelines, as strange as it might sound. We haven't seen him for two whole years and yet his last few fights were so darn uneventful that no one's missing him all too much. His behavior outside of the octagon has also affected his legacy and the way people view him as a human being.
That's just the reality of it all.
Bravado-fuelled posturing on Twitter is by no means enough to sustain the hype. Heck, it's not even close. Jon's lost a ton of momentum over the last two years, and has fewer chips to bargain with than ever before.
As a result, statements like this one simply don't have any weight behind them:
If this is the Apex of heavyweight fighting, I'm excited about it. Got some more records to break

— BONY (@JonnyBones) January 23, 2022
Would Jon Jones be a stylistic nightmare for Ngannou and Ciryl Gane? Probably, but by no means would he be guaranteed to win. Far from it, in fact. His fight IQ might be among the very best, but competing in the heavyweight division is a whole 'nother ball game — one in which your lights can go out in a matter of seconds.
We all know that Jon Jones struggled mightily whenever he fought against contenders who could match his height and range. The blueprint to beat him has been laid out, and it's only a matter of time before someone shows up and goes the "whole nine yards." Well, in theory, at least — after going through a murderer's row for the last decade or so, it'll take a truly special individual to do to Jon what he's been doing to so many other fighters throughout the entirety of his career.
We all want to see him compete, despite his many flaws; he's an absolute titan of MMA and his longevity and ability to persevere are second to none. Unfortunately, it might take another year or two for him to find common ground with the UFC, but by that point will anyone even care?
I can't wait until the UFC makes Lewis-Tuivasa an interim heavyweight championship fight.

— Suzanne (@SoozieCuzie) January 23, 2022
When Will Jon Jones Make His Heavyweight Debut?
Given the way things between Francis and Ciryl unfolded, it's safe to assume that Jon Jones is probably more confident than ever in him being able to dethrone the reigning heavyweight champion. He knows what he needs to do to become a two-division UFC champion, and is surely motivated beyond measure to extend his legacy sooner rather than later.
That could, potentially, expedite the whole process.
And even if Ngannou decides to part ways with the organization and look for greener pastures elsewhere, Jon would still have a fairly clear path towards the heavyweight title.
Congratulations @francis_ngannou but if you want to make some real money come see the GK ?

— TYSON FURY (@Tyson_Fury) January 23, 2022
His biggest threat, in that case, would undoubtedly be Stipe Miocic. But one could argue that Stipe, exceptional though he is, doesn't have that same frightening aura that Francis brings to the table — the same one that might have dissuaded Jon from making his heavyweight debut any sooner.
A fairly clear game plan has now been established, so we could, by all means, see this legend back in action before the end of the year.
Still Not a Favorite Odds-Wise
Interestingly enough, Jon Jones is still deemed a heavy underdog at +180 in a potential fight with Francis. We expect this number to change over time but not by much — the hype surrounding Ngannou is simply far too great.
And that is pretty darn surprising given Jon's decade-long dominance.
We're talking about a GOAT candidate here and a fighter that has never lost. The sole defeat on his resume came by way of illegal twelve-to-six elbows, a move he opted for after thoroughly dismantling his opponent. He's a one-of-a-kind phenom, and even though he has never fought at heavyweight the odds are still wholly unrealistic given his innate arsenal of weapons and ability to deliver in high-pressure situations.
Jon Jones has the tools to challenge and dethrone Francis Ngannou — assuming he hasn't lost his "edge." With a deceptively strong chin, some of the best wrestling credentials in the fight game, and the most eclectic and diverse striking (perhaps rivaled only by Israel Adesanya), he'd no doubt give Francis a run for his money — and he knows it, too.
Hopefully we'll get to see them square off at some point in the near future. And even if Francis and the UFC part ways, Jones would still have a slew of exciting opponents waiting for him — and, arguably, an even clearer path towards claiming the heavyweight "throne."
Either way, the ball's now in Jon Jones' court. He has to be the one to push this whole thing forward; we hope he'll do good by his fans and give us one of the most exciting fights in the history of the UFC. If the thought of him trading blows with guys like Miocic and Ngannou doesn't get your blood pumping, nothing else will!