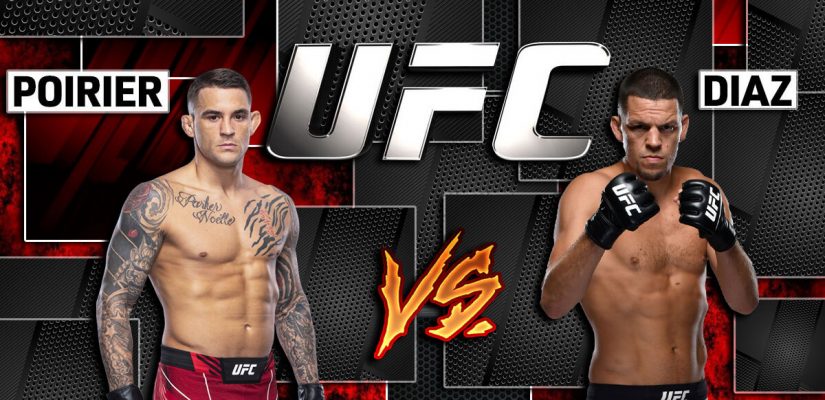 Dustin Poirier facing off against the venerable "Stockton slapper" Nate Diaz is what dreams are made of. Styles make fights, as they say, and this fight, in particular, has fireworks written all over it. It's not the most important match-up one can imagine, but it would nonetheless attract more eyeballs than nearly any other clash in the lightweight/welterweight division.
Plus, it's a fight that simply makes sense.
Both fighters are coming off of losses (back-to-back ones for Nate), and could use a "tune up" fight of sorts, something that isn't high stakes for a change. A fight that has nothing on the line other than an obscene amount of money and some bragging rights. Then again, knowing UFC's penchant for creating hype out of thin air, a win here could, by all means, push either fighter towards title contention.
Wins and records mean nothing these days for as long as there's ample momentum and thousands of fans willing to tune in and buy the pay-per-view. And that is precisely why Poirier vs. Diaz makes so much sense.
Poirier vs. Diaz — Doubtless the Best Option
Whom would they fight otherwise? Poirier was handily beaten by Oliveira mere weeks ago and will need to win at least, say, three fights against top-ranked opponents before potentially getting another shot — and even then it'd be far from guaranteed. This revered Louisiana native is well aware of his predicament which is why he's reportedly flirting with a move to welterweight — although it still hasn't been officially confirmed.
His stint at LW has reached its natural conclusion, so he might as well go up and start anew. Lightweight is the de facto most stacked division in the UFC right now, although welterweight isn't too far off either. Dustin will have to go through a murderer's row in order to get to Karamu Usman; then again, the fact that the "Nigerian nightmare" has no one left to challenge him other than Leon Edwards (and perhaps Khamzat Chiamev) could end up shortening Poirier's journey — to everyone's absolute glee and delight.
So why not take on a "money fight" while he waits for Kamaru and Leon to settle things?
Why not fight another fan favorite and claim yet another sizable sack of cash for his efforts?
It'd be a wholly favorable match-up, too. Those are the ones you want whenever you're coming off a loss — they can be used to once again generate hype and return to the win column in the grandest of fashions.
Doing business with a guy like Nate Diaz is never easy. His peculiar nature has amassed him both a cult following and a metric ton of clout. So just because something makes sense on paper doesn't mean it'll come to fruition. Far from it, in fact.
Him and Poirier have both gone on the record and have verbally agreed to share the octagon in the near future. Still, with Nate's contract being in a state of flux, this oh-so-alluring match-up seems to have been put into jeopardy.
@ufc stop playing wit me consider this my signature to fight this fucker I been trying to fight for a minute quit slowing down the real fight game it's time pic.twitter.com/6LTkbw9Fs0

— Nathan Diaz (@NateDiaz209) January 19, 2022
Both fighters are actively trying to make it happen, which means that the only obstacle standing in the way is the UFC. Do the higher-ups want to "save" Nate for Connor McGregor? It'd no doubt be a spectacular clash and a fitting conclusion to one of the most entertaining trilogies in the history of the fight game. But who knows when Connor might come back. Summer of 2022 is reportedly in the cards, but there are never any guarantees given the severity of his gruesome injury.
"If Nate Diaz does get a deal done with the UFC, that's a fight we've been supposed to do. I think the fans would be in for a treat. That's something I want to do. Where I'm at, I just want to fight fights that mean something to me and all these up-and-coming guys, they're very dangerous and very fun to fight and maybe I will fight some of them, but right now I want fights that mean something to me, and Nate's a fight that means something to me," said Poirier in recent interview.
The UFC's hesitancy to book this fight is truly baffling seeing how neither fighter would be negatively affected should he end up losing. Nate's record is by no means perfect and yet no one seems to care — they'd tune in even if he were fighting a bag of rocks. The same goes for Dustin who has risen to the occasion many a times and is currently amongst the biggest draws in the business.
The real fight game

— The Diamond (@DustinPoirier) January 19, 2022
Now, in all fairness, losing to Nate would diminish his worth — there's no doubt about it — but no one's really expecting him to lose. He's the better fighter and has already beaten some of the best mixed martial artists who have ever taken flesh. Moreover, he's still in his prime and would probably have no issue in beating a declining (but still dangerous) Nate Diaz.
And should Diaz lose, he'd still be a prime opponent for Connor's inevitable return. Rivalries like that one simply don't fade away. We'd all tune in with bated breath.
The fact that so many people are clamoring for this to happen means that there's a very real chance that these two gentlemen will share the octagon at some point in 2022. That's just an assumption, though; one can never be too certain given the way the UFC does business these days.
Poirier vs. Diaz | Who's Got the Edge?
The oddsmakers have already sided with Dustin Poirier on this one -400 favorite at the time of this writing) and, well, it's easy to understand why: he's better in nearly every conceivable way.
His move to welterweight will surely affect his cardio, but it'll also serve as a boon to his power and will, therefore, make him even more dangerous should both fighters decide to "stand and bang." Nate's proclivity to throw caution out the window and trade blows is well documented, and it has seemingly become ever more pronounced as of late. One could argue that he prioritizes entertainment over everything else. Commendable? Absolutely. Ill-advised? Even more so.
If he decides to employ the exact same strategy against Dustin — and, if history's any indication he almost certainly will, should he be given the opportunity — we just can't envision a world in which he comes out on top. If this fight really does end up happening, betting on Poirier would be an absolute no-brainer.