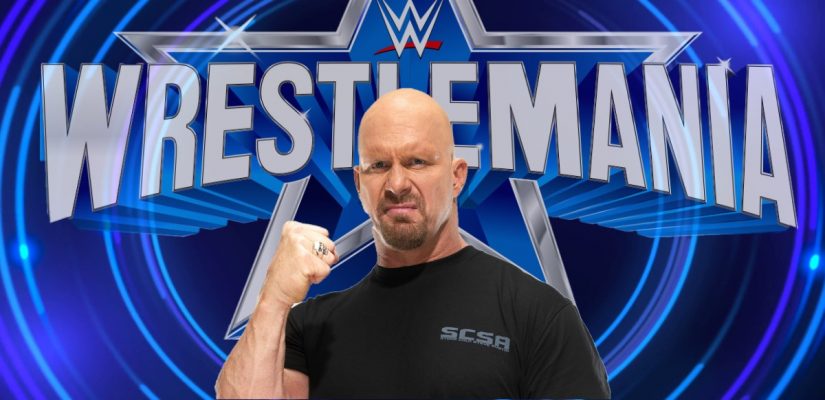 WWE is swinging for the fences this year at WrestleMania 38, taking place on April 2 and 3, 2022, at AT&T Stadium in Arlington, Texas. Now, in addition to the already stacked card headlined by Brock Lesnar and Roman Reigns, arguably the biggest star in pro wrestling history could be returning to the ring for his first match in 19 years.
Stone Cold Steve Austin is rumored to be coming out of retirement to face Kevin Owens at WrestleMania.
On February 15, Fightful reported that Vince McMahon "has made a significant overture" to the Texas Rattlesnake to get him back into a WWE ring.
Dave Meltzer of the Wrestling Observer confirmed the rumor and said a match between Austin and Owens was discussed.
It would be Austin's first wrestling match since 2003, at WrestleMania XIX. At Safeco Field in Seattle, that was the night The Rock finally got his win over Stone Cold after losing their first two encounters. The beer-guzzling legend retired after the loss due to neck and knee injuries. He was inducted into the WWE Hall of Fame in 2009.
The news of Stone Cold Steven Austin possibly wrestling a match has been a massive shock. Nobody expected the 57-year-old to return to in-ring competition. He's occasionally dropped in for segment here and there — and had a short run as an authority figure — but nothing like an actual match.
I've decided to compile all the news, rumors, and hints to handicap the odds of Stone Cold competing at WrestleMania.
I'm not talking about cutting a promo or walking out during a segment to hit a stunner, drink beer, and leave.
Tag team matches count, though.
So far, none have posted odds for whether Stone Cold Steve Austin will wrestle.While we wait for them to appear, I'll set my own lines based on available information.
When online sportsbooks inevitably offer this WWE WrestleMania prop, we'll have a baseline probability to compare against their number. If the match with Kevin Owens is confirmed first, at least we can wager on their matchup.
Kevin Owens vs Beer and Texas
Kevin Owens is providing the most substantial evidence for Steve Austin returning. Over the past month, his WWE Raw storyline has centered around two things:
Trying to get a match booked for WrestleMania; and
Insulting Texas.
It all started on February 7, when KO approached Sonya Deville and Adam Pearce to find an opponent. The duo of on-screen GMs would not commit to any plans and suggested that Owens might not have a spot on the WrestleMania card at all.
Kevin launched into a panicked tirade about how desperately he needs a match and how much he loves the state of Texas.

WWE took a poll online that showed that 60% of fans thought Owens was lying. He confirmed their suspicions on the following week's Monday Night Raw and began his war against the Lone Star State.

The attacks continued on Twitter:
Sounds like a really lame place. https://t.co/2aZgz4TP7M

— Kevin (@FightOwensFight) February 20, 2022
Beer is gross, man. https://t.co/pvVIROBmIn

— Kevin (@FightOwensFight) February 22, 2022
If there was ever any doubt regarding who KO's Texas insults were aimed at, he also claimed that "beer is gross."
Kevin Owens wouldn't tease a feud with Stone Cold like this unless something were in the works. Vince McMahon hates to hype up matches he can't deliver.
I beat John Cena in my first match in @WWE.

Unbelievable moment. I'll never forget it. It's something I'll look back on fondly forever but there is a dark cloud around that memory, just one thing I wish I could change…

I wish it would have happened anywhere but Texas ???

— Kevin (@FightOwensFight) February 25, 2022
You know what's ironic?!

WrestleMania VI took place in one of the best places in the world but #KOManiaVI is taking place in one the worst places ever…

What a shame.

— Kevin (@FightOwensFight) February 26, 2022
Last week, Owens turned up the abuse, setting up the inevitable confrontation with Austin.
During an in-ring diatribe about Texas, the glass will shatter, and out will stomp Stone Cold to defend the honor of his home state. That much is obvious. We don't know whether it'll evolve into a legitimate match.
Jim Cornette thinks that Kevin Owens being floated as a potential opponent is evidence of Austin's imminent return. He argues that WWE would have chosen someone else unless Stone Cold hand-picked Owens specifically.
Cornette further details how KO is an excellent stylistic matchup for the Hall of Famer.
He can brawl and make Austin's offense look good without getting carried away and trying to do too much.
KO is better than most WWE performers at in-ring psychology, which aligns well with Austin's age and abilities.
Speaking of Beer…
As luck would have it, Stone Cold Steve Austin will be in the area for WrestleMania weekend. He's debuting his new American lager: Steve Austin's Badass Broken Skull Bash, by El Segundo Brewing Company. On March 31, two days before night one of the "premium live event," the Rattlesnake will be at a bar called Billy Bob's in Fort Worth, TX.
I doubt it's a coincidence that Austin has a promotional event in such close proximity to AT&T Stadium the Thursday before WrestleMania.
It's further evidence that Vince has plans for his returning hero on the show. Maybe the timing of the new beer's release is to mark a significant milestone for its namesake?
WWE is Stacking WrestleMania 38
Another detail that bodes well for fans seeing Austin at WrestleMania is the larger overall trend that seems to be going on with the card this year. WWE is loading up on celebrity appearances and returning superstars. There's even talk of Vince McMahon, WWE's 76-year-old owner having a match against Pat McAfee!
WrestleMania 38 will feature:
Logan Paul is partnering with The Miz in a tag team bout against Ray and Dominick Mysterio.
Ronda Rousey came back at the Royal Rumble and will challenge Charlotte Flair for the SmackDown Women's Championship.
Edge issued an open challenge.
There's a chance Cody Rhodes signed with WWE after leaving AEW. He could answer Edge's challenge or otherwise make his debut.
Again – – Vince McMahon maybe wrestling again!
Sami Zayn versus Jackass' Johnny Knoxville.
Champ vs. Champ – Brock Lesnar vs. Roman Reigns in a Title Unification Match.
And then they might throw in Stone Cold Steve Austin's first official wrestling match in almost 20 years?!?! What is going on?
WrestleMania is always WWE's SuperBowl, but they're still rarely stacked with this many big names and special attractions. Usually, you may get one celebrity appearance – and those are hit or miss. Sometimes a legend or two will participate in some minor way – occasionally, they wrestle.
This year's event is what one might expect for Vince McMahon's retirement WrestleMania – not that there have been any indications that he's leaving.
Maybe they're just responding to the pressures of selling out an enormous stadium two nights in a row. Dave Meltzer thinks it's all about ticket sales.
"They have a lot of tickets left to sell and the impression I have is the match is on. That's why [Owens] started doing the promos. I know that backstage at WWE all day, that's all I kept hearing about. I heard it early in the day and I kept checking around and more people were saying they heard the same thing."
After slow sales numbers early on, the company offered a buy-one-get-one-free promotion on Valentines' Day. Between the two-for-one deal and rumors about Stone Cold Steve Austin, WWE sold roughly 5,000 seats per day (for both nights) over the past week.
"There are around 53,000 tickets out for each night of WrestleMania. A legit sellout for the show would be just over 80,000. The last WrestleMania at AT&T Stadium in Dallas was 80,709, which was sold out."
Will Vince McMahon deliver on WrestleMania, or will plans change once the rumors have done their job and sold the tickets?
Are there any other reasons why WWE might want Austin on this card?
Signs Stone Cold in Training?
Not long ago, it seemed like the chances of Steve Austin wrestling one more match were slim to none. On multiple occasions, he's given long, thoughtful answers about why he'd stay retired.
In 2019, he gave the following monologue on an episode of The Steve Austin Show podcast:
"For the last couple of weeks, down there at the RAW reunion in Tampa, down there at the Madison Square Garden show at Monday Night RAW – people always ask me, 'Hey man, you're still in really good shape. You got one more match left in you?' And I tell them, 'Man.' I say, 'You know, it's a tough thing to think about.'

"Physically, would I be able to have one more match? Yes, most definitely — and I could make it to that match without being injured. Although the risks are always there, just because I think all the surgeries, I had? where I had the spinal stenosis, and getting that bone spur taken off my spinal cord? I'm in a good place. Nerves are feeling a lot better than they used to. So, you know, in theory, could I have a match? In theory, yes."
Then in 2021, the WWE Hall of Famer spoke with Ryan Satin from FOX Sports during a promotional tour for his show "Straight Up Steve Austin" on the USA Network.
The interviewer asked whether Austin enjoyed "having something like [the show], which keeps you connected to the current roster in some way?"
"Man, 100 percent, Ryan. 'Cause, you know, I'm still the biggest fan of the business that I was when I was seven years old changing the channels and stumbled across it; and then got the chance to learn it and have a pretty good run.

"So, I don't want to do nothing else in the ring. I'm done. I've retired. Everybody knows that. I don't need to go out there and drop anybody on a stack of dimes and give them stunners. Once in a year, once every two years, whatever. So, yes. This connection makes sense."
However, while he was saying one thing in public, Steve was quietly training for a comeback – or at least that's how it looks.
Two weeks ago, I saw the following tweet:
I don't know if it's connected to him possibly returning, but Stone Cold got a wrestling ring from Highspots last summer. That's plenty of time to get used to being in the ring again

— Andrew Thompson (@ADThompson__) February 15, 2022
I checked out the original tweet, and lo and behold, Stone Cold Steve Austin had a wrestling ring installed at his Broken Skull Ranch in August 2021!
Thank you so much to Stone Cold Steve Austin for allowing us to spend time at the Broken Skull Ranch 2.0 yesterday.

And an even bigger thank you to Steve for taking the time to autograph every piece we put in front of him!

Hope you enjoy your new ring!#OhHellYeah pic.twitter.com/f9cGCzKb4T

— Highspots.com (@Highspots) August 4, 2021
Training must have gone well!
He's always said that if he were to wrestle again, he'd want to do it right and spend at least six months getting back into ring shape. The timelines match up perfectly.
This video of Austin shows he's comfortable taking bumps:
Taking bumps w @SalVulcano tonight on Straight Up Steve Austin on @USA_Network right after @WWE Raw. 11/10C
Set your DVR pic.twitter.com/LsGAsP8pJz

— Steve Austin (@steveaustinBSR) August 19, 2019
Why would Stone Cold install a wrestling ring at his hunting ranch if not to train for one last match?
Most of the time, the guy lives out there in relative solitude with his wife; there's nothing to do with a ring other than run the ropes and take bumps.
What are the Odds?
I'm convinced that Stone Cold Steve Austin will perform at WrestleMania 38; the question is to what degree. It's clear Kevin Owens is setting up an angle in which he's confronted by the WWE legend and forced to eat his words for all the insults about Texas.
Will they face off in a brief segment, where KO eats a stunner and Austing walks off? Or will the Texas Rattlesnake show up on Raw in the next few weeks and challenge Owens to an actual match?
We must also consider the possibility that Stone Cold and a partner take on Kevin Owens and Seth Rollins in a tag match.
Tag team matches are easier for older wrestlers because they can hit their high spots and let a younger partner carry the rest of the action.
This week, Owens and Rollins are challenging for the Raw Tag Team Championships, and neither have WrestleMania plans.
Maybe that's by design.
Three key factors stand out when I'm calculating these odds:
Kevin Owens is leaning so hard into the Texas stuff; there's no way Vince would allow it if WWE didn't know they could deliver.
The training ring out on Austin's remote ranch.
The likelihood of it being a tag match. WWE has seen how Sting has shined teaming with young stars and can do the same to ensure a great showing from Stone Cold. Plus, KO is already teaming with Seth Rollins while also yelling about Texas and beer.
I'm setting the line at –175 in favor of Stone Cold Steve Austin wrestling a legitimate match. That has an implied probability of 63.64%.
In the meantime, I'll be waiting to hear that glass shatter!