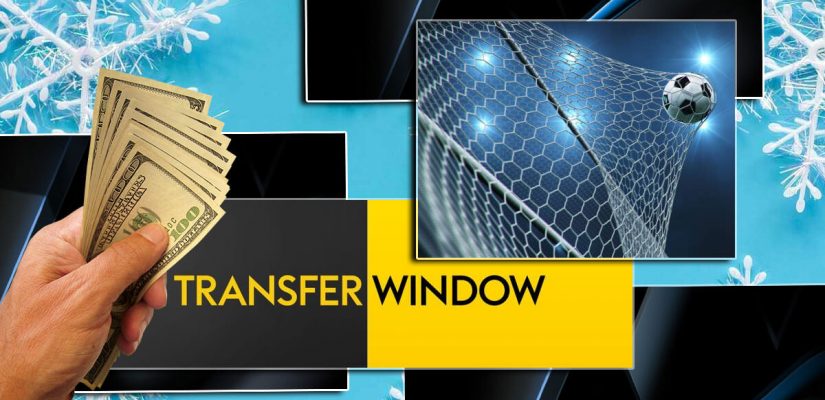 January 1st marked the start of this year's winter transfer window across the old continent. Some of the best European teams are already on the lookout for new talents, ready to bolster their roster for the remainder of the season. The second half of the season is often known as the photo finish, with winter transfer window always stirring up quite a bit of dust.
What about transfer windows bets, though?
Well, luckily, there's a wide array of options available. Whether you're into betting on specific players or managers, reputable real money soccer bookmakers will have you covered.
We're not just here to talk about transfer window bets for some of the most sought-after players out here. We'll also be checking out a couple of interesting managerial specials.
So, let's cut the introduction here and focus on the important stuff!
2022 Winter Transfer Window Bets | All You Need to Know
The winter transfer window has started in early January for all UEFA-based leagues. It ends on the last day of January, which means there's almost a full month of hot transfer talks ahead of us.
Lots of big deals are supposed to happen this winter; lots of high-profile players are looking for moves to new clubs.
January is going to be packed with transfer action, so let's see if there are any viable winter transfer window bets!
Erling Haaland Saga Continues
First, let's look at the most interesting bets involving the Norwegian wunderkind Erling Haaland:
Haaland to stay with Borussia Dortmund:
-5000
Haaland to go to Real Madrid:
+1100
Haaland to go to Manchester City:
+1200
Haaland to go to Manchester United:
+1800
Haaland to go to Bayern Munich:
+2000
Please note these bets are only valid if a move happens before the end of the winter transfer window
It's no surprise a player of Haaland's talent is chased by all the top European clubs. He's having yet another brilliant season for Dortmund, scoring goals at will and displaying true goal-scoring potential, even higher than the French golden boy Kylian Mbappe.
BVB director Kehl: "We'll sit down with Haaland in the next few weeks and discuss the situation. It would be good if a decision doesn't drag on forever". ?? #BVB @swearimnotpaul

"He's in very good hands at BVB and why we as a club can continue to be a very good option for him".

— Fabrizio Romano (@FabrizioRomano) January 5, 2022

However, the most recent transfer rumors suggest he isn't going anywhere this January. He might sign a contract with Real Madrid, though the move won't happen until summer.
That said, I reckon Erling Haaland winter transfer window bets just aren't viable.
The move will happen, the Norwegian star isn't likely to stay with Borussia Dortmund for another season… but it won't happen until summer.
Jesse Lingard Could Be Running Away from Old Trafford this Summer
Lingard to stay with Manchester United:
-333
Lingard to move to West Ham:
+175
Lingard to move to Newcastle:
+275
Jesse had a wonderful season with West Ham. He managed to get himself back into Premier League action with fine matches, scoring and assisting like the best of them. This prompted a move back to Manchester United and, despite having a solid start early on, he sunk into the grayness of the team, first with Ole and now with Rangnick too.
The English midfielder is noticeably frustrated with the direction the team is heading towards. He's still getting solid playtime, but his performances and overall results just aren't good enough. Plus, United have a surplus of players in his position which could mean Jesse might be looking for a move away from the club after the first half of the season.
Still, Lingard to stay put is the likeliest option according to the bookies. However, at +175, there's definitely value in betting on him to go back to West Ham and help them clinch European football next season. Newcastle is interested too. The takeover gave them money but they're currently in a bad position and need a miraculous winter transfer window if they are to remain in the Premier League. Jesse Lingard would fit perfectly with their struggling midfield, so if you're going for some winter transfer window bets this week, Lingard to Newcastle seems like a good choice.
Donny van de Beek to Ajax?
Van de Beek to stay with Manchester United:
-2000
Van de Beek to move to Wolves:
+600
Van de Beek to move to Everton:
+600
Van de Beek to move to Newcastle:
+700
Let's face it, Donny van de Beek was a victim of Ole's style of play. The Norwegian strategist (if he can be called that) didn't give Donny any playtime. Rangnick seemed ready to right that wrong, but van de Beek's dissatisfaction with the team has to be pretty high.
Reports suggest Donny is looking for a way to get back to Ajax. Other teams seem interested in his services too, but if he is to leave this winter, it's most likely going to be back to Ajax. At +1000, the value is definitely there, but other Premier League clubs have joined the chase.
Wolves, Newcastle, and Everton are the frontrunners, but I somehow believe Donny is sick and tired of the ePL. If he's to depart from Old Trafford this month, he'll try and force a move back to the Dutch Eredivisie. At +1000, it's definitely worth a shot with a smaller stake.
Pogba Getting Closer to PSG
Another entry, another Manchester United player. It's the last one, pinky swear!
Pogba to stay with Manchester United:
-4000
Pogba to move to PSG:
+900
Pogba to move to Juventus:
+1400
Pogba is not going to be Manchester United's player next season. The Red Devils ought to want to sell him this January because his contract expires this summer and he'll be able to walk away without a transfer fee.
And while the likes of PSG and Juventus are keen on signing the world cup winner, it probably won't happen until summer.
Don't get me wrong. A deal is likely to happen in the next few weeks, be it with Juventus or PSG, but the move won't happen until summer. For that reason, if you're into winter transfer windows bets, you might want to skip Paul Pogba and look for value elsewhere!
Declan Rice's Future Still Uncertain
Declan Rice to stay at West Ham:
-5000
Declan Rice to move to Manchester United:
+800
Declan Rice to move to Chelsea:
+1200
Next up, Declan Rice. One of England's finest talents is showing off his impressive pallet of skills match in and match out. Even though Rice is valued at massive €70.5 million, which makes him the ninth most expensive defensive midfielder in Europe, lots of teams want his services.
Manchester United seem to be the frontrunners at +800, with the likeliest option still being West Ham at -5000. Chelsea are a potential destination too, though the rumors aren't nearly as strong as they are with Manchester United. We could see a move happen this winter, so Man Utd at +800 is the ideal option here.
Timo Werner Action Spicing Up
Timo Werner to stay at Chelsea:
-10000
Timo Werner to move to Barcelona:
+900
Timo Werner to move to Manchester United:
+900
Timo Werner isn't going anywhere, that's for sure. The odds perfectly reflect on that, giving Chelsea -10000 odds to keep their struggling striker at bay. In fact, with Romelu Lukaku on the loose (a fine way of labeling his recent behavior), Chelsea might even opt to keep the German.
Barcelona are the frontrunners for signing the German, but we won't see a deal wrapped up this January. We're going to see how things unfold in the next couple of months, but with Barcelona keen on signing him and knowing they're in a financial crisis, I doubt we'll see a move at all… especially with Lukaku doing what he isn't supposed to be doing.
Long story short, skip this one!
Ivan Toney Might be a Worthwhile Investment
Ivan Toney to stay with Brentford:
-4000
Ivan Toney to move to Arsenal:
+1000
Ivan Toney to move to Everton:
+1600
Ivan Toney to move to Tottenham:
+1600
Brentford's Ivan Toney was supposed to be a one-season wonder. But, his goalscoring tally just keeps on increasing. It's not a massive one, four goals, but Ivan is the team's best assistant too. According to Toney's Transfermarkt page, he's currently valued at €32 million. He's not too young, though – he's 25 so we can already say he's in his prime.
A prolific goalscorer is definitely a valuable asset in the Premier League, with several clubs looking to bolster their attack. A move to Arsenal might be a viable one if the Gunners manage to sell Aubameyang in the coming weeks. If that deal goes through, you can rest assured they'll go after Toney asap.
That said, if you're looking for valuable winter transfer window bets, this could be a great deal… but I suggest keeping an eye out for potential Aubameyang transfer.
Romelu Lukaku Needs to Sort Himself Out
Lukaku to move to Inter:
+800
Lukaku to move to Juventus:
+1400
Lukaku to move to Real Madrid:
+1800
Last but not least – Romelu Lukaku! The ex-Inter start hasn't really properly accommodated to the life back on the island. He did have a good start, but has now fallen into the background. He's doing more stuff outside the pitch than on it, angering his manager, teammates and Chelsea fans with awkward social media posts.
He has said multiple times that he wishes he'd go back to Inter soon.
The thing is, Inter fans don't really like him… not after what he did last transfer window. Now that he wants back, knowing his goalscoring form in Italy, they could change their minds. But, I am still not sure if this bet is worth investing in, especially not after Tuchel and Lukaku polishing their relationship.
Next Manager Bets Looking Good Too
Now that we've covered the main player-related winter transfer window bets, it's time to see if there's any value in the managerial department. Here's what we managed to find:
Next England Permanent Manager
This seems to be a rather popular wager – who's going to be England's next permanent manager. The odds are as follows:
Southgate is here to stay, there's no doubt about that. With that in mind, this is a VERY long-term bet here. Gareth Southgate is bound to lead the Three Lions in Qatar and, depending on how far England reaches, we might see him replaced following the end of the event.
Dean Smith is the prime candidate, though the likes of Sean Dyche and Eddie Howe aren't that far either. Frank Lampard ought to be the fan-favorite to take the stick, but knowing his poor run in the ePL, we might not see England take the risk with him.
But, knowing just how long this bet could take, I suppose it's best to stay away from it for at least another six months or so.
Will Ralf Rangnick Stay with United Next Season?
Another interesting bet – Manchester United Manager at the start of the 2022/23 ePL season:
Mauricio Pochettino:
+150
Ralf Rangnick is United's interim manager and that's a known fact. But, Ole was their last interim manager and we all know how that ended. Even though he didn't do extremely well, the initial momentum (similar to what Rangnick has accomplished thus far) led United's board into giving him a chance. We could see that again, especially if Rangnick manages to snatch a spot in Champions League next season.
However, things aren't looking that well for Manchester United at the moment. They're currently sitting in seventh spot with just 31 points after 19 matches so their CL aspirations aren't looking too good.
If they fail to reach a Champions League spot, it won't be surprising to see Mauricio Pochettino step in. The Argentinian strategist is bound to lose his position in PSG, and United seem like his next destination. I have no comments on the others – it's either going to be Pochettino or Rangnick, mark my word.
That gives us something to think, for sure! We're bound to see a lot of moves this January. The European soccer stream is in a chaotic mode right now… especially the English Premier League where City are cruising towards yet another title.
Their direct competitors need to catch them:
What better way to do that than to bolster their squads? Plus, United are crumbling to pieces, not even Ronaldo can get them back up this time. Newcastle, on the other end, need major signings if they are to remain in the Premier League next season.
So yeah, long story short, we're in for a spectacular winter transfer window. It would be a shame if we let it go by without placing a few bets.