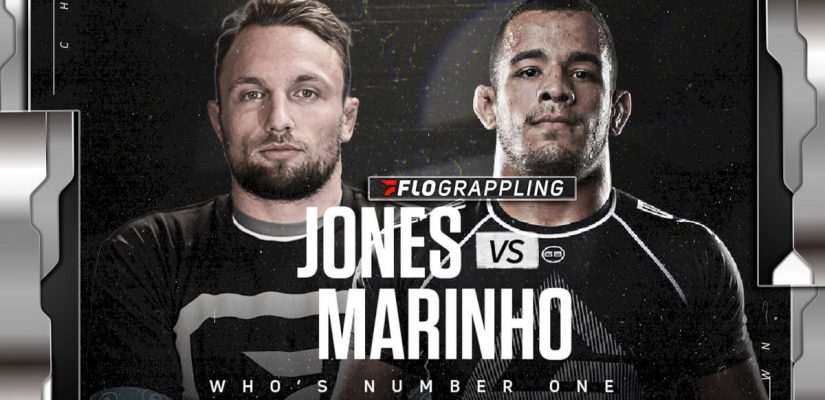 This Friday, January 21st, 2022, bets are available for the WNO tournament: Craig Jones vs Pedro Marinho. We'll see nine grappling matches with many of the highest level BJJ competitors in the game today.
Betting on Brazilian Jiu Jitsu tournaments is still developing.
It's difficult to find stats for grappling as most governing bodies are behind paywalls, and for no-gi BJJ (like WNO) there are almost no true governing bodies in the sport.
We'll look at each grappler's style to produce a top bet, we'll offer the latest odds, and an expert analysis of each match. WNO now has an Over/Under bet for each of the nine matches at the ten minute mark. Each match is fifteen minutes, so the Over is anything past ⅔ of the total match time, including a decision or overtime victory.
This is quite possibly the most exciting BJJ card I've ever seen. Almost everyone on the card is a world champion in IBJJF or an adjacent organization.
Pedro Marinho vs Craig Jones Odds and Betting Pick
| | |
| --- | --- |
| Bet Available at Betonline.ag | Odds |
| Pedro Marinho Money Line | +400 |
| Craig Jones Money Line | -600 |
| Over 10 Minutes | +230 |
| Under 10 Minutes | -290 |
Pedro Marinho BJJ
Pedro Marinho is a Gracie-Barra fighter and IBJJF World Championship winner for the 2021 no-gi division. In the eyes of the international BJJ federation, Marinho is the best there is. Mainho's passing and guillotines are his best features, rising to black belt quickly, after winning the IBJJF worlds at Purple belt in 2018, and Brown belt in 2019. His last string of losses was during ADCC, when he was quickly dispatched via heel hook from Jone's former training partner Gordon Ryan, and Kaynan Duarte. He also faced Craig Jones under Kasai 5 rules, and the two went to a draw.
Craig Jones BJJ
Craig Jones is a constant competitor at this level, competing recently against UFC's Sean Brady and losing via referee decision, after which Jones vowed to never pull guard again. Jones felt he deserved the win, despite playing bottom, due to the frequency and closeness of his submission attacks.
Craig Jones explains to Mikey Musumeci and the WNO Podcast Crew why he's done pulling guard.

— FloGrappling (@FloGrappling) January 19, 2022
This new Jones style means we'll be lobbying for a takedown position between two non-wrestlers. I expect a longer match.
Final Betting Pick
With Jones focused on the takedown, and Marinho focused on proving that his leg lock game has evolved, we'll see a long and grinding bout between these two.
Jones is becoming known as the kind of high level fighter that you can simply stall out. It happened in their first match, and it happened in his ADCC losses and recent loss to Sean Brady.
In classic BJJ style, "If you can't beat them, lay on them." Expect this to go long, I'm betting the Over 10 at +230.
Levi Jones-Leary and Tye Ruotolo Odds and Betting Pick
| | |
| --- | --- |
| Bet Available at Betonline.ag | Odds |
| Levi Jones-Leary Money Line | +275 |
| Tye Ruotolo Money Line | -350 |
| Over 10 Minutes | -220 |
| Under 10 Minutes | +180 |
Levi Jones-Leary BJJ
Leary is a Unity BJJ fighter and multi world champion in IBJJF and other tournaments, but has been inactive through 2020 and most of 2021. He's still been training though. Both of these fighters are young. Leary is only 24, and has been training nine years.
Leary has lost to fighters like Diego Ramalho, Osvaldo Moizinho and Mica Galvão.
Tye defeated Mica by split decision last year in the middleweight division, and it's notable that Tye is bigger than Leary by one natural weight class.
Tye Ruotolo BJJ
Ruotolo is scrambly and has become a bit of a pressure passer as time goes on. He's an Atos Black belt, and trained through the pandemic solely with his brother Kade, another full time BJJ competitor. He's currently at Atos, getting close attention from the staff there.
Tye is only 19, so Levi has some age on him, as well as total grappling experience. However, Levi stated he wanted to have a 'bolo shootout' with Tye.
Tye abandoned much of his no-gi bolo attacking through 2021.
Final Betting Pick
I see Leary hoping for a technical back chasing contest, while Tye will be happy to smash and pass. This match will look reminiscent of Tye Ruotolo vs Nicky Ryan, where Nicky played a DLR guard, and Tye smashed it, stepped through it, and dominated with points.
I'll be betting the favorite, Tye Ruotolo, to win at -350 for a $0.29 per dollar wagered payout.
Elder Cruz vs Nick Rodriguez Odds and Betting Pick
| | |
| --- | --- |
| Bet Available at Betonline.ag | Odds |
| Elder Cruz Money Line | +300 |
| Nick Rodriguez Money Line | -400 |
| Over 10 Minutes | +125 |
| Under 10 Minutes | -155 |
Elder Cruz BJJ
Cruz is from Checkmat, a relatively new outfit from Carlifonia under former world champion Lucas Leite. Elder Cruz is very physical. He was the 2020 IBJJF Pan champ in no-gi and gi. Cruz wrestled for Team USA in high school, then earned his blue belt in five months, a stunning feat. However, recent losses to Bodoni and Couch tell me he's not on the level of Nicky-Rod.
Nick Rodriguez BJJ
Nick had a similar rise to power as Cruz, quickly moving up through the ranks and going from a no name competitor in 2018 to a world class ADCC fighter in 2019. His recent win over Steve Mowry showed new skills, and a honed Rodriguez that we hadn't seen before. He hasn't been submitted since 2019, and he is now full time at Craig Jones B-Team academy.
Final Betting Pick
Elder is fun to watch, and he looks like Rodriguez from three years ago. With more time, he'll be a fighter to watch. For now, bet Nick Rodriguez at -400 for $0.25 per dollar wagered. Nick has been catching more submissions lately. I would have bet the over a year ago, but now he's a danger early and often.
Brianna Ste-Marie vs Tubby Alequin Odds and Betting Pick
| | |
| --- | --- |
| Bet Available at Betonline.ag | Odds |
| Brianna Ste-Marie Money Line | +195 |
| Tubby Alequin Money Line | -245 |
| Over 10 Minutes | -260 |
| Under 10 Minutes | +200 |
Brianna Ste-Marie BJJ
Brianna is a new black belt as of 2021, and a combat BJJ champion (grappling with some strikes included.) Her last big submission was Fight to Win Champion Bri Robertson in 2021, who's a rising star in the BJJ community. Ste-Marie offers a kind of aggression that we often don't see in her weight class.
Brianna is new to Flograppling events, but not new to high caliber competition.
Amanda Tubby Alequin BJJ
Alequin is the 2019 IBJJF No-gi World Champion. She's a mixed martial artist, and is currently 17-11 for Flosports events like WNO. She recently lost twice to Tammy Musumeci, and her last four losses have been via decision.
Final Betting Pick
I pick the Over 10 Minutes prop at -260. With a $38 payout per $100 wagered, this prop aligns with what I've seen from both athletes- long losses. Both fighters tend to be defensive enough to lose via decision. Expect Brianna to find top position, and use aggressive tactics that force Alequin to retain guard again and again until late in the match.
Jessica Crane vs Alexa Yaness Odds and Betting Pick
| | |
| --- | --- |
| Bet Available at Betonline.ag | Odds |
| Jessica Crane Money Line | +195 |
| Alexa Yaness Money Line | -245 |
| Over 10 Minutes | -260 |
| Under 10 Minutes | +200 |
Jessica Crane BJJ
Crane is a rising star and currently a Purple belt level competitor. She's currently 4-1 in Flosports. Crane is focused on backtakes, but struggled against Danielle Kelly's leg lock game. Alexa Yaness defeated Kelly via decision last year.
Jessica Crane will represent Ares BJJ at the WNO Championship this September

Five weight divisions & over $250,000 on the line pic.twitter.com/d4PqMui5Lg

— FloGrappling (@FloGrappling) July 29, 2021
Alexa Yaness BJJ
Yaness is 15-20 in Flosports, and while she's been primarily a gi fighter, she's lost three of her last five matches in no-gi. I feel that Crane is still a developing fighter, and this is clearly an easy match for Yaness, meant to redevelop her record after getting demolished at Abu Dhabi Worlds in 2021 by various athletes.
Final Betting Pick
Expect to see a highlight real performance by Alexa Yaness over Jessica Crane. The -245 Yaness Money Line pays $0.41 per dollar wager. Yaness has more experience, more accolades, and has beaten the people Crane lost to.
Cameron Reed vs Michael Pixley Odds and Betting Pick
| | |
| --- | --- |
| Bet Available at Betonline.ag | Odds |
| Cameron Reed Money Line | +275 |
| Michael Pixley Money Line | -350 |
| Over 10 Minutes | -180 |
| Under 10 Minutes | +150 |
Cameron Reed BJJ
Cameron is from 10th planet BJJ in the Light Heavyweight division. He has no current Flosports record, and has bad blood with Pixley. The two go into a fight at no-gi IBJJF Worlds.
Michael Pixley BJJ
Pixley won the match with Reed. He's the World Champion at blue belt, as well as a decorated wrestler from the esteemed Pedigo Submission Fighting in Illinois.
Pixely also won the Absolute division at blue belt.
He's a high quality competitor with the right gym behind him.
Final Betting Pick
Bet Michael Pixely at -350, a $0.29 per dollar wagered return. He's got big things ahead of him, and this is a grudge match he'll win with relative ease. The trash talk may make this one exciting, but rest assured it's a one sided bout.
Geno Morelli vs Kemoy Anderson Odds and Betting Pick
| | |
| --- | --- |
| Bet Available at Betonline.ag | Odds |
| Geno Morelli Money Line | +155 |
| Kemoy Anderson Money Line | -185 |
| Over 10 Minutes | -220 |
| Under 10 Minutes | +180 |
Geno Morelli BJJ
Morelli is a D1 wrestler from Penn state, a 2-0 MMA fighter, and recently lost to Patrick Downey via decision. Geno trains at Revolution Dojo in Texas and is the current wrestling instructor on staff. He's athletic, scrappy, and new to BJJ.
Kemoy Anderson BJJ
Kemoy is a 10th Planet El Paso Athlete and 0-1 MMA fighter. He's some six years older than Geno as well.
Anderson is a black belt in BJJ, and is currently 4-3. After watching his matches with Tiegs and Guaresi, I see an upset.
Final Betting Pick
Kemoy doesn't have the athleticism to face Geno. Kemoy looks for arm locks and upper body attacks, but will struggle against a high quality wrestler to devise more subtle and sophisticated submission work.
I'm betting Geno Morelli at +155, and this is my most confident bet on the card.
David Garmo vs Jacob Couch Odds and Betting Pick
| | |
| --- | --- |
| Bet Available at Betonline.ag | Odds |
| David Garmo Money Line | +250 |
| Jacob Couch Money Line | -325 |
| Over 10 Minutes | +200 |
| Under 10 Minutes | -260 |
David Garmo BJJ
Garmo has over 300 wins in BJJ competition. He's a Danny Agemy black belt, and multi time IBJJF champion and professional BJJ competitor. Recently, he lost to Sean Yadimarco and Hunter Newton at ADCC trials and NoGi Worlds.
Garmo had a rough 2021, and he doesn't have it any easier with Couch.
However, he's a leg locker, and these two will have a leg lock shoot out early.
Jacob Couch BJJ
Couch is coming off an upset win over Robert Jiminez, one of the greatest grapplers currently in the game.
Couch is bigger than Garmo's natural weight class, but Garmo has been adding weight over the last two years.
I see Couch sitting for leg locks early, and the match stalling out between two people with a deep understanding of the game.
Final Betting Pick
I think we'll see a leg lock clinic from both fighters, resulting in a long match with plenty of attacks and escapes. I'm betting the Over 10 Minutes prop at +200 for double your money. Many see an early Couch win, but against many higher level fighters, Couch takes his time. Garmo is no pushover, and will find off leglocks with deep knowledge of the position.
Estevan Martinez vs Mikey Musumeci Odds and Betting Pick
| | |
| --- | --- |
| Bet Available at Betonline.ag | Odds |
| Estevan martinez Money Line | +285 |
| Mikey Musumeci Money Line | -360 |
| Over 10 Minutes | -275 |
| Under 10 Minutes | +215 |
Estevan Martinez BJJ
Martinez is a black belt from Lucas Rocha, and he's a IBJJF champion in 2021 and 2020. He's a top position fighter and high quality guard passer, who will be happy to take the fight to Musumeci's RDL game early.
Martinez is 30-28 in professional level BJJ, and has gone 1-2 over his last three.
Mikey Musumeci BJJ
Musumeci is coming off his first ever no-gi loss just six matches ago, and he has something to prove. He's a multi time world champion at 55-5.
Since his loss he's finished five of his six matches via submission finish, and is back down to his normal weight class of 57 kilograms. He lost at 70 kilograms.
Mikey's leg lock game is continuing to develop, with six of his last ten matches ending via leg lock submission.
Final Betting Pick
This is the right match to see Mikey back in the WNO winning bracket. Bet Musumeci at -360 for $0.38 on the dollar. I'll be parlaying this match with Geno Morelli for a big win.
WNO 2022 Wrap Up
Expect the highest level talent at WNO this Friday, and avoid betting too many Under props. These matches usually go long, and with so much talent in one place, we're going to have a long night.
If you're confused about BJJ, start with our BJJ betting guide. Thanks fight fans! Leave a comment below for more combat sports betting action.