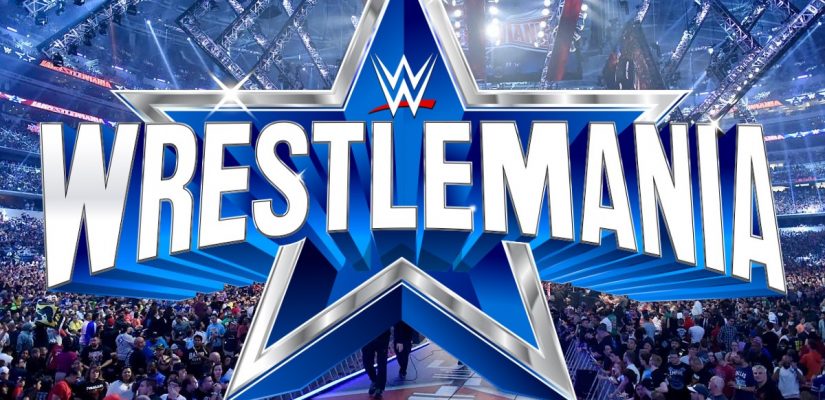 We're days away from WrestleMania 38 weekend, WWE's flagship live event – the Super Bowl of professional wrestling – taking place on April 2 – 3 at AT&T Stadium in Arlington, Texas (and can be watched on NBC's Peacock app). The go-home episode of Monday Night Raw is in the books, the card has been set, and the oddsmakers have posted WrestleMania betting odds for all the scheduled matches.
All that's left is to preview the action, make some predictions, and hurry over to our favorite WWE betting sites to place our WrestleMania bets!
If you're interested in our previous coverage of WrestleMania 38 and the weekend's festivities, check out the following articles:
As we'll discuss below, many of the predictions from those first two blogs have since come true.
However, the real opportunity to make money wagering on WWE matches is found amongst the official WrestleMania 38 betting odds. With at least 12 matches or segments scheduled across two days, this weekend represents the most active couple of days of professional wrestling betting you'll find all year.
Below, you'll find the match previews and WrestleMania odds separated by the day on which they'll occur. Hopefully, the WWE writers and Vince McMahon aren't overly predictable, and there's some decent value to be found. Upon first glance, I'm optimistic.
WrestleMania Odds and Picks for Day 1 – Saturday, April 2, 2022
No official match order has been released by WWE, but we know which matches are occurring on which days. The WrestleMania betting odds below are in the same order as WrestleMania 38's Wikipedia page – which appears to be a realistic schedule and may have been entered by a WWE employee.
Becky Lynch (c) vs. Bianca Belair (Raw Women's Championship)
American Odds
Matchup

Odds

Bianca Belair

-550

Becky Lynch

+325
It's always wise to start big-time pay-per-views with a bang – and Bianca Belair versus Becky Lynch for the latter's Raw Women's Championship certainly fits the bill. The rivalry between The EST and Big Time Becks stretches back to Lynch's surprise return to action at last year's Summer Slam, pinning and taking the SmackDown Women's Championship off Belair in just 26 seconds.
Becky turned heel shortly after her return and has routinely antagonized Bianca and interfered in her matches. Lynch has cost Belair multiple "championship opportunities" with late-match antics. However, when Bianca was granted rematches with the woman who took her belt, the champion managed to retain it.
My Pick
That's why Bianca Belair is such a massive favorite according to the WrestleMania 38 betting odds. She can't keep losing forever without a payoff (not that WWE hasn't done illogical nonsense like that before).
The challenger won her first title by beating Sasha Banks at least year's WrestleMania and will start her second reign on Saturday.
The Miz & Logan Paul vs. Dominik & Rey Mysterio
American Odds
Matchup

Odds

The Miz & Logan Paul

+100

Rey & Dominik Mysterio

-140
Before @reymysterio and @DomMysterio35 battle @LoganPaul and @mikethemiz at #WrestleMania 38, look back at the tumultuous road to this tag team show down. #WWEPlaylist pic.twitter.com/8a6jiEww8M

— WWE (@WWE) March 30, 2022
What makes the tag team match between the Mysterio's and The Miz with Logan Paul is that the lines flipped after the go-home episode of Raw. Most sportsbooks with WrestleMania betting odds had The Miz and Paul favored at around –160 moneyline; now, you can play them at even money.
Perhaps it's because Rey and Dominik got the upper hand on Monday night, leaving The Miz laying in the ring with his celebrity partner looking on helplessly. But if that's the reason, it defies professional wrestling logic. The person or team who looks strongest on the go-home show is often beaten at the pay-per-view.
It's also worth noting that celebrity guests do very well in WrestleMania matches. With so many special guests at this year's event, they can't all win; still, I see Logan Paul and The Miz coming out on top.
My Pick
When you look at all four participants in this match, Dominik Mysterio is the weakest link. He doesn't have the charisma or name value of Paul or the wrestling ability of his father. He's the clear choice to eat the pin.
Vince has wanted to do a father-son feud with the Mysterio's since they first formed a tag team. Rey has repeatedly turned down the idea, but that doesn't mean the WWE bookers won't set the table for a split so they can try to convince him again.
Drew McIntyre vs. Happy Corbin
American Odds
Matchup

Odds

Drew McIntyre

-1000

Happy Corbin

+500
Not long ago, Drew McIntyre was presented as a top babyface and a significant threat to the Roman Reigns' and Brock Lesnar's of the world. At last year's Mania, he beat Lesnar to become the WWE Champion!
Facing Happy Corbin at this year's event marks one of the most significant downgrades in opponents from one year to the next in WWE history! Which explains why the WrestleMania betting odds show Drew McIntyre as the heaviest favorite of the weekend.
In a world where WWE storytelling used consistent logic, Corbin wouldn't have a prayer of beating McIntyre, who's been presented as a substantially stronger competitor.
My Pick
This is a situation in which I think Drew will win, but the WrestleMania odds make him an unsuitable betting option.
Instead, I'd strongly consider taking a chance on Happy Corbin. He'll have Madcap Moss with him ringside, opening the door for interference. WWE loves their cheap heel wins that keep the babyface looking "strong." Considering the company's schizophrenic booking habits, Corbin at +500 is well within the realm of possibility.
The Usos (c) vs. Shinsuke Nakamura & Rick Boogs (Smackdown Tag Team Championship)
American Odds
Matchup

Odds

The Usos

-200

Shinsuke Nakamura & Rick Boogs

+150
Here's what Booker T had to say about this match in a recent interview in which he made predictions for the card: "There is no way I can go against my boys. I said The Usos are going to eclipse what Harlem Heat did in this business. They are definitely, truly on their way. Those guys are the real deal. They are Hall of Famers one day."
Maybe it's the AEW fan in me (Booker T often levels absurd criticisms at the promotion), but the Harlem Heat legend's prediction is all I need to consider taking the underdog.
The Usos are part of The Bloodline faction with their cousin Roman Reigns. Everyone in the group has been on lengthy championship runs. When Roman unifies the titles Sunday night, WWE needs somewhere to go with this storyline. Maybe The Usos will lose their belts, leading to some inter-family tensions.
That said, Shinsuke Nakamura and Rick Boogs are a bizarre pairing. It doesn't help that Boogs is a newcomer to pro wrestling while the veteran of Japanese Strong Style doesn't appear to be moving around so well these days.
My Pick
Still, I'm taking the weirdo underdog team based on WWE needing to do something with The Bloodline besides making them win all the time.
The Bet
Shinsuke Nakamura & Rick Boogs
The New Day vs. Sheamus & Ridge Holland
American Odds
Matchup

Odds

Sheamus & Ridge Holland

-250

The New Day

+175
The New Day is WWE's longest-running continuous tag team and multiple-time champions. Sheamus and Ridge Holland are part of a relatively new group, along with Pete Dunne, who now goes by "Butch" — seemingly based on the Peaky Blinders TV show.
When in doubt, the smart move is to take the newer group while Vince is still paying attention and trying to develop something. He will eventually lose interest or get angry and give up on them, but not yet. Plus, the Peaky Blinders wannabes have one more member than The New Day. Their third man, Big E, is out indefinitely with a broken neck.
My Pick
I'll take the favorites here because this feels like a spot where the more established team in The New Day are being used to legitimize a relatively new stable with a unique gimmick.
Charlotte Flair (c) vs. Ronda Rousey (Smackdown Women's Championship)
American Odds
Matchup

Odds

Ronda Rousey

-600

Charlotte Flair

+350
According to the WrestleMania odds, Ronda Rousey is a prohibitive favorite to beat Charlotte Flair for the SmackDown Women's Championship on night one. It comes as no surprise that the former UFC superstar would be expected to win, considering the hefty sum WWE paid her to return to wrestling.
Her chances of winning are also helped by claims from sources familiar with Ronda's contract, who say it's a longer deal than the brief January through March run that many assumed when the MMA star appeared at the Royal Rumble.
Fortunately,MyBookie has provided a second way to wager on this contest on their WrestleMania betting odds page. You can find increase the payouts by picking both the winner and their method of victory.
| | | | |
| --- | --- | --- | --- |
| Winner & Finish | Odds | Winner & Finish | Odds |
| Ronda Rousey by Submission | -500 | Charlotte Flair by Submission | +500 |
| Ronda Rousey by Pinfall | +350 | Charlotte Flair by Pinfall | +600 |
As one might expect, Rousey winning via submission is the most likely outcome. If Ronda wins, it's hard to picture her finishing the fight any other way, so if you're set on taking "Rowdy," you might as well grab the slightly better odds at –500 rather than –600.
We can also forget about Charlotte Flair winning by submission. Ronda is insanely competitive and proud of her Judo background. Even though wrestling is staged, I don't think she'd ever agree to tap out. So, if Flair manages to retain, expect it to be by pinfall or disqualification. Only one of those possibilities is a betting option.
My Pick
My prediction is that Ronda Rousey wins by submission. However, I see a slight possibility WWE keeps the belt on Charlotte Flair due to how forced and awkward Rousey has been as a babyface. Her presence in WWE hasn't generated the kind of attention it did during her first attempt at pro wrestling. She also doesn't seem as sharp in the ring.
And let's be honest: Historically, Vince McMahon has loved having Charlotte Flair win matches that she should clearly lose.
It's not the most probable outcome, but I'd take a flier on Flair +350. However, I wouldn't bet on Charlotte with her method of winning because if they book the upset, it'll be by disqualification or something silly. She won't beat Rousey clean.
Stone Cold Steve Austin vs. Kevin Owens on "The KO Show"
American Odds
What Will Happen First?

Odds

Stone Cold Stunners Kevin Owens

-800

Kevin Owens Stunners Stone Cold

+450
I've already covered this encounter in another blog, so I'll keep this short and sweet. We still don't know the precise nature of the interaction between Kevin Owens and Stone Cold Steve Austin. The plan is for Stone Cold to appear on The KO Show, then who knows how things will evolve from there.
Here's what pro wrestling expert Dave Meltzer said about Austin on a recent Wrestling Observer Live broadcast:
"[Austin] and I happen to have a mutual friend who just saw him, and he told me he's in fantastic shape. So, I mean, he might take his shirt off. There's gonna be a fight. There's gonna be a brawl, without a doubt. It's not just gonna be just a kick in the gut and Stunner. He's training very hard, so it's gonna be more than that. Will he do a 20-minute match? No, I don't think so. Will he go seven minutes or something and have a brawl all over the place? I kind of expect that, yeah."
Amazingly, despite the uncertainty surrounding the segment, BetOnline has added a prop bet to their slate of WrestleMania betting odds. You can wager on who will land the first Stunner on the other. As expected, Stone Cold Steve Austin is a massive favorite.
My Pick
How do you pick against Stone Cold here? If you're going with Kevin Owens, the expectation is that he lands a cheap shot early in their encounter, then the returning wrestling legend recovers and pays him back. Because we all know that Austin is 100 percent hitting the last Stunner of the segment.
Still, it's almost impossible to imagine Stone Cold eating a Stunner during his big return to a WWE ring. It wouldn't look right, and nobody wants to see it.
I have to pick Stone Cold Steve Austin despite the lopsided betting odds.
The Bet
Stone Cold Hits the 1st Stunner
WrestleMania Odds and Picks for Day 2 – Sunday, April 3, 2022
WWE Women's Tag Team Championship Fatal Four-Way Match
| | | | |
| --- | --- | --- | --- |
| Winners | Odds | Winners | Odds |
| Naomi & Sasha Banks | -200 | Zelina Vega & Carmella | +500 |
| Liv Morgan & Rhea Ripley | +185 | Shayna Baszler & Natalya | +750 |
WWE treats their women's tag team divisions with utter contempt most of the time, so predicting what they'll do in an eight-person, tag team fatal four-way is anybody's guess. That said, Sasha Banks deserves much better than to be in this match, so if they're going to insult her this way, The Boss – and her partner Naomi — should at least win. Fittingly, the WrestleMania odds have their team as the favorites.
The only other duo with any business winning the women's tag titles is Liv Morgan and Rhea Ripley. They've garnered lots of attention online and would be a fresh new team for the WWE writers to build angles around.
Regardless, this isn't a match you should waste too much time handicapping. I guarantee Vince McMahon and Company aren't devoting any time to booking it or making plans for the winner.
My Pick
I'm taking Rhea Ripley and Liv Morgan for no other reason than because WWE will probably need Sasha Banks as a singles performer after WrestleMania's two women's championship matches.
The Boss is a natural first challenger to Bianca Belair, who took her belt in the night one main event at WrestleMania 37.
Johnny Knoxville vs. Sami Zayn (Anything Goes Match)
American Odds
Matchup

Odds

Johnny Knoxville

-300

Sami Zayn

+200
I was stunned when I saw the WrestleMania betting odds for Johnny Knoxville versus Sami Zayn. The Jackass star is a significant favorite over the full-time WWE performer. Knoxville is pretty old and beaten up from the decades of gruesome stunts, so it's hard to picture much actual wrestling taking place.
The "Anything Goes" stipulation opens it up to more shenanigans and weapons spots. I'd expect to see other members of the Jackass crew interfering on Johnny's behalf as well.
As for the storyline, the last month or so has been hilarious. Especially since Knoxville hired a plane to fly around advertising Zayn's phone number.
?#SmackDown #WrestleMania @realjknoxville @SamiZayn pic.twitter.com/Tjdij3AZs8

— WWE (@WWE) March 12, 2022
The stunt inspired a beautiful public meltdown from Sami that mostly took place on Twitter. You must give the Canadian WWE superstar credit; he has carried this feud and done a fantastic job playing the fool throughout this angle.
Check out these tweets:
It is 12:55am EST – it has been going like this for 11 hours straight.

THIS IS WHAT I'M DEALING WITH!!! pic.twitter.com/RzC9SSVBOB

— Sami Zayn (@SamiZayn) March 12, 2022
PLEASE STOP pic.twitter.com/xfIgtBGe8L

— Sami Zayn (@SamiZayn) March 12, 2022
My phone hasn't stopped in 5 days.

There's a call/FaceTime/text coming in literally every second of every day.

Talked to a guy from Bangladesh at 4am last night who said to 'just change my number'.

I've had this number 9 years.
I'm not changing it.
JOHNNY KNOXVILLE WON'T WIN.

— Sami Zayn (@SamiZayn) March 15, 2022
I'M IN HELL pic.twitter.com/GKWrD55fPS

— Sami Zayn (@SamiZayn) March 12, 2022
My Pick
Would WWE book Johnny Knoxville to lose? I can't picture it; not in an "Anything Goes" match. I expect this to be an exhibition in who can take the most punishment. There will be plenty of weapons shots and painful stunt spots. That's Johnny Knoxville's world. Nobody is beating the face of Jackass at his own game.
Austin Theory vs. Pat McAfee
American Odds
Matchup

Odds

Austin Theory

-150

Pat McAfee

+110
This Sunday, on the second night of the most stupendous #WrestleMania in history, @PatMcAfeeShow goes one-on-one with @austintheory1!@WrestleMania streams LIVE this Saturday and Sunday at 8E/5P exclusively on @peacockTV in the U.S. and @WWENetwork everywhere else! pic.twitter.com/s2iSbMZrou

— WWE (@WWE) March 30, 2022
Initial plans for this match called for Pat McAfee to face Vince McMahon. Thankfully, those plans changed, and now Vince is just expected to be involved somehow. Theory has been presented as McMahon's protégé for several months, so one would expect the WWE Chairman to intervene on his behalf.
McAfee is a former punter for the NFL's Indianapolis Colts and has since become the host of a popular sports talk show and the color commentator for SmackDown Live.
He's wrestled a match once before against Adam Cole in NXT. It was an extremely impressive debut that received rave reviews.
Pat McAfee is the only underdog of all the celebrities with WrestleMania betting odds.
Of all the celebrities involved in WrestleMania 38, Pat has the best chance of delivering a genuinely good in-ring performance. He's also the likeliest to lose. After all, WWE employs McAfee; the others are special guests.
My Pick
I don't have anything to back up this pick beyond gut instinct, but I like Pat McAfee at +110. Something tells me the big swerve will be Vince interfering in the match, only to turn on Theory. The former NFL star has been a huge advocate for WWE in the sports world, and I predict this WrestleMania victory to be his reward.
RK-Bro (c) vs. The Street Profits vs. Alpha Academy (Raw Tag Team Championship)
American Odds
Matchup

Odds

RK-Bro

-200

The Street Profits

+200

Alpha Academy

+350
Perhaps the most unexpected event ahead of this year's WrestleMania is the team RK-Bro entering the weekend as the Raw Tag Team Champions. Matt Riddle and Randy Orton were headed towards the usual WWE split when their course suddenly reversed. The odd couple won back their titles and seemed to have rejuvenated Raw's tag division in the process.
They'll defend the belts against two former champions, The Street Profits, and Alpha Academy.
My Pick
RK-Bro has one that neither of the challengers have: Randy Orton. And it's really hard to pick against a WWE veteran like Orton at WrestleMania. He appears to be having a blast with Riddle, which I suspect is why the team has lasted longer than anticipated. I see no reason to believe either of the other teams would take the titles off of RK-Bro right now.
AJ Styles vs. Edge
American Odds
Matchup

Odds

AJ Styles

-150

Edge

+110
This feud began as an open challenge from Edge, who was looking for a WrestleMania opponent. AJ Styles volunteered for the job, setting up a dream match between two of the sport's all-time greats. It would have been enough if that were the basis of the entire angle.
Instead, the WWE Hall of Famer, who beat the odds and returned to the ring after neck injuries had forced him into premature retirement, inexplicably went insane and turned heel. You'd expect a performer with that background story to be a babyface forever, but here we are.
The Ultimate Opportunist has embraced his dark side and relished any opportunity to violently assault Styles – including delivering a one-man con-chair-to to the veteran of ROH, NJPW, and TNA. Based on the WrestleMania odds, bookmakers expect AJ Styles to get his revenge in the form of a win on Sunday.
My Pick
I'm going with the underdog. AJ Styles is a former WWE Champion who's been with the company for many years now. He's one of the promotion's most reliable performers. Nevertheless, he made a name for himself before being signed by Vince.
Historically, WWE has used these dream matches to demonstrate the superiority of their product. The wrestlers more closely associated with their company usually wins. And that's why I'm predicting a victory for this evil new Edge character.
Bobby Lashley vs. Omos
American Odds
Matchup

Odds

Omos

-200

Bobby Lashley

+150
This match wasn't booked until the go-home episode of Monday Night Raw. Omos, the undefeated giant of a man, won a handicap match before grabbing the mic and asking for a WrestleMania challenger. Bobby Lashley answered the call, and the two had a stare-down and brief exchange in the ring.
Will Omos finally lose his undefeated streak?
My Pick
I think so. Bobby Lashley is booked as one of the toughest wrestlers in the division, on roughly the same level as Roman Reigns and Brock Lashley – maybe a half a step down from those two. Regardless of the size difference, he won't get squashed by someone as green as Omos.
The undefeated streak must end eventually, why not this weekend?
Roman Reigns vs. Brock Lesnar (Championship Unification)
American Odds
Matchup

Odds

Roman Reigns

-350

Brock Lesnar

+225
Headlining night two of WrestleMania is one of the biggest championship matches in WWE history. You'd be hard-pressed to find two wrestlers with more achievements and accolades than Roman Reigns and Brock Lesnar. They're the two most celebrated names in the company and have consistently been booked as the two most dominant forces on the roster.
Of course, this is far from the first time they've met. In October, they fought in Saudi Arabia. Roman defeated Lesnar to retain the Universal Championship. Their rematch on Day 1 was canceled when Reigns tested positive for COVID-19, so Brock joined a multi-man match for the WWE Championship, which he won.
Lesnar would lose his title and regain it on two occasions. Still, Roman has been his primary target all along.
The story they've been telling with Paul Heyman, Brock's former and Reign's current advocate, has been the best thing in WWE since The Beast returned to wrestling at SummerSlam. Working as a babyface who speaks for himself, Farmer Brock looks to be having fun and is doing some of the most compelling work of his Hall of Fame career.
Still, Sunday's match feels like the conclusion to this long angle. And I believe the championship unification stipulation is a dead giveaway to who will win.
My Pick
As you can see from the WrestleMania betting odds, the Tribal Chief is heavily favored to beat Brock Lesnar and unify the belts. I believe the oddsmakers are correct in their assessment. Roman and Brock are put on a pedestal above everyone else in the company. If WWE is suddenly interested in having only one champion, it's because one of these performers is leaving.
Brock Lesnar always signs short-term, huge money deals whenever Vince McMahon is desperate. That's what happened at SummerSlam, and I'm willing to bet Brock's contract expires after WrestleMania.
Roman Reigns will unify the belts and move on to a program with Bobby Lashley or Drew McIntyre, and Lesnar will return to his farm until someone calls him for a massive payday again.