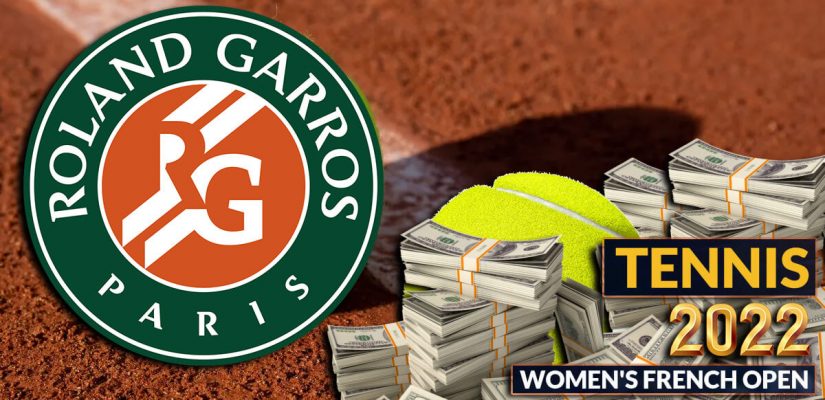 Along with the ATP French Open, the women are on the court in Paris for the WTA French Open. The WTA French Open Final is scheduled for June 12 at Roland Gorras. The women's tournament should be just as exciting, but it would have been a thriller if Ash Barty was present.
TheSportsGeek is looking at the best WTA French Open odds for the ladies at Roland Gorras in Paris. Barty and Iga Swiatek would have made for a good one between the best female tennis players in the world.
However, with Barty out of the mix and looking to do something else besides tennis, Swiatek is the clear WTA French odds favorite. It's never a guarantee in tennis tournaments, but Swiatek is, without a doubt, the most talented player in this field.
WTA French Open Betting Odds
The Pole is the favorite on the odds for the French Open in Paris. It would have been an epic year between Barty and Swiatek, but the Aussie is out, so it's evident who the best player on the WTA Tour is now. Check out the best WTA
French Open betting sites
for the second Grand Slam of the year.
Is Swiatek complaining much? I highly doubt that she's sad about Barty retiring from tennis. With Barty gone, she's the one to beat and going to make more money with her out of the way. Swiatek isn't the most recognizable name in the French Open for casual tennis fans, though.
In fact, most people aren't going to know who Swiatek is despite being the best player in the world at the moment. Serena Williams and Naomi Osaka are in the French Open. They will both receive media attention, as will Emma Raducanu over Swiatek.
Does Serena have a chance in the French Open? Her WTA French Open odds suggest that no, she doesn't. I can't argue that it's going to be tough on Serena, and +5000 to win looks accurate.
Is anyone going to be good enough to beat Swiatek? It's unlikely to be Williams, Osaka, or Raducanu if there is an upset.

We have ATP French Open predictions and WTA French Open predictions at TheSportsGeek for this tournament on the clay. The best odds for the 2022 WTA French Open women's tournament can be found below.
Odds For WTA French Open
Novak Djokovic is the leading favorite to win the ATP French Open. That's not a shocker. We don't have any surprises for the WTA French Open betting odds, either. The best in the world, Iga Swiatek, is the favorite to win the women's French Open to no one's surprise.
There is no question about who is expected to win the WTA French Open. It isn't as clear for the
men's side
, but anyone winning other than Wiatek would be an upset.
Swiatek's WTA French Open betting odds are even money to win the tournament. The next closest player to Swiatek on the French Open odds board is Simona Halep, with +900 odds to win at Roland Gorras.
The top-3 favorites to win the WTA French Open are +100, +900, and then Ons Jabuer at +1600 to win. Osaka is +3300 to win the French Open.

Who is the best bet to win the French Open on the women's side? We'll get into that below.
| Odds | Player | Country |
| --- | --- | --- |
| +100 | Iga Swiatek | Polish |
| +900 | Simona Halep | Romania |
| +1600 | Ons Jabuer | Tunisia |
| +1600 | Paula Badosa | Spain |
| +2000 | Maria Sakkari | Greece |
| +2200 | Aryna Sabalenka | Belarus |
| +2500 | Bianca Andreescu | Canada |
| +2800 | Amanda Anisimova | USA |
| +3300 | Anett Kontaveit | Estonia |
| +3300 | Barbora Krejcikova | Czechia |
| +3300 | Emma Raducanu | Great Britain |
| +3300 | Garbine Muguruza | Spain |
| +3300 | Naomi Osaka | Japan |
| +4000 | Cori "Coco" Gauff | USA |
2022 WTA French Open Predictions
Iga Swiatek (+100)
The French Open for the women should be Iga Swiatek if she doesn't come down with an illness or suffer an injury. Swiatek is too good for the rest of the WTA Tour, especailly when focused at a Grand Slam event.
Swiatek has won five straight tournaments goingt into the French Open. Without Barty in the mix, Swiatek has free reign to do whatever she wants against the rest of the WTA.

There would have been some memorable battles between Barty and Swiatek if she had not retired from tennis. It's all Swiatek now.
Swiatek blasted past Ons Jabeur in the Italian Open Final in her most recent win, 6-2, 6-2. Her closest calls in Italy? A 7-6, 6-0 win over Bianca Andreescu and 6-4, 6-1 over Victoria Azarenka.
Swiatek Torching the WTA Tour
In other words, no one was close to Swiatek in Rome. Ludmilla Samsonova is her only opponent to force three sets in her last three tournaments. After that brief scare, Swiatek made it look easy in a 6-2, 6-2 win over Aryna Sabalenka.
Note that Swiatek has won a surreal 28 straight matches going into Paris. Since a loss in the Australian Open, Swiatek is 29-1 in her previous 30 matches.
Swiatek has won 40 of her previous 41 sets on the court and is in the best form of her career entering the French Open. She is going to be a heavy favorite in every match she competes in at Roland Garros.
Barring her not feeling well or an injury, Swiatek is going to go deep into the French Open. You won't get anything close to even money at that point. You will need to lay heavy juice to back her to win.
Considering her true odds to win the French Open is likely -125 to -130, even money isn't a bad deal on Swiatek. Her WTA French Odds look strong enough to consider a bet on the unstoppable Swiatek in Paris.