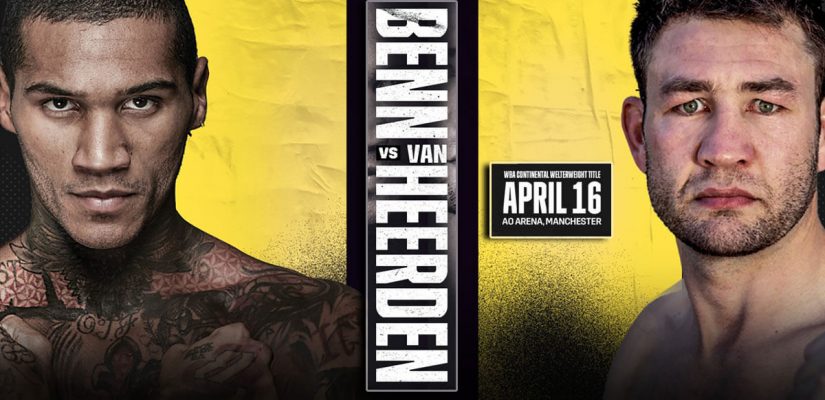 Our betting coverage of Benn vs Heerden, DAZN Boxing's main event for April 16th, 2022 takes a deep look at the stats and betting odds to give you our top betting pick. We're analyzing each fighter's style and producing expert picks for the money line and prop bet opportunities. Place your bets before 5:00 PM ET and stream the fight through a DAZN subscription. 
Top Betting Pick for Benn vs Heerden
Connor Benn has the momentum and has defeated fighters like Algieri that have only ever lost to champions.
He's the far faster fighter, and his focus on angles and head movement should keep Heerden on his heels.
Heerden's last fight ending in NC headbutt in round one means he hasn't really competed since mid 2019, and that three year lay off will cost him given the blistering pace of Benn. Tony Sims built Anthony Joshua, Ted Cheesman and many of the best technical counter punchers in British boxing, and should continue that legacy in Benn as he advances to title unifier status.
The money line pays out at $6 per $100 wagered and is a nice addition to any parlay ticket.
Lead Up to Benn vs Heerden 
Benn is an undefeated fighter coming off a win over Chris Algieri. He has ongoing beef with Kell Brook, but has set that fight to the side to face The Heat. Chris van Heerden is a South African Boxer inactive since late 2020. His only losses include the champ, Eroll Spence Jr, and former IBF title holder Nikola Stevanovic. This is a gatekeeping bout, to determine if the hyped Conor "The Destroyer" Benn can defend his WBA Continental Welterweight Title for the eighth time. 
Tale of the Tape for Benn vs Heerden
| | | |
| --- | --- | --- |
| Fighter  | Connor 'The Destroyer' Benn | Chris 'The Heat' van Heerden  |
| Ranking  | #5 | Unranked due to Inactivity |
| Age | 25 | 34 |
| Height | 5'8'' | 5'9'' |
| Reach | 68'' | 72'' |
| Total Fights | 20 | 31 |
| Record | 20-0 | 28-2-1 |
| Knockouts | 13 | 12 |
| Stance | Orthdoox  | Southpaw  |
| Inactivity  | 125 days  | 428 Days |
| Boxing trainer  | Tony Sims  | Wild Card's Julian Chua  |
Benn is the far younger and slightly smaller fighter. The four inch reach advantage is something to consider, especially since Heerden is a southpaw and will be looking to fire that left straight down the middle. Have a closer look at both fighters during faceoffs and see that Benn is the smaller fighter, but carries broader shoulders and likely cuts just as much weight as Heerden. 
Conor Benn vs Chris Van Heerden Face-Off ahead of Saturday clash.

If 'The Destroyer' defend his World Boxing Association Continental Welter Title against 'The Heat' at Manchester arena in UK ??. #boxing #BennVanHeerden #conorbenn #DAZN #daznboxing pic.twitter.com/2x29SKVwod

— Fight Gist media (@FightingGist) April 14, 2022
Comparing the Fighters Trainers
Tony Sims is one of the current best in the sport with five active contenders. His style produces some of the fastest fighters at each weight class. The connection these two have seems to be a quality relationship, and Benn said he's indebted to Sims for his tutelage. Julian Chua is a wildcard coach working with both boxers and MMA fighters. Some analysts say his focus on MMA has taken away from his boxing, but he was and always has been a Freddy Roach trained boxing coach with the insight of that mentor in his teachings. Sims is the more proven coach overall and should tilt your betting pick in Benn's direction. 
Betting Odds for Benn vs Heerden  
| | |
| --- | --- |
| Bet | Odds |
| Benn Money Line | -1800 |
| Heerden Money Line | +825 |
| Conor Benn in Rounds 1-2  | +600 |
| Conor Been in Rounds 1-3 | +300 |
| Benn in Rounds 1-6 | EVEN |
| Benn by TKO | -240 |
| Benn by Decision | +245 |
| Heerden by Decision | +1800 |
| Over 6.5 Rounds  | EVEN |
| Under 6.5 Rounds  | -140 |
Benn was a -700 over Algieri, and has ranged from -455 to -10555 over his last ten fights since 2016. Heerden's betting odds have varied, but he was the underdog in all losses. 
Top Prop Betting Picks
Benn should win via knockout. He's put down five of his last seven opponents, and looks to be getting better along the way. His 65% knockout ratio means that on average he's due for a decision win, which is why we're ignoring going for the knockout props as our main pick. 
Still, with Heerden taking two years off, I'd avoid the Over 6.5 rounds bet, and think twice about Round betting for Benn. The prop bet Benn by Knockout at -240 is the highest confidence position we are willing to take. Heerden fought champions for a reason, and Spence took eight rounds to knock him out. 
Boxing Analysis for Benn vs Heerden
Let's take a close look at their boxing side by side. This footage is from the most recent training camp of both fighters. It's obvious that Benn has more speed, and the technical work makes Heerden look tired. I see one fighter at his peak and another clearly on the down hill. Still, Heerden has knockout power and can catch Benn if he underestimates him. 
Benn's Knockout Power
Here's the finish from the last fight with Algieri. Try to see the punch. The one-two combination and angle comes so quickly it's tough to believe it. Algieri looked like he was standing still and accepting the shots. 
Delightfully tasty work from Connor Benn ⚒️ #BennAlgieri
pic.twitter.com/SAkPZi6ITV

— HJ Mann (@HJMDB3) December 11, 2021
The same thing happens here. Been gets a fighter up against the ropes and his consistent speed and aggression in the fight in an instant. Few fighters are able to continue doing this at the highest level. 
First round stoppage ?? Connor Benn #MatchroomBoxing pic.twitter.com/GQvoehnWOl

— Zac Maddock (@ZacMaddock) April 10, 2021
Heerden's Age and Record
Heerden is now 34, and has won five straight. Of the fighters he's faced over his last ten, the toughest may have been Mahonri Montes, 36-10 boxer that hasn't held a title since 2008. The Errol Spence TKO was tough to recover from and this is his first fight back after three years, a fighter inside the top ten who will likely face Butaev, Kell, Spence, or Ugas next. This is too big of a leap for a fighter that was 31 the last time he fought a full length bout.  
Benn vs Heerden Boxing Pick Wrap Up
If you're looking for a parlay pick, I like the Spence vs Ugas money line. Heerden is at the tail end of an awesome career, and a fight with a rising star is a great last hurrah, but not the best choice strategically. Benn will out pace him and out speed him inside the pocket. I would love to see these two fighting three years ago.