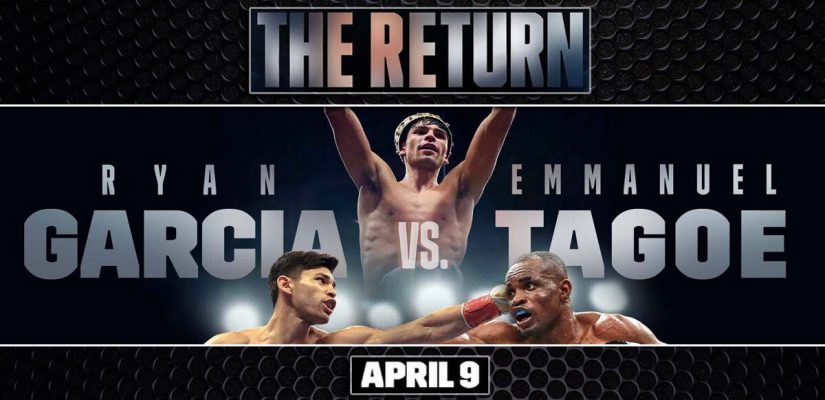 Boxing's top young up and comers collide in Garcia vs Tagoe, and we've crunched the stats to give you our topping betting pick. Ryan Garcia returns from 14 months off to defend his WBC, WBO and NABO titles and hopes to obtain Tagoe's IBF and WBO titles. The Garcia vs Tagoe odds are accurate from Bovada as of April 4th, 2022 and you'll place your bet before April 9th, 2022 at 10PM ET to get in on the action for Garcia vs Tagoe.
Top Boxing Betting Pick for Garcia vs Tagoe
Ryan Garcia is a strong favorite who's managers are still building his boxing brand. Tagoe lost his professional debut but has been fighting boxers that aren't on the the level of Ryan or Campbell. Ryan's power and hand speed prove he could be one of the best to do it, while Tagoe's best performances are unanimous decision wins with lackluster punch stats.
Leading Up to The Flash vs The Gameboy
Tagoe has been publicly frustrated with Ryan Garcia, as he was set to fight the flash in 2021 but the WBO sanctioning bodies stopped Tagoe from fighting anyone in the top six. Garcia fought for the WBC mandatory position against Luke Campbell, sidelining Tagoe and forcing him to face 36-5 Mason Menard, a fighter outside of the top ten.
Garcia vs Tagoe was scheduled this February, giving the fighters three months to prepare for the fight. Tagoe's engaged in a little trash talk, saying that "Ryan Garcia is Easy"
After 15 months out, the undefeated @RyanGarcia is back on DAZN this Saturday ?#GarciaTagoe pic.twitter.com/o0MKl1qTbV

— DAZN Boxing (@DAZNBoxing) April 4, 2022
Get hyped. This is going to be a fight worth watching, and the first step in Garcia backing up the amazing amount of trash he's been talking.
Tale of the Tape for Garcia vs Tagoe
Fighter
Ryan 'The Flash' Garcia
Emmanuel 'The Gameboy' Tagoe
Age
23
33
Height
5'10''
5'8''
Reach
70''
68"
Total Fights
21
33
Record
21-0
32-1
Knockouts
18, 85%
15, 45%
Stance
Orthodox
Orthodox
Inactivity
14 months
16 months
Normal
Weight class
Lightweight
Super-Feather,Lightweight
Boxing trainer
Joe Goossen (Eddy Reynoso until early 2022)
Centeno's Sweatbox
(Akesse until 2016)
Ryan is the bigger man and has always fought at lightweight. Gameboy is coming up from featherweight at the beginning of his career, but this may have more to do with finding the right weight class and never having fought as an amatuer.
The Flash's knockout percentage is nearly double Tagoe, and this isn't a measure of their opponent's but Ryan's overall superior accuracy and speed.
Who's the Better Trainer: Goossen, Reynoso, or Javiel Centeno?
Reynoso is the trainer for Canelo Alvarez and coach of Garcia for three years. Since 2018 is when Garcia busted onto the main scene, many are concerned with his performance with other coaches. However, Ryan feels better with Goossen, so for me it's less about the quality of the coach but the connection of the fighter.
Goossen is a boxing Hall of Famer who's worked with the Ruelas brothers and other major boxing champions.
Sweatbox in Florida is led by Javiel Centeno, the coach bringing up Xander Zayas and other quality boxers in Florida. He's a less proven coach than Goossen but it looks like Florida could turn into a hotspot for young boxing prodigies. I give neither fighter a serious edge in training camp.
Betting Odds and Odds History for Garcia vs tagoe  
| Bet | Odds and Payout per Dollar Wager |
| --- | --- |
| Ryan Garcia Money Line | -1400, $0.07 |
| Emmanuel Tagoe Money Line | +725, $7.25 |
Tagoe opened at +600 and is as high as +1250 on some betting sites. He has been the favorite in all bouts with a betting history, including -500 oer Menard and -700 against Saucedo.
Garcia opened at -1100 and is as high as -2100 on some betting sites. His most competitive bouts to date have been -345 to Campbell and -650 to Duno, but has ranged -1200 to -3333 across all bouts since 2018.
Will Props Become Available for Garcia vs Tagoe?
Currently, Bovada has only the money line picks for either fighter, but closer to the fight day, this bout should receive prop bets. Expect an over under and some method of victory props for Garcia vs Tagoe around April 7th or 8th, 2022.
Boxing Analysis for Garcia vs Tagoe
Tagoe is a fighter that likes to win at all costs, including boring fights. Garcia moves in fast and engages with fighters early and often, and Tagoe will be on the back foot if he's looking for another boring decision victory as he has in his top ranked wins over fighters like Vyacheslav Gusev. 
Can Emmanuel Tagoe Beat Garcie?
In the Luke Campbell fight Ryan was knocked down with a wide right hand. He came back to win the bout via knockout, but there is some concern that the looping shots and hand speed of Tagoe can be enough to run the risk of a Garcia finish. I believe it's a possibility, and bettors afraid Ryan is a fainting goat should think about the Under, not a Tagoe money line.
Still, Tagoe has only two knockouts in his last five fights, and a true finish of Garcia seems unlikely given that this is easily the toughest fight of Tagoe's career. After being out of the ring for sixteen months, I'd love to see Tagoe stay more active with moderately tougher fighters before jumping in the ring with Garcia. His mismanagement could cost him a competitive fight.
Ryan Garcia's Knockout Power
Ryan's last decision was six fights ago, a win over Carlos Morales. He only has three career decisions, the closest fight of his career being the Morales Majority Decision. Garcia landed fifty punches more than Morales in this bout, but Morales came back hard in the final three rounds and did enough to get the draw from one judge.
Still, Garcia's 85% knockout ratio includes Duno and Campbell, handing both fighters the first knockout of their career. The kind of one punch power of Garcia is something unique at the lightweight level.
PLACE YOUR BETS NOW!
Garcia vs Tagoe Boxing Pick Wrap Up
If you're parlaying the Garcia Money line at -1400, you should think about our GGG betting pick as a nice addition. If you're confused about why Ryan is such a strong favorite, we can help you improve your boxing analysis.