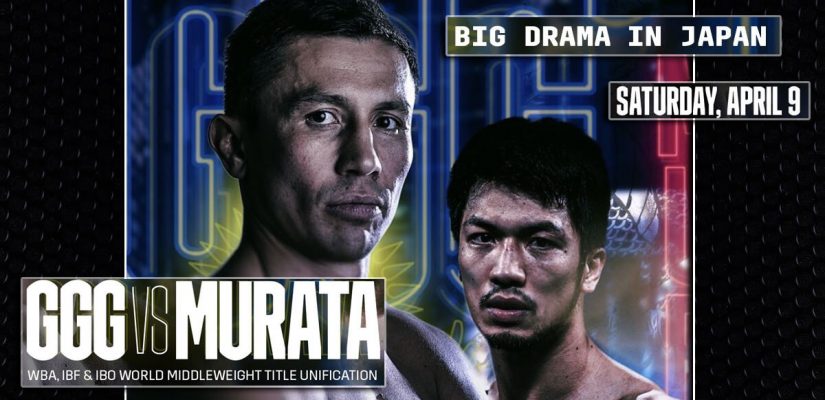 Our betting picks for Golovkin vs Murata on April 9th, 2022 include a detailed breakdown of the fight, the fighters new training regimes, and everything you need to consider to place a confident bet on GGG vs Murata. The Golovkin vs Murata odds are accurate to April 4th, 2022 from Bovada, and we've included a detailed prop bet analysis. 
Place your bets with confidence knowing the boxing experts at thesportsgeek.com are on your side for the IBF, IBO and WBA Unifier Fight, GGG vs Golden Fist!
Golovkin vs Murata Boxing Betting Pick
GGG has defeated better opponents and offered the first knockout of multiple undefeated boxer's careers. His power is legendary and Murata simply doesn't have the style to handle it. FIghters who survive Golovkin like Daniel Jacobs show a good grasp of movement around the ring, while Murata seems to struggle with anyone his up-the-center style can't finish. Murata lacks defensive head movement we've seen from fighters who perform well against Golovkin. We expect an early finish, and our prop bet boxing predictions will reflect that. 
Lead Up to GGG vs Golden Fist 
Genady is fresh off a loss to Canelo in the second of what could be the biggest boxing trilogy of the century. Murata is no slouch, but for many the only factor that could lose GGG the fight is age. At 39, Golovkin is in the golden era of his career, has switched trainers twice over the past three years, and has even implemented new strength and conditioning work for the first time. 
Murata has lost one of his last five but has never been knocked out. Analysts agree that GGG is better than Murata in nearly every category, but age is a concern. 
Tale of the Tape for Golovkin vs Murata 
Fighter 
Gennady Golovkin "GGG"
Ryota "Golden Fist" Murata 
Ranking 
#1
#5
Age
39
36
Height
5'10''
6'1''
Reach
70''
73''
Total Fights
43
18
Record
41-1-1
16-2
Knockouts
36, 83%
13,72%
Stance
Orthodox 
Orthodox 
Inactivity 
477 Days 
838 Days 
Normal 

Weight class

Middleweight
Middleweight
Boxing trainer 
Johnathon Banks
Teiken
GGG is the smaller, older man with over twice as many professional bouts. The quality of Golovkin's opponent's is also much higher. Though age is a concern, Murata isn't much younger. At 36, we can expect to see some issues in training and punching power. 
Who's the Better Trainer: Jonathan Banks or Teiken?
Banks has ignited a new focus on strength and conditioning in GGG. Genady is known for hard sparring and traditional nutrition and training protocols for his fight camps, but we're seeing GGG in a gym, lifting weights, doing dynamic workouts and using modern boxing training tactics for the first time. He looks to be in peak shape, maybe even leaner aesthetically than the Canelo fights. 
Teiken is a boxing gym in Japan that has two major trainers: Yuki Kasai and Shin Yamato. They've produced multiple world champions, and attracted many more including Genaro Herandez and Cesar Bazan. The gym focuses on sparring and mitwork, but their systematic approach to training is something to behold. I give a mild advantage to Teiken, though it's tough for this kind of systematized training to prepare you for Golovkin's power. 
One week to go! #GGGMurata pic.twitter.com/Jajo8aRYhS

— Gennadiy Golovkin (@GGGBoxing) April 2, 2022
I'm a little concerned with GGG change in conditioning tactics, but overall I think it could make his power even greater. His commitment to the evolution of his boxing is astounding. His changing protocols and coaches regularly in the pursuit of better boxing should put bettors at ease.
Betting Odds for Golovkin vs Murata
| Bet | Odds and Payout per Dollar Wager |
| --- | --- |
| GGG Money Line | -700, $0.14 |
| Murata Money Line | +400. $4.00 |
| Over 10 ½ Rounds  | +100, EVEN |
| Under 10 ½ Rounds  | -140, $0.71  |
| GGG TKO in Rounds 4-6 | +400 |
| GGG TKO in Rounds 10-12 | +500 |
| GGG TKO in Rounds 1-6 | +275 |
| GGG by TKO | -139 |
| Murata By TKO | +900 |
| GGG by Decision | +230 |
| Murata by Decision | +1700 |
Golovkin opened at -700, but some oddsmakers have had him as low as -400 at various times since opening two weeks ago. Murata has floated from +325 to +450 at opening, settling on a four times your bet underdog status. 
Over/Under Prop Bets for GGG vs Murata
Given that Murata has never been knocked out or even dropped, fans of the Japanese boxer may look to the Over 10 ½ Rounds bet at +100. Of Gennady's last ten bouts, only four fights went to decision, and two were with Canelo. The other fighters who survived include Sergiy Derevyanchenko and Daniel Jacobs. Jacob's is arguably the better of the two men, going the distance with Canelo and defeating Rosado and Chavez Jr. Their ability to survive GGG included fighting the outside of the ring and a whole lot of jabbing and clenching. 
Murata likes to stand in front of fighters and exchange, taking more punches on the gloves than any coach would like against GGG. 
Betting the Under 10 ½ Rounds means you don't have confidence that Murata has been tested, which he hasn't. Of the last six opponents of Murata, none have been inside the top ten. Rob Brant is #11, but #9 on some rankings like Ring Magazine. Golovkin has given first time knockout losses to Steve Rolls and Kamil Szeremeta in his last three fights, in rounds four and seven respectively. I believe GGG will put Murata down inside the first 10 Rounds, and the Under 10 ½ Rounds is a better bet at -140. 
Our top Props for GGG vs Murata are: 
Under 10 ½ Rounds at -140
GGG TKO in Rounds 1-6 at +275
Betting Odds History for Golovkin vs Murata 
Golovkin was -115 to +205 in his fights with Canelo Alvarez. He was a minor favorite in his fight with undefeated Sergiy Derevyanchenko at -500, but has been -1000 or better in every fight since Daniel Jacobs at -482. 
Murata was the underdog in his second fight with Brant after his loss just eight months prior. He lost to Hassan Jikam at -200 in an upset decision and opened at -565 in the comeback fight. All other bouts have been -4000 or better, indicating these two fights are far and away the toughest and closest of his career to date. Murata wasn't ready for either bout, and needed the comeback fight to win. 
Boxing Analysis for Golovkin vs Murata
We can look at the losses of both fighters to see what it will take to win. Golovkin to Canelo and Murata to Rob Brant and Hassan Jikam.  
Compubox Stats for Golovkin Decisions
| GGG Fights | Punches Landed by Opponent | Punches Landed by Golovkin  |
| --- | --- | --- |
| UD Win Over  Derevyanchenko | 230/728 | 243/720 |
| UD Win Over Daniel Jacobs  | 176/542 | 233/618 |
| Loss to Canelo Alvarez  | 202/622 | 234/879 |
Even in his only loss, GGG landed more punches overall. This kind of volume is difficult for any boxer to match. When you see Genady's punch volume, you notice that the tougher the opponent, the more he throws. Derevyanchenko and Alvarez have more knockout power overall, and GGG threw more total punches. He's not afraid to get in there and exchange no matter the risk. It's a boon to any sports bets on the Under or GGG TKO prop bets. 
GGG feint with left hook for right uppercut #GGGMurata pic.twitter.com/bWWAA6darc

— #GGGMurata 村田 ゴロフキン (@BatmanBoxing) April 2, 2022
Against Derevyanchenko, GGG showed that hiding behind the gloves isn't going to work with him. Boxer's must develop head movement and outside footwork to keep from getting blasted by the hardest hitting middleweight in boxing history.
Compubox Stats for Ryota Murata Top Fights 
| Murata Fights | Punches Landed by Opponent | Punches Landed by Murata   |
| --- | --- | --- |
| Hassan Fight 1 (Loss) | 80/609 | 95/278 |
| Hassan Rematch (Win) | 68/347 | 147/295 |
| Rob Brant Fight 1 (Loss) | 356/1262 | 180/774 |
| Rob Brant Rematch (Win) | 42/143 | 98/211(TKO) |
When you're comparing these two tables, look at the volume of strikes landed by Murata, even in his wins against lower level boxers. Genady gets hit with plenty of shots from high level strikers and doesn't go down, but Murata isn't used to throwing high volume to end a fight. GGG won't go away after 100 shots. The volume landed by his opponent is interesting, especially the outlier in Rob Brant fight one. I don't think Murata can handle getting hit, and once GGG gets going, there are going to be exchanges and Murata will have to deal with those effects. Historically, Murata doesn't have the volume to win, and can't handle the volume of fighters who press forward with aggression. 
Golovkin vs Murata Boxing Pick Wrap Up
Other fights this week include the Ryan Garcia return against Emmanuel Tagoe and a big weekend for MMA. The GGG moneyline is a good choice for a parlay ticket, and his knockout victory prop is an easy second choice. If you're concerned about GGG's age, I'd look at the Under prop, but it's not something on my mind for this fight in particular. If you're looking for other top bets and parlays for April 9th, 2022, start with our blog for all things sports betting.
PLACE YOUR BETS NOW!