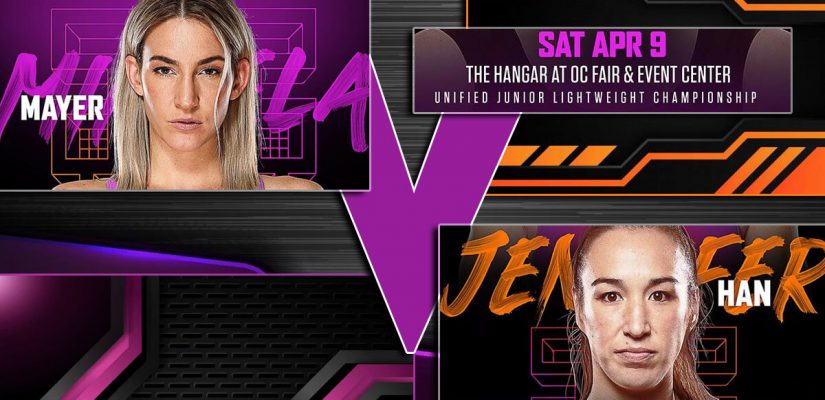 Our betting coverage for the Makaela Mayer vs Jennifer Han boxing main event includes a breakdown of the stats and available bets. We're looking over the props and the fight history of both fighters to make an accurate pick for Mayer vs Han, April 9th, 2022. Place your bets before the Main Event at 10:00 PM ET. 
Top Mayer vs. Han Boxing Betting Pick 
Mikaela Mayer is a massive undefeated favorite. She's working with the best young fighters in the world at Team USA, and she's got the momentum coming into this one. This is title defense #3, and Han is approaching 40. Hardly the time when most boxers regain titles. Han's last loss to Katie Taylor was a vicious one, and on my scorecard, she won 0 rounds. 
If you're looking for more lucrative props, scroll and see the two we think are the best value. 
Fight Hype for Mayer vs Han 
Mikaela is one of the top women's boxers in the world. On pound for pound rankings, she's between #4 and #7. Han was an olympian and was once a very big deal in the boxing world. She stopped to raise children, and her return to the ring has been a painful one. 
Her last bout was against all time great Katie Taylor, and she was a +1850 underdog. She's got slightly better odds against Mayer, because Mayer hasn't knocked out her last few opponents. The majority of Mayer's knockouts are early in her fight career.
 
In her last fight with Maiva Hamadouche, she ended up in some brutal exchanges, leaving some fans wondering if she's open to big shots from the right fighter. 
Best Fights of 2021;
Mikaela Mayer UD10 Maiva Hamadouche.
11/05/2021.

Full Highlights.https://t.co/ciVvoOfVzI pic.twitter.com/BOLo3F5tO4

— ???? ?. (@BoxingJournaIs) December 31, 2021
Mayer was a -325 favorite in this fight, the second closest of her career save her +130 win over Anastasia Belyakova. 
Tale of the Tape for Mayer vs Han
| | | |
| --- | --- | --- |
| Fighter  | Mikaela Mayer  | Jennifer Han  |
| Ranking  | #2 | #6 |
| Age | 31 | 38 |
| Height | 5'9'' | 5'6'' |
| Reach | 66'' | 66'' |
| Total Fights | 16 | 26 |
| Record | 16-0 | 18-4-1, 3 NC |
| Knockouts | 5 | 1 |
| Stance | Orthodox  | Orthodox  |
| Inactivity  | 155 Days  | 217 Days  |
| Boxing trainer  | Team USA Camp | Louie Burke  |
Mayer is the bigger, younger fighter. She's got more power and a better chin. Han has been less active, off for nearly a year after her loss, and I see no reason to think she's improved with age. 
Han does have more experience, but she'll need Mayer to show up flat footed to take the win. 
Is Team USA a Viable Fight Camp?
Team USA has olympic level sparring partners, many coaches, and high altitude training. While Mayer may do better with the attention of a single high level coach, this is likely a great way for her to save money paying trainers and managers. That saved money can mean less stress on an athlete and all around better performances. 
Is Louie Burke Still Relevant?
Burke has been with Han since 2009. Burke is an El Paso centered boxing trainer that hasn't produced any other major champions. He was great for getting Han through her undefeated streak, 2014 to 2021, but isn't offering any unique perspectives on the modern boxing meta or how Han will improve coming into her forties. 
Betting Odds for Mayer vs Han Boxing 
| | |
| --- | --- |
| Bet | Odds |
| Mayer Money Line | -6600 |
| Han Money Line | +1200 |
| Will the Fight Go the Distance Yes  | -290 |
| Will the Fight Go the Distance No  | +195 |
| Mayer by TKO  | +205 |
| Mayer by Decision | -275 |
| Han by TKO | +2800 |
| Han by Decision | +1800 |
| Fight Ends in Rounds 7-8  | +700 |
| Over 8 ½ Rounds  | -415 |
| Under 8 ½ Rounds  | +260 |
I don't think Mayer will find the knockout if Katie taylor couldn't do it. Interesting Prop bets include Mayer by Decision, a -275 prop. Han is a smart fighter that looks to work from the outside.
She has a defensive boxing style that has helped her conserve her body through a thirteen year boxing career. She's never been knocked out.
Over 8 ½ Rounds is another good bet. It's -415, far better than Mayer's moneyline. The $0.18 return per dollar wager is worth parlaying alongside this weekend's other great boxing bouts. 

Our top picks are:
Fight goes to Decision:
-290
PLACE YOUR BETS NOW!
Han's defensive boxing is the perfect foil to Mayer's fading knockout power. This fight will go the distance, or at least make it to the late rounds.
Boxing Betting Analysis for Mayer vs Han 
Mayer vs Han boils down to a few key factors, namely power and age. Mayer's last four fights have been against boxers with less losses and more knockouts than Han.
They're younger fighters, with more recent career peaks.
Han had the opportunity to be a Katie Taylor or Mayer, but that time has passed. She's capitalizing off past potential, but I would love to see her fight a few middle of the road fighters to get her head on straight. 
Mayer vs Han Boxing Pick Wrap Up
Women's boxing and MMA are seeing serious growth over the past few years. Boxing betting with sites like https://www.thesportsgeek.com/reviews/bovada/ Bovada are doing a good job of adding realistic prop bet options and a variety of betting modalites to keep it interesting. Still, don't go out on a limb with a random bet, like a Han TKO, simply because it could happen. Women's boxing is slightly more predictable than men's with champions retaining titles for much longer.