In the final fight of an incredible heavyweight trilogy, these two will face off just one year after the crushing defeat of Deontay Wilder by Fury. This Saturday, October 9th, 2021 the two heavyweights clash again with lucrative payouts from every sportsbook. 
We're digging deep on their first two bouts, discussing the odds and money lines, and weighing the value on every prediction in this boxing pick and stats breakdown. 
Tyson Fury vs Deontay Wilder Betting Odds and Props
Here are the payouts for betting on each fighter. 
| | |
| --- | --- |
| Fighter | Moneylines, payout per dollar wagered |
| Tyson Fury | -265, $0.38 |
| Deontay Wilder  | +225, $2.25 |
Fury closed as the underdog in his second bout with Wilder. It was a big shift away from his career as a serious favorite, boasting odds on average from -1900 to -8000. Their first matchup was the first time Fury would see underdog status in his life. 
WIlder is in the same situation, with money lines between -1700 and -7000 for his last ten bouts outside of Fury. His current underdog status is the second in his career, though he opened as the underdog in a prospective 2022 fight with Anthony Joshua as well. 
Fury's $0.38 per dollar wagered payout is stunning for a rematch of a seventh round knockout and dominant performance.
Odds History For Wilder vs Fury 
| | | | |
| --- | --- | --- | --- |
| Fighter  | Fight One 2018 | Fight 2 2020 | Fight 3 2021 |
| Fury | -190 | -360 | -265 |
| Wilder  | -152 | +250 | +225 |
After their first fight ended in a draw, many analysts feel Fury did enough to show he could win in future bouts. Between fights one and two, both fighters won two fights. Wilder racked up another couple of knockouts, while Fury had one TKO and one unanimous decision. With a mentality like Fury's, you can expect consistent improvement. .
"What I do is go back to being a normal person as soon as possible — family life, school runs, putting the bins out. That's how I do it."

Getting back to normal life keeps 'paradise syndrome' at bay, @Tyson_Fury tells Chief Sports Writer @owenslot https://t.co/UwxCPNltK3

— Times Sport (@TimesSport) October 4, 2021
Closest Over/Under Round Props 
| | | | | | |
| --- | --- | --- | --- | --- | --- |
| | 6 ½  Rounds  | 7 ½ Rounds  | 8 ½ Rounds  | 9 ½ Rounds  | 10 ½ Rounds  |
| Over  | -170 | -122 | +105 | +130 | +165 |
| Under | +150 | +107 | -125 | -150 | -190 |
As you can see, the shift in betting odds happens where the last fight ended, round seven. After seven, the over gets a bump in payout for its underdog status, moving from $0.59 in round six to $1.05 in round eight. 
Outside of their fights with one another, Wilder and Fury both took out six of his last ten opponents inside the 'under 9 ½ Rounds' prop range. I'm imagining we'll see an even more aggressive Wilder, and the -190, $0.53 per dollar waged Under 10 ½ Rounds prop is reasonable and lucrative. 
Tyson Fury vs Deontay Wilder Tale of the Tape 
Fighter 
Tyson Fury 
Deontay Wilder 
Age
33
35
Height
6'9''
6'7''
Reach
85''
83''
Total Fights
31
44
Record
30-0-1
42-1-1
Knockouts
23
31
Stance
Orthodox 
Orthodox 
Career

rounds

193
150
Inactivity 
595
595
Last 

Weigh in 

273
231
Fury has the majority of natural advantages, except for experience. Though Deontay has more knockouts, Fury has a better KO percentage among wins, 76% to 73%. 
"I have never met a man as tall as me who is as quick as me, ever." -Tyson Fury 
Tyson Fury vs Deontay Wilder Fight Records and Performances
Fury Defeated two opponents in between fight one and fight two with Deontay Wilder. First, he knocked out the undefeated Tom Schwarz in the second round. Then, he took a decision win over undefeated Otto Wallin. Both fights were heavily favored for Fury. 
Wilder took a similar route, knocking out two undefeated fighters in Luis Ortiz and Dominic Breazeale. It's clear that neither fighter looked to hide from up and coming heavyweights, they're simply too far separated from the majority of heavyweight competition, save Anthony Joshua and now Oleksander Usyk. 
It's clear to me that the majority of the pick analysis must be found inside their first two bouts. 
Tyson Fury vs Deontay Wilder Fight 1 Punch Tracker Analysis
In the first fight, it was declared a split decision draw, each fighter taking one judges scorecard and the third judge calling the bout a draw. 
Fury landed 115 shots throughout the fight to WIlder's 85, though the majority of Wilder's shots were power punches. In round nine and twelve, Fury was knocked down, evening out the scorecards to Deontay's favor. 
Aside from round three, the fighters stayed within two punches of one another for the first eight rounds. It was a close bout that could have gone either way, despite Fury landing a difference of thirty punches. 
You can take a closer look at the punch-stats here. 
Here are the score cards.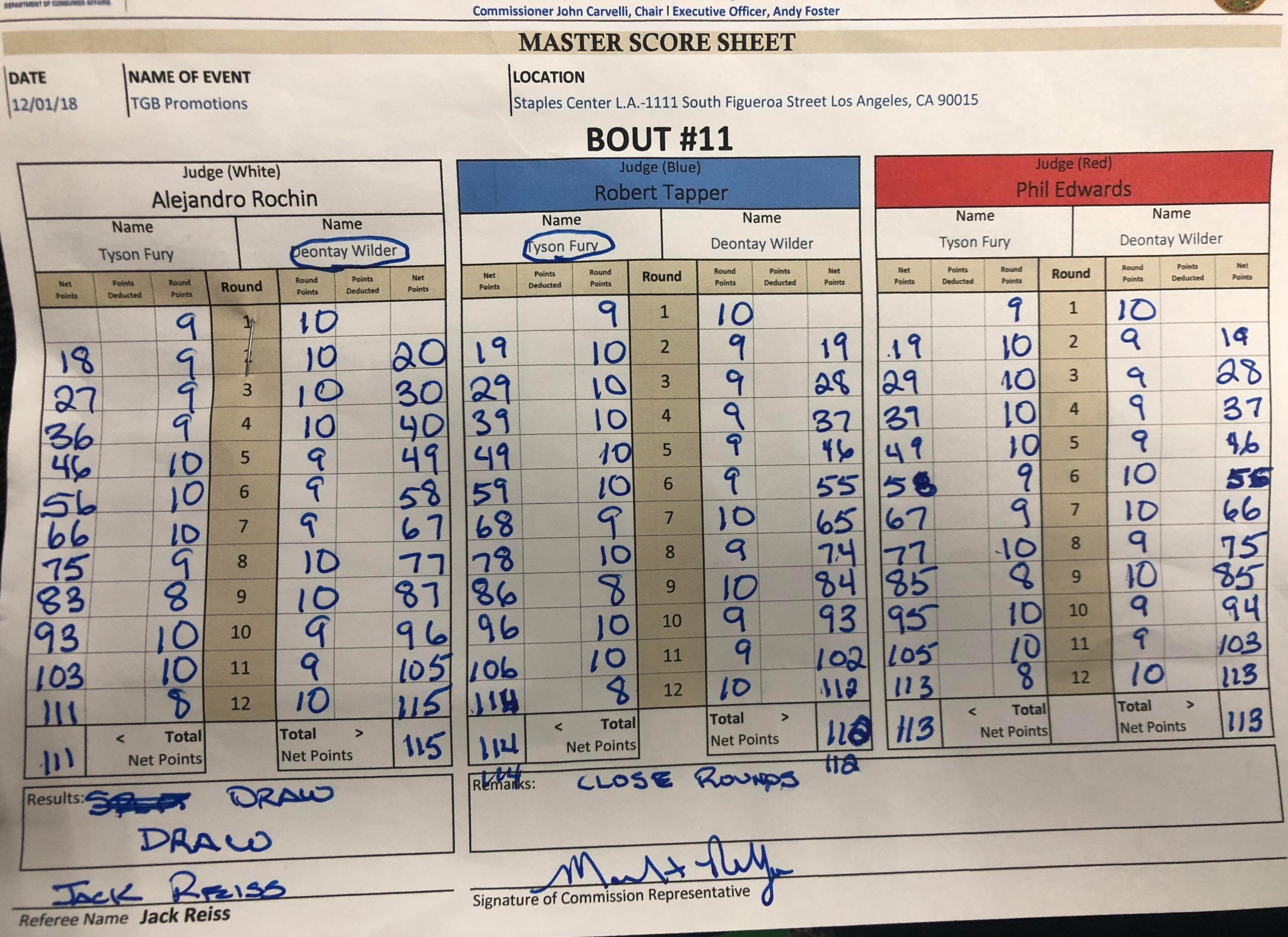 You can see that none of the judges could make sense of the first eight rounds. Fury is tough to score because he does absorb significant shots, but at a rate half that of most heavyweights. On average, Fury is hit six times per round. For most Heavyweights that number is sixteen. One judge gave the first four rounds to Wilder despite his being outstruck and outmaneuvered. 
Tyson Fury vs Deontay Wilder Fight 2 Punch Tracker Analysis
In this bout the punch stats don't tell the story of the fight. Fury landed 82 punches to Wilder's 34. The Fury corner strategy came from coming in heavy, thirty pounds difference from their first bout, and weighing on Wilder inside each exchange.
Every opportunity to tie up and lean on Wilder was taken by Fury, The hit, hit, clench strategy bordered on illegal, and Fury lost a point in the fifth for some dirty boxing during a clench break. 
Tyson Fury knocked Wilder down five times before the corner stoppage, in addition to several slips to the canvas by Wilder. 
What Does Deontay Wilder Have to Do to Beat Tyson Fury?
It's clear that Wilder must build a better strategy for managing distance, something that Wilder hasn't needed in a whole career made of people running from his nightmarish power. 
Fury is even bigger coming into this fight, with the weight now a normal part of his frame. Fighters need time to adjust to carrying new weight and I expect an even more poised, quicker Fury coming into this weekend. 
Wilder needs to avoid the ropes and the clench, find a method to beat Fury to the jab, and land his right hand with more consistency than he could in two fights prior. It's a big ask. 
Who Will Win between Tyson Fury and Deontay Wilder? 
Wilder is a knockout artist, but Fury is a tactician. I see an equally devastating gameplan coming into Saturday for a Fury win. 
Place your bet now for Tyson Fury at -265 with Betonline.ag