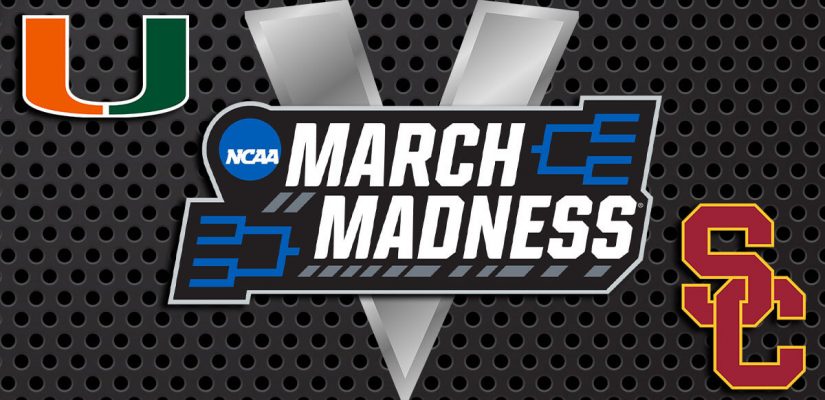 Before we get into today's NCAA March Madness betting picks, I want to take a moment to reflect on how awesome yesterday turned out. The Madness got going early, as the first game of the day saw the 11th seeded Michigan Wolverines knock off the 6th seeded Colorado State Rams, and for those of you that thought that was going to be the biggest upset of the day, boy, were you wrong!
When all was said and done yesterday, we saw upset wins from #9 Memphis, #12 Richmond, #12 New Mexico State, #9 Creighton, and the biggest upset of all, #15 St. Peters, who upset the 2nd ranked Kentucky Wildcats in one of the biggest March Madness upsets of all-time.
And while all of those upsets were certainly shocking, we almost had several more, as top-seeded Gonzaga was losing for much of the first half against Georgia State, Providence was up just a bucket late against South Dakota State, Arkansas barely hung on against Vermont, and UCLA was losing to Akron with just 2 minutes left to play in the game.
RT if your team survived and advanced ? pic.twitter.com/pZKMHlbFwF

— FOX College Hoops (@CBBonFOX) March 18, 2022
All told, we had 3 games that went into overtime, and 5 other games that were decided by single digits. It was a spectacularly entertaining day of college hoops, and if yesterday was any indication of what we are going to see the rest of the weekend, buckle up, as it is going to be a wild ride!
Even with all of those upsets and hard to predict outcomes, I went 2-0 on my picks yesterday, with winners on North Carolina (-3.5) and Murray State (-2). It is the sign of a true expert handicapper that the world can be burning to the ground all around you, and you can still find a way to get the money.
In my pick on North Carolina yesterday I mentioned that I was shocked that so many people were backing Marquette, as I felt that this game wasn't going to be overly competitive, and when the Tar Heels blew the Golden Eagles out by 32-points, the single biggest beatdown ever in an 8/9 matchup, I was proven right.
? NCAA RECORD

UNC's rout of Marquette was the largest ever in an 8 vs. 9 game ? #MarchMadness pic.twitter.com/C9prbD02b5

— NCAA March Madness (@MarchMadnessMBB) March 17, 2022
In our second play yesterday, I backed Murray State against San Francisco, as I felt that the Dons didn't have the depth to hang with the Racers in the 2nd half, as they were going to be without their best big man, Yauhen Massalski.
That ended up being the case:
As while the game was ultra-competitive as expected, the Dons got dominated on the glass and in the paint, and if it weren't for an exceptional performance from Jamaree Bouyea, who scored 36 points, the Dons would have gotten blown out. Today, we will get right back to the grind, and do our best to again avoid all of the inevitable land mines that are going to come.
We have 16 games scheduled to run for the next 12 hours, and you aren't going to want to miss a minute of the action! With that, let's jump right back into the Madness, as we break down all of the action from the Midwest Region in the game between the 7th seeded USC Trojans and the 10th seeded Miami Hurricanes.
Miami Hurricanes (23-10)
The Miami Hurricanes have been a hard to nail down team this season. Are they good? Are they bad? Do they even deserve to be playing in this tournament? The entire ACC, with the exception of Duke and North Carolina, was down this year, and even with an elite league record of 14-6, the lack of strength in the ACC kept the Hurricanes close to the bubble.
When Miami hit the ACC tournament, they knew they had to win at least 1 game to go dancing, and they needed overtime to knock off a bad Boston College squad in their opening game on the conference tournament. Had Miami not pulled off the narrow 2-point victory over the Eagles, they would be playing in the NIT right now, not the NCAA tournament.
Our time now.

GAMEDAY
# 10 Miami vs. # 7 USC
3:10 PM on TruTV.#MarchMadness x Miami pic.twitter.com/knF2ls21WA

— Canes Hoops (@CanesHoops) March 18, 2022
I have followed Miami very closely this season, and I felt that early in the year when they were 13-3, with wins over North Texas, Wake Forrest, and Duke, that they were being underrated by the public and the books. I was impressed by Miami's 5-0 record in the ACC, as in any other season, that would be a fantastic accomplishment. But as the league got deeper and deeper into the season, and it started to be more evident that the ACC was as bad as I have ever seen it this year, I had a change of heart on the Hurricanes.
Miami did not play well in the 2nd half of the season, and now that I look back at their full body of work, I think they are lucky to even be in this tournament right now. Kenpom has them ranked 57th, they are ranked 62nd in NET, and they had just 4 quad 1 victories on the year.
A quick glance at their schedule shows me that they haven't beaten a team playing in the NCAA tournament since beating Virginia Tech way back in January! Miami has 6 losses on their resume to teams that aren't playing meaningful games in March, and I have to wonder if this team is capable of beating a quality opponent right now.
USC Trojans (26-7)
The Arizona Wildcats and UCLA Bruins are stealing most of the spotlight in the PAC-12 this year, but I feel like the fact that the USC Trojans are essentially being ignored, makes them a threat to go deep in this tournament. I love when under the radar teams pop up in March and when it comes to betting value, there are no higher value spots than finding a very talented team that nobody believes in.
So, the Trojans aren't as good as UCLA or Arizona, so what?
There might not be 10 teams in the country better than those squads, so when I see that of USC's 7 losses, 4 of them came to the Bruins and Wildcats, I feel that their record is likely much better than it is being given credit for right now. The Trojans have top-100 wins over San Diego State, Washington State (twice), Colorado, Arizona State (twice), Oregon, and they even managed to pick up a win over UCLA late in the season.
Let the Madness begin!! pic.twitter.com/VD6oyiHFyH

— USC Men's Basketball (@USC_Hoops) March 18, 2022
This team is balanced, as they play efficiently on both ends of the floor and they do a couple of things really well, that I think are going to pay dividends in this tournament, and in this game specifically. USC gets after it on the offensive glass, with the 22nd best offensive rebounding rate in the nation, and they hold teams to the 2nd lowest 2-point shooting percentage as well, holding teams to just 44% from inside the arc.
We have grown accustomed to seeing USC having a lot of young players, as they tend to do a great job recruiting and bringing in high-level talent. But this year, that just isn't the case as this team is mostly comprised of upperclassmen, with the Trojan's main rotation featuring 4 juniors and a senior. That level of experience is going to be a big boost to USC's chances of surviving the first weekend of the madness, as you can't teach or coach experience!
Miami Hurricanes vs USC Trojans Betting Odds And Team Statistics
The following odds are courtesy of BetOnline:
| Teams | Spread | Moneyline | Total |
| --- | --- | --- | --- |
| Miami Hurricanes | +2 (-110) | +115 | Over 139.5 (-110) |
| USC Trojans | -2 (-110) | -135 | Under 139.5 (-110) |
| Team Data | Miami Hurricanes | USC Trojans |
| --- | --- | --- |
| Overall Record | 23-10 | 26-7 |
| ATS Record | 18-15 | 15-18 |
| Away/Home Record | NEUTRAL | NEUTRAL |
| ATS Away/Home | NEUTRAL | NEUTRAL |
| Points Per Game | 74.8 | 72.5 |
| Points Against Per Game | 71.1 | 65.9 |
| Field Goal % | 47.8% | 45.3% |
| Three Point % | 35.2% | 35.4% |
Miami Hurricanes vs USC Trojans Prediction:
In this game, I feel a lot like I did yesterday when I couldn't quite understand why everyone was all over Marquette in their game with North Carolina. Sometimes, it can be difficult to understand how a line ends up where its at, and why so many people are picking one team, but luckily for us, you don't really have to know why the public does what they do to exploit it and take advantage of it to get paid. That is what I am going to do in this game with a play on USC.
I think the Trojans are going to be too big and physical for Miami.
This is a strength-on-strength matchup, as the Hurricanes have a great offense to match up against the Trojan's strong defense. But Miami doesn't actually shoot that well from 2-point range, as they are just 161st in the nation in 2-point field goal shooting percentage. They shoot it much better from the outside, on a relative basis, but they aren't a high-volume 3-point shooting team.
Goodnight Trojan fans.

The stage is ours tomorrow. pic.twitter.com/mYhwF98QKO

— USC Men's Basketball (@USC_Hoops) March 18, 2022
Only 36% of Miami's shots come from deep, as they prefer to shoot from the paint or in the midrange. If they stick with that game plan today, that will play right into the hands of the Trojans, who are as good as it gets when it comes to stopping people on 2-point shots. That makes this a very bad matchup for Miami, as in order to win this game, they are going to have to completely change who they are as a team, and jack up a bunch of 3's, to try and get around this ferocious Trojan's presence near the bucket.
Stylistically, this game is a slam dunk for USC.
I expect the Trojans to shut down Miami's offensive attack, and while I am not sure that they are going to run up the score like North Carolina did yesterday, they are going to pull away in this game, and we aren't going to have to sweat it out very hard. Miami likes to play higher-scoring shootout types of games, whereas USC prefers to slow it down, grind it out, and make teams earn every basket. Whichever team can dictate the pace of this game is going to win, and I think that will be the Trojans of USC. Give me the boys from Troy laying a bucket in what could end up being a game that gets out of hand.
Miami Hurricanes vs USC Trojans Betting Trends:
Miami is 7-3 ATS in their last 10 games
The total has gone OVER in 6 of Miami's last 7 games
Miami is 7-3 SU in their last 10 games
Miami is 6-1 ATS in their last 7 games played in March
Miami is 8-1 ATS in their last 9 games when playing as the underdog
USC is 2-6 ATS in their last 8 games
USC is 12-5 SU in their last 17 games
USC is 4-10 ATS in their last 14 games this season
USC is 1-4 ATS in their last 5 games played in March
USC is 7-0 SU in their last 7 games when playing as the favorite
MORE FREE SPORTS BETTING PICKS!
Miami Hurricanes vs USC Trojans Pick