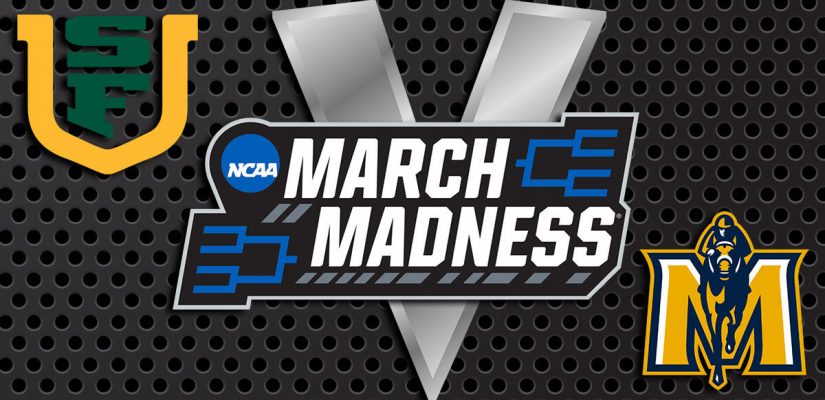 March Madness is already underway with the early slate of games having just kicked off, and if you are like me, you are going to be glued to your television all day long, as we have 16 games on the slate that will play out well into the night. What can make the madness so maddening though, is that with so many games set to be played, it can sometimes be difficult to find high value bets.
GAMES. ALL. DAY! ?

Watch LIVE:
? https://t.co/F02X3qkuXa pic.twitter.com/3mHCvNtXBp

— NCAA March Madness (@MarchMadnessMBB) March 17, 2022
That is where we here at TheSportsGeek come in, as we have done all of that homework for you. All you need to do is stay tuned to TSG all March long, and we will navigate you through the madness and make sure that you get paid! For this bet, we will head to the East Regional for the game between the 10th seeded Dons of San Francisco and the 7th seeded Murray State Racers.
#10 San Francisco Dons (24-9)
The San Francisco Dons are a program on the rise in the WCC, and with the BYU Cougars set to leave the WCC for the Big 12, the Dons are ready to move up a spot in the WCC hierarchy behind conference kingpin Gonzaga, and perennial contender St. Mary's. The Dons may have already taken over for BYU a year early though, as they played well this season, and deservedly picked up an at-large bid to send them dancing for the first time since 1998.
Many casual fans haven't watched San Francisco play a game this season, as their late West Coast start times have mostly kept them out of the spotlight.
But the analytics love the Dons, as Kenpom has them ranked 21st in the nation, suggesting that they are one of the most under-seeded teams in this tournament. The Dons didn't have any elite wins this year, but they had a lot of solid ones with top-100 wins over Davidson, Towson, UAB, UNLV, Fresno State, Arizona State, Santa Clara (twice), and BYU (twice).
THE DONS ARE DANCING‼️#USFDons | #WCChoops pic.twitter.com/sXBLM06aGq

— USF Men's Basketball (@USFDonsMBB) March 13, 2022
Power conference fans like to pretend that watching Kentucky beat up on 221st ranked Georgia or Purdue thrashing 134th ranked Nebraska are better wins than a team like the Dons winning over legit NCAA teams like Davidson or UAB, but that just simply isn't the case. San Francisco played an SOS of 79 this year, and they won 24 games along the way.
Whether or not the talking heads on ESPN or the SEC, Big 12, and Big 10 fanboys want to admit it, this is a very good basketball team.
And when you see that the Dons had to play the number #1 overall seed Gonzaga 3 times this season, a team that basically nobody has been able to beat in the last couple of seasons, the Dons record could have been even better. This team deserves to be here, and they need to be considered a threat to do damage now that they are in the Big Dance.
#7 Murray State Racers (30-2)
The Racers of Murray State faced the same mid-major conference hate this year, as they are 1 of only 3 teams in the nation, joined by Arizona and South Dakota State, to win 30 or more games this year. But despite winning nearly every game that they have played this season, the Racers could have been left out of the madness altogether had they not taken care of business in the Ohio Valley Conference tournament.
Murray State did win the OVC tournament though, snagging the league's auto-bid into the NCAA tournament, and when they take the floor tonight, they will be riding a 2-game winning streak. Unlike San Francisco though, who have a resume chalked full of quality wins, the Racers have played a very weak schedule, with an SOS of just 239th.
It is hard to blame Murray State too much for that schedule though, as they scheduled tough in the non-conference with a non-conference SOS of 54th, but the Ohio Valley was down this year, with only Belmont joining Murray State in the top-100, and the lack of talent in their league has them hitting the tournament without a lot of wins that tell me that they can win games against tournament level teams.
It's GAMEDAY!
Murray State vs San Francisco
? Gainbridge Fieldhouse
? 9:40 PM (ET)
? CBS pic.twitter.com/GUpfBl0zzB

— Murray State MBB (@RacersHoops) March 17, 2022
It can be difficult to take a team's performances against weak competition and then use that data to predict how they will play when the competition gets much tougher, but it is impossible to deny how well the Racers have played on both sides of the floor this season. Murray State is 34th in offensive efficiency and 41st in defensive efficiency, per Kenpom, and they do all of the right things you want to see form a basketball team.
They shoot a high percentage, they share the ball well on offense, and they get after it on the offensive boards.
On defense, they forced the 38th most turnovers and they hold teams to just 30% from beyond the arc. This is a well-rounded team that plays strong on both sides of the floor. They haven't beaten a lot of great teams this season, but that is because they just haven't gotten many opportunities. On Selection Sunday, nobody wanted to see Murray State in their bracket, as it is never easy to beat a team that is accustomed to winning such a high percentage of their games.
San Francisco Dons vs Murray State Racers Betting Odds
The following odds are courtesy of BetOnline:
| Teams | Spread | Moneyline | Total |
| --- | --- | --- | --- |
| San Francisco Dons | +2 (-110) | +115 | Over 136.5 (-110) |
| Murray State Racers | -2 (-110) | -135 | Under 136.5 (-110) |
| Team Data | San Francisco Dons | Murray State Racers |
| --- | --- | --- |
| Overall Record | 24-9 | 30-2 |
| ATS Record | 14-17 | 16-13-1 |
| Away/Home Record | NEUTRAL | NEUTRAL |
| ATS Away/Home | NEUTRAL | NEUTRAL |
| Points Per Game | 77.1 | 79.3 |
| Points Against Per Game | 67.1 | 62.3 |
| Field Goal % | 45.6% | 47.9% |
| Three Point % | 35.3% | 35.3% |
San Francisco Dons vs Murray State Racers Prediction:
If you are a fan of mid-major college basketball, this is a blockbuster matchup! That being said, I absolutely hate that the NCAA Selection Committee matched these teams up in the 1st round. Every year, we see the committee pair up some of the top potential Cinderella teams early in the tournament, which does a disservice to both teams, as one of these teams is going to be one and done.
I guess from the committee's point of view:
If these teams play each other, one of them has to win and advance, but upsets and small schools going deep is what make the NCAA tournament great, and I would much prefer splitting these teams up for maximum madness potential.
This game had all of the makings to be an all-time classic, but the recent injury to Don's superstar Yauhen Massalski, has dampened my expectations somewhat in this one. Massalski was the Don's best player for much of the season, and without him on the floor, they are going to be without their best rebounder and shot blocker and a consistent scorer that averages over 13 points per game.
Well deserved?@bouyea_ycl and @squ925 have been named to the 2022 NABC All-District Teams!

?Full Release: https://t.co/Bs10xvy3Cz#USFDons | #WCChoops pic.twitter.com/qiG6We2GQ5

— USF Men's Basketball (@USFDonsMBB) March 15, 2022
If he were available for this game, I would almost certainly be picking the upset and backing the Dons. But staying healthy is a big part of winning in March, and unfortunately for Don's fans that waited a generation to get back to the Big Dance, they are going to be shorthanded tonight, and that has me liking a play on Murray State.
San Francisco Dons vs Murray State Racers Betting Trends:
San Francisco are 4-1 ATS in their last 5 games
The total has gone OVER in 4 of San Francisco's last 6 games
San Francisco are 8-4 SU in their last 12 games
San Francisco are 6-2 ATS in their last 8 games this season
San Francisco are 6-1 ATS in their last 7 games played in March
Murray State are 1-4 ATS in their last 5 games
The total has gone UNDER in 7 of Murray State's last 10 games
Murray State are 10-0 SU in their last 10 games
Murray State are 20-0 SU in their last 20 games this season
Murray State are 4-2 SU in their last 6 games against an opponent in the West Coast conference
This line opened up at Murray State laying just a single point, but as it became more clear that the Dons would be without their best big man, the line has moved towards the Racers. To be honest, I am surprised it didn't move even further towards Murray State. No disrespect to the Racers, but they undeniably caught a break here, and we can argue back and forth all day long as to whether or not they needed that break, but at the end of the day it is what it is, and the Dons are going to struggle without Massalski in the paint.
These mid-major programs don't have the depth of power conference teams like Kansas or Duke, where they can have their next man up be a 4-star recruit. At San Francisco, they are going to have to turn to guys that haven't played much this season and aren't nearly as talented as Yauhen Massalski.
That lack of depth will be the undoing for the Dons and while my heart breaks for San Francisco fans that have waited so long for this opportunity, I won't pass up on taking advantage of it and exploiting their pain for my own personal profit. San Francisco will keep this one competitive, but when all is said and done in this game, the Racers are going to win their 21st game and advance to the round of 32.
MORE FREE SPORTS BETTING PICKS!
San Francisco vs Murray State Pick