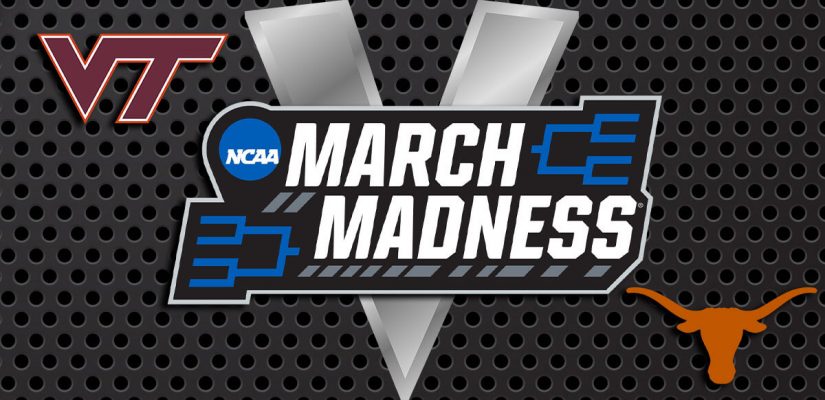 The Madness was real yesterday, as we saw upsets all over the board, including an all-time upset when the St. Peter's Peacocks knocked off a Kentucky Wildcat's team that seemingly everyone had going to the Final Four. We managed to survive what was a day chalked full of hard to predict outcomes, with an undefeated 2-0 record, that featured wins on North Carolina (-3.5) and Murray State (-2).
Racers WIN!!! Murray State advances to the Round of 32 with a 92-87 overtime win over San Francisco! #GoRacers ??? pic.twitter.com/yv4FHhABSz

— Murray State MBB (@RacersHoops) March 18, 2022
Yesterday was awesome, and the fact that it was just the start of what is going to be a weekend full of action has me waking up and feeling like we are going to have a lot of fun today. And you know what is a lot of fun? Making high value bets and getting paid! With that, let's jump right into it as we head to the East Regional for the game between the 11th seeded Hokies of Virginia Tech and the 6th seeded Texas Longhorns!
Virginia Tech Hokies (23-12)
At the end of January, I would have told you that there was no chance that Virginia Tech was going to be playing in the NCAA tournament. The Hokies got out to a slow start with a 10-10 record in their first 20 games, and their resume with littered with weak wins and bad losses. V-Tech only managed to pick up a single win over a team that is playing in the tournament, and that win came over Notre Dame, who was one of the last teams in the field and had to play in a First Four game just to get into the main bracket.
And losses to teams like Boston College, NC State, and Virginia had me convinced that the Hokies were done for the year.
But I have to tip my hat to Virginia Tech head coach Mike Young, as he did a great job of rallying the troops and turning around their season. Virginia Tech finished the year on an absolute tear, with a 13-2 record down the stretch. That run was likely going to be enough to send the Hokies to the Big Dance, but they didn't leave it up to the Selection Committee, as they erased all doubt by winning the ACC conference tournament for the first time in program history.
New season. Let's dance ??

? Texas
? 4:30PM ET
? Fiserv Forum
? TBS#LGH ? | #MarchMadness pic.twitter.com/Ad1a6HiI5L

— Virginia Tech Men's Basketball (@HokiesMBB) March 18, 2022
Tech hits the Madness as one of the hottest teams in the field, and they are a sexy upset pick in this game with Texas. But when I take a closer look at how they were able to turn things around in the 2nd half of the season, I am not a believer in this team. The Hokies finished the regular season by winning 9 of their last 11 games, but 8 of those 9 wins came against teams that aren't playing in the NCAA tournament.
6 of those wins came against teams ranked outside of the top-100, and while wins in the ACC are never all that bad, the league was way down this year, and I am not so sure that we should be giving too much credit to Virginia Tech for beating up on awful teams like Pittsburgh, Georgia Tech, and Louisville.
Virginia Tech's run in the ACC tournament was undeniably impressive, as they won 4 games in 4 days with wins over Notre Dame, North Carolina, and Duke, but the full body of work is very mediocre for the Hokies, and I am a bit surprised to see how much love they are getting right now. Nobody was giving Murray State this much love for beating up on bad teams, yet everyone is acting like Virginia Tech beating up on bad teams makes them a Final Four threat. I am not buying it.
Texas Longhorns (21-11)
Chris Beard is one heck of a head coach. Beard turned Texas Tech into a perennial national title contender, and now that he is in Austin, I see Texas as being a team that is feared for a long time to come. I am not sure that he has enough talent on this roster to take them on a deep run this year, but having an elite coach is a must-have when it comes to winning games in March. The Longhorns are going to be in a Final Four sooner rather than later, and after watching the Longhorns navigate the brutally tough Big 12 in the regular season.
They hit the Madness battle-tested and ready to play ball.
The analytics love the Longhorns as they played a savage schedule with an SOS of 20th best in the nation, and despite the tough schedule, they found a win to win a bunch of games. Of the Longhorn's 11 losses, all of them came to top-100 teams, as the worst loss on their resume came to 63rd ranked Kansas State. 6 of those losses came to teams in the top-10, with losses to elite teams like Gonzaga, Kansas, Baylor (twice), and Texas Tech (twice).
The most important game is the first one ?#HookEm pic.twitter.com/j3ZVKVmLqi

— 3:30PM CT on TBS (@TexasMBB) March 18, 2022
And it hasn't been all playing against, and losing, to great teams for Texas, as they have more than their fair share of good wins too. Texas has elite wins over Tennessee and Kansas, and top-100 wins over Oklahoma (twice), West Virginia (twice), Kansas State, Oklahoma State, TCU (twice), and Iowa State.
I don't love that the Longhorns have lost 3-straight games.
As you would much rather see this team peaking as they hit the tournament, rather than slumping, but those losses came to Baylor, Kansas, and a red-hot TCU team, so I won't bang them up too much for them. This is a very good team and I recognize that, even if the public refuses to do so.
Virginia Tech Hokies vs Texas Longhorns Betting Odds
The following odds are courtesy of BetOnline:
| Teams | Spread | Moneyline | Total |
| --- | --- | --- | --- |
| Virginia Tech Hokies | +1.5 (-110) | +110 | Over 123.5 (-110) |
| Texas Longhorns | -1.5 (-110) | -130 | Under 123.5 (-110) |
| Team Data | Virginia Tech Hokies | Texas Longhorns |
| --- | --- | --- |
| Overall Record | 23-12 | 21-11 |
| ATS Record | 19-16 | 12-19-1 |
| Away/Home Record | NEUTRAL | NEUTRAL |
| ATS Away/Home | NEUTRAL | NEUTRAL |
| Points Per Game | 70.7 | 68.3 |
| Points Against Per Game | 62.2 | 59.6 |
| Field Goal % | 47.1% | 44.3% |
| Three Point % | 39.2% | 32.3% |
Virginia Tech Hokies vs Texas Longhorns Prediction:
In this matchup, we have a team that played in a bad conference, sorry ACC fans, but this year the ACC just wasn't very good, playing against a team that played in what is likely the best conference in the nation, the Big 12, and everyone is on the team from the ACC?
I mean, I guess I kind of understand why the public is on the Hokies, as they have played really well as of late, but nearly all of their wins came over bad teams. And I guess people are looking at the Longhorn's late-season 3-game skid as an indication that they are running out of gas.
But do you really think if we switched these team's schedules, that Virginia Tech was going to be able to beat Texas Tech, Kansas, and Baylor? Or that Texas wouldn't have been able to beat Pittsburgh, Boston College, or Georgia Tech?
The moment we've worked for all year is here.

This is March.#HookEm x #MarchMadness pic.twitter.com/IVz03Ypd8p

— 3:30PM CT on TBS (@TexasMBB) March 18, 2022
Schedule matters in college basketball and while the hot run late in the year was great to see from Virginia Tech, we just saw an equally hot Iowa Hawkeyes team get knocked out in their first-round game, so winning a power conference tournament isn't a sure-fire indicator of future success.
There hasn't been a game with a bigger line move than this one, as Texas opened up as -4-point favorites, and basically, all of the action has come in on Virginia Tech, moving the line sharply towards the Hokies. If you are someone that has been reading my daily betting picks all season long, you will know that I love nothing more than to fade the public, and that is what I am going to do in this game with a play on Texas.
The public has a mind-numbingly effective ability to get it wrong always, and when everyone is on one side, you almost always want to be on the other side. Chris Beard is a monster in March, having won at least 1 game in the tournament in every season he has taken a team dancing.
While I like what Mike Young is doing at Virginia Tech, if he wins this game today against Texas, it will be just his 2nd NCAA tournament win in his 7th trip to the Big Dance.
There will be a reckoning for the public today on this game as the Longhorns defense dominates the action and Texas pulls away for a no-sweat victory to win and advance to the round of 32!
Virginia Tech Hokies vs Texas Longhorns Betting Trends:
Virginia Tech is 5-2 ATS in their last 7 games
The total has gone UNDER in 8 of Virginia Tech's last 12 games
Virginia Tech is 7-1 SU in their last 8 games
Virginia Tech is 13-2 SU in their last 15 games this season
Virginia Tech is 4-2 ATS in their last 6 games played in March
Texas is 0-5-1 ATS in their last 6 games
The total has gone UNDER in 4 of Texas' last 6 games
Texas is 2-4 SU in their last 6 games
Texas is 0-4-1 ATS in their last 5 games this season
Texas is 4-1 SU in their last 5 games played on a Friday
MORE FREE SPORTS BETTING PICKS!
Virginia Tech Hokies vs Texas Longhorns Pick