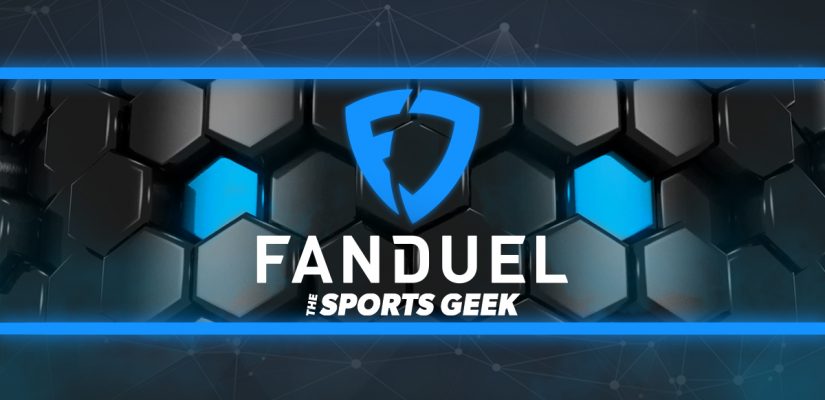 I noted in last night's picks that I would like to see the confirmed lineups before I set anything in stone, and that was indeed the case as my final lineup was vastly different than the one I initiated here before knowing many of the confirmed lineups across the slate.
I of course stuck with Tyler Glasnow and it was a fine decision. Although he surrendered a pair of home runs to Giancarlo Stanton – the second of which might not have landed yet – Glasnow allowed four earned runs in his five innings of work but also struck out 10. The long ball remains his biggest issue as the six runs he's allowed in two postseason starts so far have all come via the home run, but he also earned the win while piling up the strikeouts in an outing I'll take all day long against this Yankees lineup.
The mainstays from my Marlins stack yesterday were Jesus Aguilar and Garrett Cooper. Aguilar struggled in going 0 for 5, but Cooper provided some early value with a two-run double before scoring a run himself. Unfortunately, he was quiet from there, but his 16.2 FanDuel points produced nice value at less than 9% ownership.
I added Miguel Rojas and Lewis Brinson to the stack and removed Jon Berti. Brinson went 0 for 3, but Rojas homered in his first at bat at just 7.7% ownership.
My Rays exposure consisted of Brandon Lowe and Randy Arozarena, the latter of whom homered and singled as his bat remained white-hot. Lowe went 0 for 4.
Finally, I kept Justin Turner and Cody Bellinger in as my Dodgers exposure. Turner has a nice night with a single, two walks, two runs and an RBI and while I was thrilled to get the expensive Bellinger at just 6.2% owned, he went 1 for 3 with an RBI and a walk for a mild 9.5 FanDuel points. A better night from Bellinger would have certainly helped.
At the end of the day my lineup came just short of cashing in GPPs as home runs from the Astros and nine runs from the Braves didn't help our cause.
Now let's shift our attention to another four-game main slate throughout the day on Wednesday!
FanDuel MLB DFS Picks – October 7, 2020
P – Ian Anderson (ATL) – $9,500 vs. MIA
The Braves have the opportunity to put the Marlins in a 2-0 stranglehold tonight and will turn to rookie right-hander Ian Anderson who has been brilliant in an  embattled Braves rotation that needed someone to step up in a big way this season.
Across 6 starts spanning 32.1 regular-season innings, Anderson worked to a tidy 1.95 ERA/2.54 FIP to go along with a massive 11.41 K/9 while keeping the ball in the yard at a wonderful 0.28 HR/9 clip.
Anderson followed up that sparkling regular season with six shutout innings over the Reds in the Wild Card round while he struck out nine in that one as well.
Tonight, the matchup is elite. I stacked the Marlins against a left-hander yesterday as they were a top-10 offense versus southpaws this season, but against righties, they've struggled.
The Marlins finished the regular season ranked 26th with a .298 wOBA against right-handed piching and their 25.1% K-rate against them was a bottom-10 number as well. They also hit for very little power against right-handers as their .120 ISO against them on the season was the worst mark in all of baseball.
The Marlins' 3.5 projected runs is the fewest on the slate and the Braves are currently the heaviest moneyline favorite at -210 – barring a starting pitching announcement from the Dodgers – so I believe Anderson provides an elite combination of safety and strikeout potential on this four-game slate.
C/1B – Matt Olson (OAK) – $3,000 vs. HOU
The A's are already fighting for their playoff lives as their backs are agains the wall down 0-2 to these Houston Astros, but I like their chances today as they take on right-hander Jose Urquidy.
The rookie was stellar this season in posting a 2.73 ERA in his five starts and 29.2 regular-season frames and he went on to hurl 4.1 innings of one-run ball in helping the Astros get by the Twins in the Wild Card round. That said, his peripheral numbers paint an ugly picture.
He's possesses good stuff, but Urquidy also worked to a 4.71 FIP, 5.36 xFIP and a 5.51 SIERA in the regular season, numbers that are miles above his surface 2.73 ERA. He only struck out 5.16 batters per nine innings in the regular season and allowed fly-balls at a big 41.1% clip.
As a result, I think the A's can get back into this series tonight and I think we can get them at suppressed ownership given their struggles this series.
Enter Olson who struggled in the batting average department this season, but he also clobbered righties for a big .242 ISO and hit 14 home runs overall. He suffered from an unlucky .227 BABIP – well under his .277 career mark – despite ranking in the league's 91st percentile in exit velocity, 82nd in hard hit rate and 84th in barrel rate.
Nonetheless, we're here for the power and he put plenty of that on display versus right-handed pitching this season.
2B – Chris Taylor (LAD) – $2,800 vs. SDP
We don't know who the Padres are going to start for this Game 2 tonight, but here's my thoughts.
I believe it will be either Chris Paddack or Zach Davies, their starters for Games 1 and 2 of the Wild Card round. That said, both were roughed up by a far inferior St. Louis Cardinals offense. Additionally, the Padres have gotten all of 5.1 innings from their starting pitching through three postseason games so far. The Padres' bullpen was solid in the regular season, but it's a group that's carried a monumental load so far, pitching 16 innings over the last two games and at least 6.2 innings 29.2 innings over their last four. There were three off days from Saturday through Monday, but it's a taxed bullpen. It's a bullpen that's performed quite well over the last three games, but there are tired arms in that group to be sure as these guys just were not used to pitching this much in the shortened regular season.
Finally, regardless of who starts, the Dodgers will see a heavy dose of right-handed pitching and they ranked second with a .355 wOBA and first with a .240 ISO versus righties this season.
Enter Taylor who did his best work versus righties, hitting .296 with a .222 ISO, .898 OPS, .384 wOBA and 145 wRC+ versus righties this season. He hit eight home runs total – six against a righty – and also brings a stolen base element with three steals on the season as well.
Add it up and I'll be rolling out a four-man, righty-mashing Dodgers stack in this lineup, beginning here with the power/speed combination of Taylor.
3B – Jake Lamb (OAK) – $2,500 vs. HOU
Lamb's struggles in Arizona led to his release after he hit just .199 with a .637 OPS this season and struggled with shoulder injuries in the past, but since coming to Oakland he's been rejuvenated and is projected to hit in the three-hole for Bob Melvin's club tonight.
Since coming to the A's, Lamb has crushed right-handed pitching for a .310 ISO, .976 OPS, .407 wOBA and 165 wRC+, albeit in a small 31 plate-appearance sample. Let's keep in mind Lamb hit 59 home runs between the 2016 and 2017 seasons and stole six bases in each of those seasons before appearing in just 134 games between the next two seasons where his production cratered due to the aforementioned shoulder injuries.
Even when we factor in the struggles in recent seasons, he still owns a .206 ISO, .805 OPS, .342 wOBA and 108 wRC+ versus righties for his career, but clearly he's turned back the clock since replacing Matt Chapman at third base, at least against right-handed pitching.
Now, there's some caution here as Urquidy as some serious reverse splits and has been far better versus lefties, but I can't help but see value in this play at this price considering the way Lamb has handled righties over the last little while.
SS – Corey Seager (LAD) – $4,100 vs. SD
Next man up in this Dodgers stack is Seager who will see right-handed pitching tonight, a good thing considering he absolutely pummelled righties throughout the truncated 2020 regular season.
All Seager did versus righties was clobber them to the tune of a .322 average, .301 ISO, .998 OPS, .416 wOBA and 166 wRC+ on the season. Heck, for good measure he even raked lefties for a .232 ISO, .827 OPS, .347 wOBA and 121 wRC+ on the season to boot.
After elbow and hip injuries kept Seager off the field for nearly the entire 2018 season followed by a solid yet un-Seager like return in 2019, he truly put himself back on the map as one of the game's premier shortstops against here in 2020 as his 15 homers from this season in just 52 games nearly matched the 19 he hit in 134 games a season ago. He was on a 47 homer-pace this season, for what it's worth.
If this game is close it's possible he could see the likes of southpaw Drew Pomeranz tonight, but the lefty-swinging Seager is certainly going to see at least two or three righties as well and given his production this season against both, this play is a no-brainer for me.
OF – Khris Davis (OAK) – $2,600 vs. HOU
So here's the story on Urquidy. While I like Olson and Lamb tonight given their combination of righty-mashing ways, reasonable prices and low projected ownership, I am pumped about the pair of right-handed bats I'm using here, beginning with Davis.
Urquidy held left-handed bats to a .136 average, .376 OPS and .174 wOBA in 17.1 innings this season. That said, righties hit .292 with an .858 OPS and .368 wOBA against him this season. He posted a 3.48 FIP against lefties, but a 6.19 FIP against righties. Clearly, he's far worse versus righties. I wouldn't blame you for looking for a full right-handed stack against Urquidy, but he also owns a 5.29 xFIP versus lefties and we have to consider the small sample as his splits were far narrower last season when we allowed a 1.27 HR/9 to lefties and 1.37 mark to righties.
All that said, we've seen Davis go on some epic home run binges in the past and he's a three-time 40 home-run guy, and while he struggled in 2019 and in the shortened 2020 season, Davis has homered in back-to-back games and in two of his last three while notching six hits in that time including back-to-back multi-hit games entering this one.
Given the current season's splits, I think we need to get real excited about the opportunity with Davis tonight.
OF – Mark Canha (OAK) – $2,900 vs. HOU
Same thing here with Canha.
He's not as hot at the plate as Davis, but Canha had a fine season versus right-handed pitching.
This season versus righties, the righty-swinging Canha posted a .161 ISO, .741 OPS, .330 wOBA and a 113 wRC+ on the season. Of course, those numbers don't jump out to you and he was superior versus lefties, but all five of Canha's home runs came against a right-handed pitcher.
Canha also added a stolen base wrinkle into his game this season as he swiped four bags on the year, and while interestingly three of those four came against a lefty, I like that he's running as he also wasn't caught once, either. Urquidy doesn't allow a ton of steals with two in 29.2 innings this season and Martin Maldonado is very good behind the plate, but hey, it's there.
Let's also keep in mind this is a guy that posted a .251 ISO, .966 OPS, .405 wOBA and 160 wRC+ against righties last season – monster numbers that came in a far larger sample size.
Given Urquidy's big-time reverse splits in 2020, I think Canha is coming in at a reasonable price and perhaps very low ownership.
OF – Mookie Betts (LAD) – ($4,300) vs. SD
Let's go ahead and finish off our Dodgers stack with our next two players, beginning here with Betts who just demolished right-handed pitching this season in a year where he displayed serious reverse splits.
The fade of Betts didn't quite go as planned last night as he got the Dodgers going at the plate with a double and scored a run, but over his last four games he's recorded four hits, all of which have come in double form.
His struggles versus lefties this season were both large and mind-boggling, but he absolutely destroyed right-handed pitching to the tune of a .354 ISO, 1.061 OPS, .438 wOBA and 181 wRC+. While his splits for his career are actually quite even – a good thing – Betts' 2020 season has revolved around him absolutely obliterating right-handed pitching.
Of course, there's a stolen base element here as well as Betts swiped 10 bases this season, and like Canha, most of them came against lefties as he swiped seven off lefties and three of righties. Whatever the case, Betts has long been a stolen base threat and one of the top power/speed threats in the game of baseball and that does not change for this matchup tonight, whatever it may be.
UTIL – Will Smith (LAD) – $2,900 vs. SD
Here's one of the main reasons why I have the lefty-swinging A's in my lineup. Canha, David and Betts took up my three outfield spots (therefore couldn't some someone like the A's Grossman or Laureano), but I also wanted Smith in here as I project him as a low-owned player as a catcher in the utility spot. Without a designated catcher's spot as opposed to DraftKings, catchers usually go low-owned at FanDuel.
The reason I wanted Smith – aside from the projected low ownership – is the fact he crushed right-handed pitching this season.
Against righties in the regular season, Smith mashed his way to a monster .350 ISO, 1.040 OPS, .427 wOBA and 174 wRC+ across a solid 97 plate appearances. All eight of his homers came against right-handed pitching to boot.
He's without a hit in his seven at-bats in these playoffs so far, but he did walk three times in last night's win as he shows remarkable poise and power for a young catcher in the big leagues.
Given his work against righties, I want Smith in this spot at what I believe will be low ownership tonight.
As always, follow me on Twitter @BKemp17 for updates and lineup adjustments throughout the day!