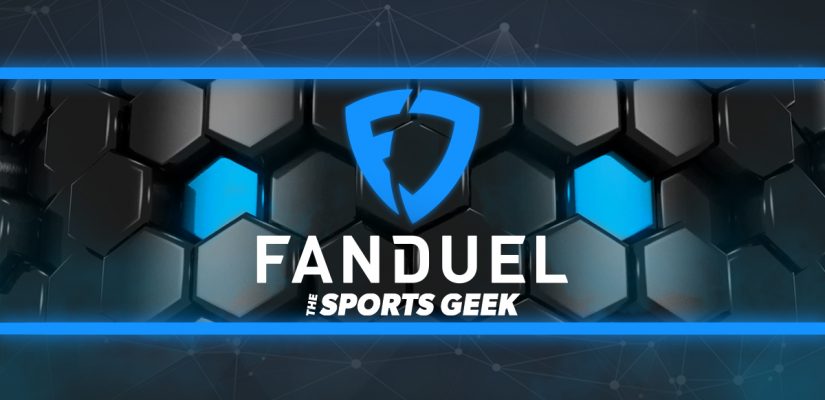 My most recent set of FanDuel MLB DFS Picks from Friday were easily the best of the season and had us near the tops of GPPs.
While some high-scoring late games hurt us a little bit near the end of the slate, it remained a wildly profitable night.
The Indians clobbered Ivan Nova and the Tigers bullpen as expected while the Reds, led by a pair of Jesse Winker home runs, touched up Pirates pitching as well in support of our pitcher Sonny Gray who hurled six innings of one-run ball with 10 strikeouts.
Unfortunately, J.D. Martinez couldn't get to Gerrit Cole as we got the slugger at less than 1% owned, but J.D. struck out three times en route to a goose egg on the night. It was a calculated risk that didn't pay off or else we could have taken some some GPPs.
Nonetheless, it was an excellent week for MLB DFS on the whole last week, so let's keep it going this week, beginning with tonight's 11-game main slate!
FanDuel MLB DFS Picks – August 17, 2020
P – Touki Toussaint (ATL) – $7,100 vs. WSH
It's been a volatile start to the season for the young, prized Braves right-hander as Touki Toussaint has made a trio starts and a bullpen appearance to this point.
He's enjoyed a real nice start against the Blue Jays with six innings of three-run ball with nine strikeouts, but was most recently rouged up by the Yankees with five runs allowed in just four innings.
That said, the matchup with the Nationals is far superior than it was with the Yankees. The Nats rank 24th with a .296 wOBA on the season against right-handed pitching, and while their 21.5% K-rate against them is a top-10 number, they've also hit for very little power, especially outside of Juan Soto, with a 24th-ranked .136 ISO against right-handers.
While Toussaint's 7.27 ERA in hi 17.1 innings doesn't inspire the most confidence, he also owns a 4.12 FIP/3.22 xFIP and an 11.94 K/9 against a 2.60 BB/9, all of which suggest better results should be had moving forward. He also owns a minuscule 45.5% left-on-base rate, so we should certainly see that number rise significantly moving forward.
Add in an excellent 3.29 SIERA and the nice matchup with Washington and I believe Toussaint has plenty of value potential in this one tonight.
C/1B – Jose Abreu (CWS) – $3,000 vs. DET
You may have remembered last week I rostered Abreu against left-hander Tyler Alexander of the Tigers, citing such factors as how well Abreu hits lefties, how well he hits Tigers pitching and his gaudy number at Comerica Park.
Well, Abreu went on to destroy Alexander and the Tigers that day with three hits including a pair if doubles, and he likes himself some Matthew Boyd as well, the owner of a 10.24 ERA in four starts – the worst mark among qualified pitchers.
This one takes places at Guaranteed Rate Field in Chicago, but the fact remains that Abreu is a Tiger killer. He's clobbered Tigers pitching for a .982 OPS, 20 homers and 23 doubles in just 105 games played against them, and all he's done against Boyd is go 13 for 33 (.394) with two homers and a double against his divisional foe.
For the season, Abreu hasn't had much success against left-handers that are not wearing a Tigers uniform, but has hit .309 with a .233 ISO, .919 OPS, .386 wOBA and 147 WRC+ against them for his career. He'll get it turned around and with the way he hits Tigers pitching, look for that to take place again tonight.
2B – Jonathan Schoop (DET) – $2,900 vs. CWS
Schoop enters this lineup as a one-off, but I love the matchup against a lefty in Gio Gonzalez who has struggled this season while Schoop hits lefties quite well, especially Gonzalez.
For the season, Schoop has hit lefties for a .294 average and powerful .235 ISO, numbers that are far superior to his marks against righties. Last season with the Twins, Schoop powered up for a big-time .286 ISO, .917 OPS, .376 wOBA and a 136 wRC+ against lefties. That wasn't even his best season against southpaws as he clobbered them for a .293 ISO, .955 OPS, .397 wOBA and 149 wRC+ in the 2017 season – his best in the majors. Schoop has had some success against righties mixed in, but on the whole the bat here is far better against left-handers.
He's also had some success in his career against Gonzalez. He's hit the veteran lefty for a .304 average (7 for 23) with a pair of doubles, albeit with nine strikeouts. He's a little prone to the punchouts, but there's plenty to like about the power potential here while I would suspect we get Schoop at real low ownership on this slate.
3B – Yoan Moncada (CWS) – $3,400 vs. DET
Continuing with our White Sox stack is Moncada who is projected to hit in the valuable two-hole for this one, making him a must in this stack tonight.
The switch-hitting infielder broke out last season with 25 homers, 10 steals and a mighty impressive 141 wRC+ at the plate, and he's off to a solid start this season with four homers, a .108 ISO and a 115 wRC+ to this point. That said, he's fared better against righties to this point, hitting them for a .217 ISO and .817 OPS, numbers that are far superior to his figures against lefties.
While he also hit righties better last season, let's also not disregard his .201 ISO, .845 OPS, .352 wOBA and 122 wRC+ against lefties, either. He even stole three of his 10 bags off of lefties and he broke out of a mini-slump with a three-run homer in yesterday's contest with the Cardinals.
The power plays up against righties, but out of the two-hole against a struggling left-hander, I'm comfortable with Moncada in this spot to be sure.
SS – Tim Anderson (CWS) – $3,200 vs. DET
Out of the leadoff spot against Boyd, Anderson is one of my top players on the slate.
All Anderson did against Boyd and the Tigers in their series finale last week was go 4 for 5 with a leadoff homer and a triple, scoring three runs and knocking one in as well.
That helped him bring his average to a cool .636 against left-handed pitching this series while he's homered once, tripled once and doubled three times against them in just 11 at-bats and 13 plate appearances.
The production against lefties is no surprise. Last season, he hit .329 with an .844 OPS, .354 wOBA and 124 wRC+ against lefties while he stole four of his 17 bases against them. In 2018, Anderson made his mark on lefties with a .282 average, .192 ISO and 112 wRC+ against them. For his career, he's posted a .319 average, .836 OPS, .353 wOBA and 124 wRC+ versus left-handed pitching.
After pummelling Boyd last week, Anderson is now 13 for 39 (.333) with a homer, three doubles and a triple against the Tigers lefty. Safe to say he should be riding plenty of confidence into tonight's matchup.
OF – Eloy Jimenez (CWS) – $3,400 vs. DET
Completing our White Sox stack is Jimenez who I actually left out of my main White Sox stack against the Tigers last week due to his spot in the lineup combined with his severe reverse-splits from last season in which the righty-swinging rookie (at the time) hit right-handed pitching far better than he did lefties.
So naturally, Jimenez hit a three-run homer that day as his early-season numbers against lefties have certainly perked up. He's 5 for 18 (.278) against lefties this season, but three of those five hits have come via the home run and he owns a .500 ISO versus lefties in that small sample as a result.
There'a also his success against Boyd that needs to be considered. Jimenez has gone 4 for 11 in his career against Boyd, but all four of those hits have come in extra-base form and three of left the yard  as home runs. He's also white-hot entering this matchup after having homered in four of his last five games while he's knocked in nine runs in that time with four multi-hit games to boot.
It would appear Jimenez should certainly be in any White Sox stack tonight.
OF – Mookie Betts (LAD) – $4,300 vs. SEA
The Dodgers are the top cash option on the slate as the only team projected to score north of six runs, so this lineup can be considered an optimal lineup as it carries risk in Toussaint but also some bats that will see some ownership.
Nonetheless, Betts is off to a white-hot start to his Dodgers tenure. He recorded the sixth three-homer game of his career against the Padres on Thursday and left the yard once again on Saturday. He's notched eight hits over his last four games and 19 at-bats while he also stole a base while going 2 for 5 in last night's game against the Angels.
All told, Betts enters this one hitting .314 with eight homers, two steals, a massive .429 wOBA and 180 wRC+ so far. Furthermore, all of his extra-base damage (eight homers, six doubles) have come against right-handed pitching as he owns a .455 ISO, 1.227 OPS, .501 wOBA and 229 wRC+ on the season against righties as he takes on young right-hander Justin Dunn tonight. Dunn also allows for plenty of stolen base potential with a whopping seven steals allowed in his 19.2 big-league innings so far, on top of his 4.85 ERA/7.12 FIP for the season.
OF – Cody Bellinger (LAD) – $4,200 vs. SEA
Bellinger was struggling mightily early in the season coming off his NL MVP from a season ago, but that was turned around over the weekend.
Bellinger homered twice against the Angels on Friday and followed that up with another two-hit game on Saturday while he also stole a base on Saturday as well. The overall numbers are still ugly, but I'm all here for the power/speed upside.
Last season, Bellinger homered 47 times, but he also swiped 15 bases and has stolen at least 10 in each of his three big league seasons prior to this one. He has two through 22 games this season. For a guy that stands 6'5″, Bellinger has big-time speed as he ranks in the league's 91st percentile in sprint speed, so while he's heating up at the plate, perhaps getting on base could lead to some stolen bases in this one.
At the end of the day, we know he's going to rake at some point and it appears he's heating up with two multi-hit effort over his last three.
UTIL – Corey Seager (LAD) – $3,500 vs. SEA
Corey Seager completes our three-man Dodgers stack tonight as he has been excellent in turning himself back into the future superstar we saw prior to his injury woes.
Seager already has five home runs to his credit this season while he's hitting .294 with a .279 ISO, .916 OPS, .384 wOBA and 150 wRC+. Additionally, the lefty-swinging shortstop has clobbered right-handed pitching for a .348 ISO, 1.071 OPS, .444 wOBA and 191 wRC+ so far this season, hitting well both at home and on the road.
The hot start to the season has Seager hitting near the top of the lineup as he's projected to hit second, one spot behind Betts and two ahead of Bellinger.
Perhaps Justin Turner could be used over Moncada if we're using this lineup in cash games tonight, but the White Sox and Dodgers should both rake, especially L.A. once they get done with Dunn. The Mariners' check in with a 27th-ranked 6.28 bullpen ERA on the season, so look for the Dodgers to at least hit their 6.6 projected run total tonight.