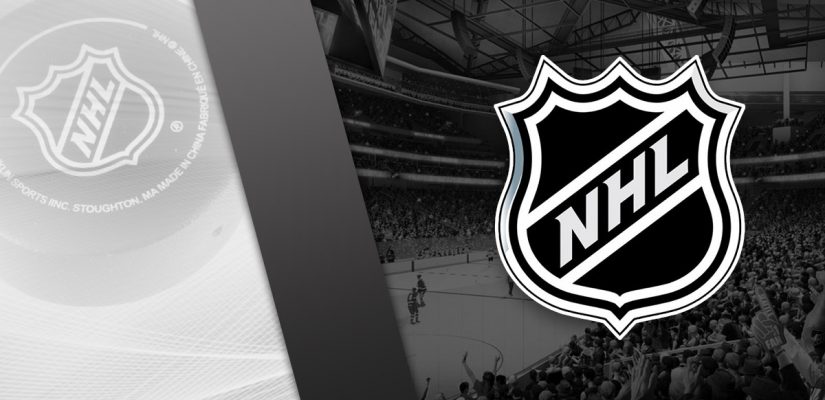 Hard to believe we're already in the final month of the year, but here we are.
Let's finish 2021 with a bang as we begin December with a six-game main slate in our FanDuel NHL DFS Picks!
FanDuel NHL DFS Picks – December 1, 2021
C – Nazem Kadri (COL) – $8,200 vs. TOR
Back to his old stomping grounds in Toronto, I'm looking for the Avs to create some offense tonight in Leaf Land.
The Maple Leafs have actually been one of the best defenses in the NHL this season as they sit second in the NHL with 2.13 goals against per game and seventh with an 86.7% mark on the penalty kill, but I think that overall defensive number is a little unsustainable.
For one, the club also sits 26th in high-danger chances against/60 and 13th in expected goals against/60 at 5v5 this season. Their 1.89 goals against/60 at 5v5 is below their 2.25 expected mark, but giving up that many high-danger chances to this Avalanche offense could spell trouble.
Also, while Jack Campbell is probably the front-runner for the Vezina Trophy this season, his numbers are unsustainable as well. He's been sensational to the tune of a 1.64 GAA and .946 Sv% — both of which lead the NHL — but those numbers have nowhere to go but south moving forward.
As for Kadri, he won't be skating with the team's big boys with Nathan MacKinnon back in the lineup, but he's enjoying a career year that's seen him collect seven goals and 27 points in 18 games to go along with 56 shots. His points pace won't last, but he's actually scoring at a normal rate with his 12.5% shooting rate sitting just above his 11.3% career mark.
We'll look for Kadri to stay hot in this one tonight.
C – Ryan Strome (NYR) – $5,600 vs. PHI
The Flyers defense was going to regress as I've noted in these pieces throughout the season as their surface and underlying metrics simply had too far of a gap on the defensive side, and that regression has kicked in.
They've allowed at least four goals in five of their last six games and 11 goals over their last two. They've been heavily outshot in those games and they have been arguably the worst defense in the NHL if the underlying metrics mean anything to you.
Indeed, the Flyers rank dead last in both scoring chances against/60 and high-danger chances against/60 at 5v5 while sitting 31st in expected goals against/60 at 5v5 as well. Their 2.53 goals against/60 at 5v5 has been on the rise of late, but actually still sits below their 2.75 expected mark.
As for the Rangers, the offense has found another gear of late. They've recorded 14 goals over their last three games and have won seven of their last eight. For his part, Strome has notched at least one point in each of his last eight games with 10 total points in that time. That being said, he's scored just three goals on 34 shots in his 16 games, so we should likely see his 8.8% shooting rate trend towards his 10.3% career mark moving forward.
As the team's second-line center and a member of the top power play unit, Strome should get plenty of looks against this Flyers back end tonight.
W – Valeri Nichushkin (COL) – $5,600 vs. TOR
A fresh start was all Nichushkin needed to get his career on track after an up-and-down stretch with the Dallas Stars.
After recording zero goals in 57 games with the 2018-19 Stars, Nichushkin was brought to Colorado where he enjoyed an improve season with 13 goals and 27 points in 65 games. He went on to collect 10 goals and 21 points in 55 games last season as well, and while those are not eye-bulging numbers, they're his best work since his 2013-14 rookie season.
That said, he's on a heater this season despite skating in just nine games. Nichushkin has tallied five goals and eight points in nine games on 17 shots on goal. Of course, a monster 29.4% shooting rate won't last forever, but the guy has tallied four goals and five points over his last five games, so the idea here is to catch him while he's hot alongside Kadri on that second Avalanche line.
? SHORTY ALERT! ?

What a beauty by Valeri Nichushkin. ? pic.twitter.com/yI0dU3lyUw

— Sportsnet (@Sportsnet) November 20, 2021
Hockey Reference has Nichushkin pushing a Corsi For% of 60% at 5v5 this season, the Avs have generated far more shot attempts with him on the ice than their opponents. He's also over 53% of the expected goals share at 5v5 according to Natural Stat Trick, so he's certainly been a positive possession player at even strength this season while he'll see second-unit power play ice time as well.
Let's look for Kadri and Nichushkin to combine for some more offense this evening in Toronto.
W – Artemi Panarin (NYR) – $8,000 vs. PHI
Next man up in our three-man Rangers stack is Panarin who is the team's most consistent point producer.
While I noted Strome is the team's second-line center, you could certainly call either of the top two Rangers lines a No. 1 line as Panarin is their best offensive player. He's notched five goals and 21 points in 20 games on the season, but we should expect more goals to come for the Russian moving forward.
He doesn't shoot the puck a ton with 47 shots in 20 games, but his 10.6% shooting rate is still about 4% below his career mark of 14.4% and would be the lowest mark of his career if the season ended today. The good news? Panarin scored a goal while adding an assist his last time out against the Bruins, so perhaps some shooting-rate regression has kicked in.
Even if he's not scoring, he's usually all over the scoresheet with a goal and six points over his last five games and 14 shots on goal in that time.
Like many Rangers he doesn't boast positive possession metrics, but this Flyers back end is simply falling apart at the seams right now and the Rangers have had their number in recent years. I expect plenty of offense from the home side in this one.
D – Sam Girard (COL) – $4,800 vs. TOR
Completing our three-man Avs stack is Girard who might bring a higher floor to the table than you may think.
You can actually choose between Girard and Devon Toews in this lineup as Toews comes in just $100 cheaper and he's actually been fantastic in collecting three goals and 10 points in nine games. However, for the purpose of GPPs I'll pivot to Girard who has plenty of offensive potential himself.
After all, he's recorded a healthy nine points in 16 games himself and while he doesn't shoot a ton with 21 shots in 16 games, he has blocked another 25 as well so the floor is solid here. Keep in mind he also hasn't recorded a point in his last six games, so he actually had nine points in 10 games to start his season.
Remember, here's a guy that quietly collected five goals and 32 points in 48 games last season, a 55-point pace in a full 82-game campaign. Mind you, that season came with some increased opportunity with injuries to No. 1 d-man Cale Makar, but Girard stepped in admirably and the Avs' offense didn't skip a beat with Girard as their top offensive blueliner in Makar's absence.
He'll skate with Nichushkin on the Avs' second power play unit as part of his 21:20 of average ice time, so let's see if he can capitalize and snap a six-game pointless drought tonight.
D – Adam Fox (NYR) – $7,000 vs. PHI
Fox needs little introduction these days as he's proving that last season's Norris Trophy win was no fluke.
Fox enters this one with four goals and 21 points in 20 games on the season with 41 shots and another 43 blocked shots to boot. Translation: the floor is exceedingly high here, perhaps the highest on the slate among defensemen.
On a team that gives up their fair share of scoring chances as well, Fox has actually managed to hover around 50% in many advanced possession and goal share metrics, sitting third on the team with an expected goals share of around 53% at 5v5 this season. He's one of just five Rangers above 50% in that department.
He's a consistent producer, of course, and after a minor two-game pointless drought, he's collected five assists over his last three games with seven block and four shots on goal in that time, so we'll look for more of that type of production in a wildly favorable matchup on home ice tonight.
UTIL – Jared McCann (SEA) – $4,700 vs. DET
The Kraken are one of those awkward stacking teams as their 5v5 lines and power play units don't exactly add up, but I wanted to ensure we get some exposure to them tonight as they take on the Red Wings in Detroit.
Off the hop, I'll note that the Kraken are a low-octane offense with poor underlying metrics. That said, they'll enter this one hot with 11 goals over their last two games, but there's alternative reasons as to why the Kraken are on my radar this evening.
For one, the Red Wings sit 24th in overall defense with 3.13 goals against per game and 25th with a 77.6% mark on the penalty kill. Secondly, they rank 30th in high-danger chances against/60 and 27th in expected goals against/60 at 5v5. Their 2.48 goals against/60 at 5v5 are right in line with their 2.467 mark, so they deserve their poor defensive fate at even strength in addition to their weak PK.
Lastly, this subpar defense is playing on back-to-back nights after a hard-fought, upset win over the Bruins last night before travelling back home for this game tonight.
Enter McCann whose had a nice start to his Kraken career with 10 goals and 14points in 17 games. He doesn't shoot much with just 34 shots on goal and his 29.4% shooting (interestingly identical to Nichushkin's) is unsustainable, but he tallied two goals his last time out and has four over his last five games, so he's hot at the moment to be sure.
McCann is ripe to take advantage of this soft Wings defense this evening.
UTIL – Ryan Donato (SEA) – $3,800 vs. DET
We'll complete our Kraken mini-stack here with Donato who hasn't quite found his footing in his new digs as of yet.
He has recorded just three goals and seven points in 19 games on the season to go along with 38 shots on goal. That's good for a small 7.9% shooting rate, but Donato is at just 9.5% for his career and he's been an uneven and inconsistent producer in that time, so it's difficult to know his true scoring rate, especially after a 5.8% mark last season on the heels of a 14.7% mark in the 2019-20 campaign.
Nonetheless, we should get the Harvard product at low ownership as a result, and the good news is that he's projected to skate with McCann at both 5v5 and on the Kraken's second power-play unit, although they look fairly balanced to me as No. 1 center Yanni Gourde is between these two on that group.
With just 12:24 of average ice time on the season and as little as 7:54 over his last four games, he's a wild card to be sure. That said, if he can team up with the red-hot McCann it would go a long way for this lineup tonight.
G – Philipp Grubauer (SEA) – $6,900 vs. DET
One of, if not the biggest disappointment among players in the league this season has been Grubauer as he's struggled with Seattle after signing a lucrative deal on the heels of a standout 2020-21 season.
After turning in a stout 1.95 GAA and .922 Sv% with seven shutouts and a third-place finish in the Vezina voting, Grubauer has posted an ugly 3.03 GGAA and .890 Sv% in 17 games this season while his -10.14 goals saved above average (GSAA) is the worst in the NHL among qualified netminders, as per Hockey Reference.
That said, he's found his game a bit of late. Grubauer impressed with wins over the Capitals and Hurricanes while allowing just three combined goals in those contests along with a .960 Sv% in that time. He allowed three goals to the Lightning his last time out, but nonetheless owns a stellar .941 Sv% over his last three games against three of the league's best offenses.
The Red Wings' offense has been better than expected and the underlying metrics are surprisingly good, but they still sit 22nd in overall offense and 24th on the power play. Furthermore, the Kraken rank fifth in high-danger chances against/60 and fourth in expected goals against/60 at 5v5, so the defense has been stellar in front of Grubauer, he's just been unable to take advantage until recently.
The price is certainly right, so let's see if Grubauer can continue a string of quality starts in a nice road matchup tonight in Detroit.