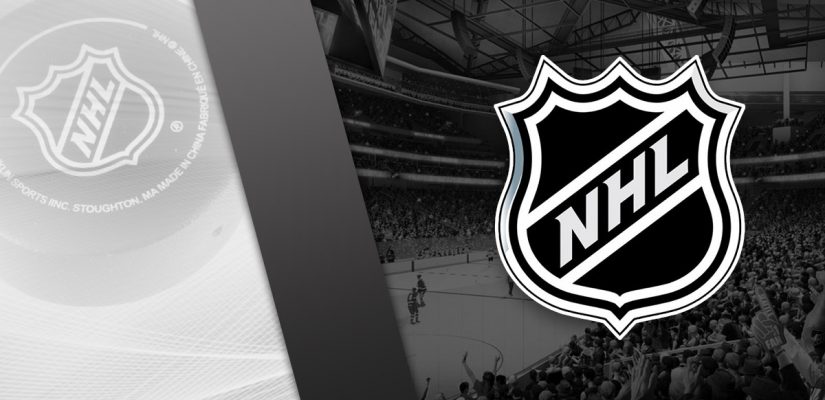 We hit on some nice picks with last night's FanDuel NHL DFS Picks.
Nazem Kadri bagged a pair of goals for the Avalanche, and we even got one from defenseman Samuel Girardi — accounting for all three Avalanche goals on the night — while Val Nichushkin found the assist column to boot.
Furthermore, Ryan Donato tallied a pair for the Seattle Kraken while accounting for two-thirds of their offense in Detroit, but unfortunately Philipp Grubauer picked up the shootout loss in that one.
Our three-man Rangers stack had a nice night as well, even if Ryan Strome was held off the scoresheet. Artemi Panarin notched a goal and an assist on four shots while Adam Fox recorded a helper, two shots and three blocks on the night.
The tough part was a hat trick from Auston Matthews and an eight-goal night from the Maple Leafs while the Oilers also went off against the Pittsburgh Penguins. That's not to mention a 6-5 affair between the Ducks and Golden Knights as part of that late window.
Hopefully you were able to use some of those picks to good use last night as we tackle tonight's 10-game main slate!
FanDuel NHL DFS Picks – December 2, 2021
C – Anze Kopitar (LA) – $8,100 vs. CGY
Call me crazy for picking on the team that's averaging the fewest goals against per game in the league at the moment, but I'm still waiting for that Calgary defense to hit it's regression and perhaps it's tonight in Hollywood.
Entering this one, the Flames lead the NHL with just 1.95 goals against per game. While a fifth-ranked penalty kill at 87% helps that cause, their even-strength defense should be in for some regression moving forward. In fact, it's a certainty.
The Flames are doing a fine job of preventing high-danger scoring chances and sit third in expected goals against/60 at 5v5. However their 1.30 goals against/60 at 5v5 this season is not only by far the best mark in the NHL, it's also a mile below their 2.02 expected mark. Last season, the best goals against/60 at 5v5 neared 1.80. That even-strength defense has nowhere to go but south.
Enter the Kings who might not be an offensive juggernaut, but they are coming off a four-goal effort their last time out and rank sixth in the league in high-danger chances for/60 at 5v5. For his part, Kopitar is enjoying another big season with eight goals and 23 points in 21 games on 61 shots on goal.
The good news for Kopitar is that this one is on home ice tonight where he's recorded five goals and 19 points in just 13 games compared to three goals and four points across eight road contests. He should help deliver the Flames some of that defensive regression tonight.
C – Nick Suzuki (MON) – $6,600 vs. COL
Aside from the fact that I've actually had plenty of success when rostering Suzuki despite an anemic Montreal offense, there's enough to like about the Habs tonight that warrants GPP exposure at home against the visiting Avalanche.
Montreal might sit 29th in overall offense, but they also sit a palatable 16th in high-danger chances for/60 at 5v5 on the season while their 1.91 goals/60 at 5v5 sits below their 2.22 expected mark, so perhaps some even-strength offensive regression could be had.
Even more so, this is a vulnerable Avalanche team to target at the moment. For one, they were obliterated by an 8-3 count last night in Toronto, so not only are they coming off a beatdown, they're in the second half of a back-to-back in this one.
The main reason why I like the Habs? The Avs' goaltending situation. Darcy Kuemper was a late scratch last night which thrust Jonas Johansson into an emergency start, and he was pounded. With Kuemper unlikely to be ready just 24 hours later, it's either a rattled Johansson again or Justus Annunen, a 21-year-old who would make his NHL debut. He's posted a respectable 2.62 GAA and .906 Sv% in 15 AHL games this season, but the NHL is another animal.
So, let's see if Suzuki and the Canadiens can take advantage. He's collected four goals and 15 points in 24 games on the season, but one would expect more goals coming given his 7.7% shooting rate is well below his 10.7% career mark. Suzuki doesn't shoot the puck a ton with 52 shots in those 24 contests, but that shooting rate should increase moving forward.
Against an unsure and weak Avalanche goaltending situation, the Habs are worth a look tonight in GPPs.
W – Adrian Kempe (LA) – $4,600 vs. CGY
I've been on the Viktor Arvidsson train and waiting for his positive shooting-rate regression to kick in and while it has, he's off the Kopitar line and Kempe is now the top left winger on the depth chart, so he's probably the better look in a Kopitar-led Kings stack tonight.
He's had a nice season with eight goals and 13 points in 21 games on the season to go along with 58 shots on goal. He's steadily seen increased roles with the Kings over the years and is averaging a career-high 17:44 of ice time this season and is now a fixture on the team's top line and top power play unit alongside Kopitar.
A 14-goal scorer in 56 games last season, Kempe paced out for 21 goals a season ago, and with eight in 21 on this season he's on pace for a 31-goal campaign.
Like Kopitar, the splits greatly favor the home side. The Swede has tallied six goals and 10 points in 13 home games compared to two goals and three points in eight road contests. The Kings sit just 21st in terms of road offense on the season, but for whatever reason the big guns are getting it done on home ice in spades.
Alongside Kopitar in all offensive situations, you like the upside Kempe brings to the table at a reasonable cost.
W – Artturi Lehkonen (MON) – $4,200 vs. COL
The Habs are one of those teams where the even-strength lines don't really translate over to the power play smoothly, but I'll do a little mix and matching here with my Habs stack which should be super low-owned against these Avs tonight.
With just three goals and 10 points in 24 games on the season, he obviously does not stand out and this price is reflective of that. However, Lehkonen has also notched a goal in three of his last five games and yet his yet shooting rate is still just 7.1%. I mean, he's only a 8.4% career shooter for his career, but the shooting-rate regression has kicked in with authority of late.
Artturi Lehkonen receives the beaut of a dish from Gallagher and tallies on the breakaway!#GoHabsGo pic.twitter.com/7NAQal3Nt1

— Hockey Daily 365 (@HockeyDaily365) November 25, 2021
Some new-look Canadiens lines appear to have Lehkonen skating to the left of Suzuki — the team's top center — at even strength, but power-play ice time doesn't seem likely. I'm not overly concerned about that given his 5v5 ice time with Suzuki, especially with this Avalanche team sitting 30th with 4.00 goals against per game on the road this season.
We'll look for Lehkonen to fly under the radar and yet stay hot in this one tonight.
D – Drew Doughty (LA) – $6,300 vs. CGY
Completing our three-man Kings stack tonight is Doughty who returned from a lengthy knee-related absence on Tuesday night only to log 27:55 of ice time, although that game went into overtime in an eventual shootout loss to the Ducks.
He collected an assist in that contest as well, giving him a goal and eight points in his five games this season with nine shots and a pair of blocks as well. It's a small sample from this season, of course, but this guy remains a very productive cross-category producer to be sure.
Last season, he notched eight goals and 34 points in 56 games to go along with 101 shots on goal and another 83 blocked shots to boot. That's a 12-goal, 50-point season across a full 82-game slate, so while he may not be in his prime years, he's not exactly far from it and can still producer with the best of em' when it comes to DFS formats.
Of course, upon his return, Doughty re-acquired his spot as the lone defenseman on the Kings' top power-play unit, so we get a three-man PP1 stack here even if it's going against the league's fifth-ranked PK. The defensive regression for the Flames is coming at even strength, but it doesn't hurt to get a power play stack going, either.
He should log plenty more ice time again in this one tonight.
D – Aaron Ekblad (FLA) – $6,600 vs. BUF
The Panthers should see some ownership tonight as they take on the Sabres on home ice, but with the Habs and Kings going low-owned on this slate, it's just fine to get a Panthers high-ceiling mini-stack going in this lineup tonight.
Predictably, Ekblad is having a big season for a high-octane Panthers offense. One of the best goal-scoring blueliners in the league, Ekblad has recorded six goals and 20 points in 22 games on the season to go along with 69 shots on goal and another 22 blocked shots as well. Across a full, 82-game season, Ekblad is on pace for 22 goals and 75 points, and while that is obviously on the high side for a blueliner, it shows just the type of season he's having.
Like Kopitar and Kempe before him, the home/road splits are greatly in our favor here. Ekblad has just four helpers in nine road games, but six goals and 16 points across 13 games at home where the Panthers own the league's third-ranked home offense while averaging 4.31 goals per game on the season with a power play that clicks at a healthy 25.6%.
Coming off a monster three-assist, five-shot, two-block game against the Capitals his last time out, we'll look for the Panthers' No. 1 defenseman to bring more of that cross-category upside to the table in this one tonight.
UTIL – Ryan Poehling (MON) – $3,200 vs. COL
At this point, the Canadiens might as well give Poehling as much of an opportunity as possible with the season looking lost even at the quarter-mark on the heels of a trip to the Cup Final.
Now, Poehling is set to center the club's third line at 5v5 action, but he'll also skate on the same power-play unit as Nick Suzuki. That's important as the Avalanche are tied for 26th with a 76.5% clip on the penalty kill this season, and even with a league-average power play at 19.4%, I like the combination upside for this duo on the man advantage.
The 22-year-old is most remembered for scoring a hat trick in his NHL debut back in the 2018-19 season, but recorded just two points in 27 games with the big club the following season. He didn't play at all in the NHL last season, but did recored a healthy 25 points in 28 AHL games before producing six points in seven AHL contests this season.
His work at the NHL level has been solid so far this time around as he's notched four goals in 10 games including a tally his last time out against the Canucks. He's put just 14 shots on goal and a 28.6% shooting rate isn't going to last, but with an increased role he is worth a look in this matchup against subpar goaltending tonight.
UTIL – Jonathan Huberdeau (FLA) – $7,600 vs. BUF
Completing our high-ceiling Panthers mini-stack here is Huberdeau who should certainly be able to team up with Ekblad for some offense in this matchup tonight.
After a nice start to the season, the Sabres have steadily declined across the board as expected. They sit 30th with 3.50 goals against per game on the season, rank 22nd in high-danger scoring chances against/60 and have received a 24th-ranked save percentage at 5v5 as well. Add in a 23rd-ranked 79% penalty kill and we should be in business here.
For the Panthers, they sit third in high-danger chances for/60 and expected goals for/60 at 5v5 in addition to another third-place ranking in overall offense, so it all adds up.
For his part, Huberdeau has tallied seven goals and 23 points in 22 games on the season to go along with 52 shots on goal. He too is coming off a three-assist night his last time out and now has a goal and seven points over his last five games with a whopping 20 shots on goal in that time. It would appear his shot volume is on the rise.
As the team's best offensive player without Aleksander Barkov in the lineup, look for Huberdeau to lead the offensive charge in a wildly favorable home matchup tonight.
G – Braden Holtby (DAL) – $7,300 vs. CBJ
The Stars' offense is actually worth a look tonight as the Blue Jackets' road defense has been brutal, but I'm going to target their offense with the red-hot Braden Holtby tonight, mostly due to the latter.
I'll admit that I more or less wrote him off not only due to a disastrous season with the Canucks last year (behind one of the league's worst defenses, mind you) but even his last few regular season with Washington. He's certainly proved me wrong behind a much stronger defensive front in Dallas.
Should he get the nod (Jake Oettinger would work too), Holtby would enter this one sporting a 2.30 GAA and .927 Sv% across 11 appearances (10 starts). His 4.55 goals saved above average (GSAA) ranks 14th in the NHL, according to Hockey Reference.
Over his last two starts, Holtby has posted a .955 Sv% while allowing just three combined goals, but he was unbelievable in turning aside 39 of 40 shots in a win over the Hurricanes on Tuesday, making a ton of big-time saves in the process.
As for the matchup, the Jackets are actually out-performing on offense with an eighth-ranked 3.25 goals per game, but that number slips to 2.78 goals per game on the road. They also sit 21st in high-danger chances for/60 at 5v5 and the Stars sit 11th in high-danger chances against/60, so they should be able to insulate Holtby this evening.
At this price, I'll take the red-hot Holtby with nice value potential.