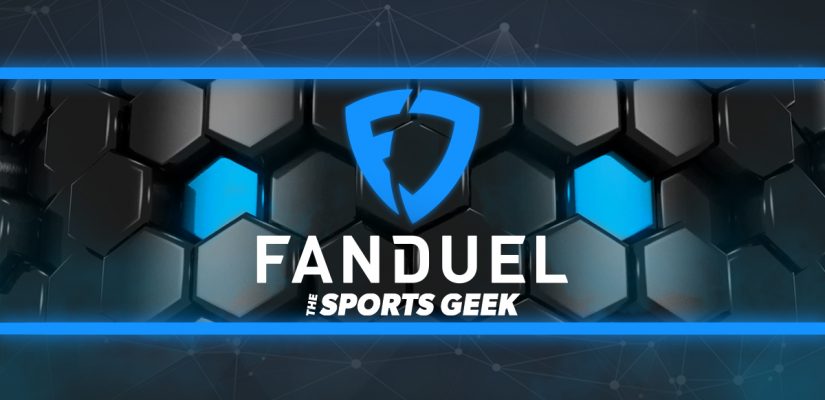 And we're back!
The first true slate of NHL action goes down on this Wednesday evening as we have five games to sort through after the 2021-22 NHL season opened with a pair of games last night.
Let's dial up our first FanDuel NHL DFS Picks of the season and see if we can get started on the right note!
FanDuel NHL DFS Picks – October 13, 2021
C – Elias Pettersson (VAN) – $7,000 vs. EDM
More often than not, we'll focus on GPP picks for these pieces, and once in a while I'll dial up some cash picks when necessary. This will be the former, and I'm looking for Elias Pettersson to lead the charge when the cash crop leans towards Connor McDavid's Oilers.
I mean, the Oilers are a strong cash option this evening against one of the league's worst defenses from last season that did not improve on paper this summer. That said, this Oilers defense certainly did not, either.
They finished tied for 11th in overall defense last season, but that was on the back of an outstanding goaltending performance from Mike Smith. The Oilers also ranked 23rd in scoring chances against/60 at 5v5, 16th in high-danger chances against/60 and 16th again in expected goals against/60, as per Natural Stat Trick.
It's also a back end that lost Adam Larsson in free agency, traded Ethan Bear to the Hurricanes and Caleb Jones to the Blackhawks. Some awfully suspect incomers in Duncan Keith and Cody Ceci do not make this blueline any better.
As for Pettersson, his 2020-21 campaign was limited to just 26 games, but he tallied 10 goals and 21 points in that time. His true "breakout" season hasn't quite arrived as he's never finished any of his three NHL seasons with more than a point-per-game average, but the dude has 65 goals and 153 points in 165 career NHL games and scores at a 17.6% rate in the process. He also boasts strong power-play numbers on a talented unit that should do some damage this season.
I'm not sure Smith can save a weaker Oilers blueline this season at age 39, so I like the Canucks to go into Edmonton and produce some offense in this one tonight.
C – Bo Horvat (VAN) – $5,800 vs. EDM
While they obviously don't skate together at 5v5, Horvat lines up with Pettersson on the team's top power play unit, so they'll get an opportunity to combine for some offense in this one, and while Brock Boeser has a chance to play in this one, we'll pencil Horvat into the lineup for the time being.
The club's second-line center is coming off a season in which he posted 19 goals and 39 points across 56 games. I'm taking last season's Canucks results with a grain of salt considering their COVID-19 disaster that saw nearly the entire team catch the virus, quarantine and play out the home stretch in a brutal and grinding busy, travel-packed schedule.
He's not going to put up the same gaudy offense numbers that Pettersson brings to the table, but he's likely to notch 20 goals this season, something he's accomplished — or was on pace to accomplish — in each of his last five seasons. Perhaps he even has 30-g0al potential given he scored 27 while playing in all 82 games in the 2018-19 campaign.
One thing we do know is he'll be leaned on heavily again this time around, but again, my plan at the outset of this season is to attack this Oilers back end until they show me that I'm wrong about the makeup of that group, including an aging goaltender that had two very subpar seasons before rebounding heavily in the shortened 2020-21 campaign.
W – J.T. Miller (VAN) – $6,800 vs. EDM
Let's go ahead and complete our three-man Canucks stack with Miller who lines up next to Pettersson on the team's top line and will of course be a major cog in that top power play unit as well.
This guy has been an absolute beast since joining the Canucks. He spent the early portion of his career between the Rangers and largely a bottom-six role with the Tampa Bay Lightning, but exploded for 72 points in 69 games in his first season in Vancouver during the 2019-20 campaign, making his general manager Jim Benning look good for his draft-day trade that saw a first-rounder go to Tampa Bay from Vancouver.
He didn't reach a point-per-game height last season, but with Pettersson missing 30 of the team's 56 games, it's not hard to understand why. He still tallied 15 goals and 46 points in 53 games a season ago, notching 18 power-play points in the process. Miller's also averaged more than 20 minutes per game in his two seasons in Vancouver.
Like many players his splits lean towards his home barn at Rogers Arena in Vancouver, but 19 points in 25 road games last season is certainly nothing to sneeze at. He scored nine of his 15 goals on the road as well, so that bodes well.
Let's grab the team's three best offensive players for this matchup against an Oilers back end I expect will be exposed this season.
W – Alexis Lafreniere (NYR) – $5,300 vs. WSH
I'm not sure there's been a prospect more hyped since Sidney Crosby than Alexis Lafreniere was heading into last season. He and Crosby were not only both No. 1 overall picks, but both came out of the QMJHL playing for the Rimouski Oceanic. They shared similar mind-blowing junior numbers and elite, gold-medal winning performances for Team Canada at the World Juniors.
However, his first NHL season was not without its struggles. Lafreniere would tally just 12 goals and 21 points in his 56 games while averaging shy of 14 minutes of ice time per night. He also failed to record a power-play point and even scored at a 17.9% clip, so there was some fortunate puck-luck involved in an uninspiring debut.
That said, I expect a big season for the now-sophomore. He's certainly getting an opportunity out of the gate as he'll flank first-line center Mika Zibanejad at 5v5 while getting a look on the team's second power-play unit. The QMJHL is regarded as an offense-heavy league, but this guy recorded 35 goals and 112 points across 52 games in his final year in Rimouski during the 2019-20 season. He's going to produce at the NHL level.
As for the matchup, I'm not particularly thrilled with this Capitals back end that ranked 17th overall last season, traded top-four reliable defender Brendan Dillon to the Jets and saw Zdeno Chara walk in free agency. Michal Kempny returns after missing all of last season with an Achilles injury.
More than anything, I expect this Rangers offense to be a productive group that could hang around the league's top 10 or better, so let's see what they can do in their season opener.
D – Rasmus Sandin (TOR) – $3,500 vs. MTL
We'll kick off a Maple Leafs mini-stack here with Sandin who might not be skating on the same power play unit as his stack partner, but will get second-unit looks in this one tonight.
When the Leafs and Habs met in in the postseason last year, it was Sandin quarterbacking the top power play unit as a smart, offensively-gifted defenseman. The 21-year-old has appeared in 37 career NHL games and has one goal and 12 points in that time, but he's already enjoyed success at the NHL level, notching 15 points in 21 games with the Toronto Marlies as a 20-year-old in the 2019-20 season after turning in an impressive six goals and 28 points across 44 games as a 19-year-old in the 2018-19 season.
Now he gets his first true opportunity as a top-six NHL defenseman. He does so against a Canadiens team that will be without Shea Weber for the season, goaltender Carey Price for about a month and defenseman Joel Edmundson for perhaps another two or three weeks with an undisclosed ailment. Despite signing shot-blocking and penalty-killing machine David Savard this summer, the Habs' back end has taken some notable hits as well.
I don't see much in terms of ownership on either end of this mini-stack, so have a look at this cost-efficient duo if you're in search of some value this evening.
D – Adam Fox (NYR) – $6,500 vs. WSH
I'm not too worried about ownership here as we have the reigning Norris Trophy winner as part of what will be a three-man Rangers stack this evening.
Of course, winning the NHL's best defenseman award is not easy and it seemed as if Fox won it out of nowhere, but perhaps we have have paid more attention. After all, he tallied eight goals and 42 points across 70 games as a rookie, but bested that mark with 47 points in just 55 games as a sophomore en route to the top defenseman honor. He also increased his ice time for 18:54 per game as a rookie all the way to 24:42 as a sophomore.
Fox did so while seeing his shooting rate drop to 4.9% from 6.4% in the 2019-20 season. That said, he was a monster on the power play with 23 man-advantage points, tying Edmonton's Tyson Barrie for the second-most power play points among defenseman, just one shy of Victor Hedman's NHL-leading 23.
For an offensive defenseman that logged plenty of minutes, he didn't shoot the puck a ton as his 102 shots on goal ranked 36th among NHL blueliners last season. What he did do, however, was take his elite offensive skill on the road with him as his 22 road points fell narrowly shy of his 25 points at MSG in one fewer home game. I'll take those splits in this situation with tonight's contest taking place in D.C.
We'll see what his third NHL season brings, but for now he's going to make an appearance in my first lineup of the 2021-22 season.
UTIL – Jason Spezza (TOR) – $3,500 vs. MTL
Now 38 years old and on his third straight cheap, one-year deal with the Toronto Maple Leafs, Spezza has been a consistent producer for this club even if he's accepting fourth-line minutes with some power-play time sprinkled in.
I mean, at 37 last year the guy tallied 10 goals and 30 points across 54 games while averaging only 11:01 of ice time per game. That's extremely difficult to accomplish for anyone with such few minutes, but let's also consider that only five of those 30 points came on the power play, so the guy was extremely productive at 5v5 as well. He's notched 55 points in 112 points as a Leaf in two seasons in fourth-line minutes.
While he was on second-unit power-play duties in his first two seasons in Toronto, that changes tonight. With Auston Matthews out for the first three games of the season, Spezza has been awarded his spot on the team's first power play unit alongside the likes of Mitch Marner and John Tavares. That obviously bodes well for his offensive outlook, especially against a Montreal penalty kill that tied for 23rd (interestingly with the Leafs) with a 78.5% penalty killing rate a season ago.
With some high-priced talent in this lineup, we need some value somewhere and we're getting that here with the veteran forward.
UTIL – Mika Zibanejad (NYR) – $7,700 vs. WSH
When it came to my NHL DFS life last season, Zibanejad was the most fascinating player and a guy that I could not get to produce for me when I rostered him.
Early on, it was a disaster. The guy tallied two goals and six points across the first 19 games of his season between January and February. I rostered him a lot during that time as his shooting rate was all of 3.5% through the season's first two months, a galaxy away from his career 13% mark.
Fast forward to the end of the season, and the Rangers' No. 1 center notched 24 goals and 50 points across 56 games and shot 14% along the way. In other words, he went on an absolute heater in the final two-thirds of the season while his 10 power-play goals tied for fifth league wide. The guy's actually a power-play monster with his 36 man-advantage goals over the last three seasons also ranks fifth in the league, right around names such as Auston Matthews, Steven Stamkos and Alexander Ovechkin.
So, what Zibanejad should we expect? The guy with 1.32 points per game in the 2019-20 season or the slow-starting 0.89 mark from last season? I'd venture a guess somewhere in between where he finishes this season on the right side of a point-per-game pace.
He's the team's second-best offensive player (Artemi Panarin), he's going to log at least 20 minutes a night (20:06 last season) and he's as dangerous on the power play as anyone in the league.
He and Lafreniere — and perhaps Fox — should be able to do some damage at 5v5 this evening in Washington.
G – Connor Hellebuyck (WPG) – $8,400 vs. ANH
Connor Hellebuyck, the 2019-20 Vezina Trophy winner as the NHL's best goaltender, is pretty good. You already know that, but I'll explain further.
Over the last two seasons, the Winnipeg Jets' defense ranks 30th in high-danger chances against/60 and 29th in expected goals against/60 at 5v5. In that same time, they also rank ninth in actual goals against/60 and Hellebuyck is tied with Tampa Bay's Andrei Vasilevskiy — regarded as the world's best goaltender — for fourth with a .920 Sv% and sits second with 10 shutouts (Marc-Andrey Fleury, 11) among netminders that appeared in at least 50 games in that time.
In short, he's been absolutely unbelievable behind a Jets back end that's been among the very worst teams in preventing scoring chances. Now, that might change this year, the latter of it at least. The Jets traded for stout top-four defender Brendan Dillon this summer, precisely the type of defender they needed: stay-at-home, reliable and physical. They also added Nate Schmidt as a smooth-skating defender that can use his legs to get out of the defensive zone and move the puck up ice which has been a major problem for this group in recent years.
And then there's the matchup. A Ducks offense that didn't get any notable reinforcements this summer ranked dead last in overall offense last season with 2.21 goals per game and an 8.9% power play that is among the worst in history.
While splits can vary from year to year, he sure as heck didn't mind playing on the road last season where he posted a 2.44 GAA and .925 Sv%. Add in an improved defense on paper and a matchup against the league's worst offense from a season ago and the season-opening matchup for one of the game's best could not get much better.