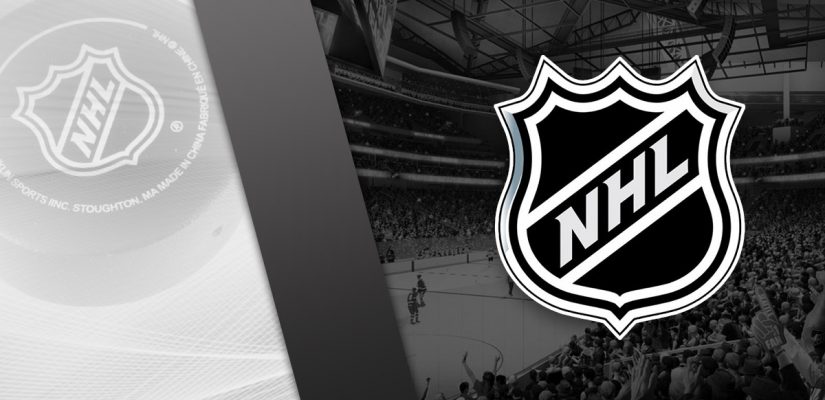 It's a fresh week of NHL hockey on tap this evening, and we have four-game Monday night slate getting us started.
With that in mind, let's fire up an optimal lineup more aimed towards GPPs and see if we can get the week started on the right note!
FanDuel NHL DFS Picks – October 18, 2021
C – John Tavares (TOR) – $7,500 vs. NYR
It's been an uninspiring start to the season from a scoresheet perspective for Maple Leafs captain John Tavares, but I wonder if the return of Auston Matthews helps get him out of his early-season rut and he's goalless with just one assist despite putting a healthy 12 shots on goal through three games.
Obviously, Tavares and Matthews don't skate together at even strength, and certainly the return of Matthews to that top Maple Leafs power play unit is a welcomed sight. That said, this has more to do with the early-season performances of his new linemates on the Maple Leafs' second line.
William Nylander has been the team's best forward in the early going, and new Leaf Michael Bunting has been excellent so far as well while being involved on a nightly basis. While many will shoot for the Marner/Matthews combination this evening, I believe sticking with the team's top performers will help get Tavares going.
It's not as if he's not playing well. He's averaged those four shots per game so far as he's posted a 52.68% expected goals share at 5v5 when on the ice as well as a Corsi For% approaching 52%. Some may be cautious with the high-priced pivot considering he's coming off a "down" season that saw him post 19 goals and 50 points in 56 games on 163 shots on goal. His early-season returns from a surface standpoint should also lower ownership.
Let's see if sticking with this Maple Leafs' second line pays dividends tonight.
C – Mika Zibanejad (NYR) – $7,500 vs. TOR
Zibanejad and the Rangers are on the other side of this one tonight, but I like their chances against a Maple Leafs defense that has been rather leaky despite winning two of their first three games.
At 5v5, the Leafs rank 28th in terms of high-danger chances against/60 and 26th in expected goals against/60 at the club has been unable to build on a strong season last year on the back end both from a surface and underlying data standpoint. Obviously, we're dealing with a tiny three-game sample here, but we'll follow the trend until we see different.
For his part, Zibanejad has begun his season with three assists in as many games and has been held out of the goal column on eight shots so far. While Zibanejad is a weapon on the power play, he's also dominated at 5v5 so far despite failing to find the back of the net in this young season.
At 5v5 play, Zibanejad owns a 63.58% expected goals for clip  as well as a 60.71% Corsi For% and 66.67% shots percentage as well. In other words, the ice has been significantly tilted towards the opponents' end of the ice when this guy's been on the ice at even-strength this season, and considering how many high-danger opportunities the Leafs have yielded this season, that could bode well this evening.
W – William Nylander (TOR) – $7,200 vs. TOR
This is a steep price to pay, but given how Nylander has performed this season I'm absolutely on board, especially with Tavares as his center with Alexander Kerfoot being bumped down the depth chart.
Nylander has notched two goals and four points on a hefty 15 shots on goal through three games this season, notching a goal on the power play and collecting a man-advantage assist as well. The Rangers have struggled with a 63.6% clip on the penalty kill in the early going, so perhaps the Leafs' power play gets some more upside, even more with Matthews in the lineup.
While the surface data is fantastic, it's greatly supported by the underlying numbers. Nylander has posted a whopping 72.73% high-danger chances for share, 67.21% expected goals for share and a 59.04% Corsi For% at 5v5 so far this season. The eye test has shown that he's come out of the gate hot, but clearly the advanced metrics are quite favorable of his work.
Nylander has now played parts of seven NHL seasons, and while he's been a productive player with 267 points in 361 career NHL games, he's still just 25 years of age and entering his prime NHL seasons. You wonder if he's just off to a hot start, or is this the year when he takes another step forwards and becomes one of the better right-wingers in the NHL?
We'll let that debate play out, but for now he's dominating and I believe he helps Tavares get on the scoresheet tonight.
W – Michael Bunting (TOR) – $4,200 vs. NYR
We'll complete our three-man Leafs stack here with Bunting who has been a welcomed addition to the left side for the Leafs so far this young season.
The Leafs snatched up the feisty winger after he impressed with 10 goals and 13 points on a low-scoring Arizona Coyotes team last season. So far in a Leafs uniform, the 26-year-old has notched a goal and an assist on nine shots while playing alongside Nylander on the Maple Leafs' second line.
Of course, the underlying data has been quite good and similar to that of Nylander. At 5v5, Bunting has posted a 58.82% high-danger chances for%, a 61.14% expected goals for% and a 58.90% corsi for%. He and Nylander have pretty much been the team's top two forwards in the early going both from an eye test and data-driven perspective.
I mean, the Maple Leafs rank first in the NHL so far in terms of high-danger chances for/60 and fourth in terms of expected goals for/60. However, they also rank 20th in actual goals/60 at 5v5 thanks to a minuscule 3.70% shooting rate on their high-danger chances and a small 5.19% overall 5v5 shooting rate on the season.
The Rangers have been decent on the back end and netminder Igor Shesterkin is very good in my opinion, but this team is about to bust out and I'll look for these wingers to help Tavares get on the board tonight.
D – Adam Fox (NYR) – $6,600 vs. TOR
Fox will probably see some ownership tonight, but he's picked up right where he left off from his Norris Trophy-winning season last year and should be able to deliver more results this evening against that leaky Leafs back end.
Fox has collected a goal and two helpers for three points in as many games this season to go along with 11 shots on goal and a pair of blocks to boot. This comes on the heels of a five-goal, 47-point season that saw him tally exactly 102 shots and blocks apiece in 55 games a season ago. Of course, when you're a d-man producing at those rates, the underlying data is going to support you.
While Fox has been on the wrong end of the high-danger chances share, he's also worked to an impressive 62.20% corsi for% and a 61.06% expected goals clip at 5v5 action this season, ranking among the best on the team right alongside Zibanejad. The top line centered by Zibanejad — not the Artemi Panarin line — has been the team's best so far in the early going.
We should probably prepare for this guy to be among the league's best offensive defenseman for years to come. He's just 23 with 92 points in 128 career NHL games and he both shoots the puck a lot and gets in front of pucks with 238 shots on goal and another 196 blocks in his young career as well.
Should be fun to see what he can do this evening.
D – Rasmus Andersson (CGY) – $4,100 vs. ANH
Andersson avoided a suspension after seemingly head-butting the Oilers' Kailer Yamamoto on Saturday, getting dinged with a $5K fine instead. While it was a cheap shot, we'll see if he can redeem himself tonight as the Flames host the Ducks.
I expected more out of Andersson last season as he tallied five goals and 21 points in 56 games on 96 shots and 68 blocks. He's only 24 and still developing at the NHL level with just 217 regular-season games under his belt, but perhaps this is the season he can break out a little bit with former captain Mark Giordano now in Seattle.
It already appears that he's going to see an increased role as widely expected given he skated 22:37 in the team's lone game of the season in Edmonton on Saturday, more than a minute more than his 21:13 average from a season ago. He also factored into one of the two Flames' goals with a power-play assist to go along with two shots and a block in getting his season started on the right note.
Andersson is firmly the team's top offensive defenseman and the lone d-man on the top power play unit, a role he was unable to keep on a full-time basis last season. I expect more production from him on the power play, but he also did a nice job at even strength in the opener with a 65.52% corsi for% at 5v5 as well as a 57.10% expected goals for clip in that one.
As for the matchup, the Ducks have been solid in allowing just three goals through two games, but they've also lost the high-danger chance battle with a 44% mark in that department and in the smallest of samples they actually rank last in the NHL right now in expected goals against/60 at 5v5 this season as well.
UTIL – Alexis Lafreniere (NYR) – $5,300 vs. TOR
You can actually get Chris Kreider into this lineup into this spot as he's off to a nice start himself on this top line, but I want to see if Lafreniere can really light it up this season after scuffling through his highly-anticipated rookie season.
He tallied a decent 12 goals and 21 points in 56 games last season, but also put just 67 shots on goal, or just 1.20 shots per game. This season, he's notched a goal for his lone points in three games, but has also put nine pucks on goal in that time. I like the fact he scored his last time out, notching the game-winner in his native Quebec on Saturday in Montreal.
First goal of the season ☑️
First goal on your hometown ice ☑️
A good night for Alexis Lafreniere ☑️#NYR pic.twitter.com/SyqKesWlJg

— Rangers on MSG (@RangersMSGN) October 17, 2021
The sophomore owns a 53.67% expected goals rate at 5v5 so far this season, but his 62.26% corsi for% at 5v5 is the best on the team among players who have played in at least two of the team's three games so far. It wasn't a great possession year for the youngster a season ago, but he's off to a fine start in that department this time around while getting a first-line opportunity right out of the gate.
Not only that, but he's also likely to get first-unit power play time this evening with Ryan Strome out of the Rangers lineup, so he'll be skating with the team's best offensive players pretty much throughout the night tonight.
Let's see if he can build on that big goal from Saturday in this one tonight.
UTIL – Sean Monahan (CGY) – $4,800 vs. ANH
The Sean Monahan/Johnny Gaudreau long-time Flames duo has been supplanted as the team's top offensive option by the Matthew Tkachuk/Elias Lindholm duo, but we are getting Monahan at a dirty-cheap price here as he enters a fine matchup with the visiting Ducks.
It was a brutal season for the former No.1 center last year as he tallied just 10 goals and 28 points in 50 games while putting just 98 shots on goal. I do wonder, however, if there's some shooting-rate regression to be had here as his 10.2% clip from last season was by far a career low and well below his 14.5% career mark. His previous low was 13.3% from the 2019-20 season, so I'm willing to bet that number gets back over 14% or better this season.
He wasn't much of a factor Saturday in Edmonton with no points and a pair of shots in 15:25 of ice time, but like many Flames his underlying data was strong as he posted a 66.67% high-danger chances share, a whopping 76.22% expected goals for clip and a 72.73% corsi for% at 5v5 in that one.
He'll line up on the team's second line in this one, but will spend a solid chunk of the game with Rasmus Andersson including time on the team's top power play unit.
I mean, the Ducks have allowed just three goals in two games, but also an average of 38.5 shots against per game. Their goaltending has given them a .961 Sv% between a John Gibson start and an Anthony Stolarz start, and while we don't know whether Gibson return for his one or not, I'm willing to bet on some notable Ducks defensive regression moving forward.
G – Jordan Binnington (STL) – $7,500 vs. ARI
Honestly I'm not worried about ownership at all here as Binnington takes on the Coyotes in Arizona, and he's going to see plenty of it as a low-cost option in a wildly favorable matchup.
He was decent in allowing three goals to a watered-down Avalanche lineup on Saturday, turning aside 29 of 32 shots in that one. He's also coming off a rather uninspiring .910 Sv% last season while also posting a mediocre 2.56 goals saved above average, as per Hockey Reference, good for 25th among netminders that appeared in at least 10 games.
While he's been notably worse on the road than at home in his career, you cannot argue with the matchup here. He's taking on a Coyotes offense that ranked 23rd overall last season, but one that was ripped apart with trades for future assets over the summer. The team has began it's season with just three goals in two games and should certainly finish around the league's bottom-five in offense this season.
The win upside is major here with the Blues listed as -169 favorites (BetOnline) for this one coming off a 5-3 win in Colorado to open their season. Truthfully, I'm not looking at anyone else on this slate in goal.