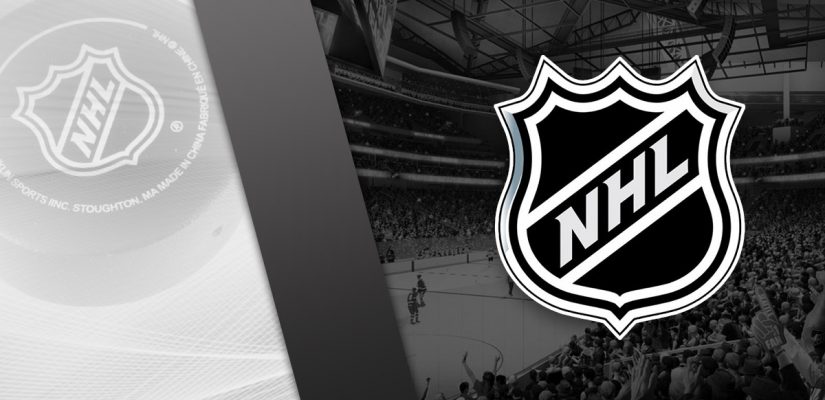 We have a seven-game main slate coming our way this evening, so let's dive into some optimal picks and see if we can pad that bankroll!
FanDuel NHL DFS Picks – October 26, 2021
C – Nathan MacKinnon (COL) – $8,900 vs. VGK
Rarely was it a productive idea to target the Vegas Golden Knights a season ago, but this season has been much different as the banged-up Knights have been quite porous on the back end.
After leading the NHL with just 2.18 goals against per game last season, the Knights sit in a share of 26th with 3.80 goals against per game on the season, but it gets worse from there. While their penalty kill at 76.9% has not helped in the early going, Vegas also ranks dead last in both high-danger chances against/60 and expected goals against/60 at 5v5 action. Their 3.33 goals against/60 at 5v5 isn't outrageously above their 3.08 expected mark, so the underlying data confirms just how leaky this back end has been.
As for MacKinnon, he's off to a fast start this season after missing the first two games of the season, tallying a goal and four helpers across the three games he's appeared in while putting six shots on goal in that time. We should certainly see his shot volume increase moving forward as his 889 shots on goal over the last three seasons is by far the most in the NHL with Alex Ovechkin at second with 831 in that time.
He's going to see some ownership on this slate, but there's enough GPP looks to warrant some entires in that department with this lineup as well.
C – Morgan Geekie (SEA) – $3,800 vs. MON
We'll sneak in some of that GPP action here with Geekie who has been rather quiet since scoring a goal on opening night in Vegas, but has a solid opportunity tonight against the Montreal Canadiens.
The Canadiens haven't exactly slammed the door defensively this season as their 3.33 goals against per game sits in a share of 22nd league wide, although they rank right around the middle in of the pack in terms of high-danger chances against/60 at 5v5 on the season.
The club's biggest problem has been on the penalty kill with an atrocious 57.1% mark in that department through six games, and Jake Allen has been mediocre at best while Carey Price remains away from the team for the time being.
For his part, Geekie tallied a goal in the Kraken's opening-night loss in Vegas, but has since been held off the scoresheet in each of his last five games, and most notably has seen a major dip in ice time with 9:18 or less in each of his last two games after logging well over 15 minutes in the two games prior.
Geekie going to get 5v5 time with a couple of solid offensive pieces in Brandon Tanev and Joonas Donskoi on the club's third line, but will also see second-unit power play time with a very talented offensive defenseman which is the main reason as to why he's in this lineup considering the Habs' early-season PK woes.
We'll get the former Carolina Hurricane at low ownership this evening.
W – Mikko Rantanen (COL) – $8,300 vs. VGK
Next man up in a three-man Avs stack is Rantanen who will obviously flank MacKinnon at 5v5 as well as on the team's loaded top power play unit.
It's been a predictably hot start for the Finn as he's notched five points in as many games while notching a goal in three straight entering this one tonight. Rantanen is also just shy of averaging four shots per game with 19 in five games on the young season, even blocking a pair of shots to boot.
Obviously, he's one of the most talented wingers in the sport as Rantanen has collected 278 points over the last four seasons, sixth-most among right wingers in that time. He's also been an excellent possession player that annually produces fantastic underlying data that supports his offensive work at 5v5 while he tallied 24 points on the power play last season, good for a share of fourth league wide.
He's historically produced more points at home than he has on the right, boding well for his matchup tonight at Ball Arena in Colorado.
There's obviously a wealth of upside between these two superstars tonight.
W – Nikolaj Ehlers (WPG) – $6,400 vs. ANH
Kyle Connor has been doing the heavy lifting for this Jets offense in the continued absences of Blake Wheeler and Mark Scheifele, but give me the second line tonight as Ehlers is more than due to find the back of the net and opportunities should be plentiful tonight in Anaheim.
For their part, the Ducks sit in a share of 22nd with 3.33 goals against per game on the season, but also rank 24th in high-danger chances against/60 and 31st in expected goals against/60 at 5v5 action.
After enjoying a career-year that saw him pot 21 goals with 46 points in 47 games, Ehlers has just one assist to his credit through five games this time around. However, Ehlers has put plenty of puck on net in the past and that hasn't changed this time around as he's yet to score on the 22 shots he's taken (4.4 per game) in the young season. Of the 31 forwards with at least 19 shots on goal, Ehlers is the only one not to have found the back of the net so far.
Long an excellent possession player, Ehlers is running at a 54% Corsi For% rate at 5v5 so far this season and is the proud owner of a 52.7% mark for his career in that department.
With some more puck luck against a poor defensive team, don't be surprised to see the Dane bulge twice for the first time this season.
D – Cale Makar (COL) – $6,500 vs. VGK
Completing this three-man Avalanche stack is Makar who has turned into one of the game's premier offensive defensemen in short order.
Turning 23 in four days, Makar has tallied 97 points through the first 106 games of his NHL career, 20 of which have come in goal form. He's yet to score this season, but Makar does have 12 shots on goal in five games to go along with three assists and four blocked shots in a healthy 24:45 of average ice time per game.
He registered exactly one point per game last season with 44 points in as many games and while 22 of those 44 points came on the power play, he also posted a monster 61% Corsi For% at 5v5, meaning he's far from just a power-play specialist with the Avalanche dominating the attempted shot share with him on the ice. He's slightly under 50% in that department in the early going this season.
Nonetheless, with a struggling defensive club on the other side, Makar joins MacKinnon and Rantanen in a wildly appetizing Avs stack this evening.
D – Vince Dunn (SEA) – $4,500 vs. MON
Here's a big reason as to why I like Geekie in this lineup as he and Dunn will skate together on the same power-play unit tonight and it appears Dunn is showing what he's capable of offensively after being sheltered during his time with the Blues.
He did reach an average of 19:15 in ice time last season, a career-high for the 24-year-old, and he's averaged just 16:20 so far in Seattle this season. That said, he's collected a goal and three points in four games this season to go along with eight shots on goal. He's not likely to be a beast in the peripherals department, but Dunn is skilled in the offensive zone and produces with the puck on his stick.
I mean, despite averaging just 17:22 of ice time per game in his career, Dunn has collected 105 points in 271 career NHL games, a 32-point pace in an 82-game season, but he's also paced out for 10 goals in an 82-game season so far in his career. That's before age 25 by a defensemen in limited minutes, so the numbers are rather impressive.
We'll see how his usage makes out as the season rolls along, but against a struggling PK, the offensively-minded Dunn looks like a strong play this evening.
UTIL – Andrew Copp (WPG) – $4,500 vs. ANH
Despite rostering a three-man stack that should form the Jets' second line tonight, we don't have a listed center in the bunch, so as a group this stack should go low owned as a result.
With Wheeler and Scheifele out and Mason Appleton being selected by the Kraken in the expansion draft, there's been room for someone to step up in this Jets lineup and Copp has been the guy taking advantage of increased duty. He's logging a cool 21:27 of ice time per game so far and he's made good on that opportunity, notching three goals and five points on the season with 10 shots on goal. Sure, a 30% shooting rate won't last, but it's a great start.
Don't expect the usage to drop a ton, at least not in the immediate term. Copp is slated for second-line duty, but also top power play unit duty as well where we'll get a three-man stack on both ends. He's yet to capitalize on the man advantage, but does have a short-handed goal to his credit as he's been a Swiss Army knife for Paul Maurice in the season's early stages.
A Dang-It behind the net leads to an Andrew Copp shorty! ?#NHLonSN | #HockeyNight pic.twitter.com/ohi1nooScq

— Sportsnet (@Sportsnet) October 17, 2021
After being held off the scoresheet his last time out, let's see if Copp can rebound in this one tonight.
UTIL – Paul Stastny (WPG) – $3,800 vs. ANH
Completing this three-man Jets stack tonight is Stastny who re-signed with the Jets this summer and it's paid dividends so far.
Stastny tallied the first two goals of his season his last time out against the Predators, upping his point total to five in as many games. He's not going to shoot the puck much with six shots in five games which doesn't make him the best cash-game option, but he's a fine fit at a quality price in this stack given his price and production so far this season.
He's not prime Stastny at age 35, but he's more than serviceable after notching 29 points in 56 games last season with the Jets. He's not a huge power-play weapon either with just eight of those 29 points coming via the man advantage last season, but the Ducks have actually killed penalties well as I expect much of the damage tonight to come at 5v5 action.
Unlike Ehlers, Stastny hasn't posted quality possession and underlying metrics to this point, but after bulging twine twice his last time out, I'm hopeful for the outlook tonight.
G – Connor Hellebuyck (WPG) – $8,300 vs. ANH
There's a wealth of happenings across the league in the early going that seem a little off, and the early-season results for Connor Hellebuyck is one of them.
The 2019-20 Vezina Trophy winner has long been the team's backbone and produced extremely well behind some weak bluelines in recent seasons, but he's began this season with a 3.80 GAA and .886 Sv% while starting all five games for the Jets. This is a guy who turned in a 2.57 GAA and .922 Sv% two years back followed up by a 2.58 GAA and .916 Sv% a season ago, finishing fourth in Vezina voting.
He isn't the confirmed starter as of yet and we'll keep an eye on that, but if he does start it's already his third outing of the season against these Ducks who aren't even in the same division as the Jets. He began his season by allowing four goals on just 22 shots in Anaheim, but the good news is that his best start of the season was his second against the Ducks when he surrendered just one goal on 39 shots back in Winnipeg.
While this one is in Anaheim, keep in mind Hellebuyck was far better on the road last season when he turned in a 2.44 GAA and .925 Sv% outside of Winnipeg. Splits can certainly vary from year to year, but he's a proven road goaltender.
The Ducks' offense has simmered after a hot start while they rank 30th in high-danger chances for/60 and 28th in expected goals for/60 at 5v5, so the matchup is a strong one for the American netminder tonight.