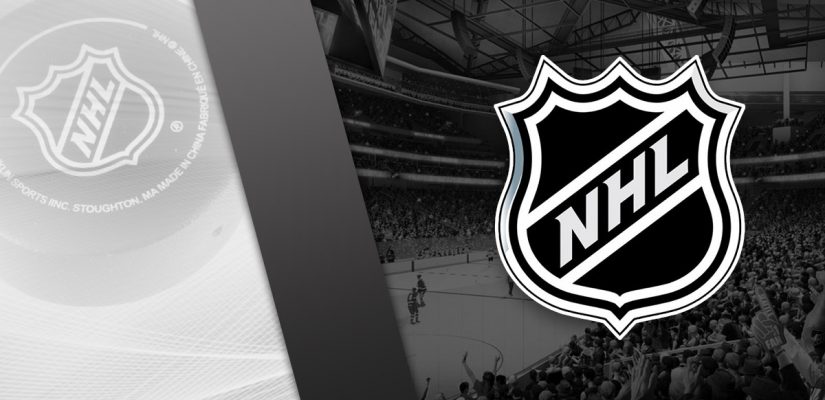 We had a big night on Tuesday thanks to a productive night from our three-man Jets stack, and after an off night we're back at it this evening.
We have a nine-game main slate to tackle, so let's keep rolling!
FanDuel NHL DFS Picks – October 28, 2021
C – Sean Couturier (PHI) – $6,900 vs. VAN
The Flyers will play their second game in as many nights tonight after dealing the Oilers their first loss of the season by a 5-3 count and as I expected this season, this Flyers offense is getting it done.
They'll enter this one ranked second with 4.60 goals per game on the season and while that's an unsustainable mark, they're also humming at a 30.8% clip on the power play and rank ninth in terms of expected goals for/60 at 5v5 this season, as per Natural Stat Trick, so this is an offense I can get behind.
It's a deep Flyers offense with someone like James van Riemsdyk getting third-line duty and second-line winger Cam Atkinson off to a hot start, but I'll go with the top line who will skate together at both 5v5 and on that productive power play as well.
The elite two-way pivot is off to a hot start this season, tallying two goals and seven points in five games despite putting just 11 shots on goal in that time. He logs a ton of ice time at 20:45 for the season and usually puts forth strong possession numbers with a 59.4% Corsi For% at 5v5 last season, although he's just a hair over 50% so far this season.
He'll bring a three-game point streak into action and has tallied a goal and an assist in two of his last three including last night's win in Edmonton to kick off this road trip.
Let's see what he can do for an encore as this Flyers offense looks to stay hot.
C – Nick Suzuki (MON) – $5,600 vs. SJ
From a statistical standpoint, the Canadiens are not worth rostering at the moment, especially in cash games. That said, this is a little bit of a gut feeling on my part as I like the Habs for GPPs tonight in San Jose.
The Canadiens are obviously scuffling with one win in seven games and their 1.57 goals per game on the season is the worst mark in the league in the early going. That said, that's clearly an unsustainably low offensive production that will 100% rise significantly moving forward, but I'm also not convinced this Sharks team is this much better defensively.
Sure, they sit fifth with 2.33 goals against per game and are killing penalties at a healthy 85.7% clip. They sit eighth in high-danger chances against/60 and 12th in expected goals against/60 at 5v5 and their 2.05 goals against/60 at 5v5 this season is identical to their expected mark.
This is largely the same blueline that was among the very worst in those departments last season, however. They are most definitely getting much better goaltending, but my gut and their recent history suggests that this defense will regress moving forward.
Suzuki has yet to score in seven games and has just two assists and 11 shots on goal. However, he also has collected those two helpers over his last three games and is averaging a solid 18:17 of ice time per game. He's the club's No. 1 center at 5v5 while logging top power-play minutes despite that Habs man advantage clicking at a measly 8% on the season.
I don't blame you for ignoring the scuffling Habs tonight, but after a tough 5-1 loss in Seattle on Tuesday I believe this group is in a nice spot to rebound in GPPs tonight.
W – Claude Giroux (PHI) – $6,100 vs. VAN
Not only are the Flyers rolling on offense, but I also want to target this Canucks back end, a group that's once again giving up far too many scoring opportunities.
They were pretty much the worst defense in hockey from an analytical perspective last season, and despite sitting in a share of 13th with 2.86 goals against per game on the season, the Canucks also rank 30th in high-danger chances against/60 and 25th in terms of expected goals against/60 on the season.
Add in a 77.8% penalty kill that's tied for 23rd and I expect the Flyers to get their fair share of chances in this one tonight.
Like Couturier, Giroux is on a tear to start the season and enters this one red-hot. He's tallied four goals and six points on 16 shots in five games, but also has at least one points in all five games this season and goals in back-to-back games as he too tallied a goal and an assist last night in Edmonton.
A ton has happened so far. Here are the (good) things you missed. #PHIvsEDM | #BringItToBroad pic.twitter.com/AP8vFNwpAR

— Philadelphia Flyers (@NHLFlyers) October 28, 2021
Canucks backup Jaroslav Halak is getting the starting nod tonight and he's appeared in just one game this season, allowing two goals on just 20 shots (.900 Sv%) back on Oct. 16 in Detroit is his lone appearance of the season.
W – Travis Konecny (PHI) – $5,600 vs. VAN
Completing our three-man Flyers stack tonight is Konecny who will skate to the right of Giroux and Couturier all night long.
Obviously, with his linemates enjoying plenty of early success it's easy to guess Konecny is off to a fine start himself. After his productive slipped following a brilliant 2019-20 season, he's so far rebounded with three goals and five points in as many games with 13 shots on goal as part of his 16:37 of average ice time. He recorded just one assist on five Flyers goals last night, but put two shots on goal and blocked another one as well.
Don't be surprised to see the 24-year-old record around a point-per-game this season. He nearly did so two years back with 61 points in 66 games, and despite slipping to 34 points in 50 games last season, this is a young, budding player who is going to produce significantly moving forward and is a big part of this Flyers offense.
He's a positive possession player and has been for much of his young career and he's also in the positive in terms of on-ice expected goals share at 5v5. Not posting elite numbers in those departments, but that is still good news against a Canucks team losing that battle again this season.
D – Jeff Petry (MON) – $4,300 vs. SJ
Compared to last season, we're getting Petry at a huge discount, but given his own production and that of his team, it's not hard to see why.
Petry recorded 12 goals and 42 points in 55 games last season, firing 128 pucks on goal and blocking another 60 as one of the top cross-category-producing defensemen in the league.
The early stages of the 2020-21 season have been disastrous as he's without a point with just eight shots and eight blocks in his first seven games. That said, while the Habs are clearly struggling to find it on offense, here's a guy that's recorded at least 40 points in four straight seasons, scoring at least 11 goals in all of those seasons. His production from last season paces out to 18 goals and 63 points across a normal 82-game season.
Over the last four seasons, Petry is tied for 12th in points and sits seventh in goals, so despite a sluggish start and zero points in seven games, the points are most definitely coming even if it's not going to be a banner year as it was a season ago.
D – Neal Pionk (WPG) – $5,000 vs. LA
The Jets are still finding ways to score goals despite missing Mark Scheifele and Blake Wheeler for nearly the entire season so far, and I like their chances tonight in Hollywood.
While Winnipeg is tied for sixth with an even 4.00 goals per game on the season, the Kings sit 24th with 3.33 goals against per game and have been brutalized on the penalty kill with a paltry 58.8% mark in that department. Not helping is the fact No. 1 defenseman Drew Doughty is out long-term with a knee injury, so this Kings back end is against the ropes for the foreseeable future.
He's yet to find the back of the net in six games, but Pionk still has six helpers on the season with a healthy 17 shots on goal and another eight blocks. He's logging top power-play unit time and while he managed just three goals last season (and 32 points in 54 games) I expect the goals to start showing up a little bit for the American defender moving forward.
The possession metrics aren't great for Pionk, but that's the case with a Jets team that continues to give up plenty of scoring chances this season. While it could be a high-scoring game as a result, Doughty's absence combined with a 3.71 GAA and .885 Sv% from Cal Petersen (unconfirmed) could very well have the Jets' offense continuing to roll tonight.
UTIL – Mike Hoffman (MON) – $4,600 vs. SJ
Of all the Habs' offensive players this season, it's been Hoffman who has been the most productive despite missing the first three games of the season.
In four games played, Hoffman has tallied two goals on nine shots while collecting 16:43 of average ice time. Only Mathieu Perreault has more goals for the Habs, but his all came in one game while Jonathan Drouin also has two goals, but has skated in all seven games.
Hoffman was healthy scratched at time last season with the Blues, but still came out with 17 goals and 36 points in 52 games. he was once again a weapon on the power play where he registered seven of those 17 goals, and he was brought to Montreal for that season. Over the last three seasons, Hoffman's 35 power-play goals ranks him sixth in the NHL and second among left-wingers behind only Alex Ovechkin.
His 82 goals in that same span ranks him 19th around names such as Aleksander Barkov and Patrice Bergeron, so he can score with the best of em' when going as a quick-strike threat with a lethal shot.
As it stands right now, this is a 5v5 three-man stack with Suzuki and Petry on one power-play unit together and Hoffman on the other. Nonetheless, Hoffman is off to a nice start and shoots the puck a ton, so let's see if he can find twine again tonight.
UTIL – Kyle Connor (WPG) – $8,400 vs. LA
Completing a Jets mini-stack here is Connor who fits perfectly into this lineup from a salary standpoint as he's enjoyed a real nice start to his season.
The Jet's first-line winger has collected six goals and 10 points on 25 shots across six games. He's averaging 20:43 of ice time per game and forms a mini-stack with Pionk at both 5v5 and on the team's top power-play unit.
The hot start isn't exactly a surprise. He tallied 26 goals in just 56 games last season, good for a 38-goal pace in his career, the exact number of goals he scored in the 2019-20 season in just 71 games. Over the last four seasons plus this one, Connor's 135 goals is seventh-most in the NHL, just one behind Nathan MacKinnon. Only Ovechkin's 180 in that time is superior among left wingers.
He also loves to shoot the puck with 846 shots in that same time frame, 20th-most in the NHL and interestingly three more than Hoffman during that time.
With the Kings' back end in rough shape both from a personnel and performance angle, Connor should certainly get his looks this evening.
G – Cam Talbot (MIN) – $8,500 vs. SEA
We don't have confirmation on a Wild starter tonight, but I'm either going with Talbot or Kaapo Kahkonen as they take on the Kraken in Seattle.
I'll admit that I didn't think the Wild would defend as well as they did last season when they led the NHL in terms of preventing high-danger scoring opportunities. Well, I couldn't be more wrong as the Wild enter this one ranked second only to the Boston Bruins in high-danger chances against/60, but also first in the league in expected goals against/60 at 5v5.
The penalty kill has hurt them at 69.2% for the season and they have allowed 3.00 goals against per game on the season as a result, but the team defense has been elite so far in the early going.
The matchup here is solid. The Kraken sit 21st with 2.57 goals per game on the season and 24th with a 14.3% clip on the power play, but also sit 27th in terms of expected goals for/60 at 5v5 on the season. Their 2.44 goals/60 at 5v5 so far has greatly outpaced their 1.97 expected mark in the early going.
As for Talbot, it's been a mediocre start with a .906 Sv% and -0.6 goals saved above average, as per Hockey Reference, and he was solid yet unspectacular behind an elite defense with a .915 Sv% and 6.9 GSAA.
To me, the Wild should be able to stymie a weak Kraken offense in this one, giving Talbot excellent win and shutout upside on this nine-game slate.