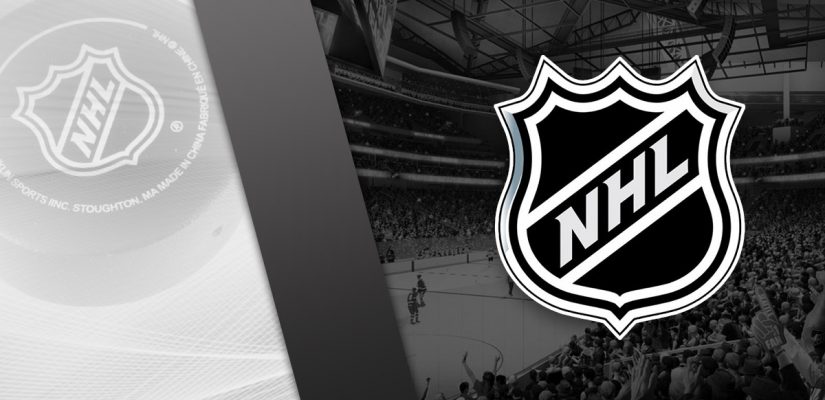 In large part, last night's FanDuel NHL DFS Picks were a flop as outrageous performances from our Panthers mini-stack buoyed what was otherwise a very underwhelming result.
Down 3-0 early to the Sabres, the comeback cats worked their magic once again as Jonathan Huberdeau and Aaron Ekblad led a seven-goal charge from the Panthers as Ekblad notched two goals, an assist, six shots and two blocked shots while Huberdeau collected a goal, four assists and three shots on goal. Their combined 94.6 FanDuel points were a major chunk of the 138.6 the lineup accrued overall.
The Habs were unable to get much going against an Avs team that has Jonas Johansson going on back-to-back nights after an 8-3 shellacking in Toronto on Wednesday while the Kings were unable to deliver the inevitable regression coming to the Flames' even-strength defense.
We did get a goaltender win with Jake Oettinger over the Blue Jackets, but he faced just 22 shots while surrendering two goals for an even 20 FanDuel points.
We'll look for improved results on tonight's five-game main slate!
FanDuel NHL DFS Picks – December 3, 2021
C – Mark Scheifele (WPG) – $6,100 vs. NJ
The Jets have had a tough time scoring goals of late, punctuated by a 1-0 home loss to the lowly Coyotes their last time out. In fact, they've scored just one goal over their last two home games. I'm not sure that's going to last much longer.
The dry spell at the offensive end of the ice has shockingly sent the Jets to 24th in overall offense while averaging just 2.68 goals per game on the season while their home offense has slipped into the middle of the pack at just north of three goals per game. This is an offense chock-full of talent, but only a few players have been carrying the load, and Scheifele has not been one of them.
We're rostering him due to that fact as he should fly under some radars on this slate, but I'm simply looking for some regression to the mean. For a player that's annually around a point-per-game, Scheifele has collected just two goals and eight points in 16 games on 32 shots. He's never been a big shooter, but he's been an efficient scorer in his career and his current 6.3% shooting rate is far less than half of his 15.8% career mark.
The Devils have actually played strong defense if you look at the underlying numbers, but they still sit 21st in both overall defense and on the penalty kill and they took a 5-2 loss last night in Minnesota.
This Jets offense is going to get it figured out and taking on a Devils team in their second game in as many nights presents a fine opportunity for Scheifele to break through and get back to producing like he has for the last several seasons.
C – Logan Couture (SJ) – $5,200 vs. NYR
The Rangers are rolling and to be honest Igor Shesterkin scares the crap out of me between the pipes for the blue shirts, but this is targeting the soft Rangers defense more than anything.
On a short slate, we need to find opportunities in GPPs and while I'll admit that the Sharks own poor expected goals figures at 5v5 in the NHL, the same can be said for this Rangers defense.
Indeed, the Rangers rank 18th in high-danger chances against/60 and 23rd in expected goals against/60 a 5v5. They're also a below-average penalty kill at 18th in the league so we'll have to take our shot here and see if the Sharks can break through on the back of some of their best offensive players tonight.
For his part, Couture enters this one with seven goals and 20 points in 22 games to go along with 52 shots on goal. He's hot at the moment with a goal and six points over his last five games and he's logged plenty of ice time once again at nearly 19 minutes of average ice time per night.
He's the team's top center at 5v5 and on the club's top power play unit, so he should be able to find some looks against a Rangers defense that has relied far too much on Shesterkin so far this season.
W – Blake Wheeler (WPG) – $5,000 vs. NJ
I'm old enough to remember when Wheeler cost in excess of $7,000 on FanDuel, and this price is certainly reflective on his results this season.
Yes, Wheeler has zero goals on the season and just seven assists on the season across 17 games in what's been an absolutely miserable season so far for the Jets captain. Let's be honest though, is he going to go goalless the entire season?
After all, Wheeler has put 39 shots on goal this season and while that shot volume is down from his prime seasons, zero goals on 39 shots is a stretch. For his career, Wheeler has scored a goal in one of every 9.4 shots on goal. By that measure, he should be at four goals on the season, but here we are 39 shots in and he's posted a goose egg.
I mean, I did note that the Devils have been solid in preventing high-danger chances at even strength as they're 12th in the league in that area, but they're also 22nd in expected goals against/60 at 5v5. Even after their offensive debacle of late, the Jets still sit sixth in expected goals for/60 at 5v5 and 10th in high-danger chances at 5v5 as well.
Even in his ugly start, Wheeler is over 51% in expected goals share at 5v5 and about 54% in high-danger chances share when on the ice as well.
The goals are going to come and likely in bunches, so hop on the Wheeler train and ride that positive regression into this matchup tonight.
W – Timo Meier (SJ) – $8,900 vs. NYR
Has there been a bigger fantasy surprise than Meier this season?
I mean, he's always had potential and he's put up solid numbers and high shot volumes in his career, but did we see this coming?
The guy enters this one with 11 goals and 24 points in just 18 games, but he's also fired a whopping 82 shots on goal in that time, good for a cool 4.56 shots per game. For his career, Meier has averaged nearly three shots per game, but his game has exploded this season and he's been far and away better than everyone expected.
Logan Couture digs loose the puck from the corner boards and finds a wide-open Timo Meier, who snipes the back post and in. #SJSharks pic.twitter.com/zb7UP1kPN7

— Michael Gutnick (@michaelgutnick) December 1, 2021
He's also on an absolute heater at the moment. Over his last five games, Meier has tallied five goals and nine points while putting a whopping 27 shots on goal in that time, more than five shots per game on average. Even with 11 goals in 18 games, his 13.4% shooting rate isn't outrageous despite sitting above his 10.1% career mark. After posting a 7.7% shooting rate last season, he was due for a bounce-back in the puck-luck department.
It's a huge price, absolutely. In fact, only Leon Draisaitl and Connor McDavid are more expensive on this slate, but how many are going to pay up for Meier with those two on the slate, especially with some pricey players taking on the Coyotes in Arizona and the Rangers having some pricey bodies of their own.
If he stays hot I believe he's a big boost to our lineup at lowered ownership.
D – Neal Pionk (WPG) – $4,500 vs. NJ
The fade of the Jets' best offensive player in Kyle Connor is a risk here as he will skate with Scheifele and Wheeler at 5v5 in an attempt to get those two veterans going, but from a cost standpoint we had to give somewhere and with the Sharks likely going underowned in GPPs I pivoted to Pionk.
Besides, we have a ton of exposure to Connor here as Pionk along with Scheifele and Wheeler are members of the team's top power-play unit while taking on a subpar Jersey PK. The Jets are still ranked 12th with a 22.6% clip on the man advantage at home this season as their power-play woes have largely come on the road.
For his part, Pionk has notched two goals and 12 points in 22 games to go along with 48 shots on goal and another 22 blocks. He logs more than 22 minutes of ice time per game, but has exceeded his season average in each of his last four games as he's once again moved to the top power play unit.
He's an above-average point producer from the back end who brings solid peripherals to the table while skating with the team's top players on the top power play unit. Furthermore, he takes on a subpar Devils defense and penalty kill that are playing their second game in as many nights.
Sounds like a nice recipe at a quality price.
D – Brent Burns (SJ) – $5,400 vs. NYR
Completing our three-man Sharks stack here is Burns who forms a PP1 stack against a Rangers PK that's been slightly below league average for the season.
Burns enjoyed a nice start to his season but has now gone pointless in his last 10 games and hasn't scored a goal over his last 13 contests. In fact, he has just one goal on the season to go along with 11 helpers while putting 56 shots on goal and blocking another 43.
The peripherals are fantastic which is a fine start, but let's note that Burns' 1.8% shooting percentage is miles below his 6.6% career mark and would be his lowest mark since the 2009-10 season while still with the Minnesota Wild. Burns has shot at at least a 5.1% clip in each of the last three seasons and even at least a 3.6% clip in each of his last 11 campaigns, so I'd suggest his current rate has nowhere to go but up.
While he's no longer in his prime and isn't going to hit 300 shots like he did has recent has the 2018-19 season, Burns is still a horse. He's logging 26:23 of average ice time this season which ranks him second in the NHL in that department behind only Ottawa's Thomas Chabot (27:10).
Clearly, big minutes doesn't guarantee production, but with Burns logging so much ice time and shooting the puck well above average even by a forward's standpoint, he's going to start finding the back of the net soon and a subpar Rangers defense presents a fine opportunity for that positive shooting-rate regression to kick in this evening.
UTIL – Jonathan Marchessault (VGK) – $6,700 vs. ARI
It's difficult not to want a slice of the Golden Knights pie tonight in Arizona as the Vegas offense has come around with the likes of Pax Pacioretty and Mark Stone back in the lineup, but we'll pay down and pivot to the second line and second power-play unit tonight.
The Coyotes defense hasn't been as bad as you might think despite sitting 28th in overall defense and 29th on the penalty kill as they sit 19th in high-danger chances against/60 and 17th in expected goals against/60 at 5v5 on the season. They suffered from extremely subpar goaltending earlier in the season and Scott Wedgewood has stabilized that position since coming over from the Devils.
Still, Vegas sits fifth in high-danger chances for/60 and fourth in expected goals for/60 at 5v5 on the season but yet have been hampered by a horrendous power play.
Nonetheless, I like Marchessault in this matchup as he's recorded nine goals and 14 points in 17 games and he's once again putting plenty of pucks on goal with 51 shots in that time. I'll admit that his 17.6% shooting rate is well above his 10.8% career mark, but he's a very talented goal-scorer who shoots the puck a lot and generally speaking that's been a recipe for success against this Coyotes team this season.
With three goals and six points on 18 shots over his last five games, we'll look for Marchessault to stay hot in this one tonight.
UTIL – Reilly Smith (VGK) – $5,200 vs. ARI
Smith skates on the same line as Marchessault at 5v5 and on the aforementioned second power-play unit, so he's an easy add to complete the skater portion of our lineup.
That being said, he's actually enjoying a huge season, at least by his standards, He's reached as many as 60 points in just 67 games in the 2017-18 season, and he's narrowing in on similar path this season with 10 goals and 16 points across 22 games. That said, the major difference this season has been shot volume as he's fired 71 pucks on goal so far this season across 22 games. That 3.22 shots-per-game clip this season towers over his 2.09 career average.
As a result, his 10 goals on 71 shots results in a 14.1% shooting rare that isn't too far above his 12.3% career mark. Smith has made good on those shots of late, scoring a goal in four of his last five games while taking 19 shots on goal in that time, so the guy is boasting a hot hand at the moment.
If at first you don't succeed …

Reilly Smith nets a rebound tally for Vegas ? pic.twitter.com/UGwnGrDWrl

— ESPN+ (@ESPNPlus) October 30, 2021
A large portion of his damage has come at 5v5 as well, so we don't have to rely on the subpar Golden Knights power play to the damage as Smith has found a way to contribute at even strength which should be the case again in this one tonight.
G – Connor Hellebuyck (WPG) – $7,500 vs. NJ
Don't you dare blame Hellebuyck for the Jets' recent skid as he's been brilliant but has received very little offensive support.
After a tough start to his season, he's bounce back in a big way as he'll enter this one sporting a 2.60 GAA and .918 Sv% on the season while Hockey Reference credits him with 2.62 goals saved above average with puts him 19th among qualified netminders. That mark was around -6 earlier in the year but he's climbed all the way back into positive territory.
In mean, in the month of November, Hellebuyck turned in a dominant 2.00 GAA and .934 Sv% while allowing more than two goals just once in those 10 games. Even in losing four of his last five starts Hellebuyck has turned in a .916 Sv%, but at least a .933 mark in four of the five starts with a stinker back three starts ago in Minnesota when he allowed four goals in 14 shots before being pulled.
He's also dominated to the tune of a 1.86 GAA and .938 Sv% at home this season in eight starts compared to a 3.30 GAA and .900 Sv% in nine road outings.
The Devils sit 18th in overall offense and 31st on the power play this season, so it's a nice matchup for Hellebuyck to keep rolling at what is really a very attractive price tag.