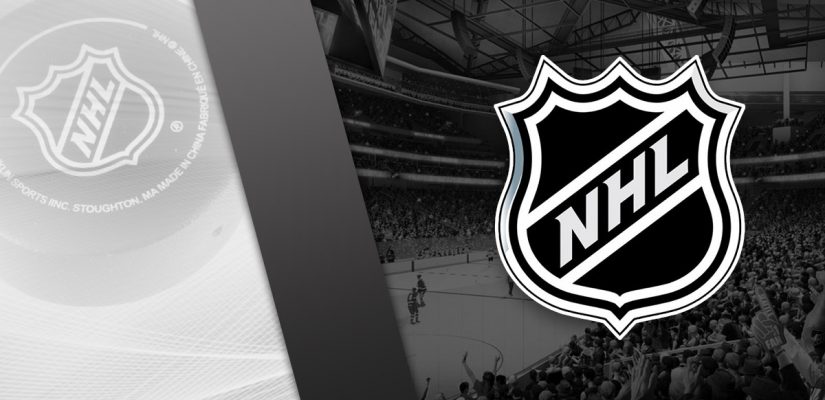 We've been on quite the roll of late.
The FanDuel NHL DFS Picks I've released here at The Sports Geek have cashed 10 consecutive times in GPPs. We haven't taken down a GPP and while we came close, it's been a steady, steady run of profits of late.
Let's keep the train moving in the right direction on tonight's big nine-game main slate!
FanDuel NHL DFS Picks – March 1, 2022
C – Connor McDavid (EDM) – $10,000 vs. PHI
I feel a high-scoring affair brewing tonight in Philadelphia, so get ready for plenty of exposure to both clubs in this one tonight.
The Oilers once again find themselves in a little slump as they've dropped three of four entering this one, but those losses came against the Wild, Lightning, Panthers and Hurricanes, all of whom sit comfortably in the playoff picture while challenging for division crowns.
These Flyers are not.
The Flyers not only sit 25th in overall defense with 3.40 goals against per game on the season, but also 25th with a nearly-identical 3.41 mark on home ice. If that weren't enough, they also sit 27th with a 76.2% mark on the penalty kill, but also 29th in high-danger chances against/60 and 30th in expected goals against/60 at 5v5. Their defense has simply struggled for the overwhelming majority of the season.
As for McDavid, he should have a field day in this one. He sits in a share of the league lead with 75 points on the season alongside Jonathan Huberdeau across 52 games played. McDavid has also crossed the 200-barrier in terms of shots on goal with 204 on the season.
What I like most about McDavid is that he was held off the scoresheet in a 2-1 loss to the Hurricanes his last time out. Usually not a big deal for most players, but McDavid doesn't go back-to-back games without a point very often and considering the matchup I like the odds of a rebound effort in this one tonight.
C – Colin White (OTT) – $3,900 vs. TB
The Oilers won't be the most GPP-type play on this slate, but the Sens should be as they make their way to Tampa to take on the powerhouse Lightning.
Despite another (expected) disappointing season, one thing the Sens do is play hard under head coach D.J. Smith. They have absolutely nothing to lose in this one and should be gunning for a division matchup in this one tonight.
I've noted several times that this Lightning team is a far better defensive club on home ice, but they've nonetheless allowed three goals against in five of their last seven games while their penalty kill is struggling at the moment in going just 4 for 8 over their last three. The Sens are 2 for 8 on the man advantage over their last two contests.
As for White, he'll skate as the team's top center at 5v5 while getting second-unit power-play reps in what is just his second game of the season after undergoing shoulder surgery following a pre-season injury. He wasted little time in making his presence felt as he recorded a goal on a healthy four shots while skating 14:30 in his season debut. That tally came on the man advantage as the Sens' lone goal in a 2-1 loss to the visiting Habs.
Welcome back, Colin White! ? pic.twitter.com/rUJB1K7CJq

— Sportsnet (@Sportsnet) February 27, 2022
As massive road underdogs against the two-time defending Cup champs, look for White to see tiny ownership on a larger slate.
W – Zach Hyman (EDM) – $6,300 vs. PHI
Hyman is back up skating with Connor McDavid at both 5v5 and on the Oilers' top power-play unit, and the results of late show just that.
After a big drought through December into late January, Hyman caught fire in mid-February, collecting a goal in six of seven including five in a row. He notched eight points in a five-game span prior to being held off the scoresheet in each of his last two.
After signing a big contract with the Oilers in the offseason, Hyman has largely lived up to expectations. The former Maple Leaf is up to 19 goals and 35 points across 47 games on the season, sitting just two tallies shy of his previous career-high of 21 that he accomplished on two occasions with the Leafs. However, it took him 71 and 51 games to do so.
That's what you get when seeing notable reps alongside McDavid. Hyman is averaging 19:20 of ice time per game on the season, but has towered over that mark of late. He's skated at least 21:54 in each of his last five contests and skated a monstrous 26:39 in Carolina his last time out. That's also what you get with McDavid: copious amounts of ice time.
He's cooled off some over the last couple contests, but there aren't many matchups that provide a better opportunity to get back on the scoresheet than the one he finds himself in tonight.
W – Brady Tkachuk (OTT) – $6,800 vs. TB
We'll go ahead and cap our Senators exposure here with Tkachuk who will flank White on the Senators' top line while we'll also get exposure to both power-play units with Tkachuk skating on the top group.
Once again, Tkachuk is bringing real nice cross-category production to the table in his first season wearing the 'C' in Canada's capital. He's notched 17 goals and 37 points across 48 games on the season while getting a hefty 172 shots on goal. His resulting 9.9% shooting rate is right in line with his 8.9% career mark after he came out of the gate blistering in that department before inevitably cooling off.
He's not exactly hot at the moment, but does have a pair of goals over his last five contests. Furthermore, he's put at least four shots on goal in four of those five games and has averaged 4.20 shots per game in that time. After going pointless and recording just one shot on goal on Sunday against the Canadiens, the law of averages tells us Tkachuk should bounce back on the shots on goal department given his 3.58 shots-per-game average on the season.
Given the elevated price doesn't be surprised to see Tkachuk come in at low ownership as well in a tough road matchup.
D – Tyson Barrie (EDM) – $4,400 vs. PHI
Given the Flyers' overall defense and weak penalty kill, I went with Barrie as a cost-efficient body on the blueline tonight.
After briefly losing some PP1 time to Evan Bouchard, Barre is back as the lone d-man on that dangerous Oilers power play that ranks third in the NHL at 26.5% on the season and fourth on the road at 25.4%. That alone gives him significant value upside as long as he's on that top unit with McDavid, Leon Draisaitl and in this case, Hyman as well.
It hasn't been his best season in the league, but he's been better of late. Barrie has notched just three goals and 22 points in 47 games on the season, but has healthy peripherals with 94 shots and 44 blocks as well. It's also worth noting at his current 3.2% shooting rate is well below his 6.2% career mark and would go down as the second-lowest mark of his NHL career aside from the 3% clip from two seasons ago in Toronto.
Nonetheless, Barrie has been more productive of late while collecting four assists over his last five games with 12 shots and five blocks in that time. He's also notched five helpers over his last seven, but Barrie has also failed to score a goal in his last 30 games and 57 shots on goal dating all the way back to last scoring on Nov. 20 against the Blackhawks.
To suggest he's well overdue is an understatement despite being a defenseman, so let's see if he and his stackmates can connect in this one tonight.
D – Keith Yandle (PHI) – $3,700 vs. EDM
Now we'll complete the skater portion of this lineup with Yandle who, like Barrie, will skate as the lone defenseman on his team's top power-play unit for this one tonight.
Along with many aspects of their 2021-22 campaign, the Flyers' offense and power play have underperformed. They are just 14% and 30th in the league in the latter, and Yandle doesn't exactly come into this one lighting it up with a goal and 14 points on the season across 52 games. His shooting rate is in decline for the third straight season, but his 1.3% clip this season is less than 1/3 of his 4.3% career mark and would represent a career-low for a player that has played in nearly 1,100 regular-season NHL games.
As bad as the Flyers' power play has been, the Oilers' penalty kill is struggling mightily at the moment. Edmonton sits tied for 25th with a 76.2% mark on the season and while that number moves to 81.8% and sixth in the league on the road, they've been torched for eight power-play goals over their last six games while working to a 66.7% mark in that time.
We've seen this Oilers back end get leaky at times and they enter this one ranked 23rd with 3.23 goals against per game on the season, so there appears to be an opening for the Flyers to put some offense together tonight.
UTIL – Claude Giroux (PHI) – $6,200 vs. EDM
Next man up in our three-man Flyers stack is Giroux who frustratingly remains a winger at FanDuel despite skating as a center for a good portion of the season.
One of the top names available prior to the March 21 trade deadline, Giroux is having a nice season that includes 17 goals and 39 points across 49 games. He's added 131 shots on goal as part of his 19:14 of average ice time on the season.
After dropping six in a row, the Flyers grinded out a 2-1 win over the Capitals on home ice their last time out. If nothing else, that should at least give them some additional confidence entering this one. Two goals on 22 shots isn't much to write home about, but this is a superior matchup tonight.
In addition to the Oilers' struggling PK and subpar overall defense, netminder Mikko Koskinen hasn't exactly been a brick wall this season. He's actually sporting superior splits on the road, but still carries an overall 3.13 GAA and .901 Sv% into action with a -7.39 goals saved above average (GSAA) that ranks 61st among 71 qualified netminders, as per Hockey Reference.
Goaltending has been a major issue for the Oilers this season so we'll see if the Flyers can take advantage this evening.
UTIL – Cam Atkinson (PHI) – $6,200 vs. EDM
Completing our three-man Flyers stack here is Atkinson who comes in at a higher rate than linemate Joel Farabee who will also flank Giroux on the top line and top power-play unit, but I'll go with the higher floor and likely lower-owned Atkinson as a result.
The one-for-one trade of Atkinson has largely worked out for both sides with both players having fine seasons. Voracek has just two goals but also 38 points on the season, but Atkinson has brought his goal-scoring ways to the Flyers as he's collected 18 goals and 39 points on the season with a quality 156 shots on goal. His shooting rate of 11.5% on the season is nearly identical to his 11.3% career mark.
After going seven games without a goal and just two goals since Jan. 13, Atkinson got back on the board with not only a goal but also an assist with two shots on goal in that win over the Capitals on Saturday. Other than a two-goal effort on Jan. 29, Atkinson had not scored in his other 14 games since Jan. 13. Translation: he is probably due for a little heater here with just three goals over his last 44 shots (6.8% shooting rate).
Cam Atkinson with his team-leading 18th goal of the season. ? pic.twitter.com/OuhJrA1B2n

— NBC Sports Philadelphia (@NBCSPhilly) February 26, 2022
There's several reasons to like the upside of the American winger tonight.
G – Elvis Merzlikins (CBJ) – $7,500 vs. NJ
The Blue Jackets have struggled at the defensive end of the ice this season, both on the surface and underneath. As a result, it's no surprise to see Merzlikins sporting some uneven numbers on the season.
The Czech netminder will enter this one sporting a 3.41 GAA and .904 Sv% on the season across 33 games (32 starts) with a -5.56 GSAA that sits 47th of those 71 qualified netminders. However, there's some reason to believe he can provide some value tonight at a reasonable cost.
For one, the Devils are playing their second game in as many nights with travel involved. Jon Gillies likely goes for Jersey in this one, and he's been very poor this season, making Merzlikins the top netminder in this contest. His numbers ar home have slipped to be sure, but his 2.98 GAA and .917 Sv% in 17 home outings far exceeds his 3.91 GAA and .888 Sv% across 16 road games. He also sports an excellent 2.42 GAA and .927 SV% across 44 home games for his career.
The Devils have been a solid offense that's exceeded expectations, but they also sit 31st with a 12.9% clip on the power play on the road and 30th with 3.85 goals against per game on the road. Merzlikins should be able to get some goal support in this one.
At this price, Merzlikins is worth a look on this nine-game main slate.