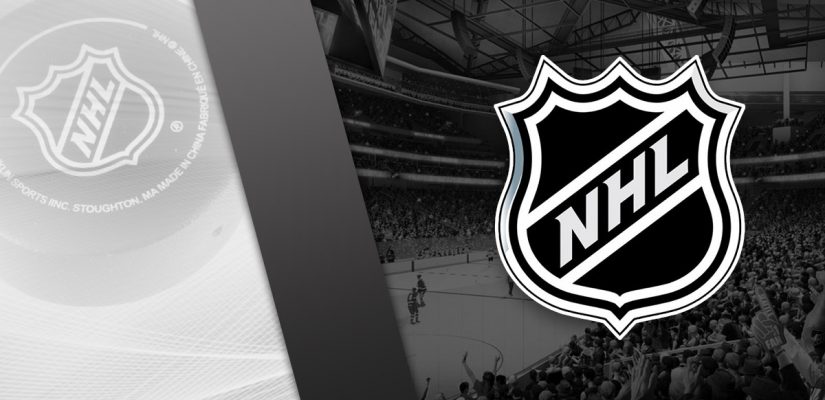 I had a gut feeling when I noted my 10 straight cashes with these FanDuel NHL DFS Picks in yesterday's piece that I created a bad omen for myself, and that was indeed the case.
When aiming at GPPs you're simply not going to make money every night, and last night was our first loss in quite some time.
It wasn't a terrible lineup, however. Connor McDavid gave us a goal, an assist while firing seven shots on net and blocking another. Unfortunately, both Zach Hyman and Tyson Barrie missed the scoresheet on the Oilers' three goals and Barrie's one shot for his lone production on the evening was especially disappointing.
Our Senators mini-stack did their part at tiny ownership. Both Colin White and Brady Tkachuk collected an assist on the Sens' second goal while the duo combined for nine shots on goal and 30.4 FanDuel points, so no complaints there.
Elvis Merzlikins was solid if unspectacular in surrendering three goals but notching the win and 24 FanDuel points on the night.
It was the three-man Flyers stack that crushed us as they were shutout by the visiting Oilers. The trio did combine for 10 shots and three blocks on the night, but rostering a three-man stack on a team that fails to score is going to get you nowhere.
We'll look to bounce back on tonight's four-game main slate.
FanDuel NHL DFS Picks – March 2, 2022
C – John Tavares (TOR) – $7,100 vs. BUF
Mired in a 13-game goal-scoring slump, the Maple Leafs' John Tavares is perhaps the most snake-bitten player in the league right now. Plenty of players go 13 straight without scoring, but not many do with Tavares' pedigree.
That being said, after a two-assist game in Washington on Monday, Tavares was perhaps the Maple Leafs' best player in terms of effort and the point total. Even with the 13-game slump, Tavares enters this one tonight with 17 goals and 50 points in 52 games on 160 shots on goal, so it's not as if he's having a poor season by any stretch.
John Tavares makes a beautiful play to set up William Nylander who restores the lead for Toronto at the end of the first!#LeafsForever pic.twitter.com/uD2poIoIB5

— Hockey Daily 365 (@HockeyDaily365) March 1, 2022
However, there's major positive regression on the horizon in the goal-scoring department. Not only is his 10.6% shooting rate below his 13.1% career mark, Tavares has gone 29 straight shots without scoring. His 2.23 shots per game over his current drought is well below his 3.08 per-game average for the season, but he was averaging a goal every 7.7 shots before his slump, so technically he should be approaching four goals over his last 13.
A matchup with the Sabres should cure what's ailing him. Buffalo ranks 29th with 3.59 goals against per game on the season and 25th on the penalty kill at just 76.6%. They also sit 28th with 3.71 goals against per game on the road despite a slightly improved PK that is still under 80% at just 78.6% on the road this season.
Hop on the Johnny T positive regression train before it's too late.
C – Alex Kerfoot (TOR) – $5,200 vs. BUF
As much as I like FanDuel, they really need to buckle down on positions within their NHL department. Kerfoot has literally played on the wing about 95% of the season on this Maple Leafs' second line, but continues to be a center at FD.
Nonetheless, he's a cheaper option to Morgan Reilly in a Maple Leafs three-man stack and if Tavares is going to bust out in this one, we might as well use Kerfoot who is enjoying a fine season himself.
He hasn't lit the lamp much with just eight goals across 53 games on the season, but with just 78 shots on goal his shooting rate of 10.3% isn't astronomically below his 13.7% career mark, a figure that's skewed by a monster 23.5% clip in scoring 19 goals in his rookie season back in 2017-18.
He's been a key contributor in the assist department, however, with 30 helpers on the season. What's more is he's doing plenty of damage at 5v5 as 35 of his 38 points have come at even strength. He has one power play assist despite getting second-unit minutes earlier in the season while adding a pair of short-handed helpers as well.
In fact, Kerfoot's 35 even-strength points on the season ties him with Tavares for fourth on the Leafs only behind the top-line trio of Auston Matthews, Mitch Marner and Michael Bunting.
I'll also add that he has 40 blocks on the season — a very healthy amount for a forward — due to his importance on the PK, so let's see if he can get in front of more pucks in this one in addition to combining with the well overdue Tavares for some offense at the other end of the ice.
W – William Nylander (TOR) – $7200 vs. BUF
It didn't take long to get our three-man Maple Leafs stack completed as Nylander is the third member of that Maple Leafs second line alongside Tavares and Kerfoot.
Nylander will also get first-unit power-play reps with Tavares, and that's a Maple Leafs group that's overdue as well. The club has gone 0 for 12 on the man advantage over their last six games, but they still sit first in the NHL with a 29.2% clip on the PP while their increased 33.3% mark on home ice also paces the league. This is a real nice matchup to get that power play back in order.
As for Nylander, he's notched a goal in back-to-back games after a little bit of a drought of his own. He's also trending towards a career-year as he's notched 21 goals and 49 points across 53 games with a hefty 175 shots on goal in the process. In pacing out those figures across a full 82-game season, Nylander is on pace for 32 goals, 76 points and 271 shots on goal, all of which would mark new career-highs, the latter of which by a substantial amount over his 205 from his rookie season in 2016-17.
If we're after some bonus power-play points in this one, Nylander is a fine play. In addition to the PP notes above, Nylander has tallied 20 of his 49 points on the man advantage. In other words, if the Leafs' PP does indeed get back on track there's a real good chance we can add some bonus power-play points to this lineup, hopefully with Tavares in on the action as well.
I certainly have high hopes for this three-man stack tonight.
W – Filip Forsberg (NSH) – $8,400 vs. SEA
This lineup is more of an optimal lineup that is going to see some ownership in GPPs, but feel free to use this one in cash games. That being said, I'm having a tough time fading the Preds tonight in Seattle.
The Preds sit 15th in the league with a solid 3.04 goals per game on the season, but also check in at eighth with a 23.9% clip on the power play. Those figures travel extremely well as they also sit 13th with 3.14 goals per game on the road with a 24.1% clip on the man advantage that represents the sixth-best road PP in the NHL.
On the flip side, this Kraken team is struggling mightily to prevent goals, especially at home. While they sit 26th with 3.55 goals against per game on the season, they also sit dead last with 3.79 goals against per game on home ice where their penalty kill ranks 22nd with a 78.5% mark on the campaign.
Enter Forsberg who is a potential trade-deadline deal candidate with sky-high value. The Swede has collected 27 goals and 45 points across 40 games on the season with 118 shots on goal to his credit. Now, his current 22.9% shooting rate is a cool 10% above his career mark, so there's regression coming in the goal-scoring department, but we've yet to see that kick in as he's notched three goals and five points on nine shots over his last four games.
A member of the team's top line and top power-play unit, it certainly appears the matchup is ripe for the free-agent-to-be to stay hot in this one tonight.
D – Mattias Ekholm (NSH) – $4,300 vs. SEA
There's no way we can afford Roman Josi on the back end for the Preds in this lineup so we'll have to pivot to a more cost-efficient option in this stack and Ekholm represents just that.
It hasn't been a banner year for a player that could also be traded at the deadline (depending if the Preds turn into sellers) due to his UFA status at season's end. He's notched just three goals and 12 points in 49 games on the season, a significant drop from the 23 points he produced in a near-identical 48-game sample from a season ago.
The peripherals are solid, if unspectacular. He's put 77 shots on goal and blocked another 56 in those 49 contests, but there's still some items to like about the Swedish blueliner.
First, he should score more moving forward with a 3.9% shooting rate that is below his 5.4% career mark and would represent his lowest mark since a 2.5% clip from the 2016-17 season if the season ended today. He's shot at least 5.2% in each of the last four seasons.
Second, he's still logging plenty of minutes at 23:27 per game on the season. Of course, in theory, more minutes means more opportunities to rack up DFS production, especially in a matchup with one of the NHL's worst goal-preventing clubs.
Despite going six straight without a point entering this one, I'm still hopeful for the value upside with Ekholm tonight.
D – Jacob Bryson (BUF) – $3,600 vs. TOR
There's certainly some GPP looks in this lineup and it largely begins with Bryson who takes on the heavily-favored Leafs tonight.
While I fully believe the Leafs should put the boots to the rival Sabres in this one, Toronto has been yielding some offense of late. Over their last six, the Leafs have averaged 4.33 goals against per game. They have allowed as many as seven in a game in that time but also at least four in four of the six contests and a minimum of three in five of the six.
Toronto is also struggling to get reliable goaltending of late. Since the calendar flipped to 2022, the Leafs' .885 Sv% at 5v5 is the worst in the NHL and tonight's starter Petr Mrazek owns a 3.07 GAA and .895 Sv% on the season in 13 games with at least three goals against in three of his last four starts.
So, perhaps the Sabres can generate some offense in this one. For his part, Bryson is going to see tiny ownership due to the fact he's scored zero goals on the season in 45 games and just 27 shots on goal in this one. With just eight assists, he's not getting in on the offense much, but he does have 48 blocked shots to his credit.
So, why's he here? Despite the tiny projected ownership, he's a member of the Sabres' second power-play unit alongside the player he'll be stacked with below. The 24-year-old does have offensive ability as he collected 28 points in 42 games at Providence College in 2018-19, a very healthy production figure for a blueliner in the NCAA.
Let's look for his second NHL goal to come in this one tonight.
UTIL – Matt Duchene (NSH) – $7,000 vs. SEA
Kerfoot being listed as a center doesn't irk me as much for this particular lineup as it allowed us to roster the Preds' top two offensive players along with a defenseman in Ekholm who could bring nice value to the table at his cost.
It's been a major bounce-back season for Duchene after scuffling to just six goals and 13 points across 34 games last season. The former Avalanche, Senator and Blue Jackets has notched 23 goals and as many assists for 46 points across 49 games on the season. Duchene has also put 143 shots on goal for a 2.92 per-gamer average that sits notably above his 2.45 career mark.
MATT DUCHENE WITH THE POWER PLAY GAME WINNER IN OT ? @PredsNHL pic.twitter.com/DVUgi3w8nz

— ESPN (@espn) January 12, 2022
Like Forsberg, Duchene has scored at a higher rate than ever before. His 16.1% current mark is above his 12.8% career mark but after shooting at just 9.6% two seasons ago and 8.2% last season, he was due for some improved puck luck this time around.
Duchene hasn't scored over his last five games and 14 shots on goal, so some regression has set in. However, he also hasn't gone more than four straight without scoring on just one occasion this season despite that one drought lasting a hefty nine games.
The Kraken have received the worst goaltending in the NHL this season with an .894 SV% at 5v5 and tonight's starter Chris Driedger owns a 3.30 GAA and .893 Sv% across his 15 appearances on the season.
I'd be awfully surprised if Forsberg and Duchene didn't combine for some offense in this one tonight.
UTIL – Casey Mittelstadt (BUF) – $3,700 vs. TOR
Peyton Krebs is a nice option in a low-cost Sabres stack as he skates on the team's top power-play unit, but Mittelstadt and Bryson are a PP2 mini-stack, so I went with the University of Minnesota product.
The eighth overall pick from the 2017 draft hasn't found much success at the NHL level as of late. He had a solid season with 10 goals and 22 points in 41 games last season, but has managed to get into just 12 games this season with only a goal and three points on 20 shots on goal this time around. Mittelstadt has missed plenty of time this season due to injuries, most recently an upper-body ailment.
All that said, in addition to his PP2 minute Mittelstadt is projected to skate alongside Krebs and Kyle Okposo on the Sabres' second line. He's been getting a good opportunity when healthy as he's averaged a solid 15:19 of ice time this season and has skated at least 17:14 in three of his last four games, albeit with just one assist to show for it.
The Sabres aren't a high-octane offense, but with the way the Leafs have surrendered goals of late we could perhaps capitalize on a tiny-owned, cost-efficient mini-stack tonight.
G – Juuse Saros (NSH) – $8,200 vs. SEA
The Predators should absolutely win this game tonight against the lowly Kraken, a team that's struggled to score goals all season long.
The expansion club sits 26th with just 2.62 goals per game on home ice this season and their 14.3% clip on the power play sits 30th in the league on home ice. Seattle's offense is also ice-cold at the moment, scoring two goals or fewer in each of their last five games while averaging 1.60 goals per game during that time.
The underrated 26-year-old has been sensational this season despite a dip of late. The Finn owns a 2.46 GAA and .923 Sv% on the season with a 20.19 goals saved above average (GSAA) that sits fourth among the 71 qualified NHL netminders, as per Hockey Reference.
After allowing 15 goals over a four-game stretch, Saros has been better of late. He's allowed just four goals over his last two starts with a .934 Sv% in that time.
Now, his splits are traditional in the sense he's been better at home. Saros owns a 2.12 GAA and .930 Sv% in 24 home games compared to a 2.88 GAA And .916 Sv% in 20 road games, but despite playing this one in Seattle, the matchup absolutely warrants a roster spot at what I believe to be a reasonable price as the third-highest priced netminder on this four-game slate.