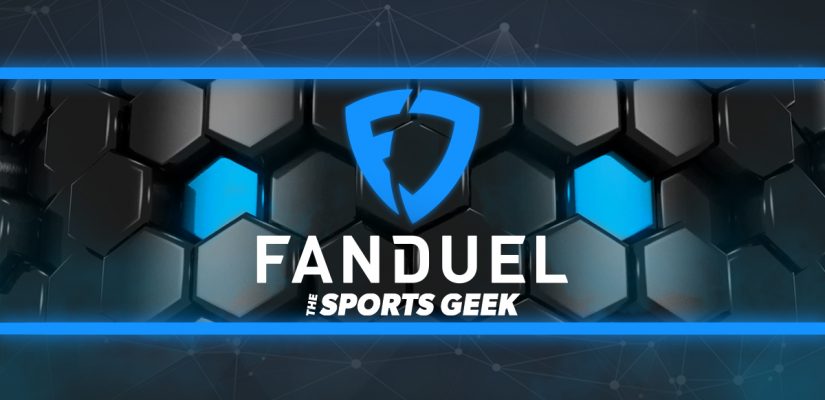 Another frustrating night with our cash-aimed FanDuel NHL DFS Picks.
Despite a poor night from a Flames stack that failed to hit the scoresheet, we still had a nice opportunity late with the Avs in Arizona. We needed just another point or two from the Nathan MacKinnon/Mikko Rantanen/Gabriel Landeskog trio, but instead they were involved in just one of four goals scored by the teams on this night.
Turns out our biggest producer on the night was the low-owned Kaapo Kakko who enjoyed a two-goal night on six shots while K'Andre Miller actually blocked five shots in that one.
The Flames dropped a 2-1 affair in Ottawa, meaning Jacob Markstrom failed to register the win in goal while allowing two goals on 23 shots. Filip Gustavsson was the story as he turned aside 35 of 36 Flames shots for a win in his first career NHL start.
We'll go back to some GPP looks on tonight's five-game main slate!
FanDuel NHL DFS Picks – March 23, 2021
C – Dylan Larkin (DET) – $6,300 vs. NSH
For a brief minute there, this Detroit offense was on fire.  Indeed, the Wings averaged 3.50 goals per game over a four-game stretch, but were shut down by a tough Dallas defense in a 3-0 loss their last time out.  However, this matchup tonight is far, far superior.
The Wings may still rank 29th with 2.22 goals per game on the season, but they're also taking on a Predators team that ranks 24th with 3.22 goals against per game on the season with a penalty kill that's struggled mightily in the form of a 71% mark that ranks them 30th league wide. While their even-strength underlying metrics are better than their surface results, keep in mind they're missing their top defensive pairing in Roman Josi and Ryan Ellis at the moment.
For his part, Larkin enters this one with six goals and 16 points on the season across 28 games, but he's also put 91 shots on goal. He hasn't scored at high shooting rates in his NHL career with a 9.2% career shooting rate, but he's at just 6.6% this season which would mark a career-low for the 24-year-old Red Wings captain. Furthermore, he's scored just two goals over his last 18 games and 56 shots, good for a minuscule 3.6% shooting rate in that time.
This guy is bound to get back on the scoresheet and this would appear to be a fine matchup to accomplish such a feat in GPPs.
C – Ryan Johansen (NSH) – $5,200 vs. DET
There aren't many players that have disappointed the way Johansen had this season.
Since moving to Nashville he's been a play-maker by trade and has never eclipsed 15 goals in any of his four full seasons in Music City prior to this season, but he's taken it to a new low this season. Entering this one, Johansen has just three goals and 11 points in 24 games and, as usual, he's not putting many pucks on goal with just 36 shots in his 24 games this season.
That said, Johansen is coming off his best game in some time as he collected a goal and an assist in a win at Dallas on Sunday with his goal coming on the power play. He's still logging tonnes of minutes as he skated 20:29 in that one and is averaging 18:10 for the season, but without Matt Duchene in the lineup and the Preds' center ice depth weaker than ever at the moment, expect head coach John Hynes to lean on Johansen's top line plenty moving forward.
His 8.3% shooting rare remains below his 10.8% career mark, and while that certainly doesn't guarantee a goal-scoring spree on the horizon, I like his chances in this one coming off his first and only multi-point effort of the season.
W – Anthony Mantha (DET) – $4,500 vs. NSH
We'll continue to target this Red Wings/Preds matchup tonight as Mantha lines up alongside Larkin at 5v5 for this one tonight.
He actually won't skate with Larkin on the power play, and while the Preds rank 30th on the penalty kill, the Wings also sit 29th on the power play at just 11.8% for the season, so I'm not exactly targeting special teams here despite having all three of my Red Wings boasting power play roles in this one.
For the season, Mantha has notched eight goals and 15 points in 31 games but he's also put a healthy 72 shots on goal. The reason I'm using him over Robby Fabbri on that top line is the fact he not only shoots more, but his 11.1% shooting rate is  half of Fabbri's unsustainable 22% mark.
He's also the superior pure goal-scorer. Mantha scored 24 goals in the 2017-18 season, and followed that up with a 31-goal pace in each of the following two seasons. He's on pace for just 21 goals in an 82-game season this year, but it's fairly clear this is a guy with 30-goal potential, even on what has been an anemic Wings offense over the last couple of seasons.
At the end of the day we're targeting the matchup and it's a good one tonight in Nashville.
W – Filip Forsberg (NSH) – $7,300 vs. DET
Forsberg is a player who is going to see some ownership for obvious reasons. He's a big-time producer who shoots the puck a ton and he's up against one of the weaker defenses in the NHL. However, something tells me we shouldn't go for the fade here.
Even on the NHL's 28th-ranked offense, Forsberg has tallied 11 goals and 28 points in 32 games to go along with a whopping 113 shots on goal. His resulting 9.7% shooting rate is well under his 12.1% mark and would be a career-low figure if the season ended today behind his previous low of 10.6% from just last season.
That said, this guy could very well be a 40-goal man on a good offense. He's hit 30 goals twice in his career. He's either scored or was on pace to score between 31 and 36 goals over a four-year span before the puck luck plummeted over the last year and a half. Even this season he is on pace for 28 goals in an 82-game season on the fourth-worst overall offense in the league.
Furthermore, Forsberg snapped an eight-game goalless streak with a tally on Sunday in Dallas and while he hasn't been shooting as much as late, we've seen this guy go on some epic goal-scoring binges in the past and with a shooting rate of just 5.9% here in the month of March, it's not unreasonable to think a huge night could be on its way against the NHL's 26th-ranked defense tonight.
D – Filip Hronek (DET) – $3,800 vs. NSH
Completing our three-man Red Wings stack is another Filip, this time the Red Wings'  Hronek who also happens to lead the team in scoring with 18 points on the season.
He's recorded 17 of those points via assists, but his 17 helpers on the season ranks him is as many as players like Kris Letang, Keith Yandle and Thomas Chabot. His lone goal of the season came via an empty-better as part of a three-point game last week when we rostered him against the Hurricanes as part of the Red Wings' upset win.
Considering his 6.8% and 7.2% shooting rates from his first two seasons in the league, I would suspect his current 1.6% mark from this season is in for notable improvement moving forward. He's taken a healthy 62 shots in his 32 games and is also a hair shy of one block per game with 31 blocks on the campaign.
It appears he will line up on the same power-play unit as Larkin, but with an average of 23:29 of ice time per game, his chances of even-strength production are probably better so let's look for this cost-efficient stack to do some damage in this one tonight.
D – Duncan Keith (CHI) – $4,700 vs. CHI
I'm using Keith here over someone like Jacob Chychrun at an identical price given my Blackhawks exposure that you'll find below. That said, I believe he's a solid GPP look given his production this season.
The Blackhawks are tied for 16th in overall offense with 2.91 goals per game on the season, but also sport a 28% power play that ranks third in the NHL. Keith resides on the second unit, but we'll have significant exposure to both groups in this stack.
For the season, Keith has just one goal in 32 games, but he's also put 70 shots on goal. His resulting 1.4% shooting rate is well below his 4.2% career mark, and while those rates have dropped in sync with his rising age in recent years, it's fair to say he's probably due to find the back of the net soon given his shot volume. Keith actually has a goal and four points over his last five games, so perhaps the regression has kicked in somewhat already.
The Panthers interesting sport some of the NHL's best defensive metrics, but they are near the middle of the pack at 14th with 2.77 goals against per game as goaltending hasn't been a strong suit once again.
We don't know whether it will be Sergei Bobrovsky or Chris Driedger tonight — the latter greatly out-performing the former once again — but it doesn't matter as I'm rolling with a three-man Blackhawks stack regardless on a shorter slate.
UTIL – Patrick Kane (CHI) – $8,100 vs. FLA
The matchup isn't the best, so perhaps Kane will come at reduced ownership, but opponents tend to not matter with a player in Kane who is right in the mix for league MVP, although a series misstep from Connor McDavid would be required.
Nonetheless, he's once again posting big-time numbers in the form of 12 goals and 42 points in 42 games, the latter of which ranks him third in the NHL behind the Oilers' duo of McDavid and Leon Draisaitl. He's done so despite a suppressed shooting rate of 10.6% that's below his 12.1% and would be his second-worst rate over the last eight seasons if the season ended today.
What's more is the fact he's been held off the scoresheet in back-to-back games entering this one. That's important as it marks just the second time he's gone two straight without a point and the last time he did so, he recorded an average of two points per game in the following five contests.
In other words, you just don't keep this guy down long. He's the biggest reason as to why the Blackhawks have an elite power play this season and we'll see if he can go to work on the man advantage and more in this one tonight.
UTIL – Alex DeBrincat (CHI) – $7,200 vs. FLA
Completing a three-man Blackhawks stack tonight is DeBrincat who is enjoying a big season after what was considered a down year last season.
DeBrincat is on the fringe of the Rocket Richard goal-scoring race with 16 goals on the season, five behind co-leaders Auston Matthews and McDavid. He's also added 15 helpers for 31 points in 28 games this season with five goals and 11 points on the power play. He's fired 88 shots on goal as well, and while his 18.2% shooting rate is well above his 14.8% career mark, it wouldn't even mark a career-high after he posted an 18.6% mark in his 41-goal 2018-19 sophomore season.
Plain and simple, this guy is a goal-scorer. It was a fair assumption after he recorded 167 goals across 191 career games with the OHL's Erie Otters with a whopping 332 points in that time. He's largely lived up to the hype in the NHL so far while he and Kane have rather quietly been one of the most dangerous duos in the NHL this season.
Let's see if we can lock these guys in at diminished ownership with other superstar talent on a short slate.
G – Anton Khudobin (DAL) – $7,500 vs. TB
This is by far the biggest gamble on the roster, and perhaps one that you're not willing to assume. For what it's worth, I believe New Jersey's Mackenzie Blackwood is a nice GPP look as he's played really well over his last two outings, but at Blackwood's price we would be leaving $1,100 on the table in this lineup and that's simply too much.
Rather, we'll go with Khudobin behind a very good Dallas defense despite the tough matchup with the NHL's best offense and second-best power play in the form of the Tampa Bay Lightning.
The Lighting are running away with the NHL's scoring lead with 3.69 goals per game and have done so without the services of superstar Nikita Kucherov. Their 28.6% power-play clip sits behind only the Carolina Hurricanes at 30.6%.
Still, the Stars not only rank seventh with 2.50 goals against per game, but also rank second in scoring chances against/60, first in high-danger chances against/60 and second again in expected goals against/60 at 5v5 this season. In other words, they insulate their goaltending at a top-two rate this season.
It's been an uneven year for Khudobin who owns a 2.48 GAA and .909 Sv% in 16 outings with that save percentage on pace to be the worst figure since the 2016-17 season and well below his career .919 mark.
Still, perhaps he has more in the tank. If he does, it would be lovely if he could put that on display in what I can only believe will be real small ownership.