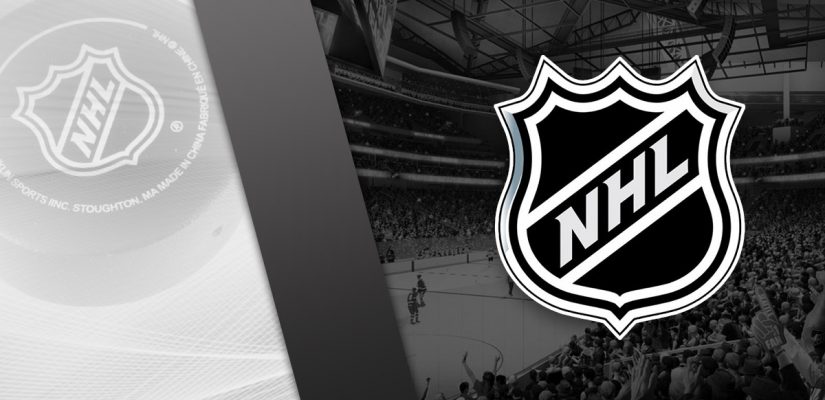 We enjoyed our first big night of the 2021-22 NHL season with last night's FanDuel NHL DFS Picks as the teams from our two main stack combined to score 14 goals, and that's a positive sign.
The Blue Jackets punished the visiting Arizona Coyotes to the tune of an 8-2 final, and we scored two of those goals as Alexandre Texier scored less than a minute into the game at tiny ownership while Zach Werenski also scored closer to 15% owned. Still, Add in a pair of Patrik Laine assists and an assist from Werenski as well and we notched a healthy 54.3 FanDuel points between those three Jackets.
Sticking with Columbus, it was a strong start to the season for Jackets netminder Elvis Merzlikins as he turned aside 36 of 38 Coyotes shots, earning the win and collecting 32.8 FanDuel points on the evening.
That said, it was most definitely our Kings stack that got us well over the hump. Anze Kopitar went off for a season opener hat trick and five-point night while firing seven shots on goal to boot. Drew Doughty scored a power play goal and added three assists to his ledger as well. Finally, Viktor Arvidsson chipped in an assist while his poor puck luck continues with five shots but zero goals as part of a 6-2 Kings win over the visiting Golden Knights.
Finally, our mini-stack of the Rangers' Artemi Panarin and Mika Zibanejad didn't go off, but they did notch one assist apiece while combining for a solid six shots on goal in a 3-2 loss to the Stars.
Getting north of 230 fantasy points on the night is going to get you paid, and we'll now move on to tonight's much smaller three-game slate.
FanDuel NHL DFS Picks – October 15, 2021
C – Sean Couturier (PHI) – $6,500 vs. VAN
The Flyers had to wait until this evening to open their season and they'll do so against a Canucks team that dropped their opener in a shootout in Edmonton on Wednesday.
While the Canucks held their own against the high-flying Oilers offense, I want to test this blueline, one of the weaker ones in hockey in my opinion. It's a group that saw notable turnover in the offseason, but this team ranked 26th in overall defense and were in the league's bottom 10 and hovering around the bottom five — in underlying data such as high-danger scoring chances against/60 and expected goals against/60 at 5v5 play.
A group that features Oliver Ekman-Larsson, Quinn Hughes, Tyler Myers and Tucker Poolman in the top four isn't horrible, but Myers was poor last season, Ekman-Larsson has annually been one of the NHL's worst 5v5 defenders and there's plenty of inexperience on the bottom pairing in Kyle Burroughs and youngster Jack Rathbone.
So, let's at least get some Flyers exposure into this lineup, beginning with Couturier who inked a lucrative, long-term contract with the Flyers this summer. I can see why as he turned in 18 goals and 41 points in 45 games last season while playing elite defense from the center-ice position and posting a monster 59.4% Corsi For% at 5v5, meaning the Flyers dominate puck possession with Couturier on the ice.
He's approached a point-per-game in each of the last four seasons as the team's top center at 5v5 and on the power play, so Couturier can certainly help expose this suspect Canucks blueline this evening.
C – Trevor Zegras (ANH) – $5,200 vs. MIN
This lineup is more of an optimal one that could be used in cash games, head to heads and GPPs as we'll have some notably owned players in this lineup as well as some lower-owned guys, which I expect Zegras to be the latter.
An anemic Ducks offense from last season — worst in the league overall and on the power play — managed four goals in a season-opening 4-1 win over the Jets and elite netminder Connor Hellebuyck. Zegras was held off the scoresheet with two shots on goal as part of his 13:22 of ice time in that one.
We'll start with the matchup, however, as I don't think the Wild are going to be as good defensively as last season when they allowed high-danger chances as the best — or lowest — rate in the NHL. Ryan Suter was bought out of his 13-year contract while Carson Soucy was selected by the Kraken in the expansion draft.
That's two of the team's top five gone from last season, and while Jared Spurgeon, Matt Dumba and Jonas Brodin still form a fine top-three, the bottom three is a mix of uninspiring veterans such as Alex Goligoski, Dmitry Kulikov and Jon Merrill. Not a horrible group at all, but I don't think they're as strong as they were a season ago.
So, let's see if we can target them in their opener on the road. I expect a bounce-back effort for Zegras in this one as he not only had a strong NHL showing with a solid 13 points in 24 games last season, but he also recorded 21 points across just 17 AHL games to begin with.
The guy is wildly skilled and lit up the 2021 World Juniors with seven goals and 18 points across just seven games for the gold-medal-winning Team USA squad.
W – Travis Konecny – $5,200 vs. VAN
We'll go ahead and complete this Flyers mini-stack here with Konecny as there's a couple reasons I'm limiting this group.
One, I believe in Canucks netminder Thatcher Demko who was excellent behind a terrible blueline last season and began his season with 32 saves on 34 shots against a dangerous Oilers offense on Wednesday. Also, the Flyers could see some ownership this evening, so I'm lengthening my Ducks exposure for GPP reasons.
You can also get Claude Giroux into this lineup in this spot, but I like Konecny as a player on the rise this season. The 24-year-old tallied 11 goals and 34 points in 50 games last season, but that production was actually down from his 24 goals and 61 points in 66 games in the 2019-20 season, so he's already shown he can approach a point-per-game pace.
He's not exactly a shot-on-goal machine with exactly two shots per game last season, but he's managed to score goals at a fairly high clip at 12.8% for his career.
He played with Couturier a lot last year as well, but he posted a healthy 55.1% Corsi For% at 5v5 last season, so he and his elite two-way center should be able to tilt the ice towards Demko this evening.
W – Rickard Rakell (ANH) – $4,400 vs. MIN
While there's several youngster that have to take another step for the Ducks to dig out of their offensive rut in recent years, a rewinding of the clock for Rickard Rakell would help significantly as well.
Rakell scored 67 goals between the 2016-17 season (33) and 20170-18 season (34), but has scored 18, 15 and nine goals since. He tallied those nine goals and 28 points in 52 games last season while putting 144 shots on goal. He also failed to score a single power-play goal a season ago.
That said, he's already surpassed that total this season as he deflected home a power-play goal in the opener on Wednesday. He put two shots on goal on that one and also logged a healthy 17:34 of ice time in that one to boot.
He's beginning the season on a line with Zegras, and I'm really interesting to see if the youngster can help the veteran get back on track. Zegras is probably already the team's top play-making forward even as technically a rookie. Of his 13 points in 24 games last season, 10 of those were assists as he's a play-maker by trade, but also a player who can put the puck in the net.
My suspicion remains that his vision and play-making skills can help Rickard this season. It might not be a long-term situation with Rakell a pending free agent, but for tonight let's look for this duo to cook up some offense either at 5v5 or on the team's top power play unit together.
D – Jamie Drysdale (ANH) – $4,300 vs. MIN
Like Zegras, Drysdale played in precisely 24 NHL games last season. Also like Zegras, Drysdale impressed in his debut while also producing in the minors beforehand.
The Ducks' first-round pick and No. 6 overall in the 2020 NHL Draft, Drysdale hasn't wasted much time in producing at the pro level and earning a spot on the season-opening roster.
In 24 games with the Ducks last season, he tallied a solid three goals and eight points on 28 shots on goal while adding another 23 blocks as well. He averaged 19:35 of ice time last season, a similar number to the 19:14 he skated to kick off his rookie season Wednesday. Prior to his NHL debut, Drysdale collected four goals and 10 points across 14 AHL games.
You know that shot Rakell re-directed on the power play? It came off the stick of Drysdale who is a member of the team's top power-play unit alongside Zegras and Rakell. He's going to earn his cake at the NHL level as an offensive defenseman with elite power-play skills, eventually. For now, I'm excited to see what the 19-year-old can do for an encore after an impressive opener.
The @AnaheimDucks are cruising towards an opening night win! ?

Rickard Rakell grabs their second power play goal of the night. ?#NHLonSN | #NHLFaceOff pic.twitter.com/wH4UnWBvPW

— Sportsnet (@Sportsnet) October 14, 2021
D – Seth Jones (CHI) – $6,300 vs. NJ
We're going to complete our skater portion of out lineup tonight with a trio of Blackhawks that absolutely will see some ownership tonight, but we had plenty of money to throw around in this one and I'll take some elite upside here at high price tags.
For Jones, he kicked off his Blackhawks tenure with a monstrous 28:19 of ice time in the Blackhawks' opener with the Avalanche on Wednesday, registering four shots and four blocks along the way despite being held off the scoresheet in a game the high-octane Avs had from the beginning.
Still, the blocks and shots on opening night is a taste of the cross-category upside Jones brings to the table. He's recorded as many as 16 goals and 57 points in a season and as many as 249 shots and 133 blocks in a single season. He tallied five goals and 28 points on 141 shots and 101 blocks last season on a weak Blue Jackets offense, a group that seriously lacked the offensive star power relative to his new club.
As for the matchup with the Devils, it should be an interesting one. The Devils handed a megadeal to defenseman Dougie Hamilton this summer and also added another top-four blueliner in Ryan Graves, a more rock-solid, stay-at-home type. The Devils should be an improved back end, but there's still pieces there from a group that ranked 28th in overall defense and dead last with a 71% mark on the penalty kill.
Let's see if Jones and the Blackhawks can bounce back against inferior competition tonight.
UTIL – Patrick Kane (CHI) – $7,900 vs. NJ
Regardless of ownership level, Kane is going to be in my Blackhawks stack in this lineup that, as noted, and be used across the board on this slate.
Kane was also held off the scoresheet on Wednesday, but did get four shots on goal in that one while skating just over 19 minutes. That said, you just know what you're going to get with this guy at the end of the day. He's going to exceed a point-per-game on the season and he's going to put a ton of pucks on goal.
Over the last three seasons, Kane's 260 points ranks him third in the NHL behind only the Oilers' Connor McDavid and Leon Draisaitl. He's averaged 1.26 points per game in that time while his 807 shots on goal in that span also ranked third league wide.
Otherwise, there's not much else to say here. He should once again rank among the best in the league from a points and shots-on-goal standpoint, so we'll see if he can get on the scoresheet after being blanked in the opener.
UTIL – Alex DeBrincat (CHI) – $7,500 vs. NJ
Completing a three-man Blackhawks stack this evening is DeBrincat who will skate with Kane on the team's top line at 5v5 while also lining up on the top power play unit where Jones resides as the lone defenseman.
I don't see why DeBrincat can't make a run at a potential Rocket Richard trophy this season. After all, he tallied 41 goals as a sophomore in the 2018-19 season, and after a subpar 2019-20 campaign, he bounced back with 32 goals in just 52 games last season, a pace of 51 goals in an 82-game season. That will play.
His shooting rates have bounced around a little bit, but this is a quick-strike scorer who doesn't waste a lot of shots on goal. His career shooting rate of 15.5% is evidence of that, and his rate of likely to regress this season from a 20.6% clip last year. Still, he should get over the 200-shot plateau while scoring 35-plus goals this season with potential 45-50-goal upside if everything goes swimmingly.
Of course, playing with Kane helps. While Kane can obviously put the puck in the net, his best skill is his elite vision and play-making ability. His 168 assists over the last three seasons ranks third in the NHL as well, and DeBrincat's goal-scoring acumen is a big reason as to why.
There's a real solid floor and sky-high ceiling for this group tonight.
G – Marc-Andre Fleury (VGK) – $7,300 vs. NJ
Three goals allowed in the first period wasn't an ideal start to Fleury's Blackhawks tenure, but he held the high-powered Avs to just one goal in the final two frames of that one. That's perhaps the NHL's best offense, however, and this Devils one is far, far inferior.
Adding Hamilton as an elite two-way defender who will provide a boost to the Devils' power play will help, but this remains a young and inexperience group of forwards who largely combined to rank 26th in overall offense and 28th with a measly 14.2% clip on the man advantage.
Tomas Tatar was the most notable addition up front, and there's plenty of upside in Nico Hischier and Jack Hughes as the team's top-two centers, but it's still going to take some time before this group starts putting some fear into opposing defenses.
Fleury ended up turing aside 32 of 36 shots on Wednesday (.889 Sv%), and he's playing behind an inferior blueline than the one in Vegas who helped him win the Vezina Trophy thanks to a 1.98 GAA and .928 Sv% in 36 starts. That said, Vegas also ranked 20th in high-danger chances against and 22nd in expected goals against/60 at 5v5, yet ranked first in the NHL with 2.18 goals against per game.
The difference was Fleury who saved 20.12 goals above average, as per Hockey Reference, the fourth-best mark in the NHL.
I'd be surprising if the future Hall of Famer did not bounce back in a far better matchup tonight.