Are you looking to win more money with your DFS lineups?  Below I've listed 10 DFS NFL strategies and tips for GPP tournaments. This DraftKings NFL strategy guide was created with DraftKings in mind, but most of the strategies work for other sites as well.
In addition to DFS sites, we also have a number of online sportsbooks you can check out that offer real money sports betting just like DraftKings. You can see those sports betting sites here.
#1 – Learn The Scoring System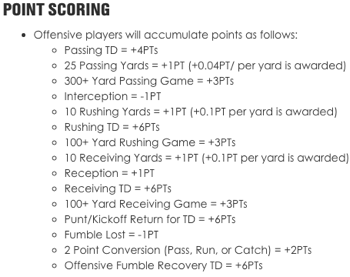 You probably have a general idea of how fantasy scoring works, but every daily fantasy site will have different scoring in place. At DraftKings players are given a full point per each catch or reception. This is known as a 1 PPR league.
This means you want to look at stats such as targets and receptions when choosing your players. A receiver who catches 2 catches for 100 yards isn't as valuable as a receiver who catches 10 catches for 100 yards.
You should also take this into consideration when choosing Running Backs, as a back who catches a lot of passed can be very valuable.
#2 – Flex Position Should be a Receiver
In most weeks picking an extra wide receiver at the Flex position will be the best choice, as they have bigger upsides overall than Tight Ends or Running Backs. I wouldn't be against an elite catching TE like Jimmy Graham or Rob Gronkowski though.
#3 – Use "Late Swap" To Your Advantage
DraftKings allows you to swap out players right up until their kickoff, while other sites will lock roster at the first game. I think late swap is a great option because a lot of times, across all sports, players will be game time decisions – and nothing sucks more than rostering an injured player.
The first way to utilize late swap is to make sure you're putting the player with the latest start time in your flex position, that way if you have to swap that player out you can swap him with any of the skill positions. For example, lets say you have Antonio Brown in your lineup and he's playing in the Monday Night game. Put him in your flex position, so that if say he came down with the flu Monday morning you would be able to choose a WR, RB or TE in that Monday Night game to take his spot, instead of being forced to pick a WR.
The second way to utilize late swaps in DraftKings in a strategy is to change the player based on how you're doing in the DraftKings contest. Lets say that you are far out of the money in a contest but you have a Monday Night player in your lineup. If you think they are going to be highly owned and you won't be able to make up enough ground even if he does have a productive night, you could try swapping him out for a player that will have very low ownership hoping for a breakout performance from that player.
It works the other way too. Lets you are safely in the money and don't think you have an opportunity to move up big time. One player in your lineup is playing Monday Night that you chose as a "risky", contrarian pick. You could swap that player out for a more consistent fantasy scorer to hopefully get the cash and move onto the next one.
#4 – Correlated Plays
You are almost always going to want to match your QBs with one of their targets because there is a correlation between the points your QB will get and the points their receivers will get. If you get a big game out of your QB it is likely that your receiver will also have a good game. You are increasing risk doing this a bit, but the upside is definitely worth it for GPP tournaments.
#5 – Use Vegas Lines
Vegas bookmakers and the sharp bettors that move the lines know what they are doing and you should always be looking into their totals, team total and even spreads when doing your weekly research.
If one team has a team total of 27.5 points set for a week, there is a good chance that the players on that team are going to score more fantasy points than a team with a team total of 14.5. Of course, pricing at DraftKings will reflect that, but you should always be paying attention to the lines.
Not only opening lines but also line movement. There has been a correlation between line movement and expected fantasy points. If a team total moves from 23.5 to 25 on a Sunday morning, you may get some value from players on that team. Or if you're debating between two defenses and one of their opponents team total moves down a point, you can use that as your deciding factor.
#6 – Look Into The Defensive Schemes They Are Facing
I read an interesting article over at FantasyLabs that shows how QBs and WRs beat their expected fantasy points vs 3-4 defenses, while RBs beat their expected points vs 4-3 defenses. You can take it a step further and watch how certain offenses fare against the different defensive fronts and factor that into your plays as well. This is an advanced strategy, but something I will be looking at this year for sure.
#7 – Low Ownership Players?
One popular topic with big tournaments is the strategy of picking players that are going to have a low ownership. This makes sense because the lower the ownership of each player in your lineup, the more people you have an advantage over if that player performs well.
With that said it isn't a great strategy to just compile your lineup with a bunch of players you think will have low ownership – you are still trying to put together a team that will get you the most points.
An interesting article I found at FantasyLabs took a look at the NFL Millionaire contest winners from last year at DraftKings and the ownership percentages of their lineups. The table showed that most of the Millionaire winners had at least a few players in their lineup that were highly owned, and a majority of them had at least two players that were 20%+ owned. Having low ownership players in your lineup can be good, but don't do it just because you've heard of that strategy. Sometimes there is obvious value out there, and even if the player is going to be highly owned you still should have him in your lineup.
#8 – Players With Decreased Salary Costs Can Be Valuable
Sometimes DraftKings will drop the price of an NFL player who isn't playing well, and a lot of the time that can add value to that player – as long as that players role hasn't diminished.
For example, let's say that Matt Forte has had a three games in a row where his catches are down, he hasn't been rushing for too many yards and he hasn't gotten into the endzone. DraftKings drops his salary from $7,800 to $7,200 for the next week. At that price he might now have quite a bit of value, as long as those three games we just an anomaly.
#9 – Don't Be Afraid To Take Elite Players vs Good Defenses
Elite players often shine vs any defense, even the best in the game. Taking an elite player vs a really good defense can be a good way to find an elite player with a lot of upside potential with low ownership.
#10 – Use DFS Tools To Your Advantage
With DFS continuing to grow there are a lot of great tools out there to help you put together an optimal line up and find solid value players.
Sports Betting Sites To Consider
If you're interested in getting started with sports betting, here is a list of sites that you can deposit real money with right now:
—
If you found these DFS NFL Strategies helpful feel free to share the article with your sports betting friends.  Good luck with your contests!