Complete Guide to Online Skins Gambling and Its Impact on Esports
---
Esports and gaming portals keep breaking their spears around the whole skin betting business. It's pretty much an eyesore for the esports betting industry, attracting negative comments and critics week in and week out.
But what's so problematic with people betting their in-game skins on video games? Sure, those in-game skins have real-money value but, still, online skin betting shouldn't be as big of a problem as everyone makes it. Is that really the case?
Well, that's exactly what we're here to talk about! We've written this page to explore the reasons why online gambling regulators hate the skin betting industry. We're here to discuss the key problems of skin betting and see if there are any legal alternatives. In the end, we're here to give you an answer to the age-old question: Should you indulge in skin betting, legit online esports betting, or skip the gambling on esports thing altogether?
The Sports Geek does not promote skin betting businesses. As you'll see in the remainder of this piece, skin betting platforms are either outright illegal or are running some sort of a gray area business that could go down at any time. These websites aren't regulated by online gambling authorities and as such, they pose a threat to everyone using them. If you'd like to experience betting on esports, use 100% legit real money esports bookmakers!
What Is Skins Betting?
These days, video games offer all sorts of purchasable in-game goods that change the aesthetics and appearances of playable characters and weapons. Typically, these in-game goods are called skins and have no impact on one's performance. They're purely there for aesthetics.

Skins betting represents betting on esports or sports matches as well as other casino games with various in-game skins. Typically, the most popular skins for online skins betting come from Valve's two most popular franchises, Counter-Strike: Global Offensive and Dota 2.
Why are these skins the most popular? Well, it's simple. They're both available on Steam which means they can easily be traded through Steam's community market platform. And it's big business, skins betting! We're talking about a massive underground economy and no one really knows what it's worth. The money's big, that's for sure, but I believe online skins betting businesses are in a steady decline.
Types of Skins Gambling
When talking about different types of skins betting online, there are two main options we need to point out:
Betting skins on esports matches
Betting skins on casino games, roulette, etc.
Just recently, though, skin betting sites started offering wagers on sports matches. The hype was there, but it's safe to say the niche is in a steady decline, just like the entirety of the skins betting online scene.
The History of Skin Gambling
The rapid growth of competitive video gaming (esports) attracted the attention of some of gambling industry's biggest names. These days, esports wagers are available on all major sports betting sites. If you're into online betting, you should know by now that most (if not all) online bookmakers feature esports categories.
However, it wasn't always like this! Before the start of esports commercialization, the industry was far away from mainstream popularity. It was a marginalized hobby that was taking its first steps into the harsh world of new-age entertainment. Had it not been for skin betting, perhaps the industry wouldn't be at the level it's at today.
Well, skin betting showed the industry's true potential—not viewership-wise, but in terms of betting potential. In 2014 and 2015, shady skins betting sites dominated over the scene. I'll dare to say they were the jumping board that the industry needed back then just to get plenty of attention, if nothing else.
However, government regulators wanted Valve to do something about the issue. But why Valve? What did Valve have to do with any of this?
As mentioned earlier, the most popular skins used in online skins gambling activities, were from Valve's games—CS:GO and Dota 2. The skins were being transferred through Valve's Steam platform. The community marketplace was packed with bots and legislators wanted to put a stop to it.
Valve's Cease and Desist Letters
In July 2016, Valve sent out cease and desist letters to 23 skin betting websites. CS:GO Battle, CS:GO Lotto, and CS:GO Lounge were just some of the websites that were on the receiving end of those letters.
What followed was a landslide of all major skins betting sites. The prices of skins started dropping at an ever-increasing rate, with bettors quickly returning their skins to their Steam accounts. It wasn't long until the majority of skin betting sites went down and stopped operating their businesses. Yep, things became pretty scary once Valve threatened with lawsuits.
Unfortunately, Valve was hit by one, too. In 2019, a Native American Nation of Quinault accused Valve of profiting from illegal gambling activities that involve the use of digital textured weapons known as skins.
The history of esports skin betting doesn't end there! Even though most of the niche crumbled to pieces following Valve's lawsuit threats, some of them stuck around and carefully altered their processes in a way that still allows them to operate in a gray area. Business model alterations are quite common in this niche, but none quite like this.
Even in this day and age, betting on esports with skins is possible. Heck, it's not just on esports but regular sports and all sorts of casino and RNG games, too.
The industry is not as big and profitable as it was back in its golden age, but it still exists and it still facilitates underage gambling!
Loot Boxes | A New Form of Shady Betting
While we're on the topic of underage gambling—one of the biggest burning issues behind online skins betting—we need to mention loot boxes. As you may know, loot boxes are present across the gaming spectrum. They've become a necessary evil in free-to-play games, but are slowly making their way into fully-priced games, too.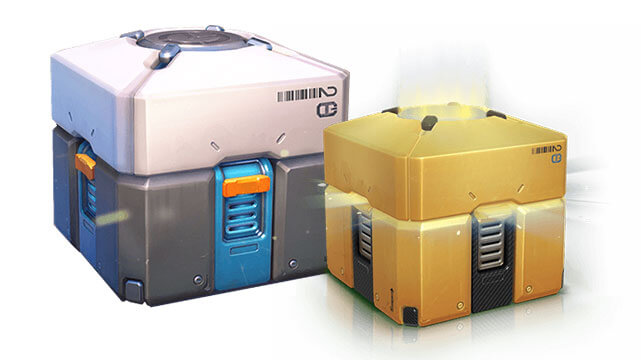 The thing with loot boxes is that they're basically an RNG betting scheme—and mind you, we're talking about video games here. Younger audiences have full access to video games these days, which means they have full access to loot boxes, too. Parents can't handle this on their own. If governments don't step in, we might have a brand-new generation of bettors being lured in from a very young age, and that's not good!
What Makes CSGO Skins Gambling so Special?
If you gamble with CSGO skins (or you've gambled with them in the past), you'll know what all the craze is about… You'll know what makes it so darn special. For those of you not in the know, here's the gist of it – CSGO skin gambling is what kickstarted the whole skin betting niche. It's the driving force behind what eventually led to the exponential growth of the esports industry as a whole.
Despite cease and desist letters, despite numerous lawsuits, people still gamble with CSGO skins. Even though they're surrounded by obstacles, several CSGO skin gambling sites are still up and running.
We don't promote skin betting activities, but we have to admit their resilience is remarkable!
Is Skins Gambling Legal?
As stated earlier, skin gambling activities are either outright illegal or somewhere in the gray area. The gist of it is the following – you probably won't get in trouble for using online skins betting sites, but it's still best to avoid them. If you're so interested in betting on CS:GO and other esports titles, you should opt for legit real-money esports bookmakers that obey all local and international gambling regulations. These bookies are the only online platforms capable of facilitating online betting in a 100% legal way.
Selling Skins vs. Skins Gambling
Selling your skins and betting with them are two different things. Not everyone knows they can actually cash out their skins for real money on various online marketplaces. Third-party marketplaces, mind you! It's legal too, for the most part!
But then again, a good portion of the issue here comes down to the rules, regulations, and laws in your country. South Korea, for instance, deems virtual currency legally exchangeable for real-world currency. Even though it goes against games' ToS, you shouldn't get in trouble for buying and selling skins on online marketplaces… unless you go over the top with it, that is.
Safe Esports Betting Sites
We've established that skins betting isn't safe, so what are your alternatives? Well, the most obvious answer is to use real money esports betting sites. Not sure what a real money esports betting site looks like? Afraid you might opt for the wrong one? Here's a short list featuring my favorites:
get_cta id="262039″ copycolor="cta-full-detailed"]
Skins Gambling Sites vs. Esports Betting Sites
Let's talk quickly about the differences between safe esports betting sites and skins betting sites. Be sure to note the difference in skins sites allowing underage participation.
At first, I was going to give you guys a blacklist featuring the worst skin betting sites out there. But I figured you'd think there are skin betting sites that are actually good… And that's not the sort of impression I'd like to make here. After all…
Not only are we talking about shady businesses with no online gambling licenses, but we're also referring to platforms that facilitate underage participation in betting activities.
Frequently Asked Questions
As far as the legal side of things is concerned, gambling with skins isn't on the right side of the law. But, as far as safety goes, you shouldn't worry too much. Online skins gambling is still in the gray area… at least for the most part. That means you should worry about getting your winnings back to your Steam account as fast as possible more than any legal repercussions.
Loot boxes are an annoying type of microtransactions in newer video games. They're basically boxes/crates packed with in-game goods that are typically obtained with real money purchases. The problem is, many games don't give players the exact drop rates for each skin tier… Plus, these games have no sort of age restrictions (in most cases) meaning players of all ages can open loot boxes.
Even though the façade is kind of solid, what we're really looking at here is another maleficent form of facilitating underage betting and honing a new generation of bettors. It has to stop. The sooner, the better… But looking at the numbers doesn't give too much hope. Loot boxes are getting more and more popular and have already become the most popular form of in-game microtransactions.
Nope! CS:GO skin gambling is not legal. It's in a gray area at best, and we can't really recommend venturing into the gray area of online gambling regulations. We at The Sports Geek are all about legit bookies!
Betting on CS:GO on legit real money betting sites is legal, as long as your country's gambling regulations strictly prohibit betting on video game competitions and events! As stated earlier, real money bookies possess all necessary licenses to be able to facilitate online payments for betting. If such activities aren't against your country's online gambling laws, you should be good to go!
Well, it all depends on what game and what skins we're talking about. For instance, most games have fixed prices for skins because they're not tradeable. They typically range anywhere from $2 to $100. However, tradeable skins (e.g. Dota 2 and CS:GO skins) work in a different wave. It's all about supply and demand in their ecosystem, with some skins reaching close to the $20,000 mark. Yes, Souvenir AWP Dragon Lore, we're talking about you!
There's a lot of esports titles that use in-game items a.k.a. skins for cosmetic purposes. And we're not just referring to character models and weapons here; there's stuff like special dances, premium emotes, and other types of "skinnable" equipment.
Here's a short list of the most popular esports that use skins:
These games are just the tip of the iceberg, mind you!
We're primarily talking about Dota 2 and CSGO skins betting here, so we'll be focusing on Steam Marketplace skins. How do you get skins there? Well, there are three ways. Number one – you top up your Steam Wallet and buy skins on the community market. Number two – you open up various cases and hope you get something good. Number three – random in-game drops. These are typically low-value skins, but you could hit it big if you're really lucky...
The popularity of CSGO skins betting showcased all of the industry's burning problems. That said, international gambling regulators have worked closely with valve to put an end to that form of betting. Knowing their efforts, we don't believe you'll ever be able to gamble with CSGO skins legally. The same goes for other esports titles too.
However, we also don't believe Valve and international gambling regulators will ever truly put an end to online CSGO skin gambling activities. The niche is still active despite numerous interventions; many online skin gambling businesses have gone down, but many are still going strong despite all setbacks...