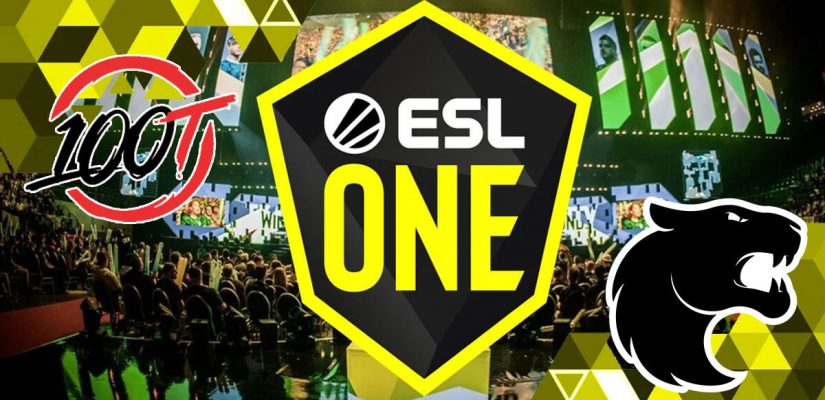 Our ESL One Cologne betting track record is not looking well. We had a solid start before those massive upsets started popping up. We've seen a whole heap of crazy results on both American and European events. Several top-tier sides are already out of the equation, and today's matchup will eliminate another one. Who will it be? Well, that's exactly what our 100T vs. FURIA predictions are here for!
But, why should you think these predictions will be better than our latest fails? Well, if there's anything that ESL One Cologne has taught us so far, it's that stats aren't everything! They do affect the teams' approaches and the ways they come into the match, but they didn't paint the full picture.
Don't think we're going to take stats out of the equation for our 100T vs. FURIA predictions. We're going to dig right into them, just like we usually do, but we'll be way more considerate in terms of concrete picks.
With all that in mind, let's head straight to business!
100T vs. FURIA Predictions
Coming into this event, FURIA was seen as the heavy favorite in group A. Chaos and 100T were the outsiders, whereas Gen.G's chaotic nature saw them as the group's dark horse. No one thought Chaos could go through to the playoffs with a straight 2-0 score. First up, they surprised FURIA in a match that was an absolute thriller down to the wire. Then, they did the exact same thing to 100T in the winners' round, pushing them to the decider round against FURIA.
THEY @#!'':~!ING DID IT

TOP OF THE GROUP. GGS @100Thieves

LETS GO BOYS #CreateChaos pic.twitter.com/bmbfIpgB0w

— Chaos EC (@ChaosEC) August 20, 2020
Recent Results
FURIA's opening match could've gone either way, really. FURIA lost its pace on Nuke and failed to clutch several troublesome rounds on Inferno. Chaos was the better team, there's no doubt about that. They outclutched the Brazilians and showed they aren't a single-race horse against the Aussies.
Back to FURIA – they did improve their image in the second round. Gen.G is always a tough team to beat, but FURIA managed to do so with flying marks.
The Aussies took off with a surprising win against Gen.G. It wasn't as big of a surprise as Chaos' triumph over FURIA, but still… Unfortunately, they succumbed to the pressure against Chaos and have to prove their worth against FURIA in the decider.
Prior to ESL One Cologne, FURIA's results speak more of their qualities. Third place on BLAST Premier Spring, not so successful 6th place finish on CS_Summit 6, and DreamHack Open Summer title. The latter came following a win against Team Liquid in the grand finals.
100T, on the other hand, struggled for the majority of 2020, up until ImAPet took over the coaching stick, that is. A third-place finish on DH Masters Spring and fourth on CS_summit 6 – two solid campaigns just ahead of this one.
Where to Bet on ESL One Cologne
Before we move on with our 100T vs. FURIA predictions, let's slow down a bit and help those who are just starting out. If you'd like to start betting on CS:GO but you don't have a clue as to where to place your wagers, don't worry – you're not the only one. We've all been there, we've all desperately searched the vast waters of the internet, hoping to find the best bookie there is.
Unfortunately, there is no such thing as the best when it comes to an esports bookie.
The matter is much more complex than that since we all prefer different things. If, however, you'd like to see a few excellent all-arounders, our CS:GO betting sites piece should be your next read.
Map Pool Info
According to HLTV, the map pool stats are pretty neck and neck.
FURIA seems like the slight favorite because of their prowess on Nuke and Mirage.
Inferno should go in favor of the Aussies.
Everything else (including both permabans) is no man's land.
It'll be interesting to see what maps these teams will opt for. If they go aggressively in the banning phase, we could see Dust 2 or Vertigo as the decider. Fingers crossed, eh?!
Individual Player Qualities
Even though I love Gratisfaction and the boys, FURIA is the superior team as far as individual player qualities are concerned. Pretty much the entire FURIA roster is in form at this point. They're coming off a marvelous DH Open Summer campaign.
They did lose the opening round against Chaos, but they looked darn fine eliminating Gen.G in the second round.
On the other end, jkaem and jks are leading Nadeshot's 100 Thieves.
Once again, they're great players (everyone from 100T, realistically), but the Brazilians are way better when looking at the individual level.
However, there's more to CS:GO gameplay than a mere sum of individuals in a roster… and that's what the Aussies will be hoping for.
100T vs. FURIA Predictions
The majority of stats point towards FURIA. According to the most popular bookies, FURIA is the slight favorite. And it's nothing surprising considering everything we've seen above.
ESL One Cologne is a weird event, and I honestly think we'll see another favorite lose.
FURIA is a good team, there's no doubt about that, but Chaos exposed all of their flaws and I reckon ImAPet will deploy a tactically superior team tomorrow. That said, my money's on 100T. AT +130, I reckon we're getting a ton of value here!