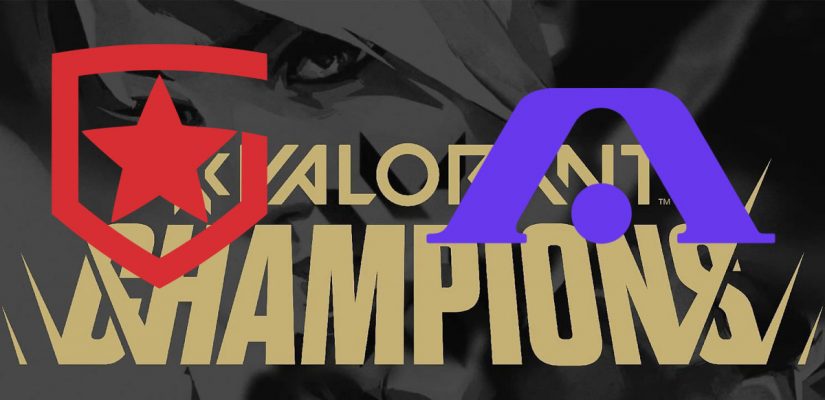 We have come to an end of the biggest Valorant tournament so far and it's Acend and Gambit who will be facing off today on the big stage of Valorant Champions grand final. In this series we saw the elimination of many big teams like Sentinels, Fanatic and Team Liquid, but we have yet to see the clash of these two titans and one of them will rise victorious and win $350,000.
DON'T MISS ONE OF THE BIGGEST DAYS IN VALORANT HISTORY!

Join the #VALORANTChampions Finals Ceremony starting at 9AM PT and watch special performances by @Zedd @OfficialRezz @ThisIsPVRIS and @grabbitz. pic.twitter.com/2lhmuRo4yP

— VALORANT Champions Tour (@ValorantEsports) December 11, 2021
Acend vs. Gambit Odds
For starters, here are the Valorant odds for this matchup:
Disclaimer – odds are subject to change

Gambit are the slightest of favorites to win this one. But, knowing their form, are Acent at +107 the better value pick here? Let's find out!
Acend vs. Gambit Betting Predictions
Gambit are the favorites coming into this best of five match, as they should be after their performance so far, and the glorious win they had at Valorant Masters Berlin. On the other hand, we have Acend who absolutely demolished Team Liquid, who were one of the favorites to win this entire series.
These kind of predictions are never easy when you have two teams with this amount of raw individual talent and teamwork, but we will do our best to get deep into them and get every important bit of information surrounding both teams.
Acend Betting Preview
Current Roster
BONECOLD (IGL)
Starxo
cned
kiles
zeek
Although Gambit are the favorites, Acend only lost one map in the whole series and that was against Vivo Keyd in the group stages. A quick reminder, they lost on Icebox 9-13. The whole team is currently in great form, especially the star OP player cned. We have seen some of the best plays and capabilities Acend have to offer, but they still keep surprising and delivering as we've seen on their latest win against Team Liquid.
This is going to be all but a straightforward match. But, worry not because our Acend vs. Gambit betting picks will do a thorough job analyzing both ends of the server!

BONECOLD's aggressive and unorthodox Omen plays, as well as cned's Sage with Operator might just prove unreadable for Gambit. It could even bring Acend their first big stage tournament win, something which they ought to feel like they deserve. Since this final will be a best of five we will probably be seeing Bind as one of the maps.
Acend's domination on that map is unmatchable with zeek on Raze as their main and only dualist, but the question is will they try to switch up their agent comp to further throw off their tactically superior opponents… Or, perhaps they will they stick to what has been working so far and hope for the best.
Gambit Betting Preview
Current Roster
Redgar (IGL)
Chronicle
d3ffo
nAts
sheydos
Gambit don't need much of an introduction, we have all seen what they can do! Firstly we have nAts, the young Russian prodigy who made one of the best plays so far on this tournament against Team Secret on Bind. Remember, he aced and single handedly won the seemingly unwinable round and showed us all what he's capable of.
The team is full with skill and talent; not just in nAts but in its entirety. The masterminds behind Gambit's tactics are surely to work around what we have seen from Acend's arsenal so far. But, the question now becomes – will it be enough? The map of choice for Gambit will surely be Ascent, although they had a couple of losses on it this series they still thrive and feel comfortable playing it.
The main point of concern for Gambit should be Bind because the last time these two teams clashed with these exact rosters Acend had a two and oh sweep with a 13-0 win on Bind! That's just something to keep in mind for the remainder of our Acend vs. Gambit betting predictions!
Wrapping Things Up
If you're ready for some final thoughts, here they are!
Acend vs. Gambit Betting Predictions:
Odds are courtesy of BetOnline. Check out our BetOnline review here.
This match will show some of the best Valorant gameplay we have seen so far, but with Gambit not performing well on their go to pick and Acend's history of owning them on Bind I personally think score wise we'll be watching a one-sided match, especially after seeing the form cned, Starxo, and BONECOLD are in and the almost flawless record they have made by not losing a single map in three matches.
That's it as far as our Acend vs. Gambit betting predictions are concerned.

Plus, this is it for the entire 2021 Valorant Champions Tour. There are no more events after this one, so if you're craving for some good old Valorant betting, you better catch the last train for Valorant Champions!
As always, thanks for reading the whole piece – make sure you drop in again as we continue to cover the final CSGO event of the year – BLAST Premier World Final!