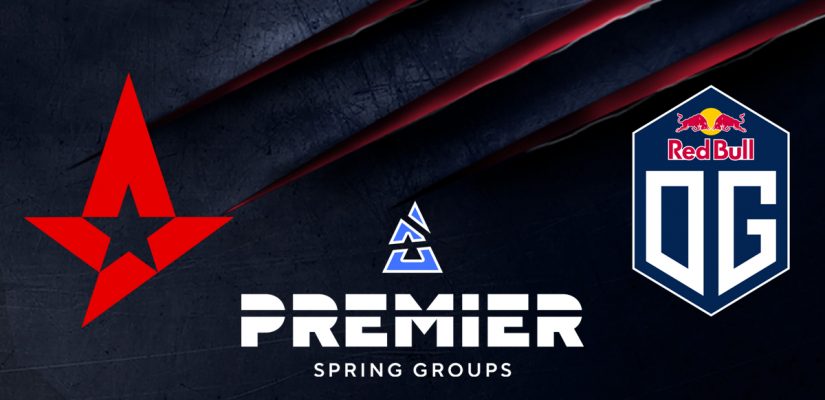 The first day of BLAST Premier Spring didn't go as planned. First, we lost our G2 vs. Complexity pick. G2 did win but we said they'd win with more than four rounds to spare. Guess what, they won by exactly four rounds; the end result was 16:12. Then we hoped to break even with BIG vs. NiP, but device-less NiP dismantled the Germans for our second loss of the day. Worry not, winning ways are on the horizon with Astralis vs. OG betting predictions. Let's end this losing streak and focus on improving our bankroll for the upcoming IEM XVI spectacle in Katowice!
SHOW US ?#BLASTPremier pic.twitter.com/n0fygyj6uq

— 1 DAY UNTIL SPRING GROUPS ? (@BLASTPremier) January 27, 2022
Astralis vs. OG Odds
For starters, here are the CSGO odds for this matchup:
Disclaimer – odds are subject to change

Astralis are coming into this match as the bookies' favorites. That's probably because OG are still a big unknown. Nexa x Aleksib switch is going to be a big problem over the next few weeks… until they properly synchronize with the Serbian IGL. Nexa has potential, that's for sure, but it will take some time for him to adjust to OG's style of play.
Astralis vs. OG Betting Predictions
Even though these two sides have played several head-to-head matches, they have different rosters now so they don't count. Astralis only have remnants of their original roster, while OG has nexa instead of Aleksib. Yes, they might not have a prolific IGL anymore, but they sure have extra fragging potential with the Serb onboard. Nexa is an interesting choice here – he didn't want to be IGL, but here he is, moving to another team and set to play the same role…
Astralis Betting Preview
Current Roster
gla1ve (IGL)
BlameF
k0nfig
Bubzkji
Xyp9x
Lucky
Let's start off with Astralis. They have a new roster now. Well, not entirely new, but they made a bunch of alterations and are now going to look like a completely different team. We've seen what they're capable on Funspark ULTI… and let's just say the overall impressions weren't great.
They kept struggling throughout the series, even in matches they ended up winning. Mind you, they played (and lost) against the likes of Entropiq and K23, so we can't really say they had top-tier opposition.

While their six-man roster seems good on paper, there are glaring issues left and right. Who to pick, who to bench, who's going to lurk? These are just some of the questions Astralis have on their minds before every game.
It's stressful, to say the least, and recent rumors of device wanting to go back aren't making things any easier. These are tough times for Astralis, no doubt about it, but a win against OG would definitely mean a world to them. Will it come, though?
Well, that's what we aim to find out in the remainder of our Astralis vs. OG betting predictions, so stick around!
OG Betting Preview
Current Roster
valde
mantuu
Nexa (IGL)
flameZ
niko
I am not really sure what to think about OG. They had a poor campaign in 2021 and now that they've made the Aleksib x nexa switch, I am speechless. Don't get me wrong, I don't mean that in a bad way. I literally don't know what to think about them.
We don't know how they'll set their gameplay up with nexa taking up the IGLing stick. The ex-G2 strategist can wrap his head around matches quickly. He's arguably better than Aleksib in terms of raw fragging power. But, we can't expect him to hit the ground running… or can we?

What about the rest of the roster? Well, let's just say they didn't close 2021 off with style. Several poor outings, one after another, must've left a sour taste in their mouth. And while I do think they'll kick 2022 off with a loss, who knows, perhaps nexa proves to be a perfect fit for them and helps snowball to remain in the upper bracket.
Wrapping Things Up
Let's drop the conclusion so you know what to bet on:
Astralis vs. OG Betting Predictions:
Odds are courtesy of BetOnline. Check out our BetOnline review here.
Coming into this one, Astralis are the definitive favorites. But, there's just something about OG that screams DANGER. Nexa is a potent player, no doubt about it, but he's IGLing so I'm not sure how exactly that will end up working out.
One thing is certain, this match won't be decided by nuances Even though, on paper, Astralis should be much better off here, OG's unknowns make them a dangerous side to deal with. They're both capable of snowballing, and they're both known for being disheartened way too easily. That said, under 26.5 rounds seems like the perfect bet here.
Fun fact, both opening-day matches finished over (28 maps), but this is going to be a much shorter display.