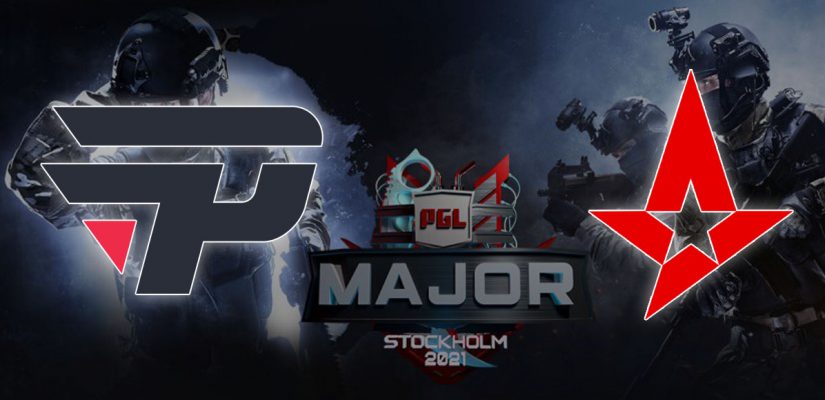 As you probably know by now, Astralis lost two straight matches on the opening day of the 2021 PGL Major in Stockholm. To make matters even worse, they weren't nearly competitive enough in either of these outings, winning just twelve rounds in both maps combined. They did stomp over GODSENT, which we successfully predicted in our Astralis vs. GODSENT pick, but now they have to win two more to snatch a spot in the Legends Stage.
?Day 3 schedule

These duels will be ?#PGLMAJOR pic.twitter.com/sQSTWJL0YU

— PGL (@pglesports) October 27, 2021

Our Astralis vs. PaiN betting predictions focus around their second win-imperative encounter. Can they take down tricky paiN who took VP and Renegades, both of their losses, to full thirty rounds? Well, there could be plenty of value here, either way, so let's get right to it!
Astralis vs. PaiN Odds
Here are the odds for this CSGO matchup:
The spreads look rather interesting on this one. But, is that the correct path here? Let's find out!
Astralis vs. PaiN Betting Predictions
Historically, these two haven't played a single head-to-head clash, this will be their first. Obviously, paiN and Astralis couldn't be more apart. We're talking about two teams with totally different backgrounds. One of them can be lucky to have reached the Major, while others won't accept anything but the title, despite losing their star player. This is going to be a fierce match, so let's dive right into it!
Astralis Betting Preview
Current Roster
Gla1ve (IGL)
Dupreeh
Magisk
Xyp9x
Lucky
Zonic (coach)
Bubzkji (substitute)
Even though Astralis lost two openers, we all knew they'd get back up to their feet with an energized display vs. GODSENT. But, their work isn't done just yet! They still have to beat two teams to reach the Legends Stage and keep the dream alive.
First up, paiN – a fiery Brazilian team that don't look too out of place in Stockholm. Even though they have the same score as Astralis, their overall performances have been slightly better.
But, Astralis know their quality and have finally shown their true selves against GODSENT.

Individually, their key fraggers are finally getting back on the contribution's charts! Lucky, who was MIA in their two openers, finally showed up against GODSENT. However, we have to emphasize Magisk's performances – he's been by far their best player, which is quite the feat knowing just how well dupreeh played too.
The thing about this match is quite simple – if we see the same Astralis we've seen earlier today, they'll go through the final Challengers Stage round for reverse sweep. If we see the opening-day Astralis, then I'm afraid they won't be in the mix for winning their fifth CSGO Major Championship.
PaiN Betting Preview
Current Roster
PKL (IGL)
Biguzera
Hardzao
NEKIZ
Saffee
Bruno (coach)
As stated earlier, paiN played well in both of their losses, which is something that can't be said about Astralis. They went to full thirty rounds on both occasions. They did, however, have more issues with Sharks than Astralis had with GODSENT. Seeing as this is a bo3 and considering their lack of map pool depth, though, things will be rather bleak for them.
Bruno always has exceptional tactical solutions with paiN, especially for bigger events. But, while paiN do have excellent ideas, their executions aren't that good and they tend to choke in key situations. We've seen it happen time and time again, even on this Major, and even though they played just five maps.
But, paiN will fancy their chances on their map pick, be it Ancient or Nuke. Heck, they're 100% on Dust 2 as well.

Biguzera and the boys ought to give Astralis a proper run for their money here. While I don't think they will go and win this one, they'll definitely take a map off the Great Danes. I reckon this is the proper route for Astralis vs. paiN betting predictions!
Wrapping Things Up
Here's the wrap-up:
Astralis vs. PaiN Betting Predictions:
Odds are courtesy of BetOnline. Check out our BetOnline review here.
That's right, we're going with paiN spread here. They're bound to win a map against Astralis. Remember, we bet on Astralis to cover the spread today and won. Now, we're going against them covering it because, objectively, paiN have shown themselves in a much better light than GODSENT. They might not have the flashiest players, but they almost went 3:0 instead of 1:2 – it was only a matter of two rounds that didn't go in their favor.
That said, I'd like to wrap up our Astralis vs. PaiN picks and call it a day.
Fingers crossed the Brazilians don't go without a fight tomorrow!