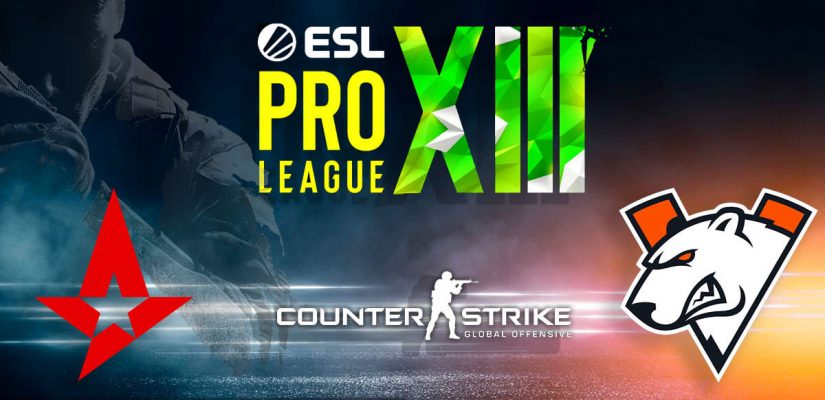 Group D Is coming along fine, though I have to admit we've already seen a few shockers. First and foremost, four teams are tied at 1-1 at the moment; EG, Astralis, Endpoint, and Liquid. Yessir, Endpoint defeated Fnatic 2:0 earlier today, marking the second-biggest upset in group D.
Astralis losing to EG in the opening round, of course. What about Astralis vs. Virtus.pro predictions – which way is that match going to go?
What a day…

We're gonna get some rest and you should too! Of course we'll be back tomorrow though.

12:00 CET: @FNATIC vs. @EvilGeniuses

15:30 CET: @AstralisCS
vs. @virtuspro

19:00 CET: @TeamEndpoint vs. @TeamLiquidCS #ESLProLeague pic.twitter.com/4tCv9twCpd

— ESL Counter-Strike (@ESLCS) March 26, 2021
Well, there are no clear favorites coming into this match. If it wasn't for that loss against EG, I'm certain the Great Danes would be labeled as the favorites here. But, one flimsy performance and here we are, at a level playing field coming into the third-round (and I'll dare to say the most interesting) matchup in group D!
Is Betting on CSGO Legal?
The question regarding the legality of esports betting always seems to be a hot topic. If you're interested in betting on CSGO but you're not sure if you're allowed to, the best place to check is your country's gambling authority.
There must be a phone line available online, or an email address for inquiries.
Just pop the question and see if betting on esports is legal in your country. That's the only way you'll know for sure so don't be lazy – give them a call!
Astralis vs. Virtus.pro Predictions
These two have met relatively recently, and coming into this next match, their last h2h could tell us a lot of things. For starters, the CIS beasts took Overpass and Inferno, and Astralis barely got the W on Train.
YEKINDAR was by far the best player on the server. The young Latvian star had 75 kills across three maps, and while it might not seem like that much at first… you need to understand that Astralis was on the other end of the server. Plus, nobody else didn't come even remotely close to 60 kills, let alone 75.
If the young star can show off another one of those matches, Virtus.pro could easily take a double whammy against Astralis.
Map Pool Stats
But, we have to base our Astralis vs. Virtus.pro picks on some cold hard facts, and there's no better way to do that than by taking a quick look at the map pool stats. Remember, last time out VP took Overpass and Inferno while Astralis clanged onto Train.
Statistically, Virtus.pro are superior on the two maps they played on last time, plus Mirage.
If Astralis and VP are going to ban the same maps again, Mirage and Nuke, we might end up seeing the exact same portfolio of maps tomorrow. In that case, I think my money will be on Virtus.pro again.
Well, not only do they have a superior map pool but superior form as well!
Form
Yep, Virtus.pro is definitely the most in-form team on planet earth right now! They are two from two in this event, and came into it with just three losses in the last ten matches. Astralis, on the other hand, are one from two here, and came into ESL Pro League S13 with five wins in ten matches.
Not the greatest track record for the Great Danes, right?
Could their form and VP's map pool superiority be enough to cement our Astralis vs. Virtus.pro picks?
Well, let's not get ahead of ourselves here. Let's say a few words about individual aspects before wrapping everything up!
Individual Aspects
Of course, I have to point YEKINDAR out once again! The 21-year-old Latvian rifler (and part-time AWPer) is still going strong. He's setting up standards that he'll have to work hard to keep going later on. He's not going easy on himself, nor the opposition, that's for sure.
As stated earlier, he was the man that brought Virtus.pro that much-needed playoff W against Astralis on the Katowice spectacle.
Can he do it again – that's the real question.
If he steps up to the challenge once again, only the sky is the limit for the CIS side. If not, there's still a chance for VP, assuming Jame takes the wheel. If they both fail to show up for tomorrow's match, then I guess our wagers will go down and out…
That said, it's time to wrap this esports picks piece up, right? Let's see what we got here:
Astralis vs. Virtus.pro Betting Predictions
Odds are courtesy of BetOnline. You can check out our BetOnline review here.
Yessir; I've opted for Virtus.pro here, hoping it would pack a mighty punch ahead of the play-in stage!
Well, for starters, they are the only team in group D that justified their impeccable form. Plus, they've already defeated Astralis last month at IEM XV World Championship. Overpass and Inferno went in favor of the CIS side, with Astralis barely snatching Train in the second round.
I'm well aware of the fact Astralis are in fine form too. They won't let that opening-round defeat knock them down, that's for sure. But, if there's a team that can beat the Great Danes right now, it must be Virtus.pro.
I guess that means we're finished here! It's been a real pleasure, boys and girls. Let's hope the betting gods have mercy on our wagers for tomorrow!
Until next time…
Donnie out