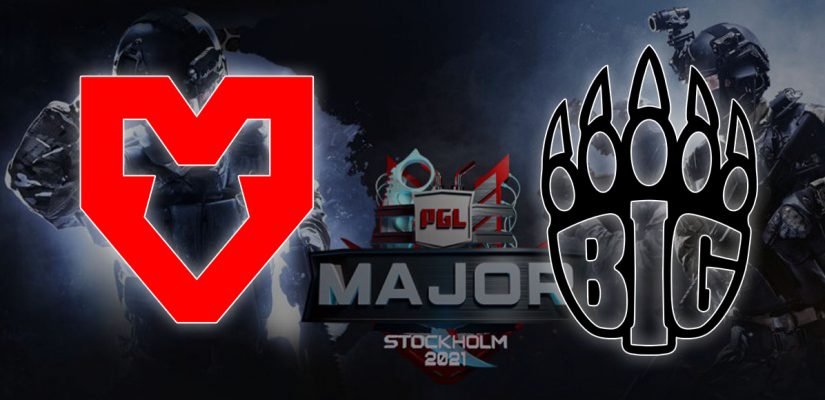 The first three days of the PGL Major Stockholm are behind us. Sharks, GODSENT, TYLOO, PaiN, and Renegades are out of the equation, while Faze, CPHF, Virtus.pro, ENCE, and Entropiq are through to the Legends Stage. Six teams have one more match to play; if they win, they're through as well.
? Day 4 Schedule#PGLMAJOR pic.twitter.com/uzl04Drnjo

— PGL (@pglesports) October 28, 2021

As the title suggests, BIG vs. Mouz prediction is what we're here for, but other matches ought to possess plenty of value too. Heroic are going up against Movistar Riders, and Spirit will try to stop Astralis from taking their reverse sweep.
It's do or die, boys and girls, so we can rest assured all six of these teams will bring forth their A-game!
BIG vs. Mouz Odds
Here are the odds for this CSGO matchup:
Disclaimer – odds are subject to change
BIG vs. Mouz Betting Predictions
We're looking at two European powerhouses here. BIG and Mouz go a long way back. They played six matches this year, with mouz winning four of them. It's worth mentioning that one of them was a tiebreaker on IEM XVI Fall and BIG took Mouz down.
But, that's just the start of our BIG vs. Mouz betting predictions. Here are quick looks at both sets of players so we can determine which way our picks need to go!
BIG Betting Preview
Current Roster
TabseN(IGL)
tiziaN
syrsoN
k1to
gade
LEGIJA (coach)
BIG won the opening-round match against Entropiq but failed to assert dominance over one of the event's biggest surprises, CPHF. However, they didn't let that faze them, defeating RNG in their final bo1 before suffering a loss to ENCE in their first bo3.
Their second bo2 is make it or break it, really.
They are coming into it as the underdogs which will take a bit of weight off their shoulders. But, it doesn't mean much in these circumstances – a win and they're through to the Legends Stage; a loss and they're out of the competition.
TabseN and syrsoN have been the2ir key players, not just in Stockholm but over the last few months too. If they're having a good day, you can count on BIG to be competitive. If, however, they're not feeling it, BIG is usually in big issues.
The thing with BIG vs. Mouz betting prediction is that, whether or not TabseN and syrsoN have a good day tomorrow, BIG will be on the receiving end of this one. Why? Allow me to elaborate!
Mouz Betting Preview
Current Roster
ropz
frozen
Bymas
acoR
dexter (IGL)
mithR (coach)
Mouz's potential is massive! Many people don't realize just how talented their roster is. They have frozen, and they have bymas – both of them belong to the upper most class of CSGO players. They're accompanied by frozen who, at times, shows his true brilliance. That's not to say dexter and acoR are to be taken for granted. They all do their fair share of work, which is what makes Mouz so good in the first place.
But, they're far from perfect. Heroic showcased their flaws in the opener, and ENCE confirmed it in the third round. Renegades just couldn't do much against their aggression, which is why we're now exploring BIG vs. Mouz betting predictions!
Maps-wise, Mouz has slight statistical advantage on Mirage and Inferno and even slighter on Nuke and Vertigo. BIG's permaban (Ancient) is a perfect fit for them, which leaves BIG with Dust 2 and nothing else. Yep, the map pool suggests Mouz will take BIG down and qualify for the Legends Stage!
Wrapping Things Up
Here's the wrap-up:
BIG vs. Mouz Betting Predictions:
Odds are courtesy of BetOnline. Check out our BetOnline review here.
We're going to be playing things simply here and bet our money on Mouz moneyline. Ropz and the boys need to get themselves into the second stage. It would be criminal if they fail to do so tomorrow. They have such talents onboard. Don't get me wrong – BIG are a talented bunch too, but Bymas and ropz have been on a different level and they will get the win tomorrow.