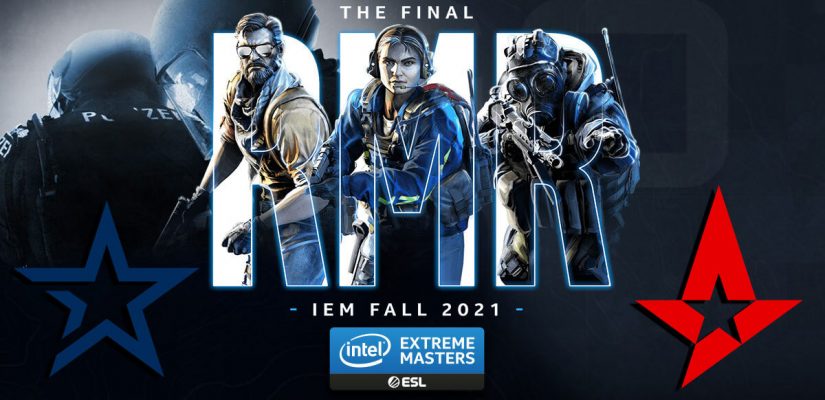 Another day of IEM XVI Fall EU group stage matches is behind us. Group D clashes are all wrapped up, with NiP, Fiend, and Faze Clan reaching important wins. Complexity vs. Astralis betting predictions is what we're here for, a classy group B encounter scheduled for 1 PM EST tomorrow.
Today's #IEM Fall Europe action is drawing to a close with the group D results rolling in!

B Stream@FaZeClan vs. @DBLPoney
? https://t.co/YTQexuLupl

C Stream@FNATIC 12-16 @Team__Fiend pic.twitter.com/2isRGV1ZDY

— Intel®ExtremeMasters (@IEM) October 1, 2021
Three matchdays in, Astralis are on the top spot with three wins, just like the biggest surprise of the event, Sinners. Both have three wins coming into the fourth. Heroic are the team that played poorly, losing two from three. Complexity have underperformed too, though they're coming into this round following two insanely tight losses.
Complexity vs. Astralis Odds
Let's kick things off with the odds:
Total rounds over 26.5:
-125
Total rounds under 26.5:
-109
Total rounds over 25.5:
-189
Total rounds under 25.5:
+137
Obviously, Astralis are the favorites ahead of this one. The Great Danes are looking strong, this LAN has been their playground. The bookies, though, have a lot of faith in Complexity. They are the underdogs, but at +106 and -141 on Astralis, the value is definitely skewed towards Astralis.
Complexity vs. Astralis Betting Prediction
Could this be a trick? Is -141 too good to be true here, or is it another steal like that G2 vs. BIG clash we stomped? Well, the reason for these odds lies in the bo1 nature of this clash.
Everything is possible, really, we've seen too many upsets thus far.
Are we going to see one tomorrow, though? Well, that's what our Complexity vs. Astralis betting predictions are here to find out!
Complexity Betting Preview
Judging by the current standings, Complexity won't be playing on this year's Major! I know, I know, it's way too early to be calling things out like this, but it's the reality these players will face should they lose against Astralis tomorrow.
Complexity are 1:2 having lost to Sinners in the opener and Riders Riders earlier today. Their only win came from ENDPOINT, a resounding 16:7 clash. The two losses, though, went to 29 and 30 rounds, which tells you enough about Complexity's heartbreak.
These narrow results will make matters even worse if Complexity actually misses on the PGL Major this year. It would be a disaster – jks and the boys have to step up tomorrow!
Astralis Betting Preview
Astralis are in excellent form. True, two out of three wins thus far went over – 29 and 30 rounds, against Riders and Heroic respectively. Complexity lost two tight matches – Complexity won theirs. Nuances are what seems to be working magic in group B, which means we're in for a fantastic match here.
Lucky and Magisk have been strutting their stuff.
Lucky, the newest member of Astralis' roster, has been their best fragger on this event. And mind, you, he's just 18. This guy has talent, that's undeniable. What he also has is impressive work ethics and impressive game IQ… especially for someone his age. If he gets things going early on, Complexity could be left without a spot on the
PGL Major
.
But, there's could be more to this clash than meets the eye. I will explain what I meant by that right down below, after wrapping up our Complexity vs. Astralis betting predictions!
Wrapping Things Up
Yep, we're all done here, boys and girls. Here's the wrap-up:
Complexity vs. Astralis Betting Predictions:
Odds are courtesy of BetOnline. Check out our BetOnline review here.
Am I going insane? No, I'm not… at least that's what I think. Just hear me out guys, allow me to elaborate:
Heroic and Complexity could settle who goes through to the playoffs in the final round of this group. But, for that to happen, Complexity would have to beat Astralis, assuming Heroic also do their chore against ENDPOINT.
Here's the catch – Astralis are chasing the Legends spot and Heroic are currently on top of the RMR rankings. If Complexity defeats Heroic in the final round, Astralis' biggest top three nemeses is out of the equation and they could, if they reach well into the playoffs, easily snatch a Legend-tier ticket.
As always, thanks for reading the whole piece, and hope to see you again soon!
May the odds be in your favor!