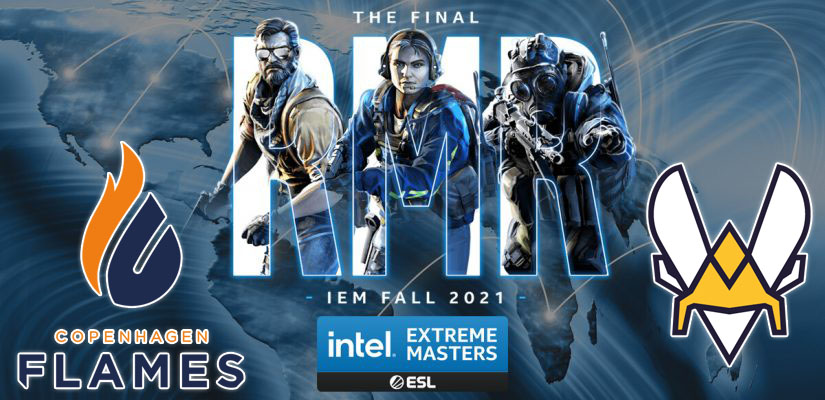 Both Vitality and Copenhagen Flames need to win this match. Vitality needs it to practically secure a Legends' spot, while CPHF needs it to secure a place on the PGL Major. Our CPHF vs. Vitality betting predictions are here to see who has better chances of achieving their goals.
On one end, we have a team fighting for sole survival; on the other, we have the best player in the world, hoping to lead his team to the later stage of the biggest CSGO Major yet.
This clash has all the makings of a special, so let's cut to the chase and start exploring the key facts!
CPHF vs. Vitality Odds
Let's kick things off with the odds:
Here are the odds for this CSGO matchup:
Disclaimer – odds are subject to change
As expected, Vitality are the heavy favorites coming into this one. At -334, many will say their moneyline isn't worth it. At +220, CPHF surely is. Remember – we're talking about the team that came out on top of group A with five straight wins. They defeated the likes of G2, BIG, and Mousesports. And yeah, Vitality might very well be next.
CPHF vs. Vitality Betting Predictions
Historically, these two teams have met just once. But, their one and only h2h has no meaning for our CPHF vs. Vitality betting predictions since it dates all the way back to 2018. Yep, three whole years ago.
That said, there's still a lot of key areas we can explore to get to the bottom of this one. Form in 2021, recent outings, roster quality, and more.
Let's get right to it!
CPHF Betting Preview
Let's face it – Copenhagen Flames don't exactly belong to the uppermost echelon of European CSGO. In fact, they don't even participate in that many top-tier events. However, when they are in a top-tier competition, they usually perform pretty well.
The same can be said about their performance on IEM XVI Fall EU. They came into the event with zero points on the RMR standings. Now, they've already secured at least 1406, which could be enough for a spot on the Major. It should be enough, really.
Before #IEM Fall playoffs, the boys had a small media day with the production. ?

Take a look at our mini behind the scenes vlog from that day. #BringTheFlames ? pic.twitter.com/m7OCM09f2O

— Copenhagen Flames (@CPHFlames) October 6, 2021

But, it might not be – which is why CPHF need to show up for the occasion here. It's not just a spot on the Major that's on the line – if they can surprise Vitality tomorrow, they might find themselves at a Challenger spot… perhaps even Legend.
As mentioned earlier, they stomped the group stage competition without losing a single match. Five and oh was their final score; Vitality should not underestimate these guys! Even though CPHF can't surpass Vitality on the RMR rankings, beating them would put an emphasis on an already exceptional group stage performance.
Individually, jobby and nicoodoz deserve the most praise for CPHF's five consecutive wins.
They've been absolutely clinical, winning important rounds and clutching with ease. If they can keep this up, Vitality will be in a world of trouble.
Vitality Betting Preview
Luckily, Vitality have plenty of raw quality to combat CPHF's brutal form. Even though Vitality didn't top their group, they still accumulated four wins. Vitality, in these four wins, saw shox rise up for the occasion along with ZywOo.
ZywOo has been in fine form for the biggest part of the year. He's hoping he can use this tournament to hype himself up prior to the Major and show off his best performance yet. Vitality will certainly need his individual brilliance going forward.
However, it's a refreshment to see his teammates stepping up. As a collective, if the remaining four Vitality players can push their stats up by 20%, Vitality is going to be a proper heavy hitter on the Major.
As far as this particular match goes, Vitality will have a much tougher match than they expect. Vitality should have the advantage on Inferno and Overpass, with CPHF fancying Ancient and perhaps even Vertigo.
Wrapping Things Up
We're going to see the match go the extra length here. The moneyline on CPHF is rather charming, but it's way too risky. Instead, opt for CPHF +1.5 at -154, which offers perfect balance! This is going to be a fiery contest, a real beauty!
CPHF vs. Vitality Betting Predictions:
Odds are courtesy of BetOnline. Check out our BetOnline review here.
CPHF are in fine form and they will be able to take Vitality down on either Vertigo or Ancient (should it remain up for grabs). Who knows, if everything aligns correctly, they might even contest Vitality and push them out of the equation.
Whichever scenario turns out to be true, one thing is certain – CPHF will take a map off the Frenchmen tomorrow.
That'd be all for our CPHF vs. Vitality betting predictions. Make sure you check back on us tomorrow as we'll have more IEM XVI Fall picks ready for you!