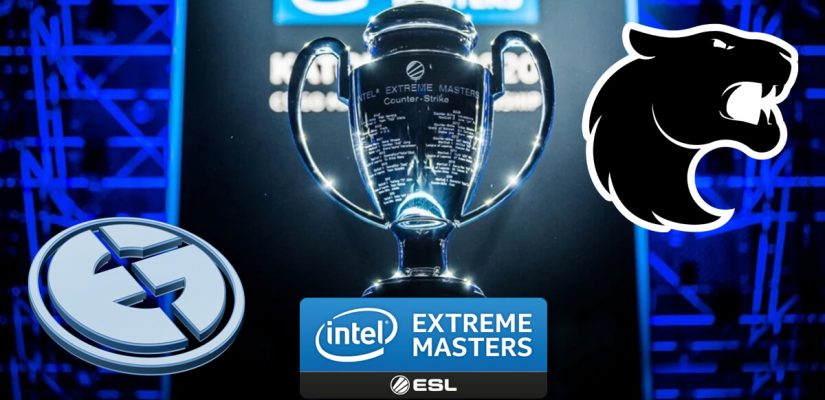 Well, well, well… the start of our IEM XV New York journey didn't go as planned. We put our trust into NiKo and the Faze boys but they went and lost against OG in what was a pretty lackluster performance by everyone in the starting Faze roster. Worry not, though, as our EG vs. FURIA predictions are here to fix things! We're doing damage control here, and the best way for that is to find the most anticipated matchup and hope the pre-match research grants us the correct choice!
This time around, we're looking at the American event. More precisely, we're looking at a group A matchup featuring what are currently the best two teams in the region, FURIA and Evil Geniuses. Yes, that sentence probably angered a lot of Team Liquid fans right now… but the fact of the matter is that FURIA and EG are one level above Liquid, at least for the moment.
Considering the fact the first place in the group stage leads straight to the semifinals, there's more than just prestige or charm to this matchup! The winner is (probably) going straight to the semis, and that means a lot… especially in online events.
For that reason, we're going to take our time and do extensive research before cementing EG vs. FURIA predictions.
But we're starting off with some basic CSGO betting information before moving to the fun stuff about teams on both ends!
Where to Bet on CSGO?
Even today, some people don't know much about legit online betting sites for esports. If you're reading this section, chances are you don't know much about them too. Worry not, though, as this next paragraph or two should help you out a ton!
For starters, here's a list of fine online esports bookies.
That piece is one big esports betting guide, but if you're just looking for proper online betting platforms, there's no need to look much below the list.
If, on the other hand, you'd like a 101 on CSGO betting too, we have a guide for that as well! Feast your eyes upon our in-depth guide for betting on CSGO online! It focuses on all things CSGO betting, with an emphasis on the biggest events to bet on, most common specials, and extra CSGO betting tips that ought to be of paramount importance to beginners.
So yeah, if you're just starting out, go grab yourself some tea/coffee and skim through our guides. You can thank us later!
EG vs. FURIA Predictions
As mentioned in the intro, both of these teams are aiming for the top place in group A because it saves them from the chaos of the quarterfinals. However, only one of them will get there, and from the looks of things, it's most likely going to be the winner of this match.
The last time these two teams faced off in a head to head encounter was during the ESL Pro League Season 12. More precisely, it was roughly three weeks ago, FURIA and EG played two head to head matches and FURIA won both times. However, when looking at total head to head stats, EG is vastly superior with twenty-one wins, whereas FURIA only has nine.
But, our EG vs. FURIA predictions won't be based solely on the past head to head adventures. We're going much deeper than that, so buckle up cowboys!
Form
Both teams are in splendid forms! FURIA is coming off a wonderful ESL Pro League campaign which they passed with flying marks. If you've not heard about the big news, the Brazilians are back at it again, having won yet another big event following a short domination of Evil Geniuses.
KSCERATO and the boys are strutting their stuff in group A. They already swept past Rebirth and Triumph, although the latter was a rather chaotic match that went to double overtime on Mirage, and went the extra length of the decider.
E NO FINAL DEU NOIS
AUUUUUUUUUUUUUUUUR ????

22×19 na Mirage
7×16 na Inferno
16×8 na Train
2×1 contra a @TriumphGamingGG e, após um confronto DURÍSSIMO, seguimos vitoriosos na #IEMNewYork ?#DIADEFURIA ??

— FURIA (@furia) October 8, 2020
As for Evil Geniuses, they are yet to lose a round on this event. With clean 2:0 on the scoreboard, CeRq and the boys defeated Triumph and Whalers. EG are looking strong, and it seems as though that disheartening loss against 100T was nothing more than a mishap.
Map Pool Depth
As you'd expect, there's no clear winner in this department. Map pool depth is a quality only the highest-tier teams can boast with… and it's safe to say these two belong to that bunch. They're able to play on a variety of maps, and keep their cool on maps they typically don't opt for. That goes for both teams, mind you.
Still, I guess we can pull some favorites here. For instance, EG will want to shake things up on either Dust 2 and Mirage, although I reckon they wouldn't shy away from Inferno or Vertigo either. As for the Brazilians, they're superior on Train and Nuke (ever so slightly), which are the maps they'll have to seek a win on, and hope for a tight contest on the decider map.
From the looks of things, that's what we'll be betting on here – the decider map. But, there are still a few things we need to take a closer look at before we can wrap our picks up!
Player Qualities
It's tough to separate these two as far as individual player qualities go. On one end we have the likes of yuurih and KSCERATO; on the other end, we have in-form CeRq and Brehze. It's impossible! The truth is, there's no separating these two sets of players. Both are extremely talented, and most importantly, both are in excellent form! I guess our EG vs. FURIA predictions will have to be finalized without a proper winner in this section.
Here goes nothing:
I really can't decide the winner here – CSGO bookies can't decide either! Both teams are set at -118 which goes to show you what a dead race this match really is.
Knowing the way both FURIA and EG play, deciding the winner is next to impossible. But, there's an interesting insight I have to share with you here. You see, the last three matches between these two teams have ended with 2:0 on the scoreboard. Prior to that, there were two tightly contested matches that went the extra length, which leads us to think they'll be at it again tomorrow! The map pool stats suggest the same thing, which means my money will be on my poison – total maps over!
Odds are courtesy of Betway. You can check out our Betway review here. And for users in the United States check out Bovada for odds.