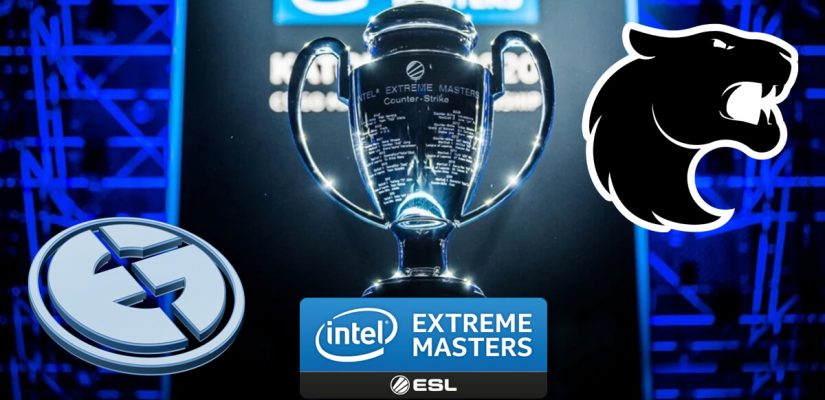 Let's face it – thus far, our IEM XV New York betting tips haven't been doing all that great. We had a few high-value wins, but plenty of losses too, which negated our successes. It's time to change all that! There's still enough time; there are still three important matches to go (not including the third-place match), and EG vs. FURIA picks are the first in line.
We already covered a head to head match between these two teams in an earlier stage of the competition. A quick reminder – we went with total maps over 2.5 but the match ended 2:0 in favor of the Brazilians.
This time around, we'll know better! Just like last time, though, we'll start off with general information on both teams, their forms leading up to this match, their map pool depths, and individual qualities. Fingers crossed we come to a better conclusion this time around!
EG vs. FURIA Betting Predictions
Semifinals are right around the corner boys, and what we're looking at here is the matchup that's probably going to decide the winner. With Team Liquid out of the equation, courtesy of FURIA, the second semifinal match features 100T and Team One… So yeah, whoever wins this match has excellent chances of winning the whole event.
We did the damn thing and we're headed to the #IEMNewYork playoffs. Back to back champs incoming! #EGWIN pic.twitter.com/WwIxTGClCn

— Evil Geniuses (@EvilGeniuses) October 13, 2020
But, which of these two top-tier NA sides will it be? On one end, we have the might Evil Geniuses, the most decorated team in the region this year. On the other hand, we have FURIA, the team that's known for having all the answers for the wicked EG puzzle. Yep, our EG vs. FURIA picks were never going to be straightforward.
Form
Even though they failed to win the ESL Pro League S12, Evil Geniuses are still considered the number one team in the region, and one of the best teams in the world, period. When they're having a good day, when they manage to set their tempo right from the kickoff, they're almost impossible to beat. I mean, it doesn't take a genius to realize what a powerhouse EG is, especially after they had won three consecutive events.
As for FURIA, the Brazilians are always a fiery team. Best of all, they also have excellent results to back their superiority up. ESL Pro League S12 title, third place on ESL One Cologne, and two more titles (DH Open Summer and DH Masters Spring).
FURIA keeps showing everyone they mean business, and chances are EG is the next team in line for the beating…
If we're looking at overall head to head matchups, EG is the winner… but that's only because the history of these two goes the distance, back when FURIA was nowhere near the top of the region. If we're only taking recent encounters into account, then the Brazilians easily take the W. Nothing is straightforward for our EG vs. FURIA picks, that's for sure!
Map Pool Depth
What can I say about the map pool that I haven't said in our previous EG vs. FURIA picks? Well, nothing, really. Both teams are on par with each other as far as map pool depth is concerned. They don't have the same picks, but should be able to win theirs… Of course, that's the key info I used for my pick in the group stage, and look how that turned out (hint, not good).
Individuals
Once again, there's no separating these two teams in terms of individual qualities. Both sets of players have plenty of talent to throw around, and I'm sure they won't be lacking motivation either. Perhaps EG will have the upper hand motivation-wise, seeing as they've lost the group stage encounter… but it's nothing that could drastically alter the final outcome of the game.
With all that in mind, here's what we have in store for you as far as concrete EG vs. FURIA picks go:
We're going with FURIA here… even though I'd like to test my luck again with the good old crowd favorite, total maps over 2.5. I mean, it's impossible that these two teams play another 2-map blowout. It's just impossible! They're way too close on basically every subject we've touched thus far… It's really anyone's game, but the Brazilians have better h2h stats and that's what separates them, at least in my books.
FURIA just has a way of dealing with EG – they're the only team that can consistently defeat Brehze and the boys, and we can't fight that. So, with those words, I'd like to conclude our EG vs. FURIA picks.
But, our piece isn't done just yet! There's still a short informative section aimed towards beginners. If you're one of them, don't exit the page just yet!
Where To Bet on CSGO?
No worries – you won't have to travel to a brick and mortar betting shop just to get your CSGO bet in. For the most part, betting on CSGO is done almost exclusively online, from the comfort of your home. If that's not an awesome convenience boost, then I don't know what is!
If you're having problems with finding the best betting platforms, though, you can always check out our in-depth CSGO betting websites guide It's sort of like your CSGO betting platform bible, packing everything you need to know to settle with a top-notch bookie.
Are Online Events Safe for Betting?
Well, this answer depends on who you ask, more than anything else. The thing is – online events have been pretty rough on the whole CSGO esports scene. Even though the esports betting numbers are still on the rise, bookies are losing confidence in vast CSGO betting coverages. The chaos of online events has taken control over the most notable bookies, and it's not going away anytime soon… or at least until the first LAN events start chiming in.
So yeah, betting on online CSGO events isn't that safe… but it's the only type of CSGO betting you can indulge in these days, so I guess it's worth the extra risk. If you're all for betting on CSGO, then you shouldn't wait for IEM XV Global Challenge, the first new-normal LAN event… If, however, you wouldn't want to splurge through your betting bankroll on risky online gameplay, then I'm afraid you'll have to wait till December.
Odds are courtesy of Betway. And for users in the United States check out Bovada for odds.