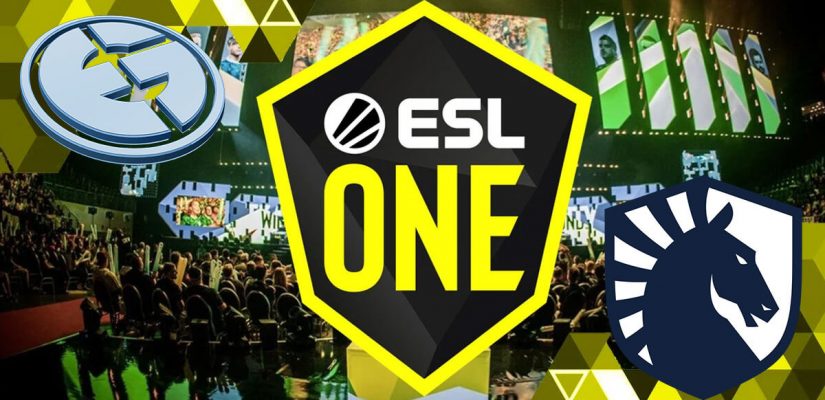 The American ESL One Cologne event kicked off yesterday, and it already showed off plenty of upsets. Two to be more precise. 100 Thieves defeated Gen.G and FURIA lost 2:0 against Chaos. Both were opening matches of group A, meaning either FURIA or Gen.G will be eliminated tomorrow.
This piece won't be focused on Group A, though.
Instead, we'll be talking about group B featuring EG, Liquid, Cloud9, and Triumph. The former two are the prime focus since we're going to be working our way to some high-value EG vs. Liquid predictions.
Well that was fast… #EGCSGO makes quick work of Triumph and takes the series 2-0 in our first match of #ESLOne Cologne. #EGWIN pic.twitter.com/1expjAD96w

— Evil Geniuses (@EvilGeniuses) August 19, 2020
Of course, it's predictions we're talking about here – what else could it be? Didn't you guys miss some top-tier esports picks? I mean, sure, DreamHack Open Summer was a solid event, but it didn't feature the very best teams out there. ESL One Cologne does exactly that, and we've already seen two thrilling upsets take place. What will the event have in store for us in the coming days? I bet it's fun, fun, fun… and then some more fun!
Most Common CS:GO Betting Mistakes
Talking about CS:GO betting, here's a quick rundown the most common mistakes with some advice on how to tackle them:
Splurging a Ton of Money
Betting on esports can be a highly entertaining pastime… as long as you don't invest too much money. Even if you're constantly winning your wagers, it takes nothing more than a short losing streak to lead you into a world of (financial) problems. Don't invest too much money to avoid unnecessary long-term issues… no matter how good the opportunity might be!
Going All-in All the Time
Here's another stupid move beginners make all the time – going all in. If you've invested $50, there's no need to spend it all on a single wager. Divide it up and hope it lasts for as long as possible, with an occasional withdraw once you exceed a certain amount.
Taking Stats for Granted
The last thing we need to talk about here is taking stats for granted. People do this all the time, no matter how experienced they are when it comes to betting on esports. But, as you'll come to see in our EG vs. Liquid predictions, stats are the main thing you should look at before placing your bets.
It's the essential factor of being successful at esports betting, so don't you ever take it for granted!
For more useful info on how to improve your CS:GO betting success rate and avoid making silly mistakes, please check out our esports betting mistakes piece!
EG vs. Liquid Predictions
Now that we have the technicalities out of our way, let's turn our attention back to EG vs. Liquid predictions. There are four figures we'll be checking out today, and they are as follows:
Recent achievements
Head to head matches
Map pool info
Individual prowess
If you're thinking of betting a lot of money on this match (and I advise you not to, since it could go either way, this one), consider going even deeper. Stuff like per-weapon stats, positioning, angle percentages – there's a ton of additional (read advanced) stuff you can investigate. It will take you A TON OF TIME, though, so it's best to take things with moderation and bet only a small amount of money!
Recent Achievements
It's really difficult to tell these two apart as far as 2020 achievements go. Evil Geniuses have two notable titles, both in the last two months. Liquid, on the other hand, won just one event (ESL Pro League S11 NA), but have been a lot more consistent than Brehze and the boys.
Take the last four matches as the perfect example – Team Liquid were the runners-up on two occasions, third-place on one, and fourth place on one.
If we're talking about EG vs. Liquid predictions and nothing else, this segment should go in favor of Evil Geniuses. Despite Liquid's consistency throughout the year, EG's recent triumphs (CS_summit 6 and BLAST Premier Spring Finals) put them in the pole position ahead of this matchup.
Head to Head Matches
Of course, a big part of today's EG vs. Liquid predictions revolve around the head to head matches. After all, we're talking about the NA classic dating back to the pre-EG era when Brehze and the boys were still playing under NRG colors.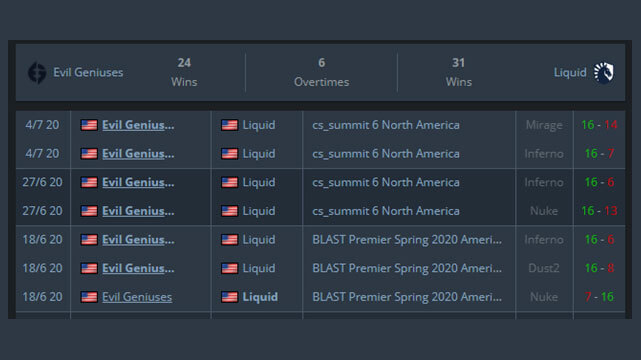 Overall, Liquid is the winner in terms of head to head matches, having won 31 in contrast to EG's 24 matches. However, if we're taking the recent head to head matches into account, then EG is the superior side. EG won the three latest matches against Team Liquid, which will surely be a massive positive coming into this match.
Map Pool Info
When it comes to the map pool depth of both teams, there's not really a clear winner. At the first glance, Team Liquid seems the better of the two… however, EG ought to be able to easily take away Inferno and Train, while heavily contesting the likes of Dust 2 and Nuke, one of which should be the decider map.
If there's one thing we can conclude from the map pool section of our EG vs. Liquid predictions, it's that both teams have at least one map (not counting the other team's permabans) they should be comfortable on.
That's a great basis for a total maps over 2.5 bet, which seems like the most likely option at the moment.
Individual Prowess
Individually, there's no separating these two. With Grim in the starting roster, Team Liquid has an extra boost to team morale, plus a strong fragger who's coming into this tournament following an excellent performance on DreamHack Open Summer. EG, on the other hand, has a fine roster we've all grown accustomed to. Most importantly, though, Brehze, Ethan, and CeRq have been at the top of their game in recent months. Their consistency was the key issue of EG earlier this year.
Now that they're back playing their best CS, it ought to show in EG's campaign-wise consistency.
When it comes to EG vs. Liquid predictions, this is yet another one of those matches that could go either way, so we're probably going with one of them esports specials here. We have two tough sides, arguably the two best NA teams at the moment, going up against each other for a place in the playoffs. Luckily, the losing team has an extra shot of qualifying via the decider round. If they win their final group stage match, they're through to the playoffs.
EG vs. Liquid Predictions
Yep, total maps over 2.5 to the rescue. As always! Just like I said earlier in the map pool depth section, both teams have at least one map they should comfortably win tomorrow. That said, there's no way this one finishes with a 2:0 blowout. Stats-wise, total maps over 2.5 isn't on our side, seeing as only one of the last five head to head matches went to the decider map… but I reckon things are about to change!