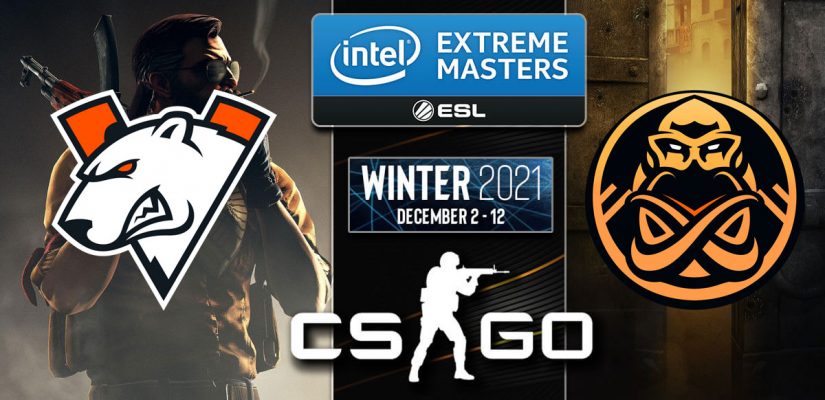 Another big LAN event is about to kick off! In less than 24 hours, we're going to see the first IEM XVI Winter matches. Eight of them, to be more precise. Eight best-of-one clashes; eight opportunities to improve our CSGO betting track record. ENCE vs. Virtus.pro betting opportunities are what we're here for, so let's kick it up a notch and see what these two teams are all about!
Tomorrow is the day! #IEM Winter starts, check out the Group A bracket once again!

Day 1 – 12:00 CET@NiPCS vs. @AstralisCS@Mousesports vs. @TeamVitality

Day 2 – 13:10 CET@G2esports vs. @tyloogaming@OGCSGO vs. @TeamLiquidCS pic.twitter.com/g8uLm49idl

— Intel®ExtremeMasters (@IEM) December 1, 2021

There are other interesting opening-round clashes too! However, keep in mind we're looking at bo1 encounters. That's all we're getting here – if you're interested in betting on CSGO bo3 matches, then I'm afraid you'll have to wait for the second round.
With that in mind, let's see what this match has in store for us!
ENCE vs. Virtus.pro Odds
For starters, here are the CSGO odds for this matchup:
Total Rounds Over 26.5:
-122
Total Rounds Under 26.5:
-106
Disclaimer – odds are subject to change

Virtus.pro are the favorites in this one, nothing surprising about that. Alongside Gambit and NaVi, Virtus.pro were a force to be reckoned with in CIS. True, they didn't have that many successful international trips, but they're still miles above ENCE.
However, ENCE are not to be taken for granted either. They might not be the most consistent team out there, but they're known for standing their ground!
This is going to be a fairly interesting bo1, that I can tell you right away.
ENCE vs. Virtus.pro Betting Predictions
These two played just once this year. It was all the way back in early April when they met on ESL Pro League Season 13. Virtus.pro took the big W, in what was a pretty significant ro12 playoff clash. 2:1 was the final result. The CIS powerhouse took Inferno, ENCE got back on Train, and they went to overtime on Dust II decider.
ENCE Betting Preview
Current Roster
Snappi (IGL)
doto
Spinx
dycha
hades
First things first, let's talk about ENCE! They appointed sAw as their coach last month and expected to see immediate development in their gameplay. But, that didn't happen! They failed on DreamHack Open November, though, which isn't really a good start.
But, ENCE are one of those teams you can never take out of the equation.

Spinx and dycha are the leading men in this ENCE roster. They were setting the tempo on PGL Major, which resulted in ENCE not just reaching the main event but also reaching the Legends Stage. They did get their ass whooped once they got there – Gambit, Liquid, and Mouz absolutely stomped over ENCE in the Legends Stage.
ENCE have plenty of upset potential, despite not showing it off over the last few months. Come to think of it, having upset potential isn't that difficult when you have Spinx in your team. But, at the end of the day, I doubt it will matter in the end. ENCE ought to stand their ground, though I doubt they'll go all the way.
Virtus.pro Betting Preview
Current Roster
Jame (IGL)
YEKINDAR
SANJI
qikert
buster
Next up, Virtus.pro! Even though they've started 2021 off with a win on CS_Summit 7, their form dropped later on in the year. That title was followed by two solid campaigns – semifinal finish on Snow Sweet Snow #1, and runner-up spot on IEM XV World Championship. In fact, that's their best campaign yet! Yes, they did venture into the top eight of PGL Major Stockholm which is a great feat on its own, but something is still missing from their gameplay.
They have an impressive AWPer plus IGL combination in Jame, a top-fragging contributor in YEKINDAR, and a solid backbone that's pretty consistent. Their map pool is decent too. But still, something seems to be missing and I can't exactly pinpoint what.
But, that doesn't take away from the fact Virtus.pro should close this one out. However, I reckon nuances will decide this clash, so I am not that confident in betting on Virtus.pro here. They are the better team, but ENCE could surprise them.
In fact, I have big pros and cons for betting on both ends, which is why I'm most likely going with one of the above-featured specials.
Wrapping Things Up
It's time to end our ENCE vs. Virtus.pro betting picks and call it a day. Here's what I have in store for you:
ENCE vs. Virtus.pro Betting Predictions:
Odds are courtesy of BetOnline. Check out our BetOnline review here.
Even though Virtus.pro are hefty favorites coming into this one, ENCE will stand their ground. Their map pool might not be the best, but neither is VP's. There's plenty of room for maneuvers on both ends, and unless a wild card pick comes through, we're going to see a very tight match.
Bet on over 26.5 rounds at -122. If you're feeling lucky, you might as well go with a riskier total rounds over 27.5 which will bring you a much heftier return. We might even see a good old bo1 overtime here, it wouldn't be that big of a surprise.