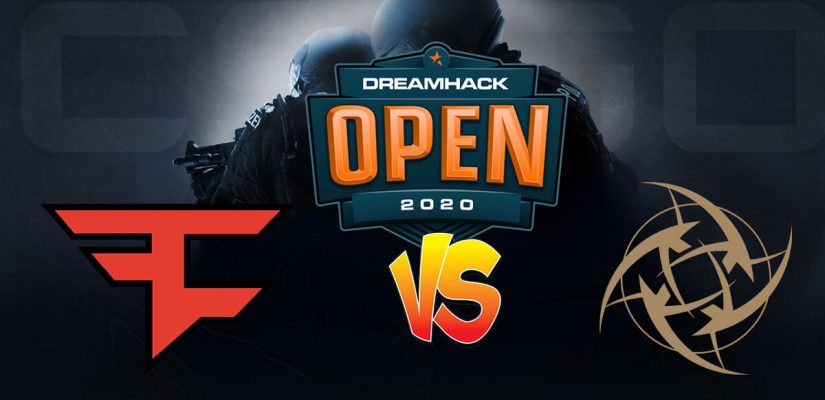 What have we seen on DreamHack Open Fall 2020 thus far? Well, there are two massive surprises to start off with. Mousesports are out of the equation following defeats vs. Vitality and OG. ENCE have also been eliminated, squaring off another poor campaign. As for the first playoffs matches, surprises are no more. Thus far, playoffs-wise, everything has gone according to expectations… which is why we'll have to be extra careful with our Faze vs. NiP predictions!
Rain
NiKo
Coldzera
Broky
Kjaerbye

2020 IEM New York CHAMPIONS. ?#FaZeUp pic.twitter.com/HnAoS6ZWPZ

— FaZe Clan (@FaZeClan) October 11, 2020
There's everything to play for here, for both teams! They're both set to compete on next week's BLAST Premier Fall, so they need every win they can get here, just to get that winning mentality, if nothing else.
Should I Bet on DreamHack Open Fall 2020?
Well, yeah… I know, I know, this is an online event. If you're already used to how online events work; if you're already used to the server-based chaos, then I see no reason to avoid betting on DreamHack Open Fall 2020!
But, if you're one of those people who'd like to wait till the next big LAN event, I guess you'll have to play the waiting game a bit longer. Till December, to be more precise – that's when IEM XV Global Challenge starts.
Where to Bet on CSGO?
If you have no issues with betting on DH Fall 2020; if it being an online event doesn't bother you at all, what are you waiting for? Oh, you're not sure which online betting platform to use.
It's nothing out of the ordinary, people ask for directions every single day – you're not alone!
If you want the best possible online esports betting experience, pick any of the bookies listed in our CSGO betting platforms guide.
Faze vs. NiP Predictions
This here is one of those the winner takes it all kind of matches. And by all, we mean the next stage of the lower bracket. The losers get eliminated and, in the case of these two, get a head start in training for the upcoming BLAST Premier Fall event.
In terms of head to head matches, NiP hasn't won a single match in the last five encounters. Faze Clan's winning run started last December and, even though they've mixed things up roster-wise, Niko and the boys are still considered as the favorites.
WP @TeamVitality!

We fail the series 2:0 to our good friends from France. Tomorrow at 20:00 CEST we are going to play against FaZe Clan in the lower bracket.#GONINJAS #CSGO #DHOpen pic.twitter.com/PoHFy9cayr

— Ninjas in Pyjamas ?? (@NiPGaming) October 20, 2020
Not by a lot, though. Faze match-winner odds vary from -170 to -190, depending on your bookie, while NiP hovers around the +130 mark. Not too shabby, especially if you fancy NiP's odds. No worries, we won't consider Faze as the favorites for our Faze vs. NiP predictions… not unless they deserve the praise stats-wise.
Faze Clan Finally Won an Event
Yep, you probably know Faze is coming off a triumphant IEM XV New York campaign. The competition wasn't sky-high, Faze players finally managed to string together a couple of wins, and they finally won a notable event. It's nothing special, though they did fill their account with $70,000 in prize money, as well as 400 Pro Tour points.
Be that as it is, Kjaerbye is still a massive liability in Faze Clan's roster. The Danish prodigy is playing well, but there's still a strange feeling to his in-game endeavors. He's still doing random stuff that's probably going away as time goes on and he settles in.
Map-wise, Faze Clan has a habit of winning their key maps in crucial matches. They'll need to put an end to that against NiP, seeing as their map pools aren't too far off from one another. I'd like to see these two play Mirage on the decider map. That'd make me a happy man! Overpass, Vertigo, and Train should go in favor of NiP – everything else is either Faze Clan's territory or no man's land.
NiP Still Struggling
With nawwk back in action following a month of medical leave, NiP will want to get their act together and climb the world rankings. 2020 has been one big mishap for good old NiP. The Swedes didn't have a single noteworthy campaign. They were much better last year, but then again, that was a completely different roster.
What about more recent form/results?
Well, I was actually positively surprised by the way NiP played in the group stage. They kickstarted with a tough loss against Sprout and just when I thought they were goners, they turned things around by eliminating ENCE and getting their revenge on Sprout in the decider round.
Overall, NiP is coming into this match with high hopes of reaching further into the playoffs. Realistically though, I doubt the outcome of this match will matter in the grand scheme of DH Open Fall, seeing as there'll be tough contestants dropping down from the upper bracket on the way to the grand finals.
Wrapping Things Up
Now that we've gone through the key elements behind both teams, it's time to wrap up our Faze vs. NiP predictions with some concrete picks. Here they come:
Faze vs. NiP Betting Predictions
Match-winner on Faze, as simple as they come. Faze took our wagers down on two consecutive occasions. We did nail down their IEM XV New York grand finals' win, though, so now we'll be hoping to double up on that one. Fingers crossed it goes through!
Odds are courtesy of Betway. You can check out our Betway review here. And for users in the United States check out Bovada for odds.