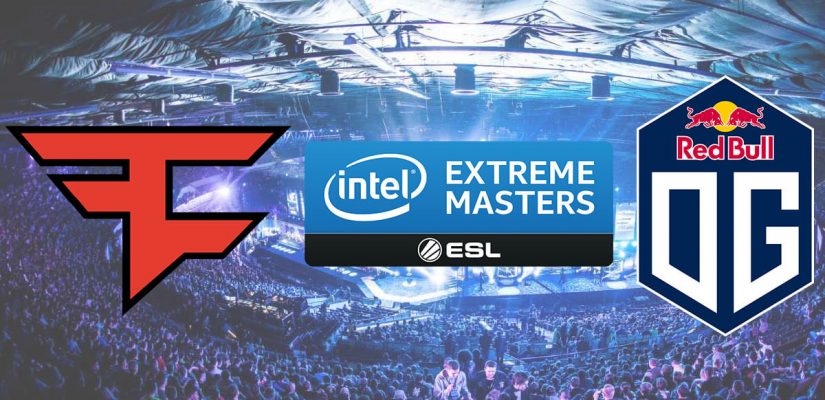 Intel Extreme Masters XV New York is already underway but we haven't published a single esports pick yet! That's all about to change with our Faze vs. OG predictions, focusing on the highly anticipated European event that's already stirring up quite a bit of dust!
The first round of matches has been done and dusted, as well as a half of the second round.
G2 and Heroic are the biggest surprises – both teams lost both of their matches and are out of the equation. Everyone else is still in the game, which makes this Faze vs. OG predictions that much more thrilling!
First, though, let's concentrate on the basics before moving onto the fun stuff regarding this matchup!
How to Bet on CSGO?
Betting on CSGO doesn't take a lot of smarts! However, successful betting on CSGO does… and obviously, you should be aiming for the latter.
If you find yourself struggling, the best thing we can do is point you in the right direction.
In this case, that would be our comprehensive CSGO betting guide that's going to teach you not just the basics but more advanced CSGO betting stuff too. It's a must-read for everyone's who's even remotely serious about their CS betting adventures… so make sure you check it out ASAP!
Should I Bet on IEM XV New York?
Why not? If you're interested in CSGO betting, I see no legit reason for skipping this event. Sure, people might advise you to skip online events (such as this one) altogether, and that's absolutely fine if there are bigger LAN events you can bet on in the meantime. However, the nearest LAN event is scheduled for December, so if you want your dose of betting on CSGO right now, I'm afraid betting on IEM XV New York will have to suffice!
Faze vs. OG Predictions
Who would've thought Faze Clan would start an event off with a win, huh? I mean, could it be that their new Kjaerbye-powered roster is finally going to show us its true might? Don't get me wrong, there's still plenty of time for it to start producing results, but now is as good a time as any!
OG, on the other hand, definitely feel they have a chance of qualifying for the playoffs.
With Heroic out of the equation, even if they lose against Faze Clane, they have to beat BIG again to go through. That's not a lot to ask, especially considering the way the first match panned out.
Form
Be that as it is, let's move on with our Faze vs. OG picks and talk about the forms of both teams! If we're not counting their opening round match against Heroic, Faze Clan's form has been absolutely atrocious. They're all over the place, struggling with some of the lousiest teams in the region (no offense to the likes of Spirit, and NiP haha), and pursuing greatness that probably won't come anytime soon… at least not until Kjaerbye properly syncs up with the rest of the team. True, their win against Heroic made a big splash, but it won't mean much if they lose against OG tonight…
It's a sweep! ?@FaZeClan convincingly close the series 2-0 against @heroicgg!

16-11 Mirage
16-3 Train#IEM pic.twitter.com/OhkbRc1rCj

— Intel®ExtremeMasters (@IEM) October 6, 2020
OG has a fine roster; nothing spectacular, but it's still a solid set of players who know how to behave on the server. They've had a couple of outstanding outings, but not a single title to showcase yet. While I do believe that's going to change soon (without major roster alterations), I doubt it'll be before the end of the year.
Map Pool Depth
Statistically, OG's map pool looks superior! Mantuu and the boys have been nothing but superb on Inferno, and have a couple of slightly better stats on Dust 2, Mirage, and Nuke. Mind you, though, we're looking at less than 10% advantage, meaning it's anyone's game. The banning phase won't be too chaotic. Knowing both sides, I reckon they'll just want to secure their main pick (Mirage and Inferno) right off the bat, without worrying too much about the decider.
Player Qualities
Individually, even though OG has a fine set of players, they got nothing on NiKo, Coldzera and Kjaerbye. Faze Clan's trio magnifico should lead their team to a resounding victory, and establish themselves as the biggest favorite to take the IEM XV New York trophy!
Faze vs. OG Betting Predictions
Believe it or not, OG are the favorites coming into this match. And I honestly can see where the bookies are coming from with this decision. After all, OG swept past BIG in the first round and will be looking to build upon that result in the second round.
.@OGesports take down @BIGCLANgg on their map pick and close the series 2-0!

19-15 Inferno
16-9 Dust II#IEM pic.twitter.com/0ePIp1Ovtv

— Intel®ExtremeMasters (@IEM) October 6, 2020
However, I reckon this whole event is going to Faze Clan! Sure, group A has superb contestants that'll give NiKo and the boys a proper run for their money… but in the end, I reckon Faze Clan will have another one of their "suddenly brilliant" events, after which they'll sink to their usual lows… So yeah, Faze Clan to win this match at -106 is what I'll have my money on. If you're into solid value singles too, be my guest!
Odds are courtesy of Betway. You can check out our Betway review here. And for users in the United States check out Bovada for odds.