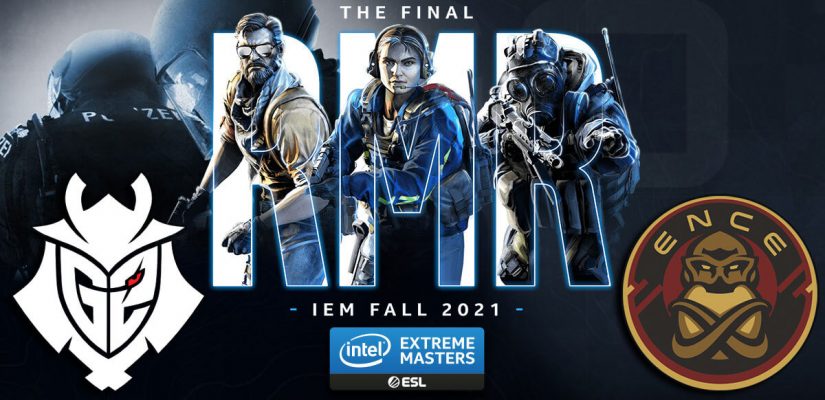 Unfortunately, our IEM XVI Fall EU playoffs is one from two during the first day. Movistar managed to win a round against NiP, but CPHF failed to do so against Vitality, despite going to full thirty rounds on Vertigo. That said, fingers crossed the second day is a 100% success. We're going with just a single match this time around – G2 vs. ENCE betting predictions is what we're focusing on. The tensions are high, the winner goes up against the better of Astralis vs. Fiend, and everyone could use more RMR points here.
?????? THEY ARE GOING TO THE MAJOR AS LEGENDS ?@FURIA have secured their spot in Stockholm ?#IEM pic.twitter.com/h4xkKPpyKy

— Intel®ExtremeMasters (@IEM) October 8, 2021
Interesting results are coming from all ongoing IEM XVI Fall events. Remember guys, these are the last RMR events, basically serving as direct qualifiers for 2021 PGL major Stockholm. The stakes for some of these teams couldn't be any higher, which makes betting on this event that much more fun!
G2 vs. ENCE Odds
Here are the odds for this CSGO matchup:
Bookies reckon G2 will win but ENCE will take the match to the full length. At -244, though, I don't think it's worth it. There has to be a more valuable option here and that's what our G2 vs. ENCE betting predictions are going to discover.
G2 vs. ENCE Betting Prediction
There are lots of calculations ahead of tomorrow's clashes. Astralis, G2, Vitality, and NiP are all in a direct fight for the top three spots. Vitality and NiP will go at it directly this Saturday, while G2 and Astralis are up tomorrow. If they both win, we'll have four teams battling it out in the semifinals, three of which will advance to the PGL Major as Legends.
Things will get chaotic here, that we can tell you right away!
G2 Betting Preview
First off, let's talk about G2. Even though their recent campaigns have put them in a rather negative light, fans expect them to clinch a Legends spot for the upcoming Major. It won't be easy – looking at the current standings, they'll have to reach the grand finals and perhaps even be forced to win the whole thing.
Everyone expects Niko to carry G2 to a Legends spot. But, huNter has been showing signs of individual brilliance too. In fact, the Kovač brothers are entering this match as one of the most lethal duos on the tournament. They will be insanely difficult to contain by ENCE, no doubt about that!
Maps-wise, ENCE are actually dominant across the board. The only map ENCE aren't statistically better on is their permaban Inferno, But, don't let this scare you away from betting on G2 tomorrow. ENCE's stats are kind of bloated due to the fact they played against many tier-B teams. G2, on the other hand, played (be it pretty poorly) against some of Europe's finest. That said, take the stats with a pinch of salt.
There's no way we can conclude our G2 vs. ENCE betting predictions without a closer look at the other end of the server…
ENCE Betting Preview
Now, let's talk about ENCE! They were in the grand finals of IEM Katowice Major and in the quarterfinals of StarLadder Berlin Major. Even though their roster looks totally different now, ENCE still has that special charm. Could this Major be EZ4ENCE or are we going to see them fail to qualify?
Remember, failing to qualify is still an option for ENCE here.
If they lose to G2 tomorrow, they could be in danger. It's only theoretical, but still… If they win, they're through to the Major and will be contending for one of six challengers spots. Yep, this match means a lot to the Finnish team!
Despite dycha and Spinx being in fine form, I doubt we'll see ENCE beat G2 tomorrow. Both teams have everything to play for coming into this one, but I reckon NiKo and the boys will carry more motivation to clinch the Legends spot.
As for ENCE; they should go through to the Major following Movistar's loss to Riders. The Spaniards played well and surprised many of us… but I'm afraid they will end up without a spot on the biggest CSGO Major Championship ever.
Wrapping Things Up
It's time to conclude this pick. Here's what I'm going with:
G2 vs. ENCE Betting Predictions:
Odds are courtesy of BetOnline. Check out our BetOnline review here.
All things considered, G2 have to redeem themselves after two awful campaigns and qualify for the Major as Legends. At -172, going with something else or, God forbid, against G2, makes absolutely no sense. Stick with the low-risk stuff for this one and you won't be on the losing end!
That'd be all for today, boys and girls! Join us again tomorrow for more top-notch CSGO betting action!