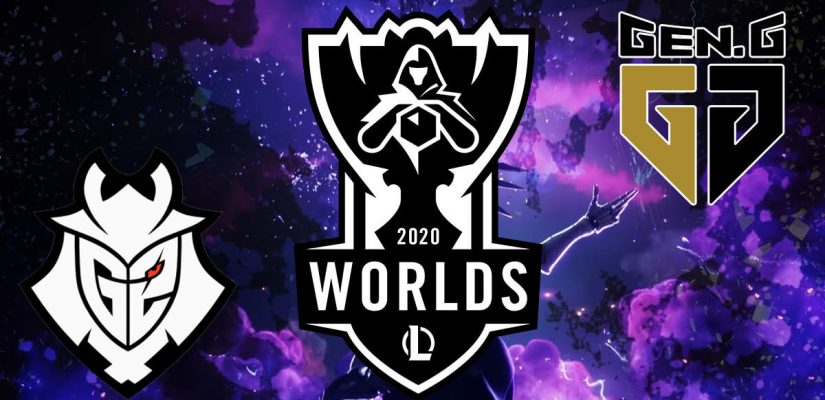 The playoffs are on, fellas! There are only six matches left, three quarterfinals, two semifinals, and the grand finals. A lot more excitement to go too, and our G2 vs. Gen.G predictions are just the tip of the iceberg!
LoL Worlds 2020 has been nothing but spectacular, ever since the play-in stage. We've seen plenty of surprises, although the group stage has been relatively straightforward.
Our task for today, as the title suggests, is an in-depth match analysis coupled with concrete G2 vs. Gen.2 predictions! We're looking at the clash of the best European and third-best Korean team. This match will perfectly showcase the real strength of the two regions, with the winner going up against DAMWON Gaming in the semifinals.
Which 3 other teams would you like to see in #Worlds2020 Semis? Join our post game show as we prepare for Day 2 of Quarterfinals. https://t.co/1m3BstQMau

— LoL Esports (@lolesports) October 15, 2020
There's a lot of work ahead of us, but I guess we should start with the good old question:
Should I Bet on League of Legends?
Well, I guess we can't answer no because, after all, we at TheSportsGeek are all about betting! However, there's one thing you should know – if you can't control yourself, then you're better off not betting on LoL in the first place.
If your answer is of course I can control myself, then you should at least give LoL betting a go.
Is LoL Worlds the Best LoL Event to Bet on?
That it definitely is! Not only is LoL Worlds the best event to bet on, it's also the game's biggest spectacle. It's sort of like the World Cup of League of Legends. Heck, it's right there in its name – League of Legends World Championship.
The size itself is just the tip of the iceberg, though.
LoL Worlds is the best event to bet on because it packs the best teams. That also brings forth another big advantage, demand! LoL betting is a hot topic during LoL Worlds, and bookies do extra work to provide their users with plentiful wagering options. So yeah, if you're thinking of betting on LoL Worlds 2020, and that ought to be the case since you're reading our G2 vs. Gen.G predictions, then you're definitely on the right track!
G2 vs. Gen.G Predictions
Group C was pretty straightforward. Gen.G lost only one match, and it was against Fnatic of all teams. They topped the group with five wins, beating LGD and TSM twice, and with some style, if I may add. As for group B, G2 and Suning had to go the extra length of the tiebreaker. Suning won in what was a hard-fought match, with G2 Perkz playing almost a perfect game.
The best plays in the world pic.twitter.com/qxaliOEtRg

— G2 Esports ? (@G2esports) October 12, 2020
Many fans can't decide which way this one is going to go; they're labeling it as a true 50/50 matchup with no winner in sight. But, since we're all about G2 vs. Gen.G predictions here, we'll have to try our best and come up with some concrete stuff.
G2's Shaky Group Stage
I suppose we should start off with G2's utterly shaky group stage.
They got thrown around by the likes of Suning and Team Liquid – Machi was the only team they've beaten in both fixtures. They just didn't show themselves in the best of lights… but it's nothing surprising. I mean, just look at how they got trashed by Griffin last time out. Could history be repeating itself?
Near Perfect Start for Gen.G
Gen.G, on the other hand, have played a near-perfect group stage, losing only to Fnatic.
Yep, Fnatic of all teams managed to defeat the brilliant Koreans. Clid and the boys are dubbed as the poor man's T1 in this LoL Worlds, but they could prove to be much more than that. They have their own style of play, which is aggressive and dynamic at the same time; they have a solid champion pool and aren't losing battles to consistency.
However, no one has really tested their limits in group C. LGD was not a match, TSM was never going to be a proper contestant… but Fnatic, the second-best European team, managed to find the secret weapon against the Koreans.
The question is – will G2 find it too?
Wrapping Things Up
It's about time we wrap our G2 vs. Gen.G predictions up, so let's do just that!
Coming into this match, the third LCK seed are the slightest of favorites. That would, of course, not be the case if G2 had made a better name for themselves in the group stage. As things stand now, bookies favor the Koreans… but I am not quite sure the match will go in that particular direction.
See, I'm not a big fan of G2, but they'll definitely perform better against Gen.G than what they showcased against Suning and Team Liquid. Perkz is doing great, match in and match out, but the rest of the team has seen shaky periods.
If they can break the ice in the early game of map 1; if they can come into mid-game on level terms, I'm sure their mid to late-game snowballing ability will come into play.
That's what I'm counting on here – late game G2 should be superior to Gen.G, whose late-game wasn't that heavily contested thus far. The only way I can see the Korean third seed take this one is if they get a +3k lead coming into the mid-game. If that doesn't happen, Perkz and the boys should be clear to take this one home and go up against another Korean team in the semifinals.
G2 vs. Gen.G Betting Predictions
If -112 is not enough for you, you can always spice things up with a correct score wager. I'm not the biggest fan of those since they're really risky, but if risk is all you're about, then by all means be my guest!
Well, the lowest odds are on either of the team winning either 3-1 or 3-2 (+270). 3-0 blowouts on each end are at +510. As far as the specific correct score G2 vs. Gen.G predictions are concerned, I'm afraid I'm not your guy. You'll have to figure that out on your own!
Odds are courtesy of Betway. You can check out our Betway review here. And for users in the United States check out Bovada for odds.